5 Important Questions to Ask Before Embarking on an Office Renovation Project
An impressive office renovation is good news for your business. It'll delight employees and clients alike. Whether it's because you've grown exponentially or you just want to make better use of your space, this is an exciting development for everyone involved and speaks volumes about your success as an organisation.
But before you get cracking, there are a few things you might want to think about. Planning an office renovation usually involves having to answer a lot of questions.
We know this, and we also know that having your answers ready will massively help a design team to better understand your business, enabling them to create a plan that fully meets all of your needs and streamline the process – a must for any company as you'll want to get back to (the shiny new and improved) normal ASAP!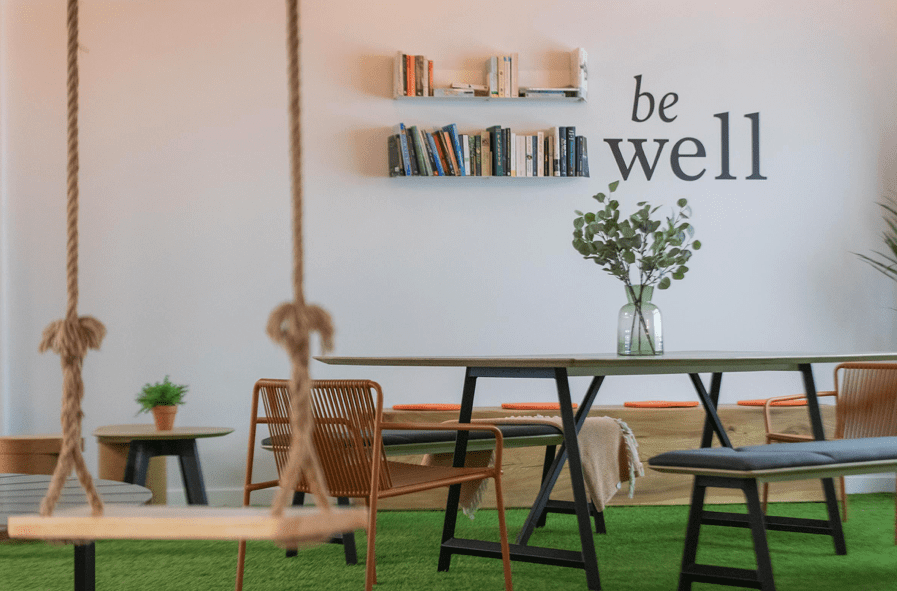 Setting firm goals and laying the foundations in the short term equals success in the longer term, as it did here when we worked with West Barn Co on their new office space.
That's why we've put together our list of 5 important questions to ask yourself before you get started, just to make sure you've planned for a few of the more common variables.
In this post, we've included some key questions we'd make sure a client had answered before starting an office renovation project…
1. What exactly are your goals here?
Are you aiming to improve the quality of life for your team, create space for new faces or add value with break-out areas? Or do you need to increase private meeting zones, brighten up a tired old workplace or replace fixed desking with flexible furniture? Or is it a bit of a mix of each? It's wise to clarify these goals from the outset, because if you don't know what you're aiming for, how will you know when you've achieved it?
Think about what current problems you're experiencing and how you might want to solve them in the new office. After all, the best designs come from finding the solution to a problem. Ask yourself how you want people to feel in your new space.
Consider the must-haves and the deal-breakers and make sure there's an appropriate chunk of budget allocated to that.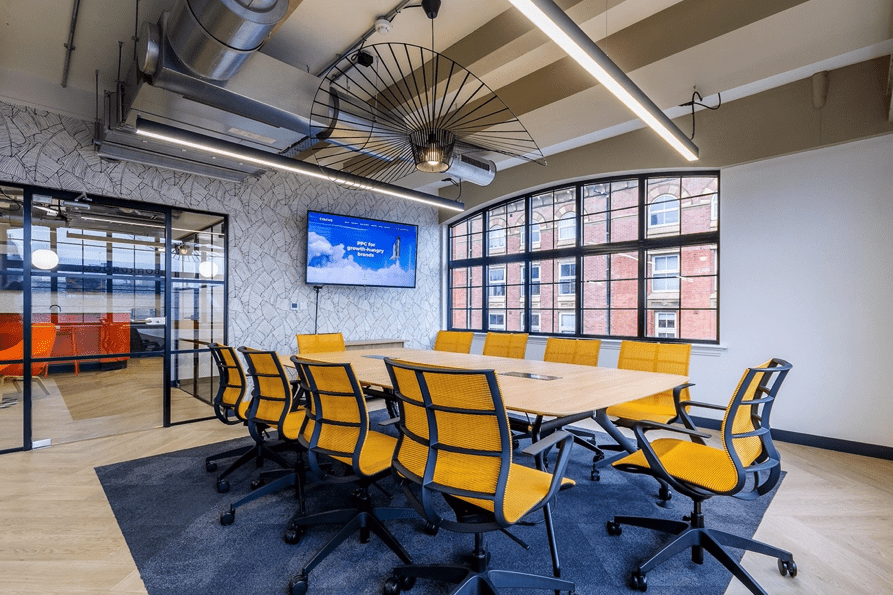 Thinking carefully about what kinds of spaces you'll need and how those areas will be used helps result in a better-finished office, like this purpose-built meeting room in the Circus PPC workplace.
2. What's your budget?
Following on from that last point, it's super important to clarify your budget upfront. Your REAL budget.
Of course, this might change slightly as you uncover the costs and options available but really, the finance available is a big one. You don't want to overstretch yourself in the process of sprucing up the office, so keeping things realistic is vital! Knowing the budget upfront is a great way to force yourself to prioritise.
It's also useful to bear in mind that you'll likely need some contingency money built into that budget – things come up in any project that cannot be planned for and you don't want everything being derailed at a late stage. This also gives you a little creative leeway to make some changes on the fly as the project progresses. Budgeting for additional costs is a good way to kick things off.
If you're using a pro team (like us!) then being honest about your budget from the outset is crucial. Part of our role is to then see what can realistically be achieved within that budget – and if it doesn't quite meet the brief, we can discuss whether it's the budget or the brief that needs to be adjusted.
This could also lead to a discussion on whether you work in phases. A longer-term master plan might include multiple phases of renovation work with short gaps in between, which can be useful in some circumstances.
The finishing details all add up but as long as they're properly budgeted for at the start you'll be left with an end result that's worth all the disruption, as the Circus team know!
3. What's your timeline?
The other big key factor to consider is time. You want to keep disruption to a minimum. Most companies can't afford to simply shut everything down for a couple of months so you'll need to figure out how long you can afford to take and how this will impact the work being done and where. For example, can some of the workforce begin working offsite/from home while part of the office is being renovated?
Your chosen contractor should be able to give you an accurate time frame at the beginning that will allow them to complete the renovation. Mapping out the timeline with a robust schedule helps you and your staff feel more organised, giving everyone a better sense of what will be happening at each stage.
You might also like to think about if there's a quieter period of the year that the work might be best done in. And make sure everyone involved is aware of the schedule and sticks to it!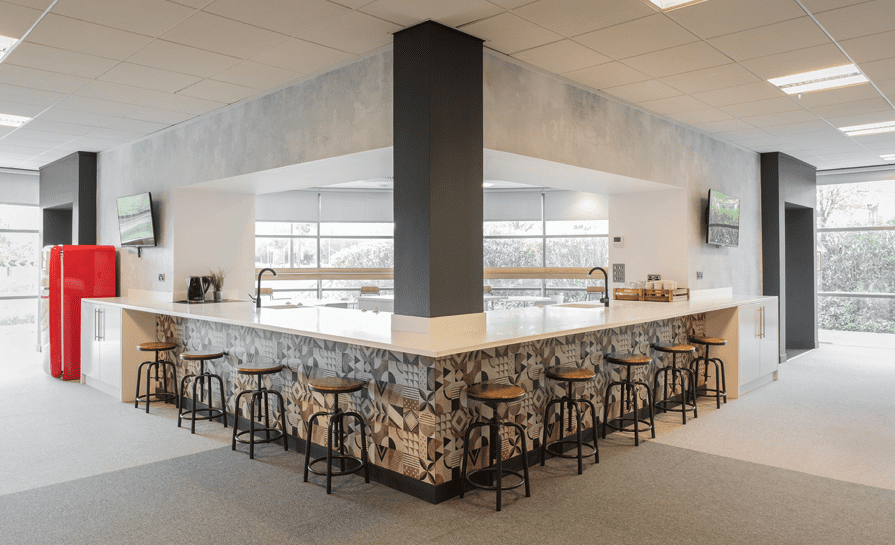 Doing your homework before beginning a project (such as this one for LeoVegas) is the key to a smooth renovation, coming in on budget and achieving the best use of space.
4. Who's on your team?
Are you hiring help from professionals? More than likely! We'd certainly recommend it (although you might think we're biased!)
Generally speaking, an office renovation team should include someone with executive-level authority who can speak on behalf of your business, a project coordinator who can receive and route communications to help keep things efficient and streamlined, and your office renovation partner, who handles all aspects of project management and is ultimately responsible for turning your expectations into reality, on time, on budget, and in scope.
That could of course be us, which certainly takes the stresses and responsibilities away from you!
Making a proper plan helps to ensure that no space is wasted – like this useful little corner of the Newcastle LeoVegas offices that now offers staff a place to work quietly, away from the main office floor.
5. Which contractor are you using?
Choosing the right contractors and tradespeople is one of the biggest things you'll want to get right, as it really can be the make or break part of a project. You'll want to ensure they've fully understood your vision and are prioritising your goals, and that they have the relevant experience and good reviews to back their reputation up.
Doing your homework properly in the quest to find the right contractors will be worthwhile and mean you can relax knowing the work is all in hand. This might be as simple as Googling them or could involve speaking to other companies who've had similar work done and seeing the quality of the previous workmanship first-hand. Don't be afraid to contact more than one supplier for a quote either. Gather as much information as you can to inform your choice before you make it.
Of course, should you work with an organisation like us, fully-vetted, insured contractors are all part of the service, so it's one less thing to worry about.
This is where we come in!
At Ben Johnson Interiors, we're always excited to be involved in the planning and design of your commercial renovation project, no matter how big or small it might be.
We have years of in-depth experience to make you feel safe with us, reassured by our wealth of knowledge and past projects for inspiration. We know what works and what doesn't.
If you'd like to chat to us about starting work on your perfect office, get in touch!