7 Inspiring Workplaces from the Yorkshire Area
A successful office space should impress those entering, function smoothly and effectively, encourage staff wellbeing and boost overall productivity. A tall order, perhaps, but one we feel confident we achieve for our clients, so we know it can be done!
With this in mind, we've pulled together some of our favourite examples (from our very own vaults no less!) of office design in the Yorkshire area, to hopefully assist and inspire you if you're considering your own workplace redesign.
This uplifting and calm space in the KCOM offices certainly has us feeling inspired!
1. KCOM
It was an absolute pleasure to work with KCOM on this exciting project, which marked something of a new era for the brand. The finished space really embodies what they're all about as a business, transforming the customer-facing and corporate areas that now really complement each other.
There are a plethora of interesting features in the space, from biophilic design (shown below!) to the use of their classic phone booths, café style seating, open plan areas (as shown above) and amazing meeting spaces, all flexible and fit for a variety of purposes.
A warm welcome indeed from the KCOM reception area, creating a positive first impression from the moment a visitor enters the space.
2. Anaplan
Here, the Grade II listed building status created numerous challenges for us – all of which we were able to overcome! The internal partitions had to be designed around barrel-vaulted ceilings and the stunning exposed brickwork (see below) needed to be carefully retained.
Specialist curved glass and brackets were used to mirror those vaulted ceilings and wall-mounted ducting was utilised to distribute services throughout the floor. Pops of colour were then added to brighten up the space and provide some much-needed pizzazz and vibrancy to the cool contrast of the white and the bricks.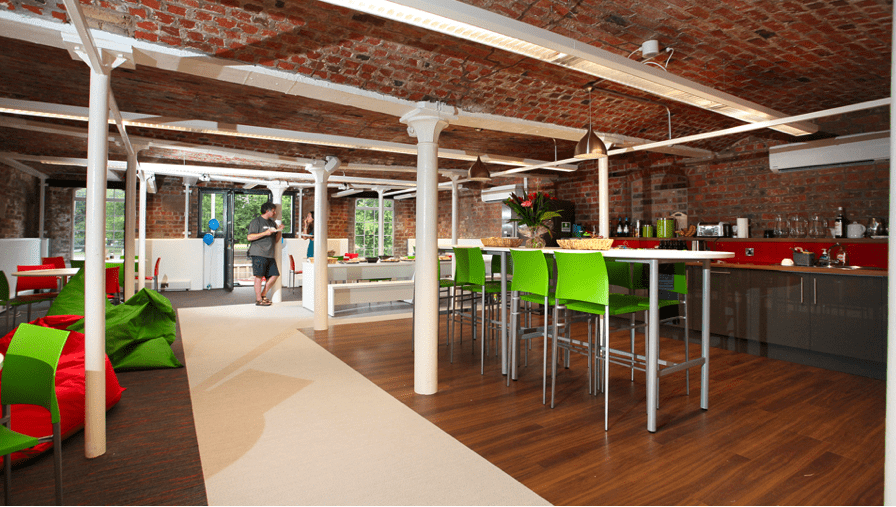 Opting for a funky colour palette is sure to make a lasting impression, especially when contrasted with the original features of the building, as we've done here for Anaplan.
3. Firmenich
Firmenich may be a global leader in creating scents and flavours but their hub in Thirsk really needed our expert help. We worked with them to create a number of adaptable communal areas, from casual soft seating to break-out spaces, as you can see in the image below.
We also factored in an informal meeting area, a boardroom and a private study space, which suddenly gives the Firmenich employees location options throughout their daily tasks. We ensured there would be plenty of natural light with glass partitions and involved plenty of biophilic design to emphasise sustainability, brighten the space and complement the natural textures and soft colours utilised throughout the scheme.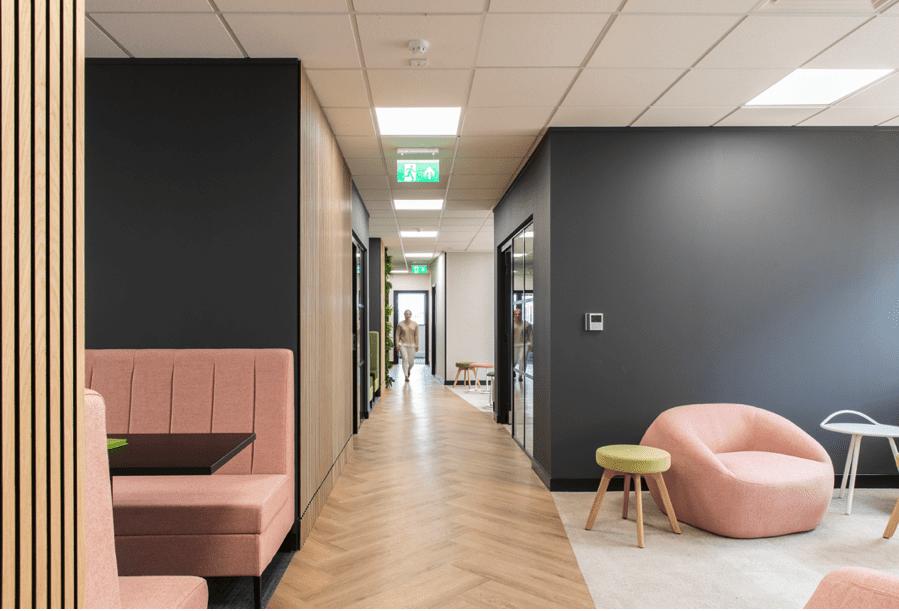 The soothing tones of dark grey, soft pink and pale wood create a cosy and tactile environment for Firmenich staff to work and relax in.
4. Harrogate Water
With this particular past project, brand recognition was very important and our client Harrogate Water wanted to find a way of reflecting their brand subtly within the furniture choices and finishes. The calibre of natural materials used here (below) in their reception really elevates the area and speaks volumes about the ethos and status of the business from the moment you enter their space.
Natural materials are really having a moment right now, and the timeless stone used in the Harrogate Water offices will impress for years to come.
5. AAK
Our most recent work with AAK included an extra revamp of their reception area (shown below). The existing reception area had no prominence and visitors arriving were confused by their journey through the space, often resulting in them getting a little lost.
We worked with them to promote the strong brand colours of blues and greys, adding some contemporary furniture choices, textured materials, ribbed details and panels to the walls. We also ensured we used low maintenance and hardwearing floor materials to cope with regular footfall and allowed the lighting design to emphasise the points of interaction.
The newly finished reception area in the AAK offices has helped massively with creating a real sense of purpose and preventing confusion among the visitors.
6. Gama Healthcare
Gama Healthcare (below) cared about the staff in their Halifax offices and wanted to make sure they were providing helpful, informal collaboration areas to enable everyone to get together, plus multiple private meeting rooms, breakout areas, and a large boardroom on the ground floor, with outstanding desk areas and workstations located on the first floor.
The entire workplace was designed with quality in mind to reflect the high standards of Gama's healthcare products, appropriate for an innovative global company.
A spacious new kitchen area (like this one in Gama Healthcare's offices) quickly becomes a hub for socialising, discussing and innovating – especially if there's a coffee machine!
7. Binary
Back when Binary Consultants were growing and moving into a new office in Harrogate, they needed a design and build company to help transform the dated interior into something special with smart integrated technology, all completed to a high specification.
The team often worked long hours on projects, adjusting their working hours to global time zones. With this in mind, we designed the kitchen to be the perfect place for employees to relax for a moment or two away from their desks, including bespoke wooden fronts, Corian tops, wooden wall cladding and shelves for an entertainment system, so it looked more like a cool bar or apartment than your average office kitchen.
Sometimes a break from the office interior design 'norm' is just what's needed to make a big difference for those working in the space – like this break-out area for the Binary team.
We've loved this little stroll down project memory lane, and we hope you've enjoyed accompanying us on the journey! If any of these projects have whet your appetite and given you an idea or two – then great! We've done our job!
Whether you're based in the Yorkshire area or not, why not get in touch to speak to one of our friendly Ben Johnson team and let's see if we can work on your next office refit project? We'd love to hear from you!