9 Inspiring Commercial Office Designs from across Australasia
This week we're taking a spin right around the globe to the Southern Hemisphere and catching up on what's new and impressive in all things commercial interior design in Australia and New Zealand.
(Spoiler: it's pretty cool)
There's so much amazing interior design inspiration out there at the moment and the pandemic has really shaken things up in almost all aspects of our lives – the office is very much included in that. There's change afoot and the other side of the planet is certainly giving us a run for our money over here in the UK. So, whether you like modern and sleek, or historical and reclaimed, there's a little something here for everyone.
Part of our project for West Barn Co. much closer than Australasia – in County Durham!
Let's jump in…
1. Hassell has created this stunning eight-storey 'internal streetscape' for Melbourne-based infrastructure company, Transurban, to reflect the modern cities the company works to serve. (Image by Tom Blachford)
Making the most of a new building in Melbourne's Dockland areas, the space sees an arrangement of desks, booths, break out areas and work stations into an imaginative 'village' formation, with corridors suggesting an 'urban footpath'.
Even the foliage is integrated; tree beds are built into the floors while hanging plants are suspended from the vaulted timber ceiling and blackened steel joinery.
2. Angle + Earl St. Studio in Windsor, Australia has been given an impressive new lease of life by Holly Board and Peter Grove – AKA BoardGrove Architects. (In this image by Haydn Cattach)
Inspired by their client's Instagram feed, which features a gentle gradient of colour across the grid posts, the colour scheme of the (previously quite dark) space features three tones which become gradually darker the further you go from the daylight source.
The front of house area makes the most of the light while the working zone is kept deeper. A unique and very lovely idea which adds something special to the design while keeping it very much on-brand.
The peach-toned screening shown below is glazed for better office acoustics but offers a 'stable door' effect to allow for the option of either privacy and soundproofing or open-plan working.
3. Law firm Anderson Lloyd's office in Christchurch, New Zealand, was designed by the talented bunch at Unispace. The welcoming workspace aims to basically create a village vibe to bring together the people within. It's also strongly tied to the local community; the styling uses natural and honest materials, such as bluestone and recycled copper from surrounding demolished buildings.
Lghting strips have been cleverly used to enhance the glow of a warm macrocarpa timber ceiling and matching back wall in the cosy reception area, creating a lovely first impression.
4. In an impressive example of an adaptive reuse project, Architects EAT have completely reinvented Alfred Stables in Melbourne, captured here by Shannon McGrath.
What was an abandoned 150 year old, 3-storey building has now been totally transformed and this has really opened up important space in the hospital, creating space for 150 administrative staff from the main hospital buildings. And it looks impeccably stylish to boot.
A win-win situation indeed!
5. Not quite an office space but this commercial design by Agents of Architecture in Melbourne also deserves a mention, alongside this photography by Brooke James.
Farmers Daughters is a three-level space fit for even the most discerning customers. Each level boasts a new 'zoning'; delicatessen, restaurant and a roof-top bar with three utterly unique yet cohesive designs. Open kitchens and a custom wood-burning, campfire-effect oven celebrate the food preparation process in all its glory, alongside the theatrics of service, creating a whole experience for a social gathering.
6. ANZ and Foolscap Studio have worked on the stunning and entirely bespoke fit-out of the thriving hub that is ANZ Open House. (Below photography by Willem-Dirk du Toit)
The bank's community of staff and clientele can now collectively enjoy the amazing space promoting a culture of hospitality, conviviality and connectivity.
There are many different zones on offer here, cleverly offering visitors a warm welcome while catering to the needs of the executive team, staff and clients alike.
7. Full-service law firm MinterEllisonRuddWatts's office in the PwC Tower, in Auckland's Central Business District, has a timeless design aesthetic worked on by Nick Moyes and Phil Judd.
The interior space is slick, sleek and really reflects the company values and culture, with a sharp professional edge. The lucky team now has access to the flexible workplace experience, enabling exciting new activities and events in-house.
Quieter meeting rooms are centred around the stairs, allowing staff to choose to concentrate in a peaceful environment free from acoustic disturbances, which is something we've discussed in a previous post here.​
8. Aussie property developers Tim Gurner and Powell and Glenn have successfully created a calm and welcoming head office that has a major focus on healthy employee wellbeing and inclusion. (Image by Sharyn Cairns)
The new space really hits the right notes on so many levels, showcasing and reflecting the high-end nature of his brand, while nailing the company culture and increasing productivity through the uplifting, comfortable, light and bright interior design.
Who says white has to be boring?
9. Last but certainly not least, ​​this image by Jono Parker of Warren and Mahoney's PwC Tower (focusing on the exterior this time!) brings a little softness to the downtown Auckland skyline with its gorgeous curve. The amazing urban rooftop Sky Terrace, designed by LandLAB, features undulating bespoke timber seating, plant life and inspiring city views.
This project isn't just all about style either. A well thought out, low-energy chilled beam solution for the building's mechanical air conditioning, with a grey, ceramic frit applied to the glass prior to its low-energy coating, means this building is eco-friendly too.
Yeah, we want to work in these spaces too…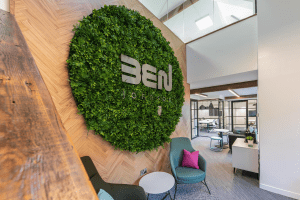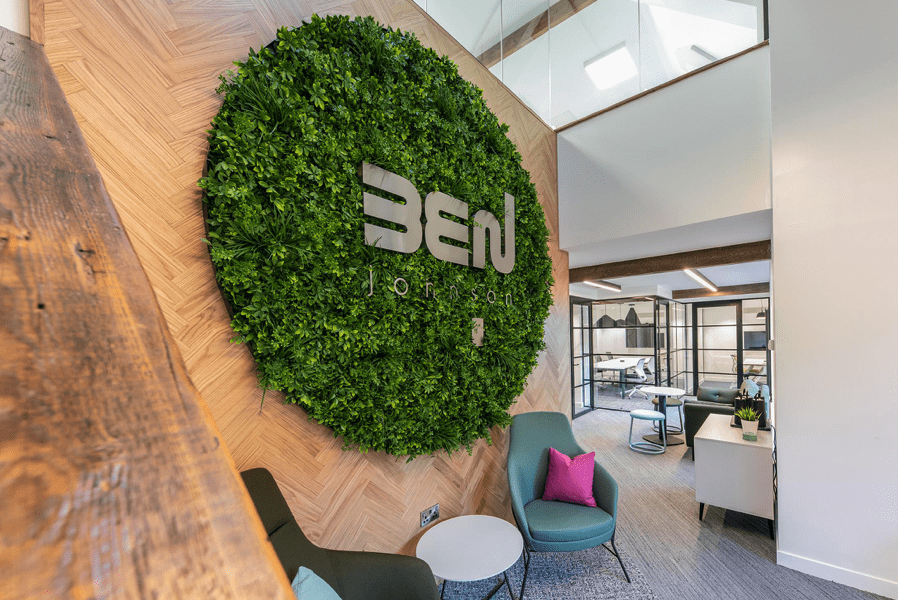 The good news is that we can help you achieve the office of your dreams! If any of the above inspo has got you fired up for a project of your own, we'd absolutely love to be involved.
Whether it's a huge restoration project you're undertaking or it feels like the right time for a furniture upgrade, our team has the wealth of expertise and vision you need to turn the vision into reality and make your staff feel happy and valued in an amazing new workspace.
Give us a call to see how we can work together and in the meantime, check out some of our recent projects!