Commercial Interiors Tips from Actual Design Professionals
Here's what you need to know...
This week we're taking you behind the scenes, in a series of never seen before interviews with our talented and knowledgeable design partners.
We've got the scoop on the real tips and tricks of the commercial interior design trade from those who know it best. So, if you're planning a project and don't know where to start, or aren't sure if that's the best option, you won't want to miss this one!
Want a workplace design end result like this one for Circus PPC? Don't we all!
To go pro or figure it out yourself?
Let's get this one out of the way…
Our experience suggests that the first big question people tend to wonder about is whether you really need to hire a professional for an office redesign project, or if you can figure it out yourself.
Where does the real value lie? Well, it probably depends on how much you want to maximise your potential.
As Laura Baarda of Bowman Riley says, "You're busy running your own business so why not hand this task over to the experts who know best?" It's certainly true that very few people opt for cutting their own hair or making their own clothes, instead preferring to leave it to people who specialise in those areas, can get the job done faster and on budget, and know all the potential risks and pitfalls.
But if you were thinking of attempting a project yourself, Laura's tip would be to do extensive research before you start. "Pros know how to get the balance right; we come with years of knowledge and experience, specifically in interior design, and have usually seen and done it all before".
For Laura, research is always the basic foundation and every good project starts here. "We always design based on an in-depth knowledge of the client and their business, their ethos and brand. We get under the skin of their business and ask about their primary focus and goals for the project before anything else happens. So I'd say a good brief and strong research is always key."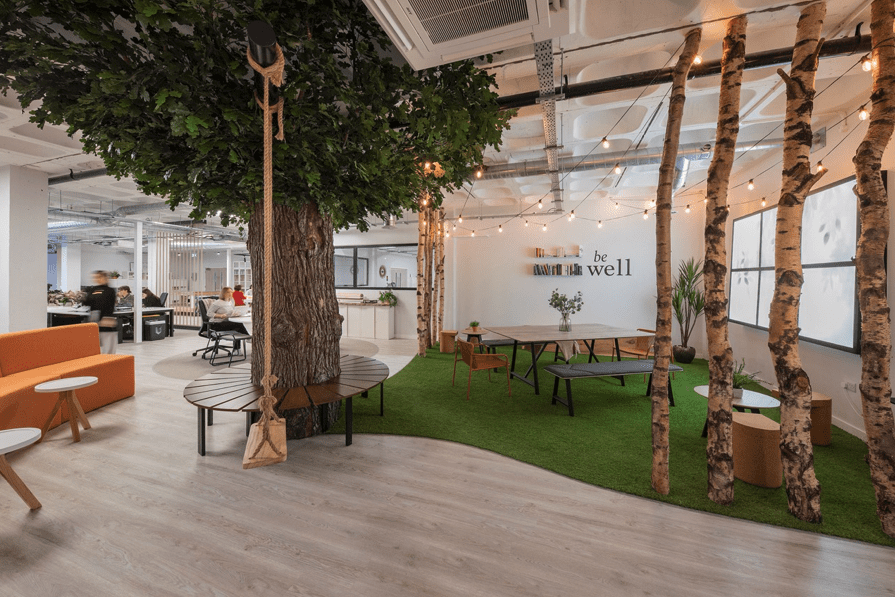 It's those bespoke touches that can really make a project like the West Barn Co office refurbishment.
As for the most common pitfalls of not using a pro?
"Well, there are plenty but I'm going to pick 'generic design", Laura continues. "An office that looks fine, but is like every other office design out there, not tailored to your team or particular business, isn't going to be making the most of the investment. Either because you haven't properly understood the options out there and perhaps don't have full visibility on what's possible, or because you're attempting to save money (but likely won't)!"
The relationships we have with suppliers, tradespeople and brands etc are priceless. Plus our experience means avoiding those potentially costly mistakes. You're paying for our experience and connections as much as you're paying for the actual design, so you'll be benefitting from all our knowledge. This impacts both the big decisions and the little touches.
We'd also recommend you hire your designers as early on as possible! We're of course all biased, but we love hearing the story that's brought you to this point, and how that dictates the whole space planning.
For those absolutely wanting to go it alone, Sinéad Walker of Bluesky Design places a lot of importance on the organisation and clear time management stages.
She suggests you "make clear and visible plans from concept to completion, using various sources to create and develop your design vision. Produce an inspirations folder full of imagery, blogs, anything that inspires you".
A solid game plan is far more likely to have the desired outcome, especially if you don't have the experience required to adapt and change plans on the hop.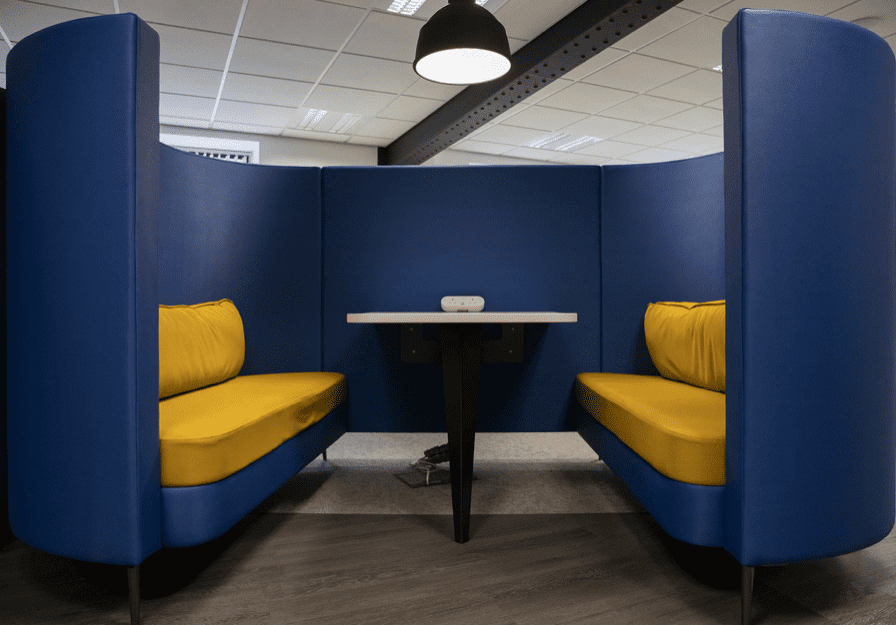 A solid plan from the get-go allows you to factor in specific areas for specific types of working, such as these private areas in the new Netsells office
Should we be following interior design trends?
Our designers think not.
"While monitoring trends as much as any designer should, it's important that the main focus is always the specific client's needs and their brand". Certain elements of the design won't go out of fashion as easily as others. We all tend to lean more towards those although, as Laura says, "There's no harm in enjoying a trend".
She suggests we try to bear in mind the 3 Bs: Brief, Brand and Be Bold! The brief should be the starting point, the in-depth research stage as discussed above.
The brand is often the best bit. Injecting the fun and personality in, making sure it's an accurate representation of your culture and ethos while also working hard for your people. This is where it pays not to follow trends, but rather to stay focused on your employees, their daily experiences and requirements. And then don't forget to be bold! Go for the strongest colours or the biggest changes. Trust your designer: you're paying for the service so make the most of it!
Melody Griffiths from This Is Interiors says her favourite type of project is anything that will have the biggest impact on the staff themselves, not the ones who follow the trends.
For example, with the recent West Barn Co project we worked on together, "We got to chat about their background because it's not some massive company with roots that are now ancient history. When the staff still remember their beginnings, this is where we feel we add the most value. It's really special to be a part of their journey, bringing in the next phase of the business and the redesign or refurb is a celebration of that growth. The engaged feedback is always brilliant from those types of smaller clients too because it means more to them".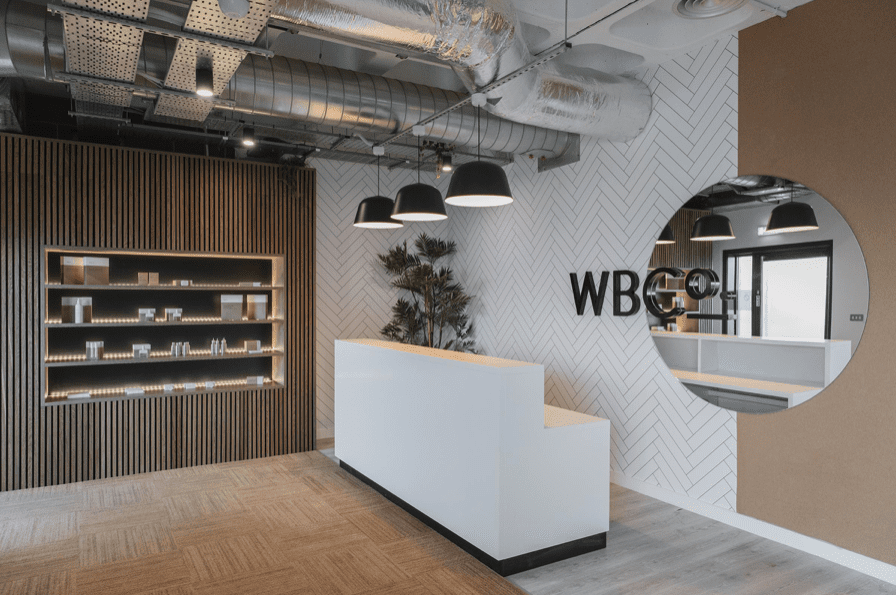 The reception area of the newly completed West Barn Co office we worked on with This Is Interiors.
Clients who really value and appreciate their staff are especially prevalent post-pandemic. Employees increasingly have the choice to work from home so the opportunity and movement towards replicating that 'homeliness' in the office have presented new challenges. Companies are recognising that they need to provide more home comforts and give their staff a reason to come back, whether that be to collaborate, to catch up or to socialise.
Melody loves a company that recognises that wellness is important too, acknowledging that different people have different needs. "Introverted staff might work better in a quiet zone so offering that option is almost essential these days. Don't forget about that!"
"I try to always focus on giving the best quality space to the staff members. It's all well and good impressing visitors but the staff are the ones who will be living and breathing that space, day in, day out. Give them the best light, the best view etc. Gone are the days of making sure the main boardroom gets the most picturesque view. Prioritise your staff and we reckon you'll see a boost in productivity!"
Don't be afraid to begin treating spaces differently than how you might've traditionally used them too. Melody is now mainly referring to breakout areas as 'work cafes'. The idea is that they're treated more like your local hub, rather than just being used for a quickly inhaled lunch between the hours of 12-2 pm and dead space the rest of the time.
The 'dining tables' are out and now we're seeing companies bringing in more sofas and coffee tables to encourage longer, more comfortable chats. Or perhaps your business could do with the addition of big bench tables and stools for more collaborative working and conversations over the aforementioned coffee. This attitude encourages more productive and collaborative working than individual desks.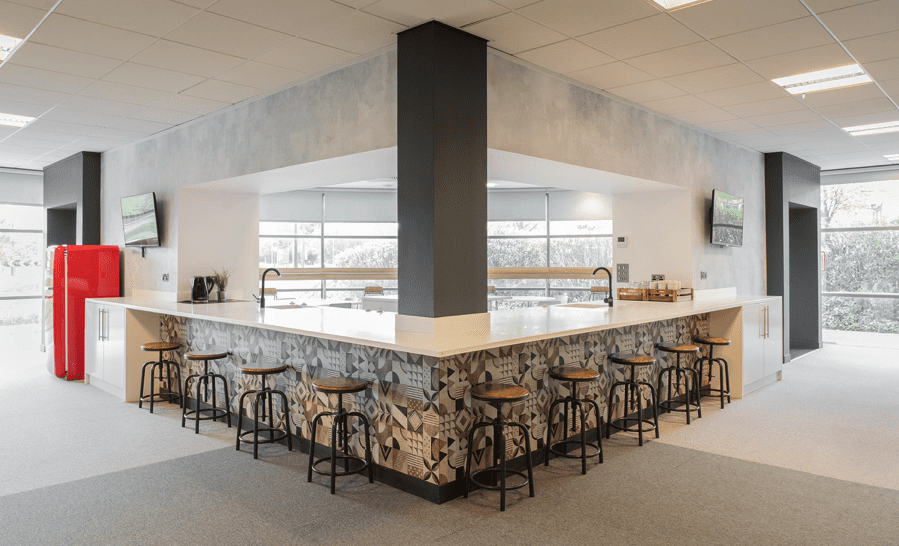 The central 'kitchen' area in the LeoVegas office offers the team a choice of different seating and locations, in or around this hub.
A sensory experience
When asked for their ultimate top tips, all of our design pros swooped in on the focus of the senses. A good design (and designer!) can change attitude or atmosphere by harnessing the power of sound, smell, sight, taste and touch. A space that hits all five senses is going to improve the quality of life across the board.
Smell – Not an obviously important sense for the workplace perhaps, but air quality is worth thinking about, plus making sure you have separate spaces for eating to allow for colleagues to coexist peacefully without distraction.
Sight – How everything looks and the overall design is obviously crucial. But good design is about more than just the decor – consider the use of colour and light. Both have the power to change or create a feeling, to basically manipulate people's moods. Our designers were all extremely passionate about designing with light.
Taste – This is not initially obvious in a work environment, but ask yourself how you can encourage people to actually enjoy their lunch, to really taste it, which is important to wellness and a healthy balance. Forcing employees to eat at their desks isn't healthy or conducive to productivity.
Touch – Another vital one, the textures of things have an impact. Asking 'how does it feel?' Is your reception or meeting room warm and welcoming or does it give off more professional-but-cold vibes? Think about the purpose of each area and the mood you want to create.
Okay, what else should you be bearing in mind?
While the concepts of colour, form, space, texture and light are all vital considerations for any project, Melody reckons space and form are actually, arguably the most important and have the biggest impact.
"When we begin with those initial staff consultations, taking the whole journey of the project with the company, we get to know the daily operations of a business well and can structure the bespoke new plan to better facilitate that. Getting involved right at the beginning of the process results in the best outcome".
In plain English, form and space are really the use of furniture or architectural structure to impact or change behaviour. Asking what kind of impact we can make, using the power or influence for good. Can you begin to encourage people to get up from their desks for example, or to socialise (read: collaborate) where before they perhaps did not?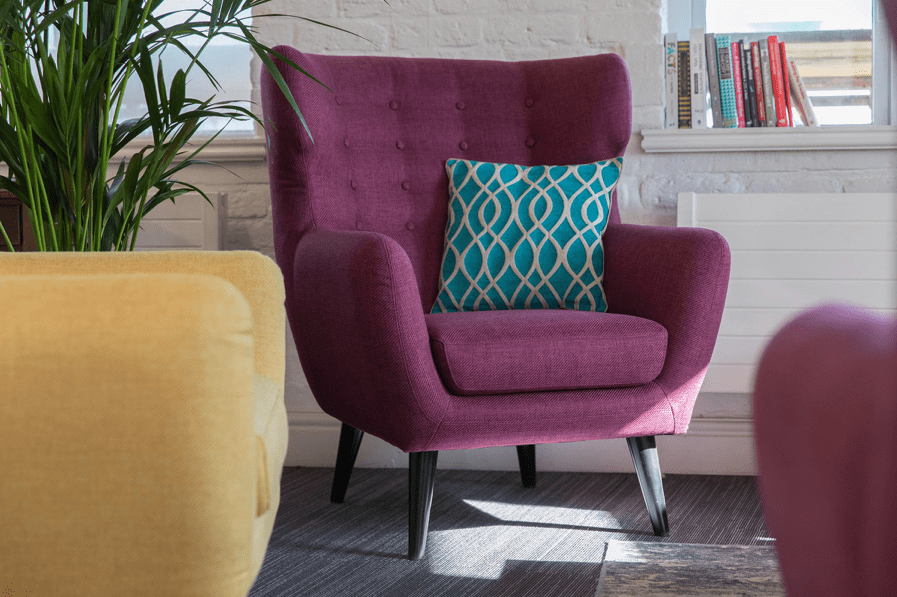 Tactile, soft furnishings (like these in the Boxclever Consulting offices) will encourage staff to stay awhile in this area.
As Laura said when she thinks about the composition, "ensure the access for the various teams and fair distribution of resources and space has been fully thought out at this stage". So you might think about tactile elements and making them more considered, especially anywhere that gets a longer interaction and should be more comfortable or more tactile. Like a sofa area or desk that will be used for long periods of time. That way the user experience is more positive.
"I always try to see the points of interaction throughout the day for each staff member or role".  It's useful to think about who they may interact with, where they will go, and how their journey will look. For instance, if they first hang up their coats, go make a coffee, pop into a meeting room, catch up with colleagues then head to their desk for head-down work. Ask yourself where they will land to focus and how you can improve that location for them.
"Space planning comes from properly understanding the journey of the people in the office", Melody says. And, after all, isn't that who it's all for at the end of the day? Because a happy workforce is a productive workforce.
If this has made you realise it's about time for your own workplace spruce up and you'd like to work with us and our design partners on your office redesign project, get in touch and we'll get the conversation started and get you on the right track to success!