How to combat noise at work
Sound advice for office acoustics
How much are you disturbed by other people in your office? Are you constantly distracted by the conversations going on around you? If so, you're not alone.
Picture a typical, open-plan office today – minimalist design – perhaps some collaboration or chat over the desks – a few people having a game of pool at a nearby breakout area – others talking loudly on the phone
This type of workplace is designed to build a culture of openness and improve business performance and productivity. It's good in many ways and encourages collaboration, spontaneous interactions and flexibility. But beware – there are disadvantages which management should be aware of.
Key findings from a recent survey of over 1,200 senior executives and non-executives from a range of industries, found problems with this style of workplace – the main one being too much noise and distraction from others: "Workers want to work" says the report: "The ability to focus without interruptions is a top priority for employees."
So where do we go from here? While discussing workplace designs with clients, we notice that although management and staff tell us they mainly benefit from open working, at times, noise levels, being constantly distracted and not having somewhere private to make calls or to concentrate can be a major source of stress.
Because of this, Ben Johnson Interiors always designs workplaces with acoustics at their core. There are lots of different ways we can do this and often we include them all.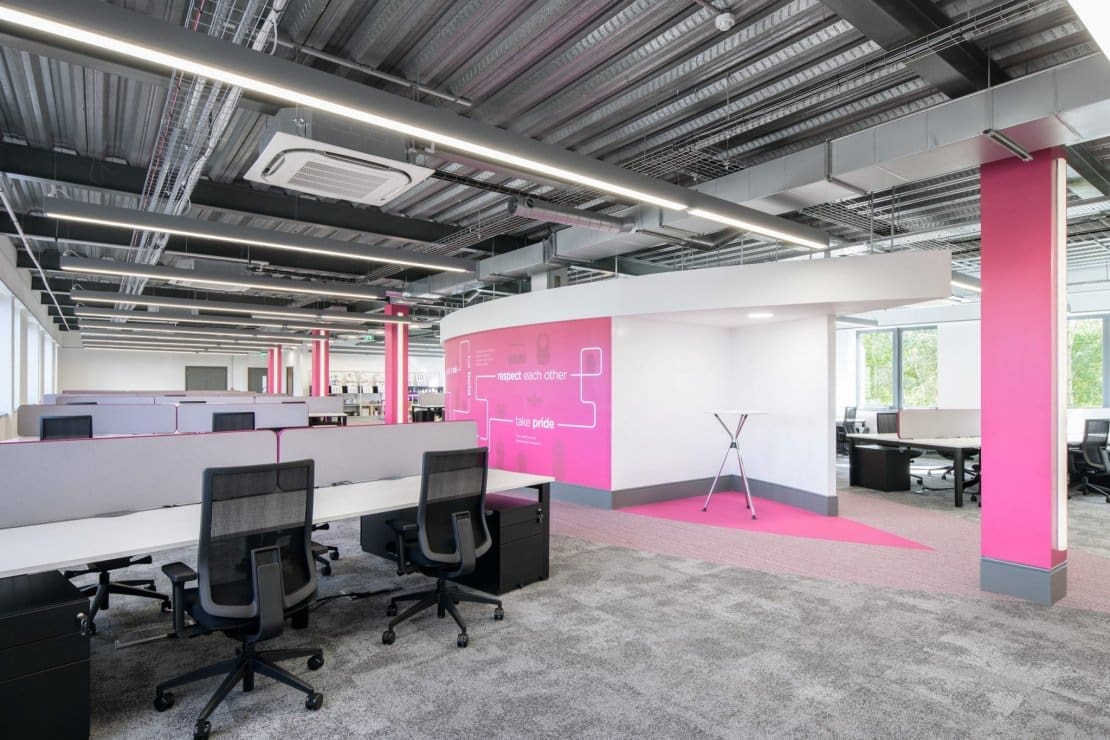 An example of optimum positioning of walls, dividers and partitions in one of our recently design offices
1. From the start, spending time defining the layout of a workplace is critical because the positioning of walls, dividers and partitions is crucial to maintaining an optimum acoustic level. You will have to balance their effectiveness with their appearance. You need the services of a qualified space planner followed by concept design for this. See how we go about it here.
2. We usually suggest providing informal collaboration zones close to a main working area whilst ensuring this furniture is set apart from the nearby desks, is high backed (or enclosed) and created in sound-proofed material. Here's such a collaboration area close to desks that we installed for Iparadigms, an educational technology company in Newcastle.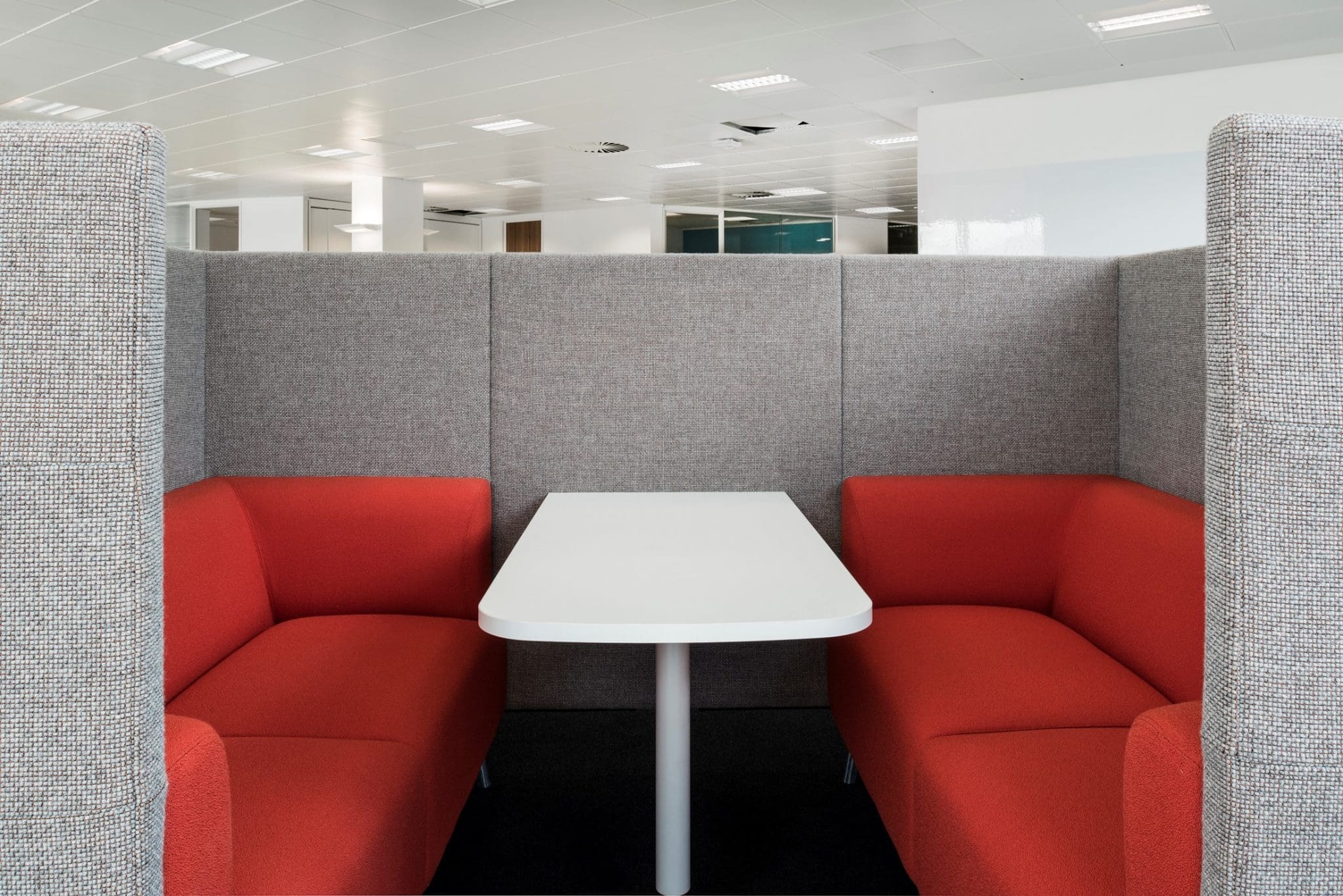 Meeting booth with sound-proofing that we installed for Iparadigms
3. We suggest, design and build a variety of sound proofed booths and phone booths for private phone calls and intense tasks close to work areas. Here's an example in our global HQ workplace for Mayborn Group.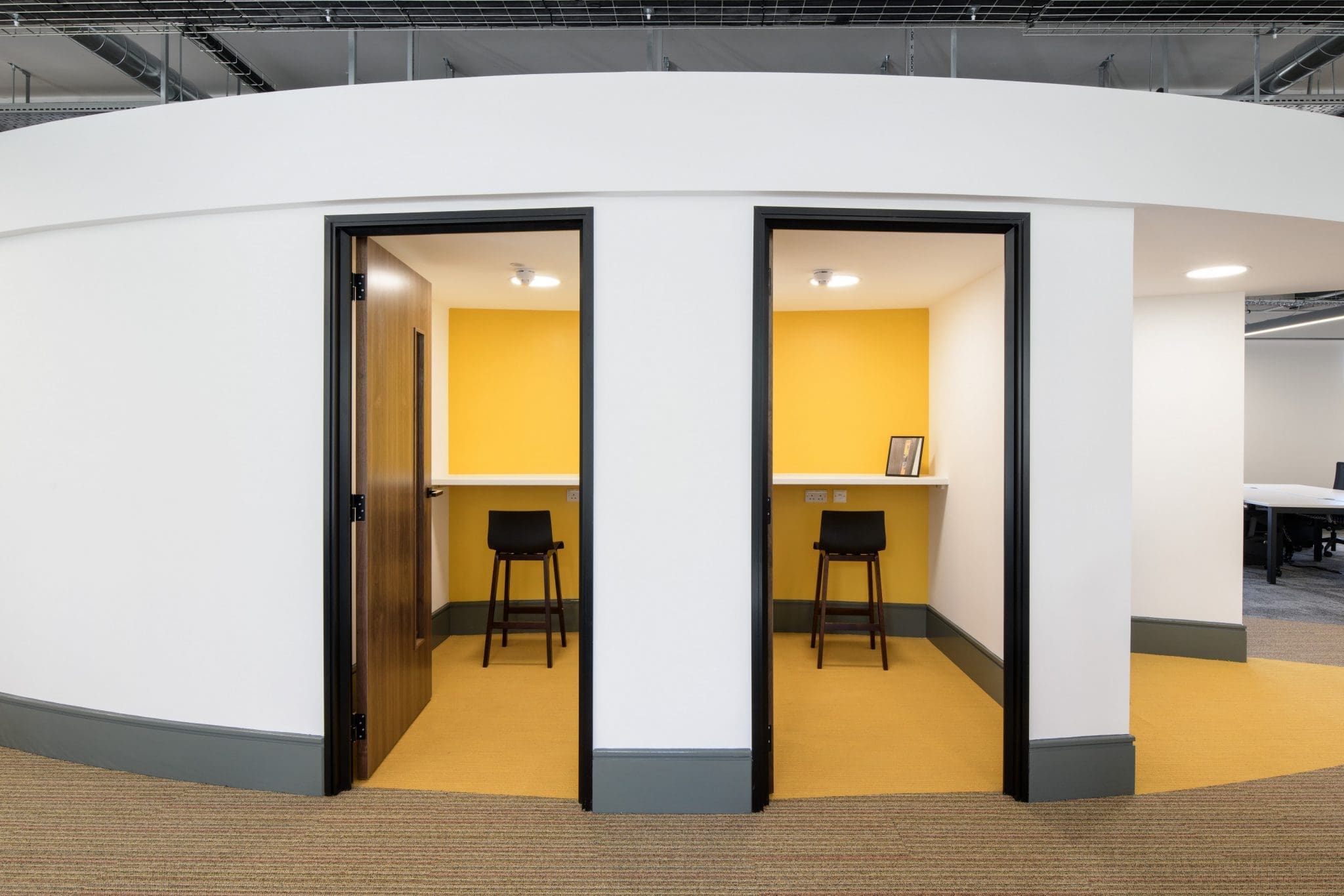 Sound-proofed booths at Mayborn Group
4. We can absorb noise at source using numerous products which can be suspended from ceilings or installed on walls.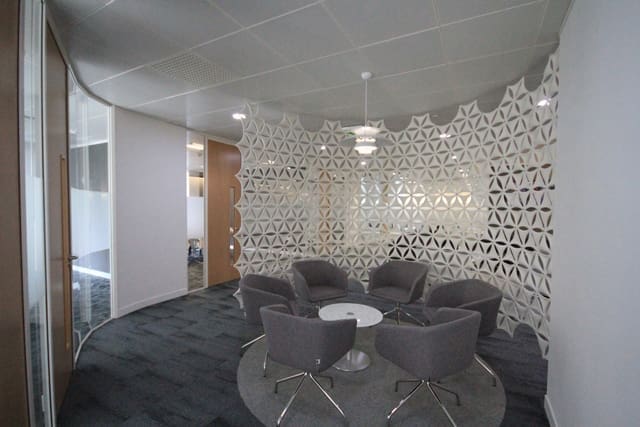 Examples of hanging sound absorbers in a workplace
These recently launched acoustic BuzziSpace wall panels come in all sorts of different geometric shapes and are created in light, or dark green moss. You can make your own graphical wall art, bring nature into the office and improve noise levels too.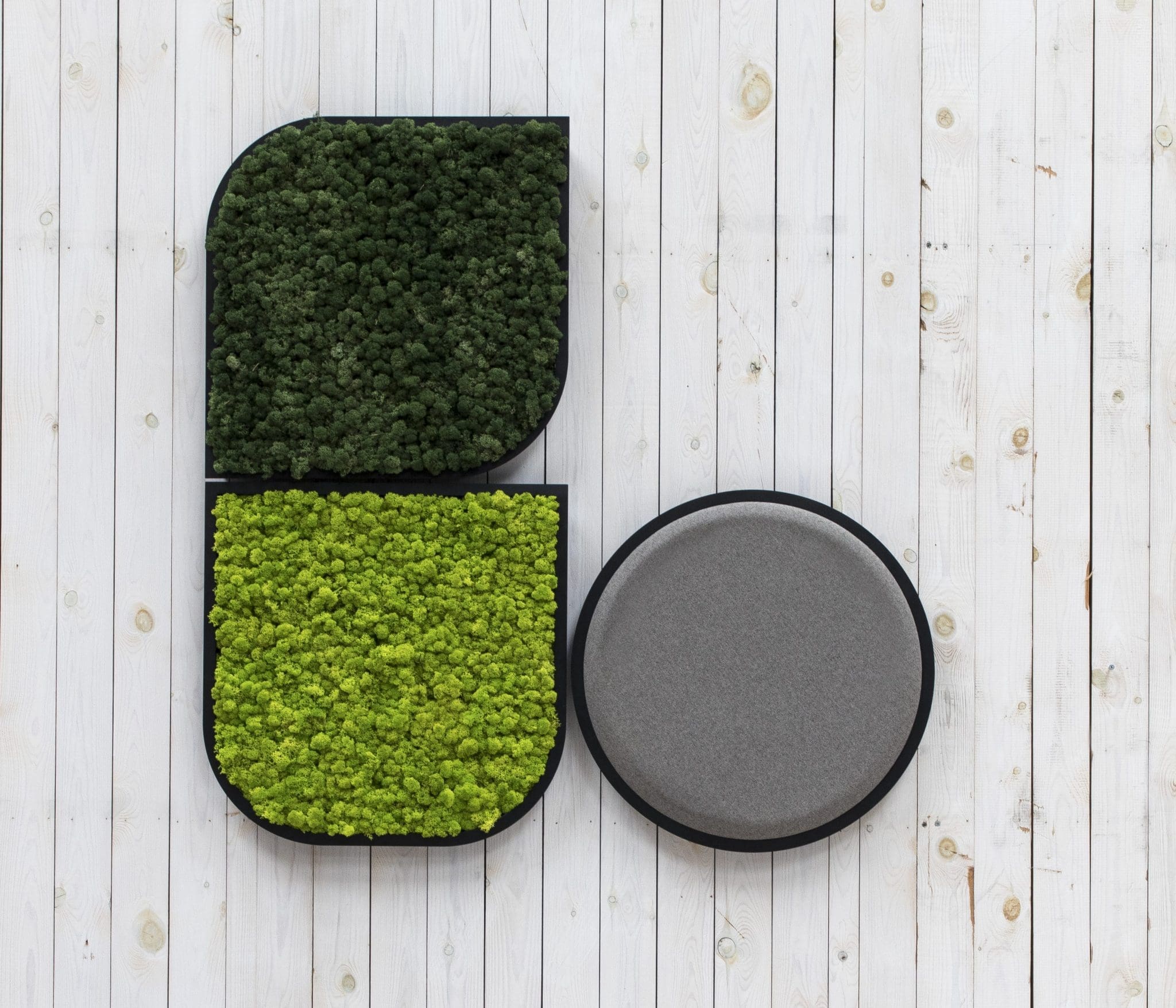 Buzzispace wall panels
5. Double glazed partitioning can provide efficient sound proofing in a mainly "open" office. Ben Johnson Interiors worked with holiday company Icelolly.com on the design, fit-out and furniture supply for their head office. A key concern was good acoustic performance and privacy in certain areas, whilst maintaining a high level of visual connection between spaces. We achieved transparency between different zones as well as excellent acoustics throughout via the use of double-glazed partitioning and doors throughout the scheme. The client was delighted and commented: "We were very impressed with the team's approach….I would highly recommend Ben Johnson if you are considering an office relocation."
Double-glazed, acoustic partitioning and transparency at icelolly.com
6. Blocking noise is also subtly possible through the careful placing of screens, barriers and extra walls between the noise source and the work areas. Sound absorbing screens can also be attached to the workplace furniture.
Colourful, sound absorbing screens in our workplace for Sweco Engineering
7. Coverings in general – carpeting and fabric wall coverings can greatly improve workplace acoustics. Whilst designing and building a new HQ for CPP Group in Leeds, acoustics were a major priority. We managed this with the use of carpeting and acoustic baffles in desk areas and informal meeting points, high backed sofas and suspended ceilings with rock wool within the meeting rooms. Rock wool is made by melting a combination of rock and sand and then spinning the mixture to make fibres. Rock wool insulation provides thermal and sound insulation and can be used as a firestop between floors.
Ben Johnson Interiors design for CPP Group featuring acoustic baffles, rock wool insulation and carpeting
8. As well as simple design techniques illustrated above, many clients also adopt a workplace noise "best practice" policy – so teams and individuals are aware of their own "noise" for the wellbeing of everyone.
If you would like any advice on how to improve the acoustics in your workplace, don't hesitate to give us a call on
01904 698698