How To Manage Flexible Working In The Office
Using Your Office Design!
Once upon a time workers went to work, sat at their assigned desks in their identikit cubicles, did their work and went home. You could say that the workplace was usually very UN-flexible. That sort of approach simply doesn't fly today. Thankfully those ways are gone!
Today's employees are used to an enormous degree of flexibility and autonomy because it's been proven time and time again that this is what boosts productivity in the workplace. This was made particularly evident post-pandemic.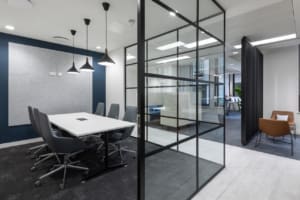 Dixon House offers workers a multitude of meeting spaces and working spaces to choose from throughout the day.
From collaborative, agile approaches to hybrid working and virtual meetings, keeping productivity at a high level means rethinking the office, being reactive to change and meeting the needs of your team. 
So, the real question for employers is, how can you manage flexibility in your own workplace?
Well, in this post we're chatting about what it means to have a flexible workspace, the benefits you can expect and some of our top tips for implementation… 
The Benefits of a Flexible Office Design
Encouraging staff to be on-site is the goal here. When the in-office experience beats the remote office experience, you're onto a winner. Tempting people with the company culture and the office design to back it up will boost morale and team spirit. Plus word will get out that this is a great place to work and your reputation will impress clients, customers and the creme de la creme of potential new employees. 
This centralised working area in the newly completed Keepmoat office allows employees to grab a seat at this table away from their desk, flanked by a large screen and a white board for working and innovating. 
Allow your workplace to function as a hub of creativity. This follows on from the above point nicely as an appealing office will bring people together, and when your team is together they're more able to seamlessly collaborate (and therefore innovate) without obstacles. Creating opportunities with clever zoning in the workplace is a great way to achieve this. A social cafe area, or perhaps a pool table allows impromptu casual conversation, often about work, therefore leading to new ideas or solutions, while comfortable meeting spaces enable easier, more formal brainstorming and problem solving. For more ideas, check out our previous blog post on creating collaborative spaces.
A flexible workplace also enables expansion during a growth phase, allowing your business to adapt easily by making the most of existing space. A co-working area could house new team members in a hurry, or the option of WFH and hot-desking – rather than a formally allocated desk per person – might free up space.  
Give employees the choice
Let your team adapt their environment as and when they need to. Flexible attitudes, options for working away from the desk and moveable or dual purpose furniture boosts productivity and efficiency. It prevents time being wasted looking for either some peace and quiet or a free meeting room for a conversation.
This space in the KCOM office allows staff to change up their working environment and work around a shared desk, enabling new opportunities for conversation.
Our Ben Johnson Interiors Tips for Introducing More Flexibility in your Workplace:
Tip 1:  Striking the right balance is key. 
Mixing open plan design with designated work stations is an art form, and one we're required to call on for our clients on a regular basis when we're refreshing or renovating office spaces. You'll want to ensure you support individual desk-based, head-down working as much as you encourage conversation and collaborative working. 
Tip 2: Avoid being tempted by trends over function.
Remember that your office doesn't need to follow trends, there are some things more important. Opt instead for durable, quality fixtures, fittings and colours that will work best for your team and your brand. A nod to a trend here and there is nice but by no means essential. Build your design strategy and then consider where some of the more of-the-moment aspects could be slotted in.
Tip 3: Tidy, tidy, tidy! 
Keeping the space tidy and providing ample storage to easily maintain the tidiness is vital. It allows your team to use the space to its full potential, and enables people to move between spaces ad hoc, without losing time or focus, encouraging a more flexible experience. Because of course no one wants to relocate to a space that's been left a mess by the last person to use it!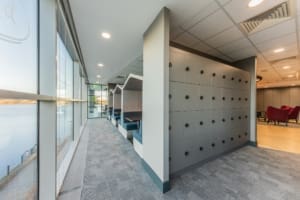 The Keepmoat workplace boasts useful features such as lockers to keep staff belongings super tidy alongside little house shaped pods for break out working (plus those views!)
Tip 4: Clever furniture choices
Today's office should be focused on space that can accommodate as many functions as possible. Maximise your office square footage by selecting the most stylish, practical and flexible furnishings. We've previously discussed some of our favourite pieces of furniture that's perfect for this very purpose in a past Knowledge Hub post. It's certainly not ideal to be lugging heavy and difficult furniture around, and is likely to put staff off. Easy-to-move or adaptive furniture is a much better idea. Think dividers, whiteboards, reconfigurable tables or desking and seating on casters. 
Tip 5: Access to power 
Don't forget the power points! It's all well and good creating new zones or moveable work stations but you'd be surprised how many companies forget to think of accessibility to power in the early stages of planning for a workplace redesign! Today, our daily use of tech means that we need a nearly-constant source of power, whether that's a fixed power point in the wall or floor or a portable power bank (which will still need to be able to be easily docked for charge!)
Creating a more flexible workplace doesn't have to be a tricky task, no matter how intimidating it may initially seem! Remembering to consider key aspects such as productivity and health and safety, whilst making stylish and appealing decisions for the office, is something we do for our clients every day. Let us help you win big with your new office redesign. Get in touch to get the ball rolling.