Is coworking here to stay?
We look at the perks and pitfalls of the coworking office …. and see some fabulous workplaces!
WeWork coworking offices, London
Throughout the UK, coworking is booming and the flexible office space sector continues to dominate the market. The coworking giant WeWork has become the largest office occupier of Central London and in 2018 acquired a huge 290,000 sq ft workspace in Canary Wharf.
In regional UK cities, the trend is the same, with 800,000 sq ft of new space acquired by flexible operators in 2017 and 2018, compared to just 100,000 sq ft in 2016*.
Although the term "coworking" is seen as a blanket description, in reality it covers three types of flexible workspace – "managed offices" "serviced offices" and "coworking offices".
Managed Offices – a hybrid offer for companies who want their own office space without the commitment of managing it.
Serviced Offices – these offer a fixed price per desk or per office, usually for an "all-inclusive" offer and usually include reception services, internet access and more by negotiation.
Coworking – your desk in a shared space – you pay a fixed monthly fee for unlimited access on a first come, first served basis. Users are encouraged to socialise and collaborate. Other facilities like meeting rooms, cafes, private spaces, breakout zones depend on the workspace provider.
The company Regus – synonymous with thousands of serviced and managed offices all over the world, has recently entered the coworking market in a big way and now has 12 coworking offices in Manchester, seven in Leeds, four in the North East, as well as 94 in London.
Regus coworking office in Manchester
So why this recent upsurge in coworking? Is it good or bad news? What are the implications for office design and what does it mean for the future of our jobs and traditional office-based work?
The trend seems to be driven by an evolution in working practices and particular growth sectors throughout the UK. Highly-skilled outsourcing has been a major source of jobs and business growth in the last five years. Demand for external consultants is growing as companies look for help to transform their business in a digital world. Traditional back office functions are also being outsourced to small, highly skilled, tech-orientated specialists.
Originally coworking was adopted by artists and creative people whose work was often project-based and commissioned. They could share space and resources whilst keeping costs down. These early coworking spaces were typically in former warehouses or derelict industrial sites where rent was cheap and the space could be used for most types of work.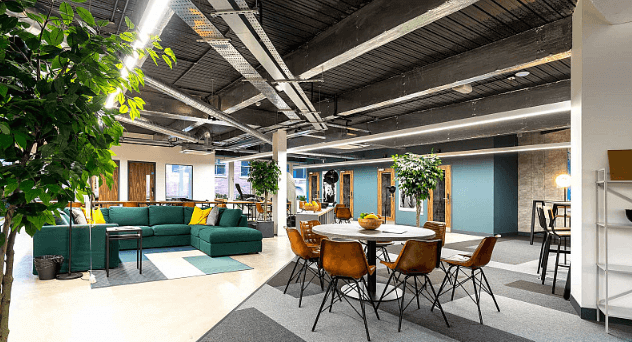 Avenue HQ coworking space in Leeds
Although coworking originally went hand in hand with tight budgets for the cash-strapped, today it markets itself as something far trendier and cool. These new coworking offices springing up in cities all over the UK represent freedom, creativity, individuality and a break from tradition – not only for individuals setting up in business, but for larger companies wishing to attract new talent, and wishing to be seen as flexible and less formal.
Until recently, co working spaces were mainly for freelancers and start-ups, but a growing number of large corporations are trying out different workplace models to boost productivity and an increasing number are moving their workers to coworking spaces. For instance, Microsoft recently gave 30% of its employees in New York City, memberships to WeWork locations.
The old, "serviced" office of the past has now evolved into a vibrant place with personality, offering a real sense of community, place and customer service.
For instance, child-friendly offices are on the increase. Cuckooz Nest, in Clerkenwell, London (http://www.cuckooznest.co.uk) opened in 2018 and allows parents to book desk space and qualified childcare on a flexible pay-as-you-go basis. Huckletree West is a coworking space in London's White City with a Kids Studio – a dedicated area where parents can either leave their older kids unsupervised or book a babysitting service for any younger children.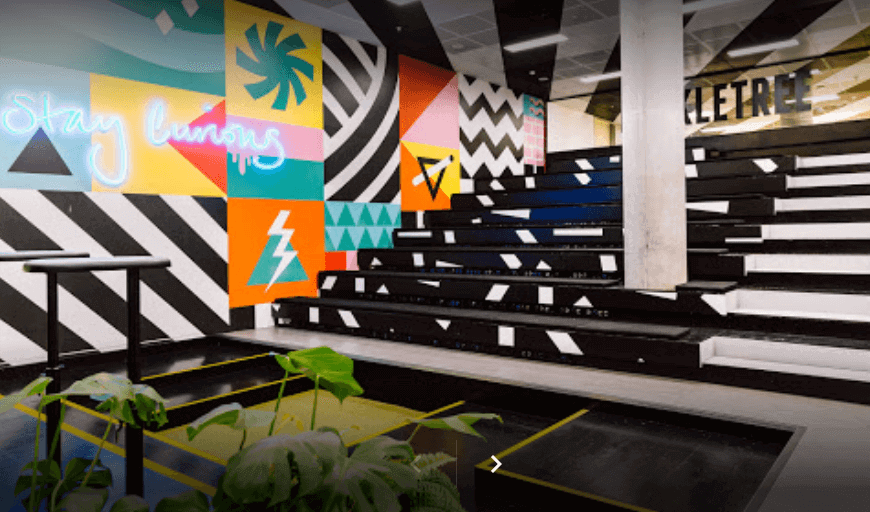 Huckletree West, child friendly coworking space
Pets are allowed in many coworking offices now. Many London workspaces including: Forge & Co http://forgeandco.co.uk/workspaces/ and The Ministry https://theministry.com/ are dog-friendly. Forge & Co also has an all-day restaurant open from 8 am for breakfast which transforms itself into a cocktail bar by night.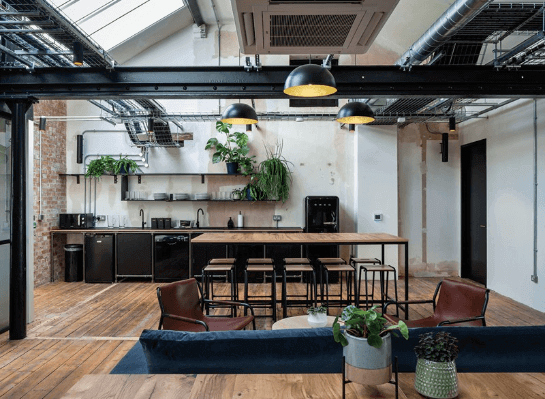 The Ministry, dog-friendly workplace in London
In terms of design and comfort, many traditional corporate offices now find it difficult to compete with the great range of facilities offered by coworking spaces – for reasons given below.
Coworking offices exist in a competitive market so they're usually stylish, fun and quirky to attract the best, people. They're often housed in renovated historic buildings with exposed brickwork, beams and ceilings and with marble mosaics. Or they're super-cool and ultra-modern.
Good coworking offices always have fully functional, high speed digital connections, otherwise they wouldn't have customers. They also offer the latest digital presentation facilities for global communication in a range of different sized meeting rooms.
Noise levels can be stressful and distracting in a corporate office but are usually well managed in good coworking workplaces who often offer a range of sound-proofed rooms for private or concentrated work.
Coworking offices have a great community spirit, encouraging their people to network, socialise and have fun together, as well as work. With social media, global business and 24/7 connectivity, the lines are blurred between work and play, and the coworking sector has been the first to catch on.
Given all these perks, not surprisingly, research published in the Harvard Business Review shows that people who work in coworking spaces report higher levels of wellbeing than those working in traditional offices – thanks mainly to a "well designed work environment and a well-curated work experience".
And there's no doubt that the new, super-cool offices of the coworking sector have certainly given the traditional corporate interiors market a well-deserved wake-up call. Ben Johnson Interiors is certainly finding that clients are far more open-minded and responsive when it comes to suggestions for comfortable breakout zones, acoustic solutions, high tech connectivity and flexible spaces.
WeWork coworking offices in Birmingham
So, is there a downside to all this? From one side it all looks very positive – coworking offices represent independence, fun, no-strings attached (or freelance) as opposed to the full-time (dreary) drudge of the corporate office.
On the other hand, cynics might conclude that the coworking boom has for the most part allowed businesses to reduce their costs and space provision. But where does it leave the workers? Much like their users, coworking spaces are often temporary. With lower take-home pay and higher levels of insecurity with the various impacts this can have on family and mental health, do the trendy, sociable surroundings really make people happier? It's a fine balance and depends on the circumstances, type of work and character of each individual.
The outlook for coworking, in the short term at least, looks promising. According to the *Coworking 2019 report by Cushman & Wakefield, the sector looks set to grow and diversify.
The flexible workspace sector will continue to drive change in the UK office sector as the lines between the office, home and hospitality blur further.