Office design of the times – remote working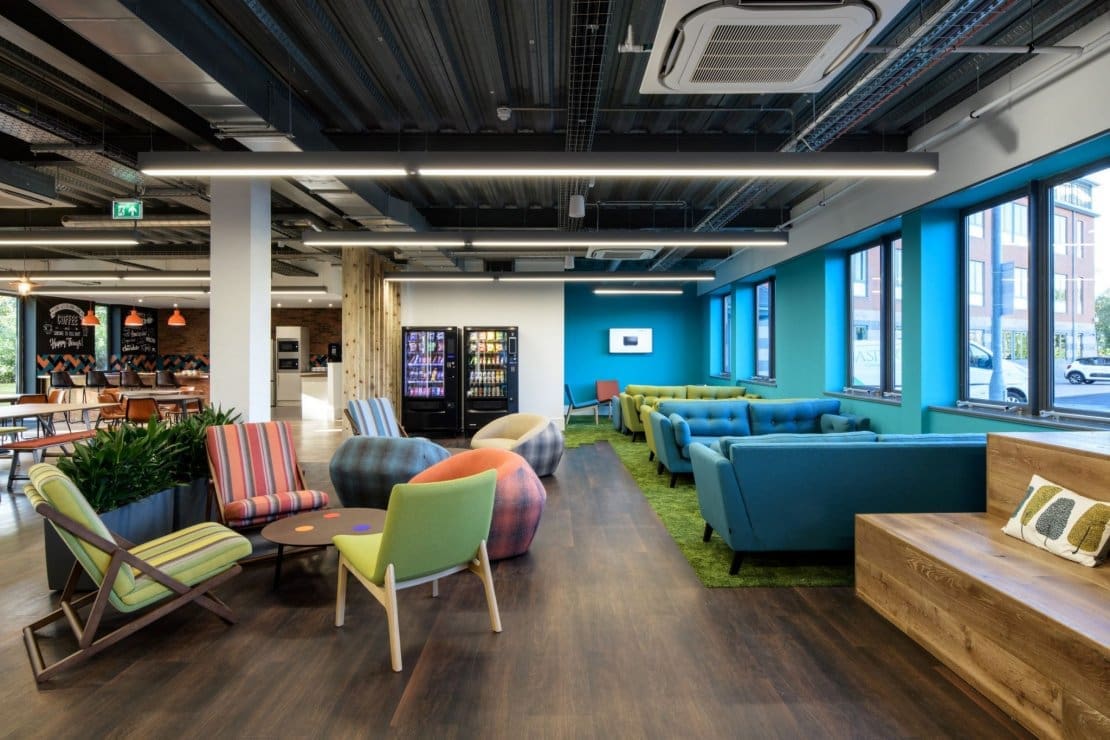 Mayborn Group workplace breakout area (by Ben Johnson Interiors)
A survey of business owners by Virgin Media Business back in 2015 predicted that 60% of office based employees would regularly work from home by 2022. And a separate survey by Office Angels found a third of employees think commuting will be unheard of by 2036.
Certainly more people are working remotely in 2019, than ever before and the trend looks set to continue.
However many business owners are split on the issue of remote working. Some believe it is the future of the workplace. They can see the benefits for how we run our businesses, while for others it poses a risk to company culture and productivity. For large international firms, it is often a necessity as workers must travel between offices.
In this article, Ben Johnson Interiors discusses the pros and cons of remote working and explores how its increase is affecting the office culture, the look of the workplace and the way we do our jobs. And we look at how to manage a remote workplace and get the best out of a team.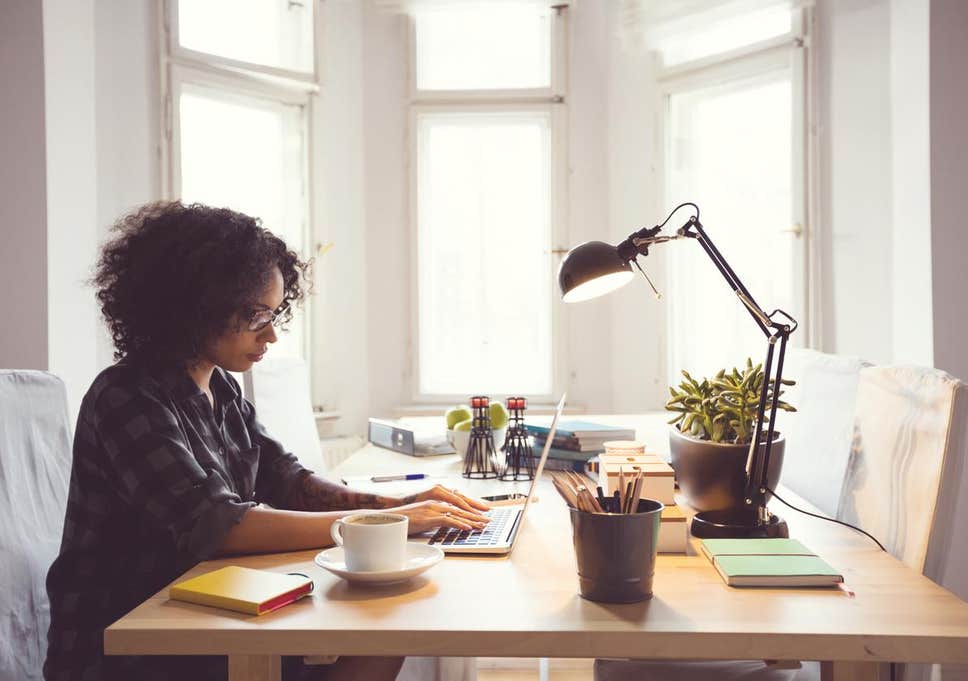 The value of allowing employees to work from home seem numerous:
You have a wider choice of candidates when recruiting staff
Remote employees are known to take less sick days and have a higher sense of self-worth
Commuting time is spent working rather than travelling
It involves lower costs
Known to reduce employee stress
Improved staff retention
Higher productivity
However, remote working naysayers will point to the possible disadvantages too:
No work social life / team building
Less team interaction and a loss of a feeling of community and shared values
Communication challenges
New management style will need to be implemented
Larger costs around technology and IT support
A high trust level required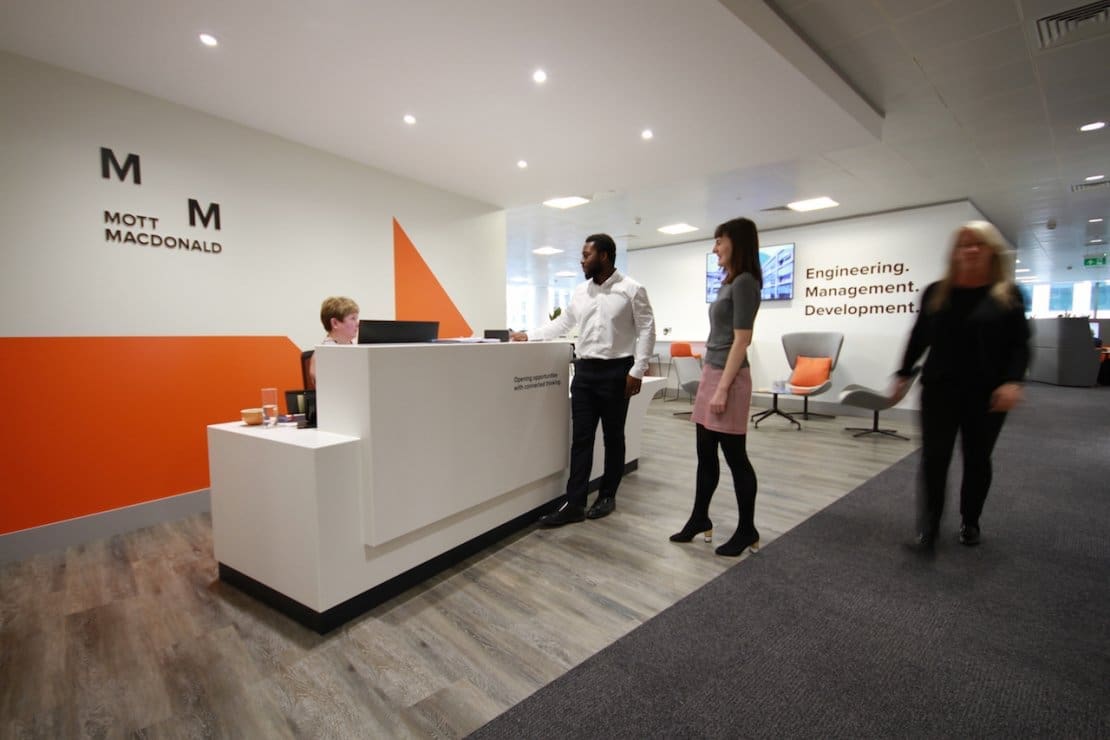 International engineers Mott MacDonald welcome staff from many other offices (by Ben Johnson Interiors)
The Ben Johnson Interiors team combines remote working with regular "office" days. The management believe this compromise, along with regular ongoing meetings and the right kind of people in post, allow staff to have a high degree of autonomy in their work and enables them to work at their optimum level of achievement.
Sales and Marketing Director Emma Dodsley says: "Although we have embraced remote working at Ben Johnson Interiors, I think scheduling and routine are probably key to its success. We have strict guidelines on when meetings must take place. We offer our people a framework and structure to ensure productivity and we have a great team of dynamic, driven people who are happy to build their work around this in a way that suits them best.
"For me personally, Monday is my Ben Johnson Interiors "office" day at our head office in York when I meet up with the team – either on Skype – or face to face on a monthly basis. I also call each member of the team every two days to find out what's happening on their patch. On Tuesdays and Wednesday I'm out and about on appointments all over the country with existing and potential clients. Thursdays are generally spent in Newcastle and Fridays in Leeds."
Rachel McDermott who is based in the North East, prefers the discipline and the company of working in an office with others and so most days travels to the Ben Johnson Interiors' Newcastle workplace in Hoults Yard Business Village.
Andy Shaw, who covers an area from South Yorkshire across to the Midlands enjoys an early morning gym session at the start of his working day, and is then often to be found working in a quiet corner of a coffee shop.
Rebecca Sparnenn who works mainly in East, West and South Yorkshire works best to a strict routine, and spends two days in the York office and three days either on the road, or from home. She says: "We all work in different way and in different places but we're very much a team and have a real sense of communal goals, values and culture. I think management style is very important to the success of remote working. Remote working runs smoothly for us because of the regular face to face meetings, our shared accountability for business success and the fact that the Ben Johnson Interiors management trust us to do our jobs well."
MEPC workplace reception in Wellington Place, Leeds (by Ben Johnson Interiors)
One aspect of remote working highlighted from the Ben Johnson Interiors examples is that companies are now operating offices that need to serve both in-person and remote workers. The increasing number of employees working from home are ironically changing the nature of office design.
So how do you design a space when a high portion of your workforce use it rarely or intermittently yet you still need a base for visitors and visiting staff? How do you accommodate everyone, regardless of where they are working in the world at any given time?
At Ben Johnson Interiors we are designing more and more workplaces to look and feel like a home environment. If you're working from a study, or a back bedroom at home, you're more likely to be comfortable and less likely to be distracted by others. So when visiting staff have to work from a company office, we are providing many more relaxed places to use for meetings as well as lots of small booths for privacy and for concentrated work.
In the new international HQ for Mayborn Group, the company behind baby brand Tommee Tippee, we provided a large staff breakout zone on the ground floor, containing a variety of comfortable seating, TV screens, pool table, air hockey, board games and attractive, high tech kitchen. Sound proofed booths, a great choice of private meeting rooms and office pods were also positioned throughout the working areas for privacy.
A great choice of meeting rooms is available at Mayborn Group (by Ben Johnson Interiors)
Unilever is a global brand with various sites across the world. When the decision was taken to invest £5million in the refurbishment of the research and development facility in Leeds, adopting agile working was a key objective. We designed the majority of workstations as hot desks with a locker facility to encourage employees to sit in project teams rather than departments. Different types of bookable meeting rooms were provided, from quiet rooms to open meeting and project zones. Collaboration was encouraged across the teams, with many informal breakout zones and flexible spaces.
An open meeting zone at Unilever in Leeds (by Ben Johnson Interiors)
The best technology in the workplace is also of crucial importance in remote working. Six people sitting around a meeting with two phoning in can often be a communication disaster. Much better for democratic interaction to have each person on an individual screen and this calls for many small areas with sound proofing and individual booths. A number of flexible, private meeting rooms, remote video conferencing facilities and large screens are now very important for international organisations.
If your workplace regularly hosts team members from far away, they may travel direct to you from an overnight flight and may appreciate a shower. Many of our clients now provide showers, towels, lockers and nap-rooms for the jet-lagged.
Workplace washrooms, changing and shower rooms (by Ben Johnson Interiors)
Workplace consultancy (to understand client business priorities), followed by professional space- planning to ascertain the best, most productive design and layout for your workplace – is important for the success of any office refurbishment or new office – to accommodate remote working or otherwise. The highly experienced team at Ben Johnson Interiors is always happy to help out with any workplace interiors scheme from initial concept or idea, to design, build and furniture supply. We work throughout the UK creating amazing spaces from London to Scotland. Don't hesitate to call us on 03333 449 249