Office Conundrums: To Renovate or To Relocate?
That is the question.
Knowing when the time is right to move or spruce up your office space can be tricky, but the whole process isn't as complicated as it sounds. Well, it can be made easier with a little expert help.  And that's where we come in! Today we're talking you through the process of making the choice, asking that burning question: to renovate or to relocate?
There does inevitably come a time when a company must face this dilemma. You need to weigh up your options and reasons, deciding whether to renovate your existing workspace or relocate and start afresh in a new space.
Naturally, there are always going to be both pros and cons for each argument.
Let's take a look at some of the most important questions to ask and five of the biggest factors involved in making the decision to stay, or to go…
The Location Factor:
When the crème de la crème of talent in the workforce is striving for a better work/life balance, the length of the commute is a deal breaker. If you're not close to transport links, cannot offer parking and don't have easy access to local cafes etc then it might be worth considering a move.
A new location could also provide an all-important important boost to business, opening up new doors and attracting new customers or clients.
The location of the space we worked on for BoxClever Consulting offers their lucky staff these spectacular views and a cool urban base!
The Employee Factor:
Empowering employees is a great way to make them feel valued and it certainly pays to get their input when you're making big decisions to ensure that you're spending your money wisely, and not driving your staff away.
This would be especially important when it comes to a renovation project, and getting other people's ideas can save you a lot of thinking time, too.
Take the guesswork out! Talk to your team to try to determine what the consensus is amongst the employees and work with what engages them, or allows them to do their best work.
Nooks with sound buffering barriers and walls allow the LeoVegas team to break away from their desks and collaborate without disturbing the rest of the office.
The Growth Factor:
If business is booming and you're going from strength to strength, it might come down to the matter of space itself!
And that can be an easy decision; if you no longer physically fit in the current office, moving could be your only option.
However, if you'd prefer to stay put, there are plenty of clever storage solutions and space-saving furniture pieces out there. We're always helping our clients maximise space, and working out how best to use what's on offer without bursting at the seams.
The Future Factor:
Following on from the previous point, determining your company's long-term goals is a vital factor in making the choice between moving or renovating.
Can you see yourself still fitting here in five years' time, or will this space realistically begin to hinder your growth long before then? Does the existing space still fit with your brand and company culture?
This point hits different if you also have the requirement to install equipment that would be tricky to move at a later date.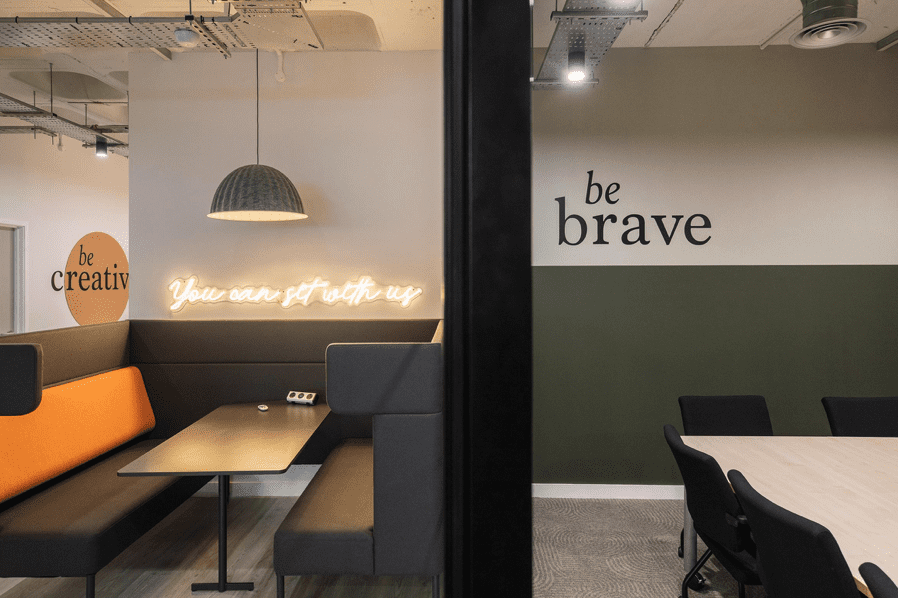 Our clients West Barn Co have brought their office space up to date (with our help) and made sure everything is bang on brand!
The Cost Factor:
It might be last on our list but actually, this should probably be one of your first considerations when you're making a decision. Finding and moving to new premises is a costly and time-consuming process. It can be massively worthwhile in the long run but you'd have to be confident with regards to the up-front expenditure.
Could that money be better spent on a refit, or are you tied into a long lease? Could you even expand into neighbouring space? Even with the distractions and downtime involved in a workplace refurbishment project, it can still work out cheaper and simpler than a big move. This is particularly applicable if the work would be minimal! It can be tempting to plunge into a huge project but don't go nuts if you don't have to!
Hopefully, that's helped bring some focus into your decision making and inspired a change for the future of your business.
If you'd like our help with your renovation project in your current office, or a refit of your shiny new office space, get in touch and let's start with a chat about your requirements.