Quick Fixes to Refresh your Office Space in 2022
Return to a stylish workspace!
We're back on the blog today with some new ideas for you to spruce up your office space in 2022 and make a stylish return to the workspace! Improvements to your workplace don't have to be expensive, disruptive or time consuming – and a bit of refresh could be just what your business needs to reinvigorate the team and get 2022 off to a good start!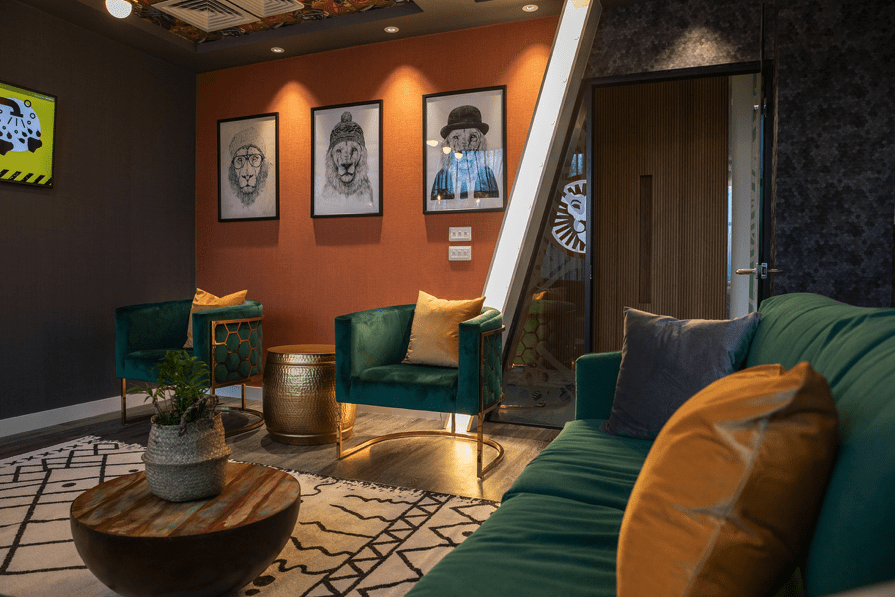 The welcoming and striking LeoVegas meeting room in their Newcastle office after we'd finished jazzing it up for their team.
Is it worth the effort?
Well, yes.
Redecorating can help generate fresh ideas, boost creativity and really ramp up productivity. Plus, the key to hacking your existing physical office design could be as simple as rearranging the pieces you've already got or adding a splash of new colour here and there.
This kind of minimal investment can enhance your company's culture and make heaps of difference to your staff morale, without breaking the bank or being detrimental to your already-busy schedule.
So get ready to be inspired…
1. Declutter your space
Get organised! Seems like an easy one but this is also a biggie.
Be ruthless and throw away anything unnecessary, encourage staff to keep their desks clear from clutter and random paperwork, and make sure you invest in ample storage to make that easier. This could be as simple as desk storage boxes, drawer dividers and more bins, or could include the addition of shelves and cupboards. Or even imposing a no-print policy, which is becoming ever more common these days. The trees will certainly be glad!
Fight the urge to just stuff everything into a Drawer (or 10!) of Chaos. These days files and cabinets are more attractive than ever so there's no excuse not to up the ante in the storage department, and a label maker can make quick work of your organisation while making life easier for those seeking a certain item.
Smarter desktop storage can also help to provide clear spaces that encourage productivity and discourage mess. Office decluttering is also something we covered in a past post in more detail so you can pop over there if you need any more convincing!
2. Upgrade your furniture or décor
This doesn't have to involve a big spend either. It could be as simple as sanding surfaces to expose natural wood, reupholstering chairs/seating or giving things a fresh coat of paint in a nice new hue.
You could encourage staff to get a little creative with their individual desk spaces; an area that reflects their personality or makes them feel happier will likely be a boost to productivity and will bring something new to the office. You could still have guidelines or rules to ensure nothing ends up too distracting or off-brand but a bit of free rein for employees can go a long way. A few statement pen pots, calendars, jazzy accessories and personal photographs from home might be a lovely touch.
Bigger changes could include swapping the traditional desks for standing desks, getting a standing desk converter, or investing in a monitor riser to budge the monitors up to eye level (alternatively, popping some books under it can achieve the same effect!).
Consider dual-purpose items too. We know that not everyone has the luxury of an abundance of space and often help our clients find multitasking pieces that will offer more than one use for the footprint/investment.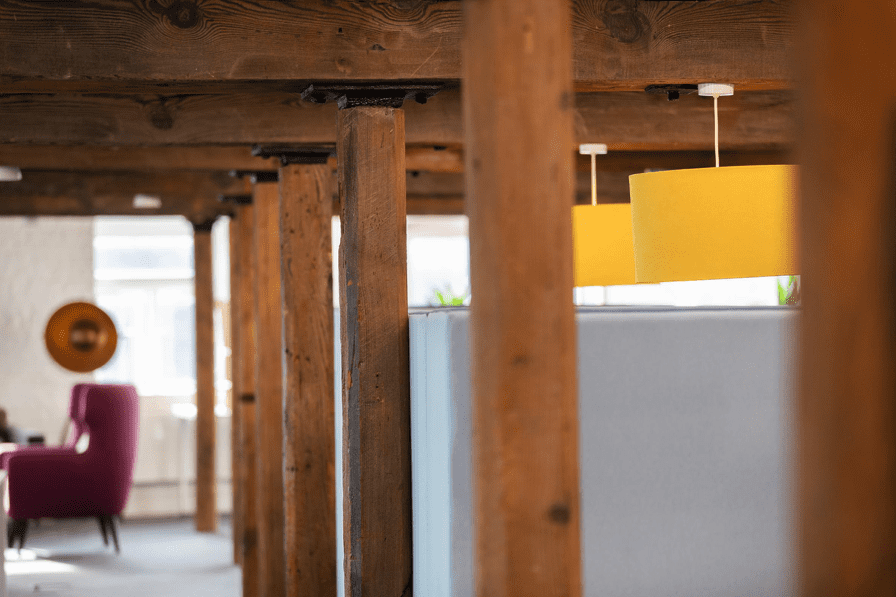 Existing exposed wooden beams became a big feature in the Boxclever Consulting project we worked on recently and really add a lovely warmth to the space.
3. Welcome to the jungle
Bringing natural elements into your workplace can instantly make us feel more inspired and boost productivity. If you can't all take breaks to work outside for a few hours of the day, bring the outside in instead.
Natural gems such as plants, flowers, crystals etc can make a surprising difference in decreasing stress levels and increasing wellbeing and motivation. In fact, studies have shown plantlife can actually increase worker productivity by 15%. That's not too shabby!
Check out our post on the benefits of biophilic office design (plants in the workplace) and see our roundup of the best plants, real or faux, for your business.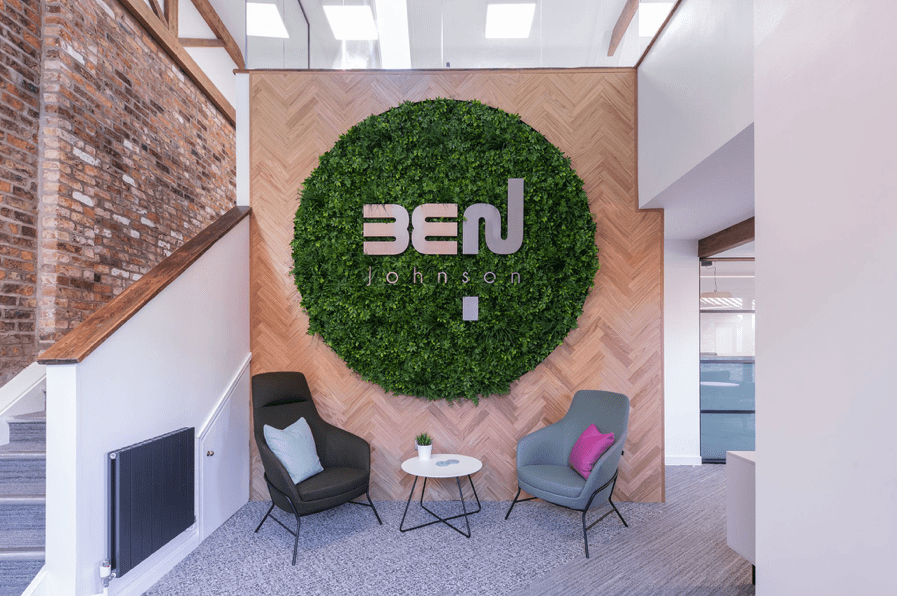 Adding more than a touch of greenery with a whole wall of plant life and strengthening the brand with the added logo in our new offices.
4. Lighting
We've discussed the impact of light on employee productivity before, and believe us, it's a big one. In terms of quick fixes, it might not be possible to increase natural light with extra windows or add glass partitions and walls to share available light throughout the office.
But positioning desks so that staff are opposite the natural light, or ensuring that desks and chairs are at the right height to get the most from the light throughout the day, plus making smart use of artificial light and checking your bulbs are all working and the best ones for the job, are all great ways to easily improve office life.
5. Rethink the layout
Another good one for the current social distancing situation – it's certainly not behind us yet! – but also a great way to give the office a whole new perspective and vibe without spending a penny. You can make sure you orient the desks in the best position for natural light too, as per the previous point, and tick two boxes in one fell swoop.
There is still plenty of fear of the infection spreading among employees if they do not keep a safe distance and making that extra space might make your employees feel safer, more cared for and happier to be in the office. And, if you do want to splash out a little, cubicles or plexiglass partitions could also be good options for extra safety.
6. ​​Inject a new colour
The colour of your walls can reinvigorate the space and have a noticeable impact on both the mood and motivation levels of your team.
Motivation might come in the form of bright, vibrant and happy tones, perhaps the pop of a statement wall, a new colourful chair or a huge piece of cheerful art that brings new energy to a room.
It also doesn't have to be a big commitment – these panels we've used in our new office design instantly add new colours to a space.
Coloured details in the new Ben Johnson Interiors HQ add interest to an otherwise fairly neutral wall.
7. Make it comfortable
Soften the space by adding some simple textiles and home comforts.
This is a pretty simple way to change the overall look and feel of the space, while also adding to the well-being of those working in the space. A fabric blind, throws and cushions are inexpensive but can make a big difference. A professional workplace doesn't have to be all sleek lines and hard edges.
The aim is to make the space somewhere functional, a place your employees are happy to be in so that they'll do their best work. Choose your patterns, textures and items with this in mind. You could also look at upgrading the chairs for ones with better ergonomic support for those long hours spent at a desk.
The cosy additions of textiles, plants and cushions here help enhance the Boxclever Consulting office.
If that's got you longing for a refreshed office space but you're still not quite sure where to start on your project, big or small, why not give us a call?
You'll benefit from our combined years of varied expertise and an enormous range of design solutions, furniture and more. Let's see how we can work together.