The 12 Office Design Tips of Christmas:
Trends & Predictions for 2022 you should know about
Whether you're still recovering from 2020 or already counting down to midnight and fully ready to embrace 2022, the new year is just around the corner and, with it a, whole load of other shiny new things. 
Office interior design trends are no exception, so we've gathered together some of our top predictions and exciting trends for the coming year, things we think you need to know to get off to a good start and avoid those post-Christmas blues.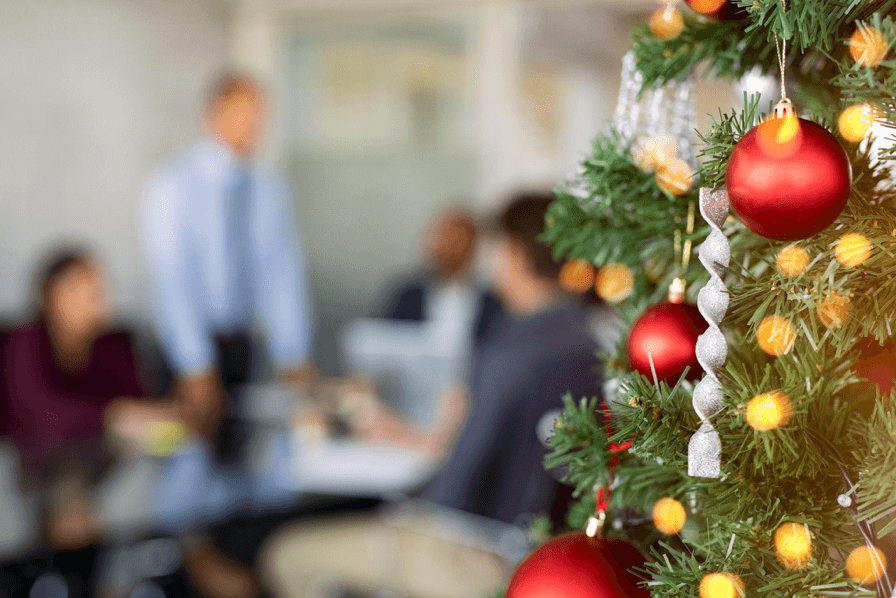 Think of it as a new office for a new era. 
The world has changed dramatically over the last couple of years and, with it, our design predictions. We think that in 2022 employee wellbeing, office design and functionality will continue to become even more important for a business, so take heed if you don't want anything to get in the way of your success. In plain English – if you're not giving the workforce what they want, we guarantee someone else will!
So here's our Christmas gift to you; our very own festive (and useful!) countdown to 2022, packed with tips and insight. 
The 12 Office Design Need-To-Knows for 2022
1. More flexible office spaces
If there's one thing we've all learnt from the pandemic, it's how to be flexible, and just how flexible we can be. This is definitely one to continue on into the new year and beyond, and is as important in the physical office space as it is in the company attitudes and policies. For example, physical offices that can convert, transform and adapt to different purposes and ways of working at a moment's notice will be considerably more successful than those which cannot. 
Flexible working gives employees the option and ability to choose how and where they're working on various tasks, to ensure that they're able to achieve maximum productivity while remaining happy and comfortable. Hot desking can be a great solution for this kind of work, a topic we've discussed recently in this post.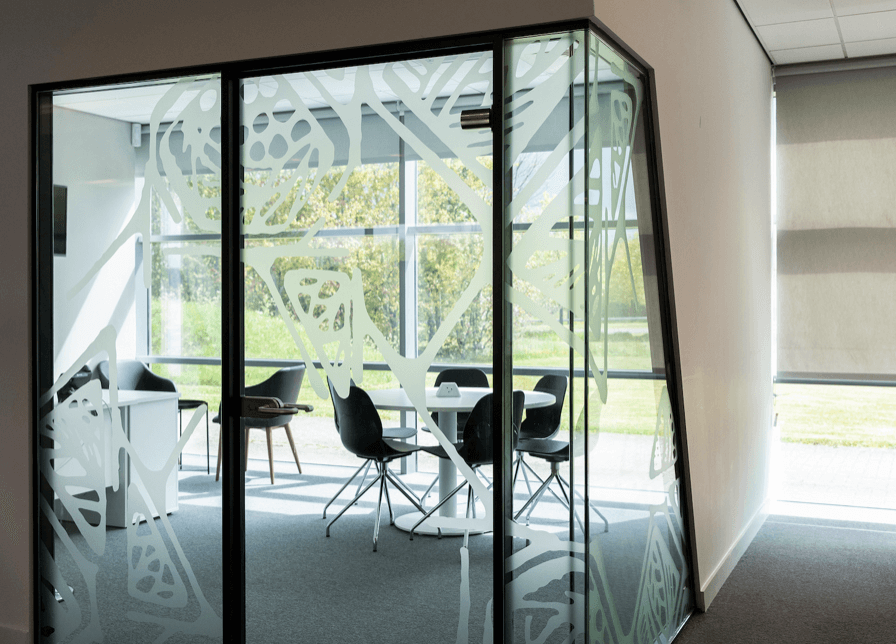 Light, bright collaborative spaces in the LeoVegas offices in Newcastle upon Tyne.
2. An extra safe and healthy environment
Any time you can make your office safer for your employees it's going to make them feel more valued and comfortable, but in the current climate hygiene, health and safety are hot topics. There's more pressure than ever on companies to comply. We don't see this going anywhere for 2022, especially with new variants and changing guidelines in response to increasing infection numbers.
Options for heightened safety measures include physical barriers and dividers, socially distanced work areas, replacing doors with automatic ones, improved air circulation, contactless dispensers for soap and disinfectants, and swapping contact points such as light switches and fingerprint scanners with smarter, more modern solutions. 
3. Keep the noise to a minimum
Too much unwelcome noise is one of the biggest complaints that workers have about the modern office and with more employees and clients relying on calls or virtual meetings, soundproofing is going to remain important in the coming year. It's something many of our clients ask us for help with.
We all know how tricky it is to concentrate with a lot of distractions in the vicinity. Putting a little extra consideration into the acoustics and zoning of your workplace can go a long way, as we've covered in length in this previous Guide to Office Acoustics.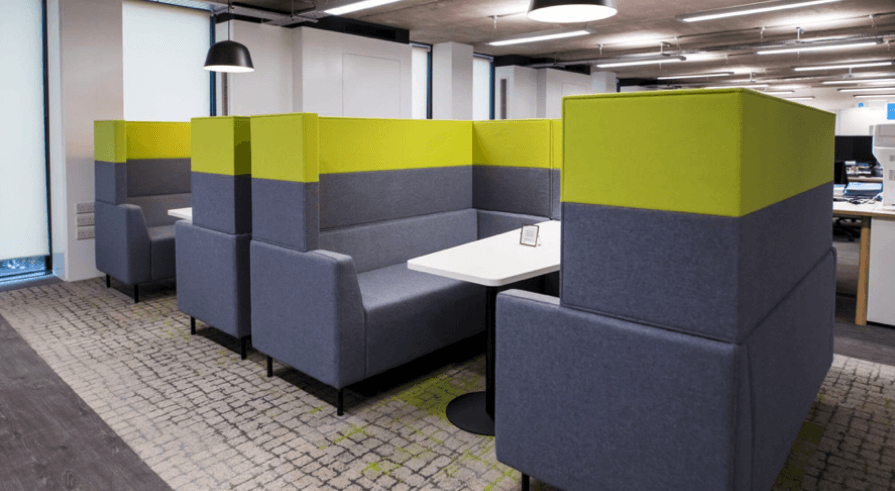 Seating with sound buffering panels in the offices we worked on for Search Consultancy.
4. Increased sustainability
Priorities have shifted in recent years and we're all more aware and concerned about the sustainability and environmental impact of materials and processes, and the office has a major part to play in that. We're all now aware that superfluous, use-once items are bad and reusing things is the way to go but it's more than just that.
Businesses that visibly prioritise this, aim to reduce their carbon footprint and make a solid effort to be eco-friendly are on the right track but this will continue ramping up in the next few years. 
You can read more about Sustainable Interior Design for the Office in our recent post on the subject.
5. Smarter offices
Linked to a few of the other points on this list, smart office tech is successfully being used in a variety of ways; to improve health and safety, wellbeing and comfort, to streamline processes, impress staff and clients and so on. This certainly isn't going to slow down in the coming year so get ready for things to get super smart.
Stay tuned for a full post on this topic in early 2022! 
6. More appropriate zoning
We foresee a lot more thought going into the zoning and layout of the office in 2022. 
A considered floor plan allows you to create specific areas for different types of work or people (or both!), and as we know, no two people work in the same way. Giving everyone the ability to do their best work, removing hurdles such as noise pollution for quiet work or obstacles for collaborative work, will ensure your workforce is performing at peak.
7. A home-from-home
A fair few of us became accustomed to working at home in recent times, so it makes sense that the office designs of the future prioritise the comfort of the working environment. The trend for more comfortable and less formal workspaces isn't exactly new but it's really being embraced at the moment. 
We're seeing luxe, patterned carpets, warm lighting, comfortable armchairs and soft textiles, books on shelves, healthy snacks and free water, and an abundance of indoor plants help create a homely atmosphere in the office. We reckon this will play an important part in office design in 2022.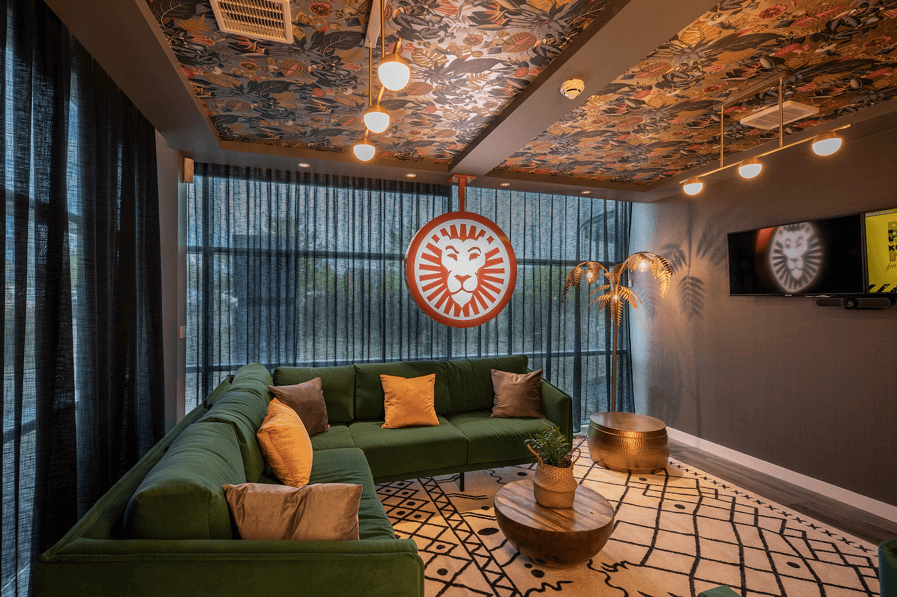 A snug breakout space for socialising and meetings in the LeoVegas offices.
8. The redefining of the office
We're talking physical vs. virtual! This concept can only evolve further to become even bigger and better in 2022. Hybrid work isn't going anywhere but employee expectations will continue to evolve so it's time to embrace the new way of looking at the physical office as a more purpose driven and flexible space, and acknowledge the relevance of the virtual office, too. 
With that said, WFH might've become a popular option, but it has revealed its limitations and shown how essential bricks and mortar offices still are for face-to-face working, culture building and collaboration. This big rejig gives companies a chance to redefine their company culture and figure out what the office means for them, using interior design as a tool. A great example of this is our recent project with Boxclever Consulting (below).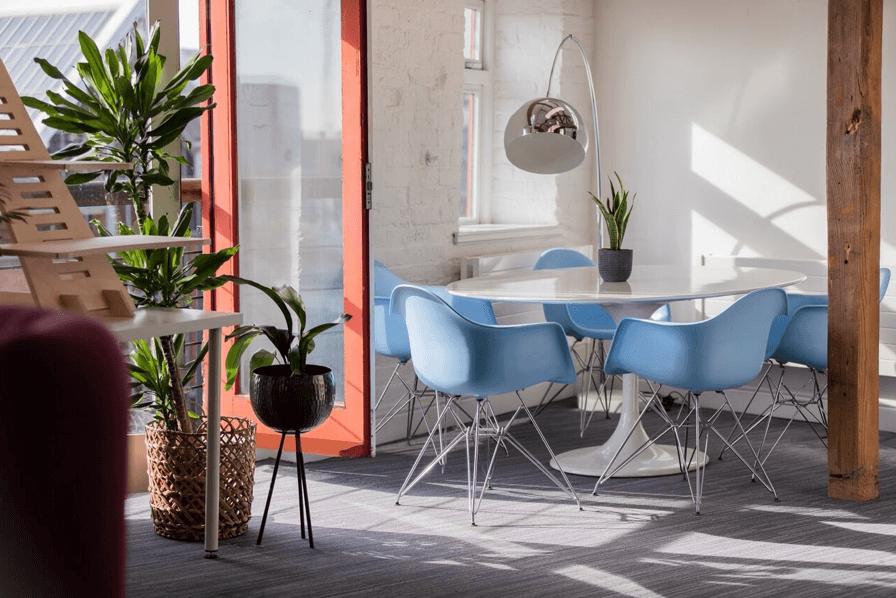 9. Action toward equality and inclusivity
Gathering momentum and showing no hint of slowing down, the concept of building greater diversity, equality, inclusion and belonging (DEIB) in the workplace is vital for the modern company.
For example, we're seeing more adaptations being done to increase accessibility and remove barriers so that everyone has equal access to the location, tools and tasks required to perform their role. The design or layout of a building, its lighting, noise level, signage or parking can all be environmental factors that may present a barrier for a person with a disability.
Employees want to see commitments in place and real steps towards achieving this. Progress is key; it's all well and good talking the talk but are those goals being achieved? 2022 is the year for more action.
10. A greener office
And this time we're not talking in the 'eco-friendly' sense, we literally mean increased greenery indoors! It's been a big trend for 2021 and we see no reason this won't continue, especially when you consider the benefits. Bringing the outside in has a multi-purpose effect – plants in the workplace helps buffer noise, improve wellbeing and looks stylish to boot. 
Check out the full list of benefits plus our plant recommendations in this post from earlier in the year.
Biophilic design in action in the form of this green wall feature we created for LCF Law.
11. The ongoing 'Great Resignation'
The employee exodus is still ongoing as we near the end of 2021. Either caused by burnout or better prospects elsewhere. 
Back to our earlier point, if you don't give the people what they want, someone else probably will. This is a trend that's been picking up speed throughout 2021 and will continue to be a big factor in 2022, but improvements in the office culture, facilities and general vibe can help retain staff, as discussed in our post about how office interior design plays a part in attracting and retaining the creme de la creme of talent.
12. The all-importance of employee wellbeing
Last but most certainly not least… 
We cannot emphasise this enough so we'll give it its own paragraph too: the wellbeing of your workforce is paramount! 
This wasn't always the case in years gone by but it's now crucial when it comes to success in your industry. Any way you can make it clear your company prioritises employee wellbeing as a base level consideration will benefit you in a plethora of ways, now and in the future.
Whether this takes the form of snazzier workstations, squishy sofas and a state of the art coffee machine, some thought into social events and team building, encouraged downtime and rests, healthy food availability, a shorter working week or mental health apps and yoga classes – creating opportunities for employees to recharge and build trust will be key. 
If you're drawing a blank check out our posts on the 'fun office', the impact of bad office design on employee stress levels and encouraging collaboration with office interior design as a starting point.
A stylish and comfortable kitchen and breakout area designed and fitted by us for the SharkNinja offices.
So that's your rundown of our 12 office design tips, trends and predictions for 2022.
Obviously, these are generalised and will likely be slightly different for every business, but the overall themes and principles apply to any business employing people! Truly investing in the future of your company would require you to properly examine the daily processes in depth to figure out how to best make these trends fit for you. There is never a 'one size fits all' approach. That's where we come in. 
By getting under the skin of your company and gaining an understanding of the internal structure, we can create the optimum space for your team. 
If this post has got you raring to go with a new project for the new year, just get in touch and let's chat through ideas together.