The Importance of Interior Design for Startup Businesses
... and our top tips to making an impact!
We've already established that impressive and inspiring interior design in the office can pay dividends for years to come, but how applicable is that if you're a startup? Well, if that's you, listen up; office design is just as important for you as it is for any other company.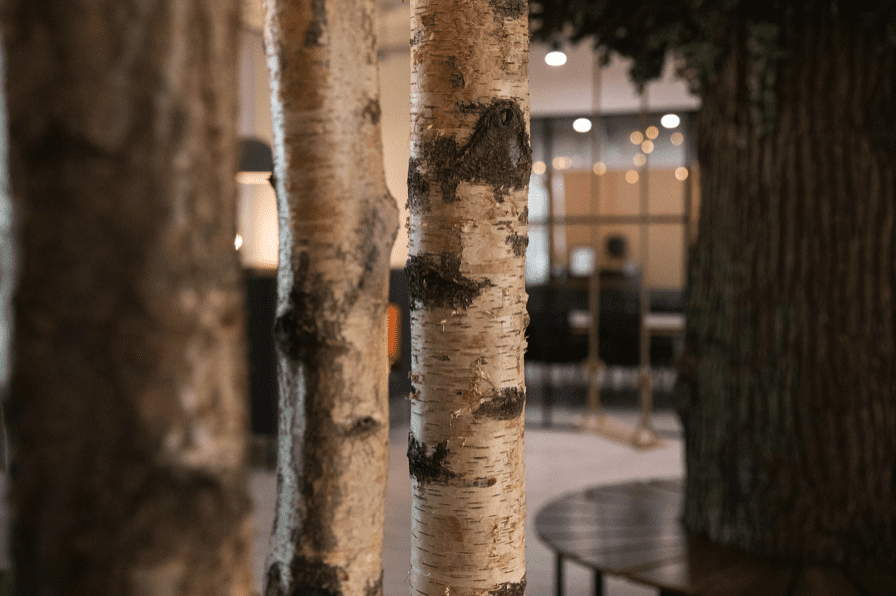 What will the first glimpse of your workplace say about your business and its ambitions for the future? Our client, West Barn Co. certainly knows how to make a statement.
Between the early starts, breakfast strategy meetings, pulling off all-nighters and socialising with colleagues out of hours to let off steam, working in a startup is more than just a job. It's very much a lifestyle in itself.
Startups strive to be innovative, fresh and memorable, and on top of that, competition is rife. You'll need a way to set yourself apart, particularly for things such as attracting and retaining the best people.
However, when you're just starting out, the cost implications are certainly a consideration! You don't want to waste money you don't have but, as they say, you have to spend money to make money. The crucial part is knowing how to budget and where to spend that money to get the best return on your initial investment, right? It doesn't have to be expensive but setting an amount aside for office design is definitely a good idea.
In today's post we're exploring the reasons why, and looking at the necessities and concerns we come across most often. By considering your workspace design appropriately now, you're laying solid groundwork for what's to come…
Top 5 Reasons Startups Need to Consider the Design of their Office Spaces:
1. To reflect company culture and create a shared vision
Your office is more than just space for work to be done. It becomes the embodiment of your brand and hub of company culture. It should convey your vision (both present and future) without you ever having to actually explain it. You should be using the office design to establish who your company is, the nature of your business, the values you stand for and the kind of clients and employees you want to attract.
Show your target audience that you think like they do to ensure you're appealing to the right people. Starting off with the right office space is far better than trying to scramble to make up for lost time later after the first impression has already been formed.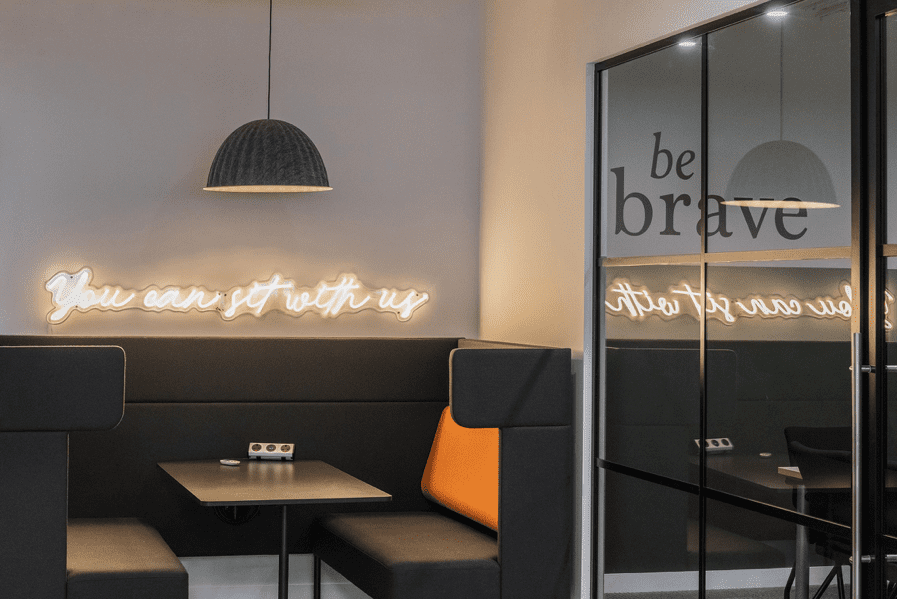 West Barn Co. has ensured that anyone entering their office knows exactly what they're about, with reminders in the form of inspiring style choices such as neon signage.
2. To show legitimacy
Having a smart, appropriate and welcoming physical office earns more respect and will help people take you seriously, encouraging them to put their trust in your company. Right from the very first clients or customers through the door, the office should show that the company is serious about its business and in it for the long haul.
We know it's not a possibility for everyone due to finances, but you'd certainly be more likely to place trust in someone with a professional space buzzing with potential and productivity, than someone with no fixed address or a gloomy little cupboard for an office.
3. To create a fun and productive environment
The daily grind without a touch of fun can be boring, relentless and monotonous. Once the mood in the office drops, the morale and productivity will fall with it. Adding fun, inspiring and bright elements throughout a design can perk up the workforce and provides an all-important boost to the working day.
We've covered the links between office design and morale in a plethora of previous posts, from How Office Interior Design Can Influence and Improve Productivity to The Rise of the "Fun" Office. Think bold colours and artwork, themed rooms, break-out spaces and comfortable furniture, and let the workplace come alive.
There's no mistaking the brand, culture or vision for Circus PPC! They've created a real sense of fun in this bold, attention-grabbing yet slick office we recently worked on with them.
4. For flexible office design
A degree of dynamic flexibility in your office design is usually important anyway but it can be especially important with a startup company as you don't know what's around the corner! How fast are you going to expand, how many clients and team members might you need to cater for, and what equipment or tech might you suddenly require..? Will a collaborative brainstorming space be essential, or will the employees you hire prefer to do their best work alone and in peace to focus?
These are questions that you won't need to know the specific answer to if you allow for as many eventualities as possible at the beginning. Nowadays there are so many products on the market that adapt for a quick change, such as movable dividing screens and desks that double as whiteboards for meetings. So, if you suddenly require the open-plan office to have a bit more structure or you have a number of project-based freelancers dropping in, you can be prepared.
We have a number of break-out spaces and bookable meeting rooms in our office, to allow for a higher degree of flexible working, as we know that our staff work in a mix of different ways at different times.
5. To allow for growth
Following on from that last point, we think 'growth' actually deserves its own mention. It's not unheard of for a new company to suddenly take off and, should your headcount triple in the first quarter, it's helpful to have some space to grow into!
A well-thought-out office should boost a company right out of the starting gate, allowing for a scale-up without hampering performance or success.
Of course, you don't want to waste money on a massive dead space but there's a balance to be found because you certainly don't want to derail things by not planning ahead for the best-case scenario in terms of growth expectations when surely the objective of any startup is to grow and transition to something bigger and better.
So, are you planning for success?
Your office design is an amazing chance to show the world who you are at the point of inception. If you're setting up your own business and would like to optimise your space for success in the (hopefully very near) future, a smart design now can help.
Get in touch with us to discuss the possibilities and find out more about how we approach startup office designs – even those with a limited budget in mind.
We'd love to be a part of your journey right from the very start.