Our office design advice is in the news…. again
An advice piece by our Marketing Director Emma Dodsley was recently featured in the daily Business Insider News (Yorkshire) in the "Business Matters" section. As lockdown eases and workplaces start to open again, in this article Emma offers four simple elements of workplace design that organisations must adhere to in a post-pandemic world.
You can read the published item below or go to this link here
BUSINESS MATTERS: MAKING YOUR WORKPLACE COVID SECURE

Emma Dodsley is a director of Yorkshire and North East-based Ben Johnson Interiors – workplace interior designers and fitters. With the government now planning to ease anti-coronavirus restrictions for some workplaces, Emma offers some straightforward advice and guidance for organisations considering opening their offices safely in a post-pandemic world.

"The coronavirus crisis is likely to change our office layouts for the foreseeable future. Here are some changes that should be made to prepare your office – and your people – for a safe return to the workplace.
Office design
Open plan offices now present social distancing challenges as people are often moving freely around working areas and sitting less than six feet apart with no protective screens between them.
Simple innovations will be stickers on floors and desks to enforce six feet of distance between co-workers. A one-way or zig-zag system around the workplace could also be introduced, to ensure staff keep their distance. Signage around the office should be placed to remind employees to follow social distancing protocols.
Fresh, natural air and windows that open will become increasingly important to maintain a healthy workspace.
Many companies are considering just using every other desk or putting up dividers and screens between desks and will ask workers to use disposable desk covers. Workplace furniture companies have introduced a new wide range of personnel protection screens to suit all types of working.
Open plan offices can easily be converted into modular, low cost, cubicle-filled spaces, reminiscent of the 1960s. This looks likely to be extremely popular post-COVID.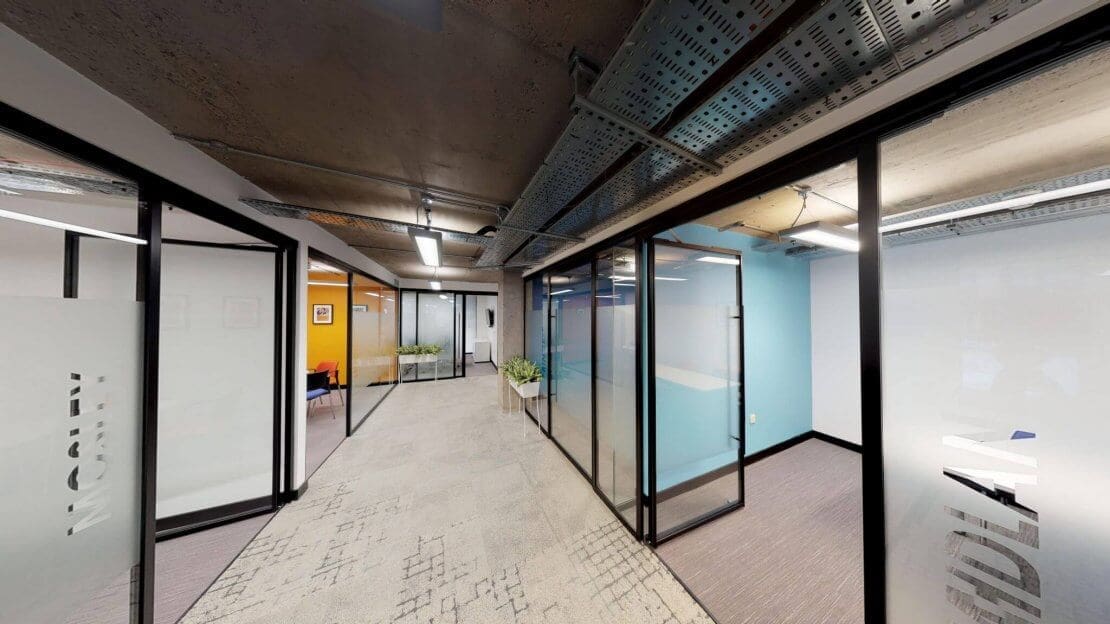 Some companies are looking at high-tech approaches to enforce social distancing with location-monitoring apps and badges, artificial intelligence surveillance cameras and high-tech health checks.
Technology that tracks space utilisation can now also give information on social distancing protocols.
Companies will be looking for hardware that replaces ID cards with facial recognition, as well as lifts and doors that can be operated without contact – via smartphones. Blinds, lighting, ventilation could be controlled by our smartphones Other measures already introduced in many workplaces could include sensor-activated taps and soap dispensers. With 80% of infections transmitted via touching contaminated surfaces, a hands-free future in the workplace could become the norm.