How to improve collaboration in workspaces
with amazing interior design.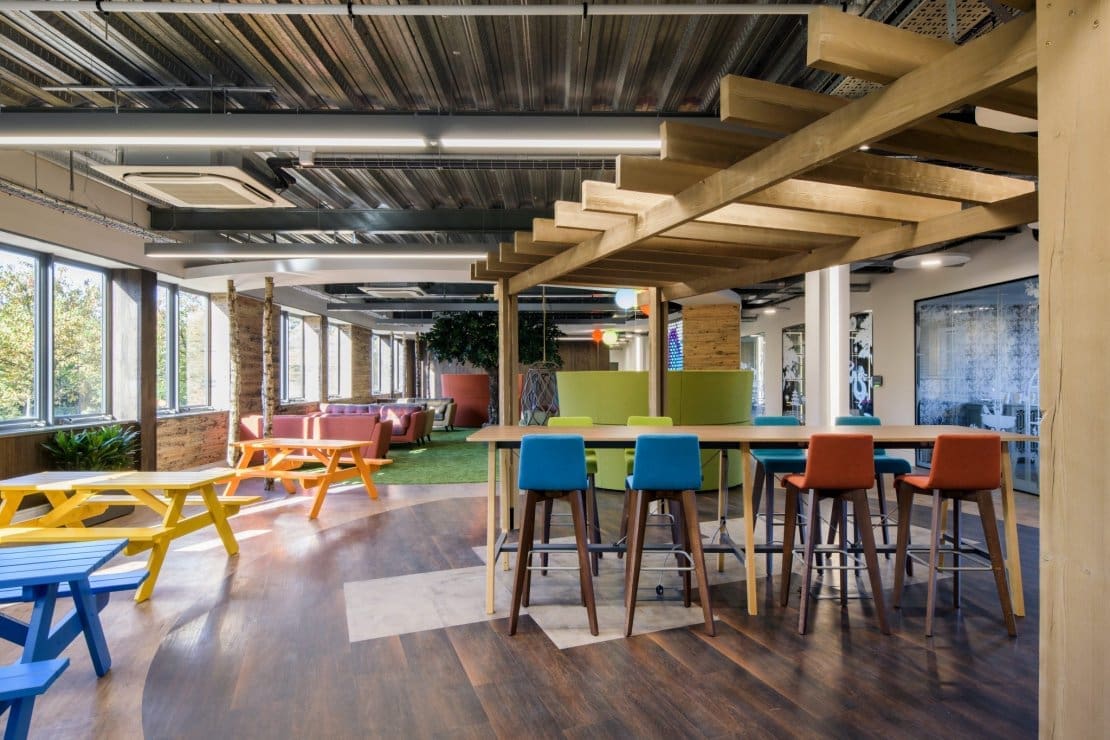 A fun, welcoming and relaxed collaborative space from our recent project with Mayborn Group
Missing the office? We hear you, and you're not alone. 
This past year has seen so many of us working from home and it's beginning to take a toll – primarily because of the lack of social interaction. The pandemic may have shown us that many jobs can be done from anywhere, but without the interaction of colleagues, are your employees really performing as well as they could be?
Collaboration is key to productivity. In this post, we're taking a little look at how you could benefit from and maximise the collaboration in your workplace when we all return to some semblance of normality.
Why is encouraging collaboration in workspaces important?
Historically, collaboration was sometimes seen as employees just wasting time, hanging out and chatting rather than actually getting stuff done.
We now know that collaboration is extremely beneficial, creating a more productive workplace all-round. 
The emergence of social spaces in modern offices – yes, even within the stuffiest, more corporate of companies – has been proven to increase employee creativity and general wellbeing, and we should all know by now that wellbeing impacts on morale and staff retention. 
A collaborative space that really delights and inspires from our work with Covéa Insurance
Pre-Covid at least, the amount of collaboration happening in the workplace was at an all-time high. This improves teamwork and generates new ideas by celebrating a kind of problem-solving, teamwork approach that was less common before, allowing colleagues who may not ordinarily work together to interact, share ideas and improve. 
By increasing communication, your team can identify flaws, brainstorm new ideas and problem solve on the fly, saving you time and money in the long term.
How can workplace design have an impact?
The good news is that collaboration and discussion can be encouraged by good, well thought out interior design and this is fairly simple to implement – especially with us on your side. 
Now, we're not just talking about throwing in a few whiteboards and a snazzy all-singing, all-dancing coffee machine without any real thought to the design element. This alone is unlikely to suddenly inspire spontaneous innovation.  
Good commercial interior design should complement the way your business and employees work, how tasks are carried out, the type of work you do, the experience you want to give employees and – if applicable – clients or customers. There should be a clear eye on the future, too. 
Any interior design specialist worth their salt will take these factors into consideration for you. It's their job to listen and get under the skin of your particular business, your culture, goals and values, to work out what your team really wants and what they will benefit from the most (which is not always the same thing!) and execute that in the best way for the business. 
Consider the 'open concept office'
The epitome of collaboration, open office space does what it says on the tin. By being 'open' it encourages employees to easily move around the office, sometimes even without initial purpose in mind, allowing working in different areas, group work, and other zones built especially for groups. Even perceived freedom also increases the perception of autonomy, which has been proven to increase productivity. 
A Harvard Business Review survey shows that freedom of movement led to a 75% increase in productivity and an 86% decrease in isolation. That's an incredible boost for your company, however, you look at it.
As they say, sharing is caring. Something as simple as creating a large co-working space can be cost-effective and beneficial when done right. Shared desk space can directly encourage group work if that's applicable to your industry. For instance, in the tech industry, this works well because it allows multiple developers to work together to solve a problem, test code or overcome bugs much quicker.
Again, it's not as simple as just sticking a row of desks in a large room and hoping the team will mingle of their own accord. Good, fluid design will be crucial to influence this by giving people reasons to move around or work in different areas throughout the day, interacting as they go.
For your business, this may include the delights of a dedicated snack station, collaboration rooms and relaxation lounges or hangout areas. 
This brings us nicely onto designated common areas…
Sometimes also called 'Collision Areas', a strategically placed common space is one where team members can bump into each other, perhaps while accessing snacks or coffee. Designed effectively, these can work as an opportunity for recharge. Encouraging people to take breaks and interact away from their work promotes a far healthier working environment and ensures you'll be getting the best from your staff when those lightbulb moments do occur.
Sometimes it's more efficient or simpler to create common areas, rather than the fully common workspaces described above. Not all employees work in the same way. A common area is a compromise between the sprawling open concept office and the restrictive cubicle. Your employees will still have the ability to unwind and to chat about projects, but can easily retire to their own personal space to complete their work in peace. Balance is something we always bear in mind when thinking about a workplace design.
Some options we might consider for common areas include:
Creating specific rooms designed and equipped to promote collaboration and brainstorming, whatever that looks like for your industry.

A chillout lounge with genuinely comfortable seating and other relaxing features to promote a solid break time.

A games room for a bit of healthy competition. The right amount of competition between colleagues is perfectly healthy and can be a driver for success.

Nooks with distinct features that would draw people to spend time there, for example, a pleasant view and clever use of colours or other visual elements.
But what about solo work?
This is not to be forgotten about! Once you've nailed your collision areas, consider your space for solo, quiet work, too. 
The ideal office layout would offer space for collaboration but also easily adapt to solo "me time" types of work. Areas like booths can be placed throughout the office to provide somewhere to go when staff really need to get their head down on something, take a call, watch a webinar… the possibilities are endless. 
It's important to make sure you've balanced 'me versus we' space so as not to prevent employees from working independently when they need to.
Sounds like a lot, we know
We appreciate that not every office can install a major collaboration room, a chill-out lounge or a fully kitted-out kitchen space. 
We understand your office is unique to your company and the nature of the work you do. The perk of having a space tailor-made and designed just for you, your company and your team is that it's a completely bespoke space, created to fit your needs. 
If this sounds like something you'd like to explore, get in touch to discuss how we can make your office a more collaborative place to work.