How to Write A Brief for Your New Office Design Project
It's the first step of every successful design project, but a well-written brief isn't always given the glory it deserves. Here at Ben Johnson, we understand that the brief can mean the difference between a strong foundation for the smooth journey ahead or avoidable-yet-unforeseen potential problems.
But what exactly is a project brief?
Your project brief is the key document that will be referred back to throughout your project, by you but also by any other division of the project team. It works to keep everyone on track with full visibility, outlining the various objectives and goals for the total workplace redesign. It's especially important if decisions need to be clarified at a later stage.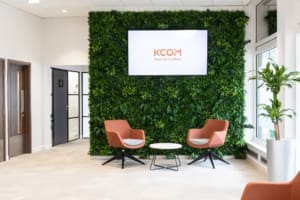 KCOM's project brief included spec for bright, light spaces and areas for different purposes.
In short, the brief should detail the vision for the new office. It should contain notes on any facilities or needs that will be incorporated, and set out the way of working that you're aiming to achieve, such as introducing hot-desking, socialising spaces or breakout areas. It should clearly back up your brand values, ethos and be approved by anyone who needs to have the final say before work begins. This can then be used for employee communication, for your property agent, your designer, builder or, like us, your Design & Build company!
To write a strong project brief, ask yourself what the key drivers are. Is your existing office plan outdated? Does it lack flexibility or limit productivity in some way? Do you have specific hurdles you need to remove as part of the process? Could you perhaps use the design to strengthen your company culture and make your workplace unique?
How to write a powerful design brief:
Start with a total overview of your business

Then outline the scope of the project

Next, set specific goals for the completed space

Take inventory of what you already have and what needs to be reused/incorporated

Clearly define the timescale and schedule

Determine the budget and any contingency (and then stick to it!)
Working to a detailed brief allows us to create a space that has enough space for your requirements – take this large, bright meeting room for example. Here, we have enough space for everyone around the Envirovent table! 
Before you start you might want to carry out a workplace appraisal. Look at how sections of your business currently operate, and think about how the company might grow in the future. Will certain departments need more space in the coming years? Or less? Do those departments need quiet space or more daylight to complete their tasks effectively, for example? You could perform a storage audit at this point too. It might be a good idea to carry out management interviews to find out what each department needs and determine work patterns, and then use those to perhaps calculate growth projections to ensure you accommodate any future growth.
Work with your IT team or partner to craft a technology brief as part of the full project brief. The new office might have specific requirements to fully support the way your colleagues work. From computers, printers and visitor services to audiovisual equipment, comms rooms, wireless networks and audio or video conferencing facilities – whatever your business, it's far easier to get your technology needs in place right from the beginning.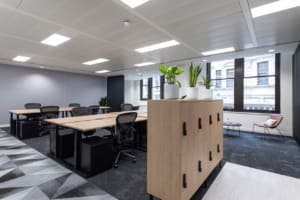 Even if you're not sure which people exactly you're designing for, as with this plug and play office we worked on in London, you can ensure there's plenty of working and storage space for any employees.
Remember to put your people first in the design concept. This one's important, otherwise who are you designing it all for? Your space might need to be designed for quite a diverse set of needs but putting your team's well being and comfort at the forefront is a solid basis on which to build. You might even want to consider involving them in the early stages of planning, to ensure you're getting it right. 
Get the branding in there from the get-go too! Harness the power of what makes your business unique in its industry and craft a space that reflects and strengthens the culture and brand. This might be reflected through colours, artwork, materials and finishes. Take the opportunity to give your brand a bit of a glow up if needs be too. Think about what you want your office to say to those entering the area, and how that could be manifested through office design, in those more subtle elements. Set your workplace apart.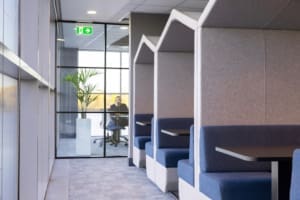 Keepmoat wanted to make their office reflect them as a company, and a solid brief before the work even begins is the first step in achieving that. 
To help you create your brief, here is a list of 7 simple questions we often ask our clients:
Do you require a manned reception desk or a simple meet and greet area, and how many visitors does it need to hold at any given time?

Are you looking for a more open plan design or a divided office for each team?

How many desks are in your office now and are they currently the right size for the people/teams sitting at them?

Which teams need to sit next to each other or regularly interact through the working day?

How much storage are you allocating per person or department?

What are your meeting requirements?

What are your kitchen requirements?
And finally, trust the process! This is a wonderful opportunity to tackle any issues that have been bugging you. Grasp the chance to reinvent your workspace to re-engage and inspire your team afresh, setting out your stall in a whole new way for 2024 and beyond! 
We know that kickstarting a new project can take up a lot of your time and may seem overwhelming, so we're always available to help where we can. Working with us means you gain the experience and guidance of our friendly team as part of our workplace consultancy service, and we can help you pull together a comprehensive office design brief that leaves no stone unturned. Get in touch to take the stress out of the process!