Let there be light!
Office Lighting Designs
Office lighting can be overlooked when thinking about office design, but it can have a significant impact on the health of your staff and your company image.
Here are five tips to make your office lighting as good as it can be – for your workplace productivity as well as for the wellbeing of staff and impression on visitors.
Use as much natural light as you can
Natural daylight is one of the best assets in office design. Ideally, natural light should take the lead, with artificial lighting increasing the light to sufficient levels. The aim should be to make people feel connected to the outside world whilst being able to work comfortably. If you're choosing a new workplace, this is such an important factor to take into consideration.
Good levels of daylight in an office bring so many benefits to your staff as well as your productivity. See research carried out by Cohere below with the World Green Building Council.
LEDs are the way ahead!
In terms of artificial lighting, fluorescent tubes have been around in offices for many years as they're cheap to buy and fit, suitable to be installed in suspended ceilings and can light large areas. But problems with fluorescent tubes include flickering, buzzing and bulbs becoming dimmer with age, so the quality of light can be inconsistent. It's time to move on!
A popular alternative is the LED light. In the past, LEDs have often been seen as an expensive option for offices, but in the long term they are more cost-effective than fluorescent lighting.
LEDs are also far more energy efficient than fluorescent tubes and other bulbs as they last far longer and use much less wattage to operate. Another environmental benefit of LEDs is that they don't contain mercury and other chemicals found in fluorescents, which can be harmful to the environment.
All images below are from Ben Johnson Interiors client offices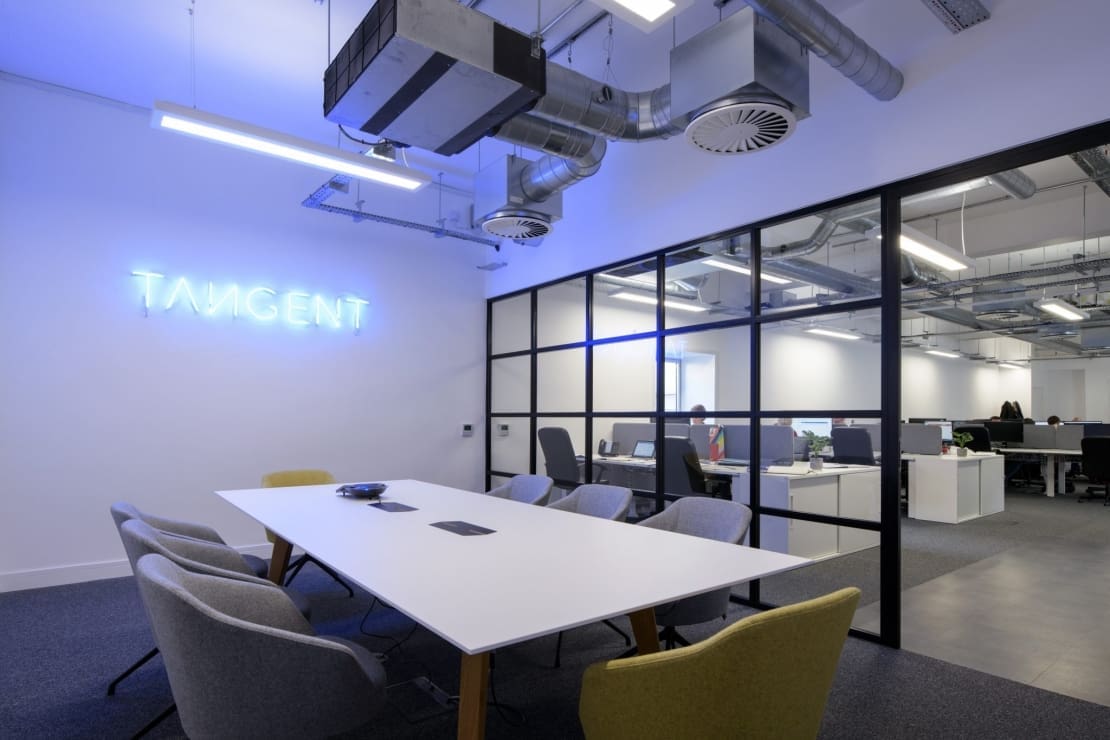 Feature lighting enhancing brand for Tangent
Feature lighting for Centrica
Install a lighting control system
Daylight integrated lighting control systems can regulate the level of artificial light in response to the level of natural light in a building. This means that artificial light is automatically dimmed in response to the level of natural light present.
Ingeniously, lighting control systems can also be designed to save energy in an office building by responding to how each area of the office is used. Adding a lighting control system into an office redesign or fit out means you can get the most out of any new lighting in terms of performance and energy saving capabilities.
As well as making the most out of natural daylight, lighting control systems help to save money. Areas that aren't in constant use, such as corridors, toilets and meeting rooms, are only lit when they are in use. Occupancy control sensors ensure that the areas are lit when in use and lights are switched off when they're not needed. Dimmer switches can be installed to control light levels in meeting rooms where projectors are used. Lighting control systems add a level of flexibility to lighting that is vital in modern offices.
Blinds and window dressings can also be considered as lighting control systems. Perforated blinds maintain the view outside of a window whilst redirecting sunlight onto the ceiling.
Simple, effective business-like lighting for engineering firm
Mayborn offices, Newcastle upon Tyne
Use lighting to zone different areas
Lighting can help to define different areas in an open plan office, making the best use of the space available. Below are some ways that lighting can help create designated areas in an office:
Over-sized pendant lights hung above a large table can help define this area as a place for meetings and get-togethers, even in an open plan office.
Spotlights can lead the way down corridors, directing people to different areas of the building.
Low lighting in booths or meeting pods can help to convey an impression of privacy.
Breakout areas are great places to introduce more unusual lighting choices like different colours; accent lighting; and bulbs and lampshades of different sizes and shapes, offering a more relaxed atmosphere
You can add flexible features such as dimmer switches, standing lamps and table top lamps to give people control over light levels and mood of a breakout area, whether they want to work, eat, meet or relax in those areas.
Lighting which zones areas for Centrica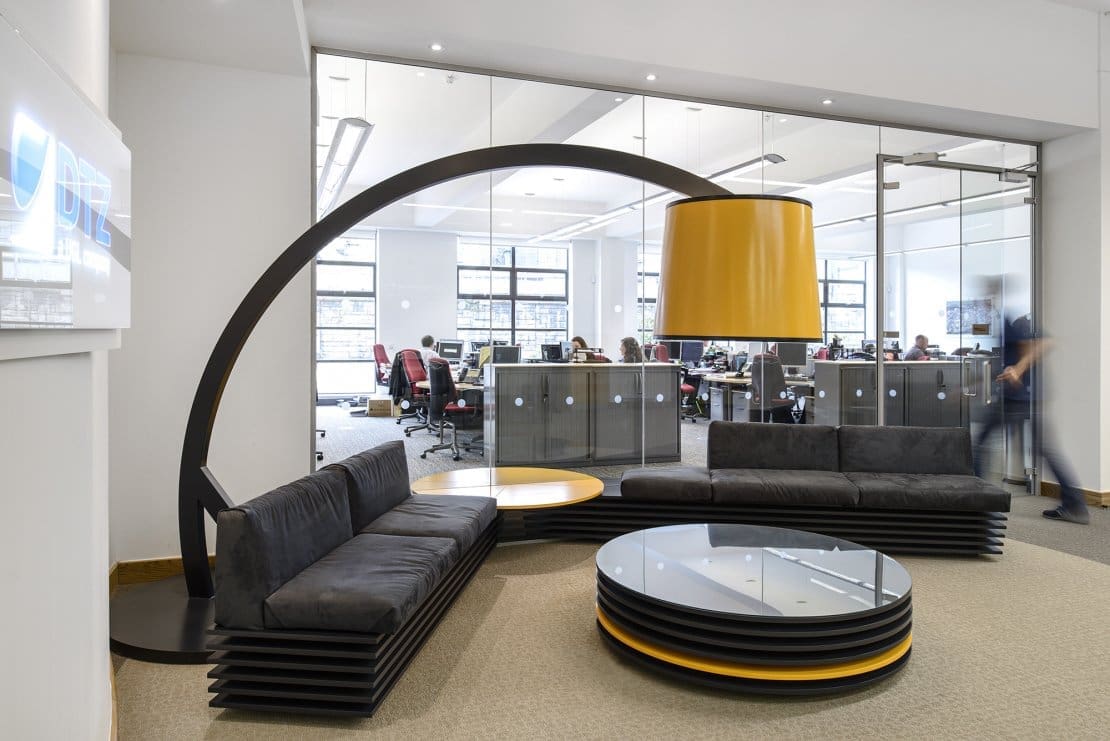 Cushman & Wakefield's feature lamp in reception
Making office lighting people-friendly
Organisations should consider investment in and installation of human-friendly lighting, which can give a tangible return in terms of worker productivity.
Legislation governing office lighting is published by the Health and Safety Executive. While it covers health, safety and minimum illumination levels for the workplace, it does not consider the creation of pleasant and thereby, performance-enhancing lighting. Different activities require different types and levels of light. Consider creating a contrast between different areas of the office. Those spaces not used as workstations, such as walkways, could have a lower level of lighting. This contrast can create a more interesting space and contribute to a more attractive look.
Lighting position should also be considered, as light shouldn't reflect directly into the eyes from surfaces or screens. Rather than uniformly illuminating an office environment, throwing light on to walls and ceilings will make a space seem larger, brighter and less claustrophobic.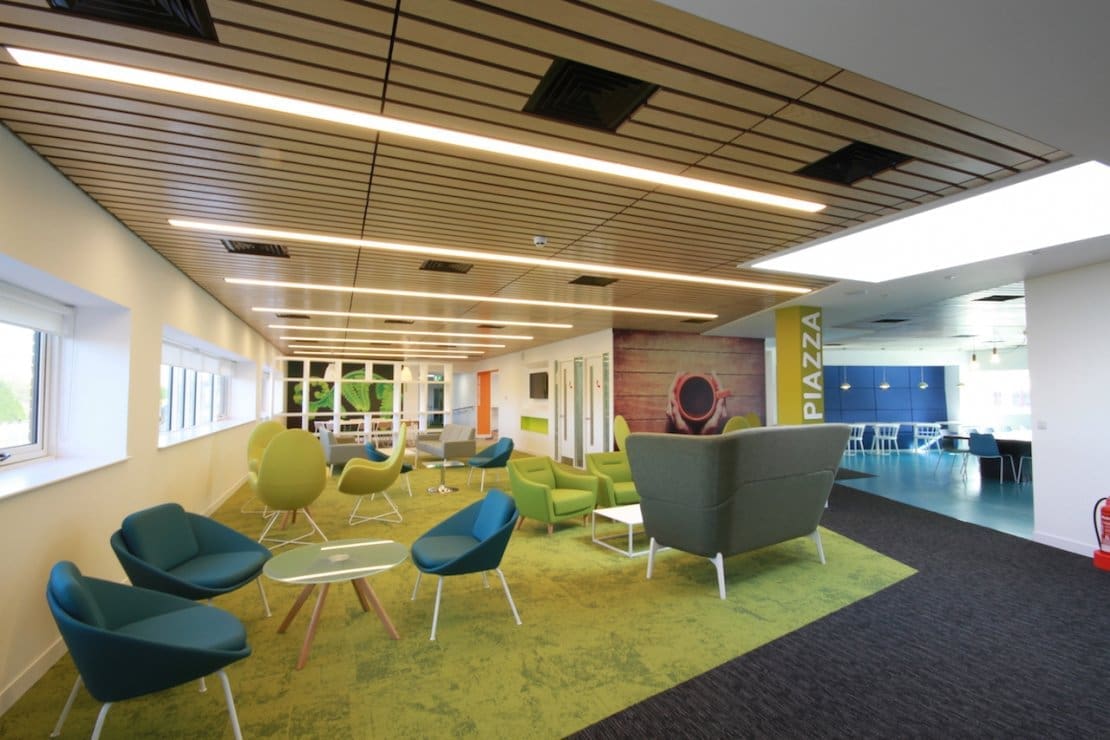 Different lighting styles for different areas for Unilever
Mayborn offices, Newcastle upon Tyne
Glare can severely affect the quality of lighting in an office environment and is an extreme form of visual discomfort. It is a key factor when choosing LED office lighting. With an anti-glare, prismatic diffuser, LED lighting proves a popular choice for office spaces.
From headaches to eyestrain, staff health can be directly affected by poor lighting. However, it can also affect employees in more subtle ways. From wakefulness to contentment, well-designed lighting does much more than address simple health and safety issues. Office worker satisfaction and subsequent productivity can be positively affected by well-designed lighting.
Exposure to light is responsible for sleeping and feeling well and affects our productivity. Today, most people work indoors and when there is a lack of natural light people can feel tired and listless. Good lighting at work is much more than simple illumination, it can inspire and establish mood at work and is therefore a must for productivity – as well as aesthetics.