Office Design for the Healthcare Sector
It's an important aspect for any business, in almost any industry, but it always bears repeating: Interior design makes an enormous impact. You are visually representing your brand, gaining trust, making employees and visitors comfortable whilst impressing them, it outlines your core values and company ethos and establishes your credentials. 
So it stands to reason then that it's just as important for the healthcare industry – after all, all of those above points apply, plus many more! Interior design can be used to upgrade a healthcare facility and instil trust, enabling it to go beyond mere decoration.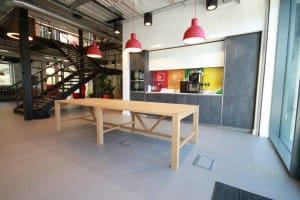 Gama Healthcare Ltd is a world leader in the manufacture and development of infection control products for the healthcare sector, and they wanted to give their team somewhere that would boost morale.
A lot of office work is being done behind the scenes in the healthcare sector, due to the high levels of admin required and of course the essential comms and branding. Whether it's in hospital settings or pharma brands, the healthcare industry needs decent office spaces. The wellbeing of those healthcare workers – whose focus is often taking care of others – and their need for respite can be easily overlooked. Let's make it a priority to improve the lives of those delivering care.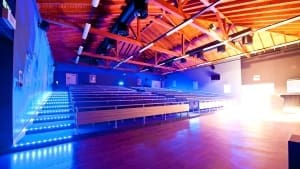 After thirty years of use, Hull Royal Infirmary lecture theatre was well overdue a face-lift and update of Audio Visual equipment.
So how can interior design help?
Safety
As part of the initial planning process, design can be instrumental in making sure the office is a safe place that fulfils the needs of any employees, visitors or patients with sensible solutions. Considering the wellbeing of those who will be working in the space will likely mean thinking about requirements that other offices may not have and incorporating new bespoke concepts. This could include accessibility considerations as part of the underpinning design, adequate air ventilation, materials that are easier to clean or non-slip floors. 
Infection
As mentioned in that last point, cleanliness needs to be addressed. This is now the case across the board, for almost all businesses since the pandemic but is especially crucial in the healthcare industry, where patients or visitors bring harmful diseases of bacteria with them that can quickly spread.
Healthcare-associated infections (HAI) are often passed on through a hospital stay or even a waiting room stay! The World Health Organization states that 7% of hospital patients in high-income countries will pick up a HAI during a hospital stay. The statistic jumps to 15% of hospital patients in low or middle-income countries. Interior design can actually help to play a part in reducing that spread. 
Limiting contact, providing decent spacing between visitors, offering improved hygiene solutions and making it easy to thoroughly disinfect surfaces or furnishings can go a long way, as we did (below) in the Spectrum Vaccine Centre during the pandemic.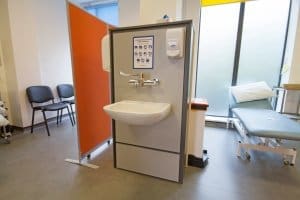 Plenty of opportunities for cleaning and hygiene was just part of the solution we worked on for Spectrum Vaccination Centre.
Biophilia and light
Plant life is having something of a moment in office design and the healthcare industry should be embracing it. Bringing life into otherwise potentially sterile environments creates a more pleasant space, helping with anxiety and morale. This could also be said for artwork and decor but plants in particular have many other mood-boosting benefits. We've covered them in more detail in our previous Knowledge Hub post.
Placing emphasis on designing around natural light is good for the eye and the mood of anyone entering into the area. Sharing light with transparent dividers means potentially saving space too, as you can easily divide people, keep those pesky HAIs at bay but not block out any daylight.
Flexibility or adaptability
It helps if an office or healthcare facility is adaptable at short notice. Often the nature of this particular sector relies on flexibility to function and needs to evolve to provide for new needs seamlessly and quickly. Fixed components in the design can limit the space and cause issues but using furniture that is easily moved or reconfigured or has multiple uses saves time, space and money under changing circumstances.
Flexibility can also offer added privacy for teams or patients when needed too, allowing privacy levels to be customised on an ad hoc basis and the facility to serve a more diverse group.
Morale
Comfort and morale are both big points. Just the overall feel of a space can have a surprising impact on morale and in making people feel important and valued. A splash of colour here, a comfortable seat there and your staff will be likely to feel more appreciated and content, driven to do their best work for you. 
Sterile and boring spaces aren't making anyone feel better or more loved, are they? The industry as a whole has become more accustomed to using decor to influence emotions and create a sense of warmth, whether this means a bright colour scheme, a squishy sofa, plenty of uplifting daylight or a better selection of magazines. Aesthetics are important and colour especially can be very influential. Red can raise the blood pressure or symbolise danger, but green is known to stimulate healing and growth whilst blue has a calming influence. Natural elements and earth tones also contribute towards a calm atmosphere, and you might want to consider letting employees control their own lighting to give their eyes a break if needed.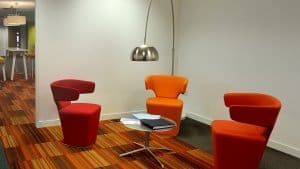 As part of the TP Orthodontics office design, an autumnal colour palette was used to create a warm & welcoming impression to visitors and staff alike, to avoid it becoming too corporate.
Waiting
It's not anyone's favourite way to spend time but waiting is an inevitable and inescapable part of healthcare. Whether waiting for an appointment or a business meeting, at some point chances are someone will need a space to wait – and that space will say a lot about your office. It can also have a big impact on their perceptions of quality, their trust in the organisation, their impression of the care they're receiving or their anxiety levels. This example in the Jolly Pharmaceutical Offices in Hangzhou, China is a lovely example of a spacious waiting area with good, chill vibes.
Waiting spaces are frequently overlooked but every element of the experience matters, and this is the time when they're likely going to be left alone to take in their surroundings. Make sure you create the right settings for a positive experience! As mentioned above, the waiting space is also a good opportunity to reduce the risk of infection spread too. Was it ever a good idea to cram rows of seating into hospitals? Well, perhaps not!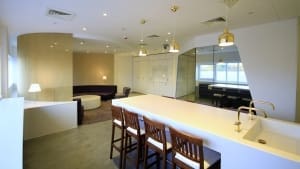 The front of house lounge area in the Unilever Customer Experience Centre we worked on is inviting, designed to welcome consumers and make them feel at ease.
So yes, interior design has a much larger impact than just the appearance of a workplace, especially when it comes to the healthcare industry. Regardless of the type of business you run, good office design can optimise a space. 
If you'd like to make your office the best place to be, or you have a healthcare facility that needs some attention, get in touch. We work with a number of different industries and have the know-how to help!