Upcoming Interior Design Trends in the Workplace
- Our Notes from Clerkenwell Design Week 2023
Once again some of the Ben Johnson team are freshly back from Clerkenwell Design Week and buzzing with new ideas from the inspirational design and motivational discussions we've witnessed this year – not to mention all the incredible new products and stylish interiors we've been geeking out over. 
We've been doing plenty of spying lovely design on your behalf again…
You might remember our Top Takeaways from CDW 2022 post and this year we're bringing you even more interesting tidbits, but distilling it all down to the most major of upcoming trends from the frontline of Clerkenwell. So, whether you're a business owner, an office worker or simply a design fanatic, these are the concepts that we think you need to know about.
Let's dive in…
Thinking Green
If there's one thing that's clear from this year's CDW, it's that the environment is at the forefront of everybody's minds. Priorities have shifted and that's being reflected in the way we work across the board. It's no longer enough to simply show that you can recycle in the workplace – rather recycling should be the last resort in many cases, as the esteemed panel on the Role of the Circular Economy in Creating Sustainable Workplaces discussed. Instead, we should be focussing on designing products that are of a higher quality and will last but, when they are in need of replacing, can be reused and given a new life, rather than recycled. 
Making better choices with materials, products and designs is becoming even more vital. (Image showing our work with Keepmoat on their new offices)
The term 'greenwashing' was topical this year, with so many companies hiding behind the fact that their shiny new product is recyclable. In reality that's barely helpful when we don't have the ability to recycle the amount of waste that is being generated. Intentions instead should be concentrated on designing things that are durable and extending the life of products moving forward, and we at Ben Johnson fully appreciate the fact that the world seems to be heading in this direction. It's something we've been conscious of ourselves for some time.
Major projects are currently leading the way, which will trickle down into smaller companies and projects naturally, but a lot of the talk we saw at CDW was about pushing the government and institutions of the industry to provide incentives and lead change at a faster pace too.
Our team knows there are a number of different key ways to achieve a more green workplace; beginning with setting targets for circularity. This might involve only working with all natural materials, removable upholstery, and trying to avoid plastic use completely. As we all know, every little helps and buying well now can impact in the future – plus it's far better for your finances!
There's also currently not a lot of collective knowledge sharing across the interiors sector going on, so we hope that this will become more prevalent in the near future. We believe it's going to be important that we all share good practice, benefitting from learning en masse from what didn't work, in order to progress in the field so we'll certainly be keeping an eye on this one!
Getting Physical
This is still a heavily topical concept in 2023 as it seems that the trend of WFH may have had its day. The key questions here often focus around how we get people back into the physical office, the value of going into the workplace and how different countries compare. So let's look at the evidence and chat about our take on it.
Dixon House is just one of the many spaces we've worked on recently that is sure to tempt staff into a physical office environment – and who can blame them when it looks this good?
How do different countries compare? Well, working patterns show us that Asia returned to the office pretty early after COVID. The most likely reason being that the work culture is on the whole less trusting. The rest of Europe mostly also returned to the office, but the UK and US, on the other hand, showed no great surge to return to office life. It seems we predominantly just don't want to go back to office life, or – to be precise – only 12% of us want to come back to the office full-time. These were identified as either the very young or much older generations. 83% want to continue remote working, according to the conversations at CDW. 
What is the value of going into the office?
Post-Covid, the majority of companies adopted a hybrid working model – sometimes in the office and sometimes elsewhere. This has become the norm but time shows that this isn't necessarily working for everyone. In fact, 50% of employers would prefer staff back into the office but are scared to ask! 
However, many employees are now beginning to report a sense of burn out, or a feeling of isolation too. They don't feel as bonded to the company or their colleagues, job unhappiness is on the rise and younger generations are not learning at the same pace as in previous years. 
The stats from CDW show us:
There's been a 153% increase in virtual meetings reported by Microsoft
45% of meetings overlap, resulting in stress for employees
42% of employees surveyed admitted to multitasking in these virtual meetings, which could be affecting work quality
85% of business leaders don't have the confidence that their teams are genuinely productive 
And, most worryingly, 82% report burn out and blurred boundaries
How, then, do we get people back to the office?
You might've noticed the ripples caused by the impact of companies instigating strict mandatory return-to-work policies. We saw a rebellion, with outraged workers looking elsewhere for opportunities which would allow them to maintain their new flexible working life. Clearly an aggressive pull to the physical environment isn't the answer!
The key here seems to be to coax team members back into the office on a regular basis with a tempting environment, rather than force them. This is where interior design plays a huge part. Creating a hub that's more than just an office but a powerful tool and a destination all rolled into one will be vital in the coming months and years. We want to be giving the workforce total autonomy over where they work but making sure the physical office is their number one choice!
Motivation could include building a sense of community, offering a change of scenery and thinking space, or collaboration and socialisation. Consider a cafe vibe with free coffee or snacks, social events, lifestyle support, upskilling centres, supporting neurodiversity and flexible layouts. 
(You might want to check out our previous post for more ways you could use the design of your office to tempt employees back into the office amicably, and keep them onboard with your company goals post-pandemic).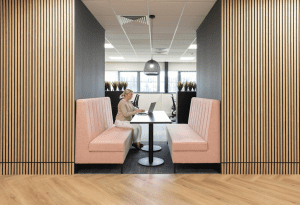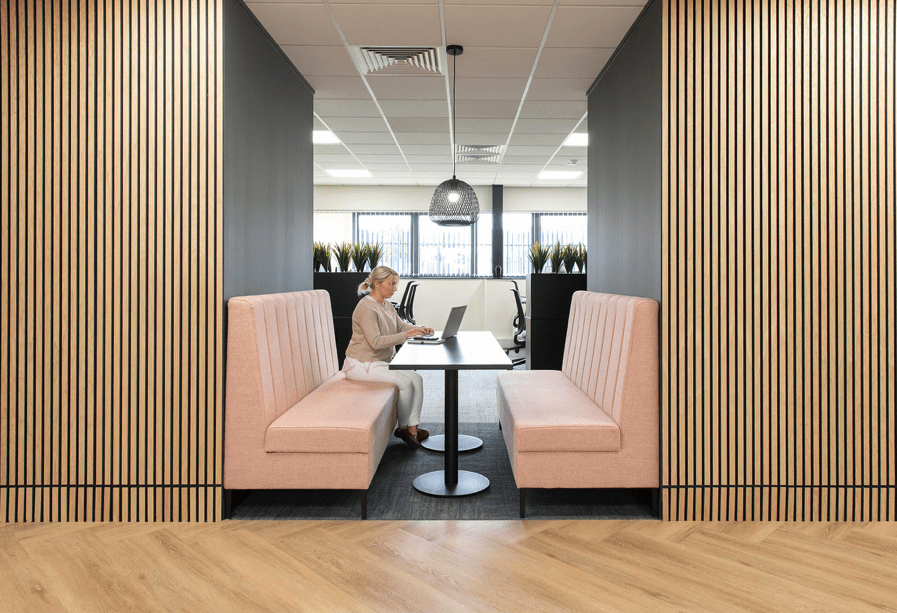 An office layout like Firmenich's offers employees a choice of spaces to work in, encouraging them to come into the physical office to do their best work.
We hope you've enjoyed our little run down of the key topics from Clerkenwell 2023 and we've inspired you to perhaps make some changes in your own workplace. 
If you'd like to chat about these topics or any other office design improvement projects, we'd love to hear from you!