Unveiling the New Ben Johnson Interiors Office!
Take a look around our new workspace...
Well, this is a very exciting post for us! We've been teasing you with sneak peeks over on our social channels and newsletters for a while now, but today we're extremely pleased and proud to be revealing our own newly finished office space in York.
As a leading office design and commercial build interiors consultancy, we needed an updated base that better reflected our business, creating innovative and purposeful spaces for other businesses, and housing our highly skilled and experienced team in comfort.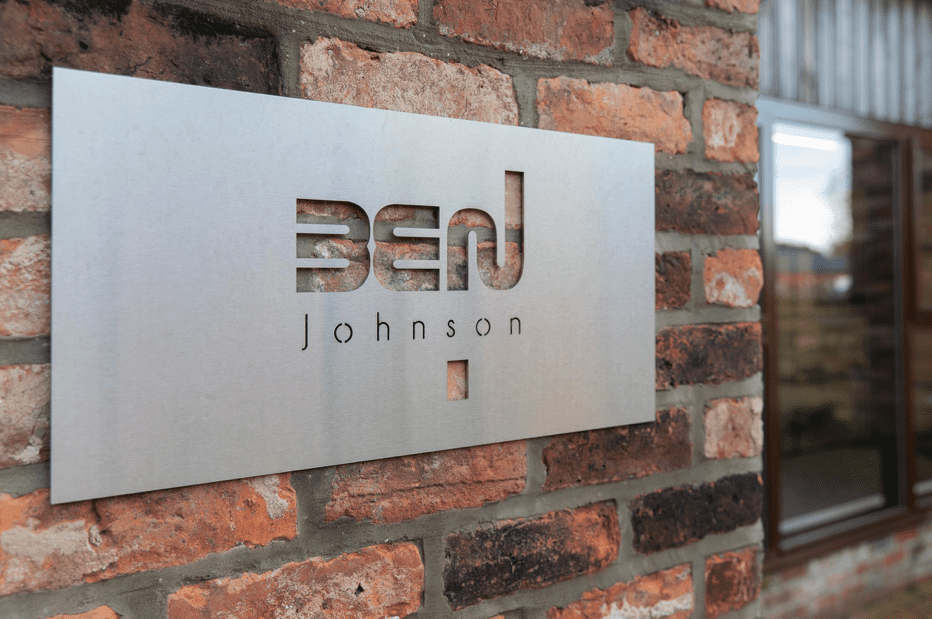 The evolution of Ben Johnson Interiors
We'd been in our previous office for some 20 years but in that time the business had evolved dramatically and our office space wasn't quite working for us anymore. The new workspace is easier to access, making it better for our lovely team to return to the office and work in the way they prefer. With a lot more of the workforce working from home these days, we've been able to free up space to create some more purpose-driven and dedicated zones, losing those elements which are no longer relevant.
The new space is laid over two floors; a 955 sq. ft. office space full of desks upstairs and then the meeting rooms, reception and communal areas downstairs (942 sq. ft.). We were keen to ensure we kept original features such as the beams and the brick slips, as a reminder of the building's previous identity.
The comfort and safety of our people was of course a top priority here. Downstairs was originally going to be a more open-plan space, aimed at collaborative working, but as the project moved on, this evolved to become an enclosed series of spaces that will be more fit for purpose. This includes three separate, bookable meeting rooms with their own aircon, to make life simpler to organise and to address concerns about noise becoming an issue.
We wanted these meeting rooms – especially the main boardroom – to really be somewhere to wow clients. Crittal glazing (shown below) divides the area while still sharing available light around the space, lending that open feel even in the enclosed private rooms.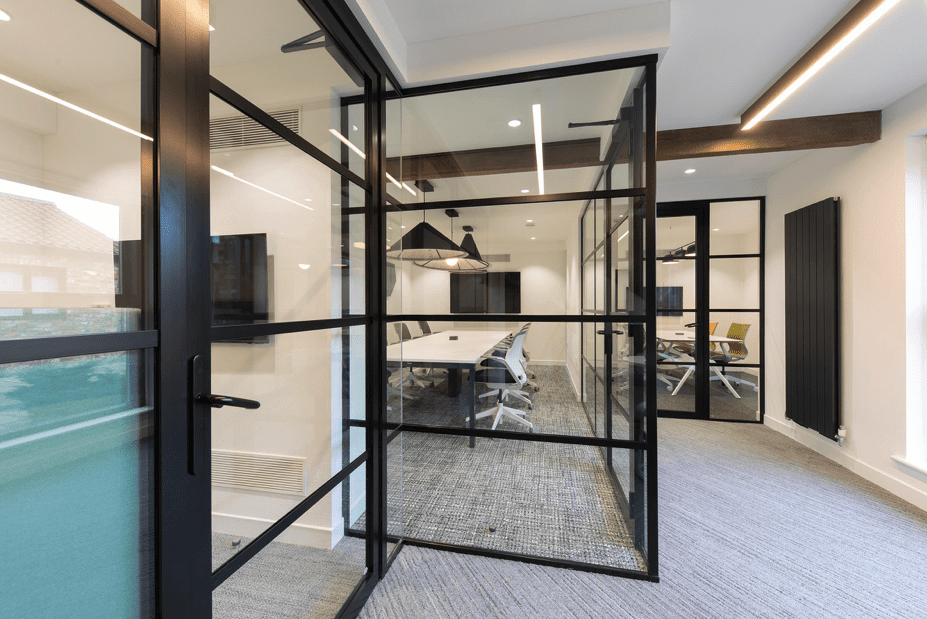 It was of course important to make sure we fit everyone in! The upstairs office is a narrow space so we needed to make sure we made the most of that. All desks are height adjustable, allowing employees to choose how they work – this is especially useful for those hotdesking.
The vaulted ceiling meant that acoustics were a big consideration up there too. we developed the design to incorporate sound-absorbing materials for the floors and pop panels on the walls and ceilings to help buffer the sound.
Go bold or go home
Our brand colour of hot pink can be a little intimidating for some. We embraced it within the scheme but we've done so mindfully, without making everything too heavily pink, by playing with accents of colour. We've thrown in some neutral, muddy greens, mint and a pale blue alongside a softer pink, to create a palette that balances the bright pink.
The addition of the more natural materials such as wood, brick and real plant life (hello, biophilic design!) also work well to tone everything down nicely.
Teamwork makes the dream work
Collaboration is important with a project like this. We truly believe bouncing ideas around helps make the most of everyone's different areas of expertise, years of experience and knowledge. Any complications that arise (and they always do!) as the project progresses can be solved, restrategized or ironed out as part of the natural development of the design.
We really feel we've created somewhere to be proud to work in, and that our team will want to use. Using furniture and finishes that a client could potentially use is a big deal for us too and means the space works well as a kind of showcase for products.
We really love the way feature carpets have been used to zone spaces. The flooring is in fact all from the same range, with a larger woven texture in the initial, communal spaces and then working through to a finer weave in the upstairs office, which is a lovely little touch and brings a harmonious little detail to the finish.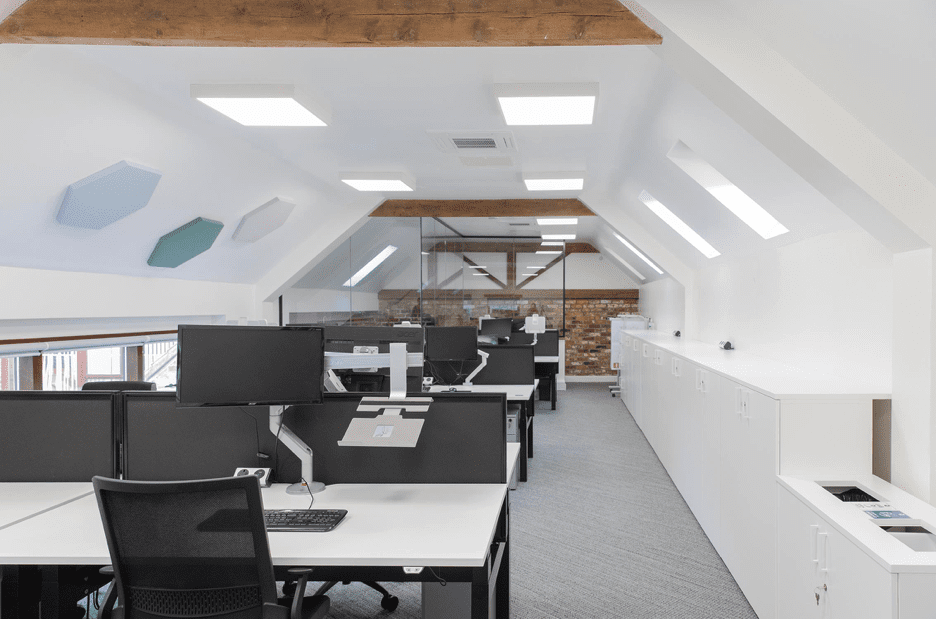 The living feature wall is an eye-catching impact, adding texture and life to the space when staff and visitors first walk in. It took a few trials of different styles and colour combos to get it right, ensuring everything was legible and as strong as possible but we think we've nailed it with the finished design and it was lovely to be able to have the full height space to play with.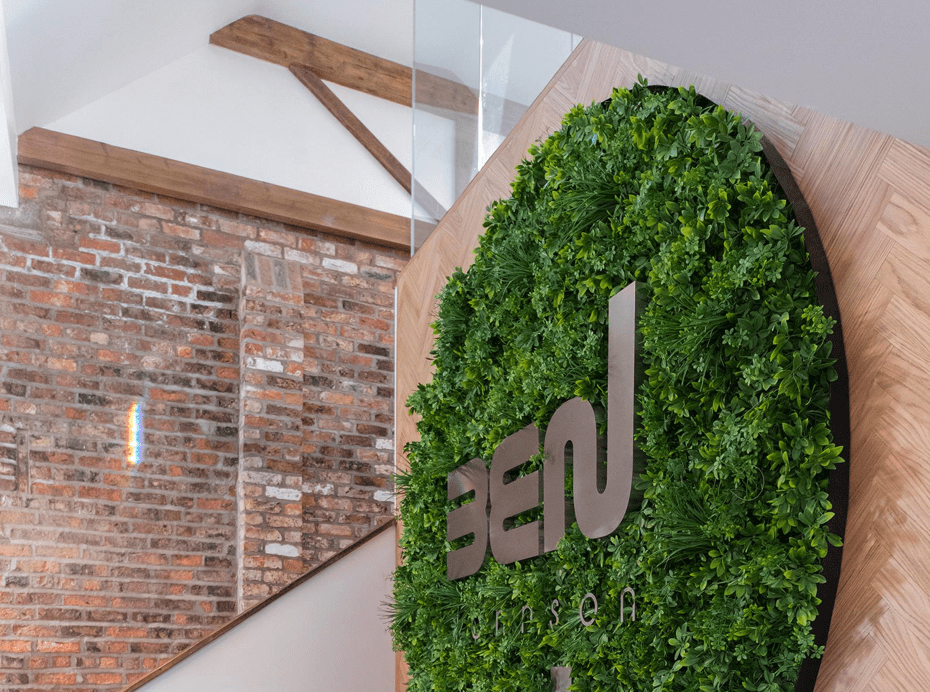 Our Director, Emma Dodsley, summed it up perfectly when she said,
"We are thrilled with our new office space and feel it really reflects what we're about as a business: the best designers, furniture, office tech and more.
We had the privilege of creating a new space from the ground up and really thought about what we wanted to achieve and how it would stand the test of time. The result is an inviting, stylish space that encourages our people to work in a way that suits them and makes the most of the various resources and expertise we have within the team.
Clients can come to our space and get a feel for the kind of working environments we create, and we are able to showcase the furniture and fittings that a client can choose for themselves, so it really is an exercise in practising what we preach, too! The feedback has been brilliant and we're really happy with the outcome."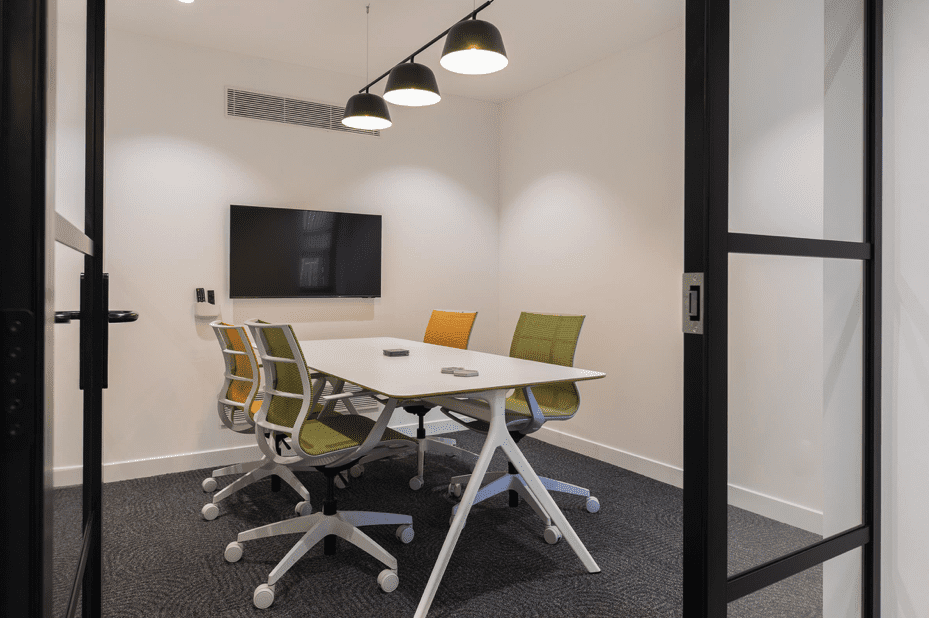 If any of this has inspired you to improve your workplace, and you'd like to pop in and see us (and our new space) to chat about your next project, get in touch! We'd love to hear from you.