Eco-Conscious Office Furniture
- Our Top Picks
These days we are all busy being as environmentally friendly as possible, and that's just as applicable in the office as it is at home. When choosing your office furniture, you'll want to consider the processes involved, the longevity of the piece and the sustainability of the materials used in crafting it, to figure out if the manufacturing process and the finished product are eco-friendly.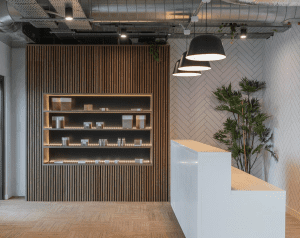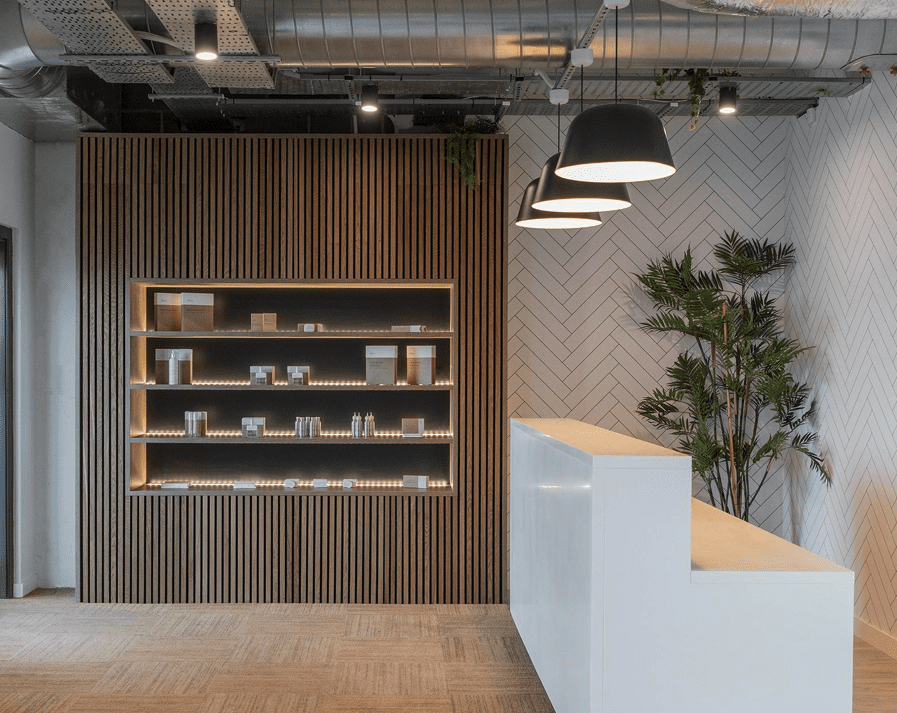 The materials used in the West Barn Co. office had a focus on sustainability – both the furnishings and those gorgeous feature wall treatments!
You can fairly easily do a little research and find out the green credentials of the items you have your eye on before buying them.
Have a think about:
Whether it uses recycled materials or avoids anything hazardous.

If the manufacturer has tried to use the least possible components.

Would you expect it to have a long lifespan?

Is a repair service offered, to help it last even longer?

Once you're done with it, can it be easily broken down or recycled into something new?
If you're answering yes to those questions then you're likely to be onto a winner. Now let's talk specifics; we've included a little list of some of our favourite eco-conscious alternatives to the more traditional office pieces.
Eco Desks
Anyone committed to sustainability should be looking out for the FSC logo too. This is a certification for wood from the Forest Stewardship Council. It means that the timber is from forests that are managed using environmental best practices and in a socially beneficial way. You may have seen packs of paper proudly bearing the FSC logo.
Well, the wooden desk top of the DeskRite 550 Electric Sit-Stand Desk (also from Posturite) is made from fully FSC-approved wood. Additionally, the desk also follows the RoHS2-2011/65/EU directive for environmentally sound recovery and disposal of waste electronic equipment. Sounds impressive, right? 
Not sure you have the space? What about a folding option? The Jaswig Nomad Standing Desk from Fully is the perfect, flexible solution for small spaces. The Jaswig Nomad desk means you can go from standing while working to sitting whenever you fancy, ideal for a working environment where floor space is tight, or perhaps where staff have the option of being either in the office or WFH on an ad hoc basis.
It's also made entirely of natural materials, from the FSC (Forest Stewardship Council) certified Beech plywood to the low-VOC, low-formaldehyde varnish, making it planet-friendly.
Bonus tip: A standing desk can be a brilliant way to boost your health, as well as the health of the planet. Changing your posture and position during your working day is much better for you than staying slumped in one seated position. 
Eco Chairs
You'll want a nice chair to go with your new desk, and we've got some keepers here for you. Starting with the stylish, saddle-inspired HÅG Capisco 8106 office chair (below) which is truly built to last, comes in recycled packaging, and has comfy foam padding made from recycled car bumpers! 
You'll want to look for a manufacturer who holds the ISO 14001 certification for their Environmental Management System. This certifies responsible energy use, recycling, transport planning, materials reuse, renewable energy generation and waste segregation.
Don't fancy a traditional desk and chair? We've got you covered with options for stools too.
Take the revolutionary Backapp Smart stool for example. The design features a rocking mechanism, based around a red ball. You just need to adjust the ball to increase muscle strength, while such a dynamic sitting position increases blood flow around your body. This stool is actually recommended for those struggling with back pain and can help prevent future back problems.
It's eco-friendly because it's been designed to last, its parts are replaceable and it uses recycled and recyclable material. The fabrics are also OEKO-TEX® certified.
More chairs
Because we like to give you options! We've also got the award-winning Capisco chair by Fully, a certified B Corp blending work and movement. Fully offer chairs that are made out of recycled materials and natural wood, from chairs for standing desks to a more traditional swivel chair.
What about a cost-effective option? Well, if you're buying chairs for a whole team it stands to reason that cost will come into play at some point – and you don't want to have to compromise on the eco credentials to cut those costs.
Say hello to the 99% recyclable Homeworker Plus Ergonomic Chair (below) from MDK in Leicester. Up to 37% of the office chair's components are made from recycled materials. Plus their fabric off-cuts are donated to local schools for their craft projects!
And finally, Noho's classic chair is made from up-cycled plastic waste that's been sourced from fishing nets and old carpets. It provides the user with boat ergonomic comfort and flexibility, and is customizable! You can add on wool 'toppers' in your colour of choice to ensure the chair will fit into your office colour scheme too.
How else can you make your office more sustainable?
Stock up on recycled toilet paper

Mop up using less harmful cleaning products

Unplug appliances that aren't constantly used

Include plenty of plants in your office design 

Choose carpets, adhesives and paints with low volatile organic compound emitting materials

Collect food waste and take it home to compost

Recycling paper AND provide bins for the often forgotten other recyclables

Avoid any single-use plates, cups, and cutlery, and encourage staff to bring items from home that can be reused such as coffee cups

Hire us to give your whole office an eco-makeover!
Biophilic design complements the space in the new Blueline Taxis office in Newcastle upon Tyne.
If that last tip seems tempting, just give us a call!
We'd love to find out how we make your office work better for you, while also helping to reduce the carbon footprint of businesses across the country with workplace interior design and the thoughtful selection of your new office furniture.