How Office Interior Design Plays a part in Attracting and Retaining the Best Employees
Last week we were chatting about the important role office interior design plays in creating a positive first impression on those entering your office for the first time. Following on from that, it stands to reason that some of those people will be prospective employees. So, if you've nailed that first impression, what's next? If all's fair in love, war and business, how do you make sure that you appear to be the most attractive prospect to the people that you really want to hire – the crème de la crème of job hunters? What role does great office interior design play in attracting and retaining talent? 
With jobs and skills changing at an unprecedented rate, recruiting the right people is one of the most important challenges a company will face. Anyone who's good at what they do should be in demand, giving them the upper hand. In fact, 90% of recruiters say that hiring today is candidate-driven. Recruitment can also be a costly process, so it makes sense to find the right fit the first time around. Thankfully most companies now recognise that if they want the top talent, they have to do something to grab (and keep) their attention.
You've done some of the hard work already; you've set up an attractive and competitive job offer with perks galore, you've groomed your company policies and upped your budget for coffee beans. Now what?
Have a little look around the office, maybe even get up and stretch your legs. Put yourself in your candidate's shoes for a second. They'll likely be nervous when arriving for an interview and, on top of that, when our brains encounter a new space, they're flooded with sensory information, processing the visual along with smells and sounds.
They will decide quickly if this is a space they actually want to spend 40+ hours a week for the foreseeable. Research has shown that 81% of applicants would reject a job offer if they didn't like the workplace. Good interior design in a commercial setting speaks for itself, offering inviting levels of comfort and wellbeing, which is a powerful draw for potential new team members. It's basically expected these days. You'd be wise to treat it as a tool of the job, much the same as giving employees a computer to work on.
An office environment designed around the team's needs inspires whilst unappealing spaces can repel those you'd want to hire, even sending them right into the arms of your competitors. Less than ideal, right?
Let's take a closer look at the hows, whats and whys…
Modern life
Gone are the days of restrictive cubicles and depressing break rooms.
The modern approach is to understand what your space actually needs and create fun, functional offices that more proactively meet the needs of real humans. People want to trust that their employers have their best interests at heart, so it's up to companies to follow through on this. There are many ways you and your employees will benefit from this shift away from traditional, static work design, both physically and emotionally.
Physically – Sitting hasn't had the greatest press of late and standing desks are just one example of a design product that's steadily becoming mainstream. Helping to promote the physical health of your employees and offering them more ways to move around, such as a standing desk or on-site gym, can be a boost to both circulation and concentration.
Emotionally – Spaces where staff can bump into each other, gather or relax can help nurture a sense of community at work, as well as giving the option to recharge. This makes them more able to manage stress and to enjoy quality social time with their colleagues, perhaps viewing the workplace as a destination that they want to work from, not somewhere that they have to be.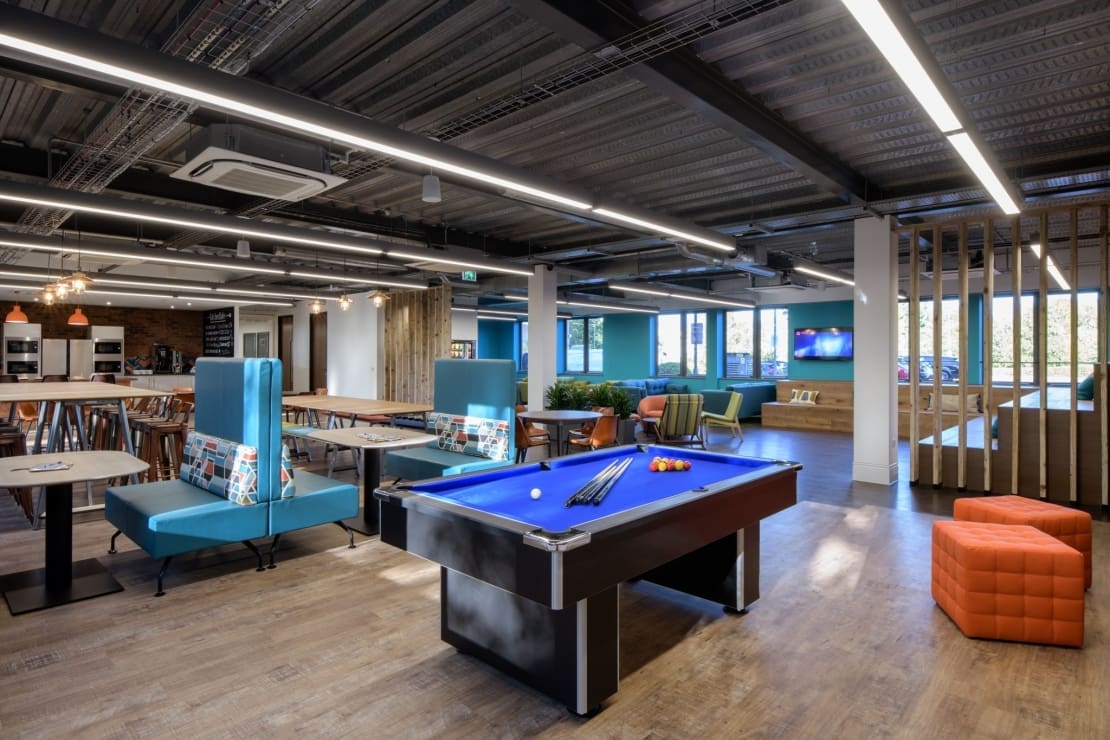 A fun, relaxed pool table area we worked on in the Mayborn Group office.
Mix it up
Everyone works in different ways.
As an employer, it would be sensible to cover all bases, with a working environment that's adaptable for different working styles to get the best from your team. Zoning can really help with this if you have space. There will likely be members of staff who work best in a quiet place, and those who thrive in a more sociable situation.
Some companies could benefit from an open plan layout to increase the aforementioned communication and collaboration, some might not or just won't be able to. Naturally, we can help look at the options available to you to maximise potential.
A break space we created for AkzoNobel's office in the North East.
Culture club
The perceived culture of a company is paramount when it comes to the job hunt, and it also has an impact on the increase of retention rates.
Quality applicants will be attracted by the unique company perks, which means culture carries more weight than it did even 10 years ago. In fact, stats would suggest that 69% would be willing to give up other benefits to work in a well-designed space.
Employees will be asking themselves if your office feels like a place they want to work, somewhere they will fit in and if they'll be able to do their best work there. They may also be wondering if they'll be valued there. If 97% of workers consider the workplace an indicator of whether or not they are valued by their employer, then office interior design clearly matters.
Companies who understand this have an advantage over those who don't prioritise the workplace design and the image that the company is portraying online.
Yes, it's worth bearing in mind that potential new recruits will have used the internet to research jobs, and probably your company, before even applying, never mind stepping foot in the door. Your reputation precedes you in the age of the internet.
So, once you're happy with the interior design of your business, to make sure your company is sending out the right signals you could consider:
Investing in some professional photography of your workspace. Showcasing a well- designed office in the best light can help anyone who may be searching to imagine themselves working there. Google likes it, too.
Include your employees in the images, smiling and engaged in their work in the various zones of the office, for that human appeal. If it's clear that your current employees love where they work, there's no better image to portray to new additions.
Use those photos everywhere so they can't be missed – your website, social media, on your Google business listing and for any PR.
Encourage your current employees to share photos too, even candid, behind the scenes shots, as this will back up the fact that your office is a great place to work.
On brand
Much the same as the company culture, but it deserves a special mention. You can use your brand to create a sense of pride in working for your company, as turning staff into your biggest advocates can pay dividends when it comes to retaining existing people and attracting new ones.
Strong and consistent branding has this effect because we make emotional connections, building trust in the company while increasing dedication. It creates a sense of belonging, and who doesn't want to feel like they belong?
A welcoming reception area we designed for CreativeRace in West Yorkshire.
Be smart
Everything we've discussed above comes with a caveat: use wisely.
If you're suddenly struggling to actually fit people in the office because there's a new indoor, adult playground complete with real trees and a slide that's taking up all the space, then perhaps you've gone too far. We pros have been around the block and can spot the pitfalls a mile off, enabling us to avoid them and not simply waste space.
A fun breakout area we designed in Tommee Tippee HQ.
Just doing some trendy stuff that you've seen elsewhere doesn't always have the desired effect. We know that one size doesn't fit all when it comes to office design. Find your own niche.
It might be tempting to pop in a slide and a climbing wall next to the pingpong table and mocktail bar, but you'll need to have considered your workforce to really tick their boxes. Understanding how your staff work best and what matters to them is the easiest way to build an office around their needs.
With that said, don't totally forget about the fluffy or trendy stuff – if it's applicable in your workplace and industry, it can still be a great selling point. It's all about finding the balance to show your staff you care, appreciate the work they're doing and want to make the 9 to 5 that bit nicer for them so they remain loyal, productive and proud to work for your company.
This is where we come in. We've been doing this for so long that we know how to spot the good ideas from the bad. We can work with you to create a space where people actually want to spend their time, so you can use your office to help to attract and retain the very best talent.
We're here to help if you need us. Just get in touch.