Not Your Average Office...
Inspiring Commercial Office Conversions
Picture the traditional office design and you're likely to be imagining a block of modern offices, purpose-built and very similar in design, but with these brand spanking new spaces becoming more costly, we're finding that a lot of businesses are considering alternatives to a newly built tower block or city centre base.
Exploring other options takes many forms but we're certainly seeing an increasing trend for conversions – be it barns, warehouses, industrial storage units and even farms. Sure, most of them will require quite a bit of work before you can plug your computer in, but a refit, redesign and refinishing later and you could be left with some pretty impressive and unique results.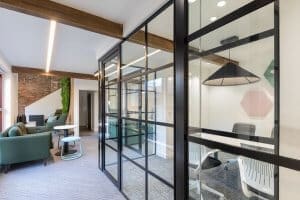 You can still see some of the unique original features in between the more modern finishes in our offices in York. You wouldn't get these in a modern office block!
Sounds pretty cool, right? But there are a couple of things to consider with an older building…
Costs
Let's go straight for the financials. There may well be some upfront costs involved. The space may require rewiring and the implementation of modern necessities such as air con and, in some rustic cases, even perhaps windows! But a lot of the costs will be dependent on the features you'll be choosing to add. Make sure you consider these sorts of things when you're budgeting for the project, and don't be afraid to ring around and check if those costs are realistic. 
With the West Barn Co. new offices in County Durham we were able to make the most of a huge space by fitting in a tree as a really unique focal point!
Planning permission
With an older building you'll want to check on the legalities of planning permission before you begin any work. There are a lot of different factors in this, such as the location, the age of the building, its new purpose and what exactly you're trying to achieve, but generally commercial plans are accepted and you'll be onto the next phase of your project easily enough.
Original features
Perhaps the best bit of renovation of an older building is getting to know its original features, falling in love with the unique character and knowing which areas to preserve and work into your up-to-date designs. It's also worth bearing in mind that protecting the original features of a building tends to mean that planning permission is easier to get through than if you plan to completely remove all traces of the lovely old structure. 
The exposed ceiling in the West Barn Co. space remains as a lovely reminder of the industrial origins of the building the brand has inhabited. 
Location
While modern offices are usually built in sensible and appealing places with good transport links, a repurposed building may not have been. A remote barn would perhaps be some way out of town, or a warehouse might not be easily accessible. Make sure you've done your due diligence and checked that your commuting employees and client base will want to (and be able to) find you!
In need of a little inspiration..?
Of course you are! Once you've covered all of the above bases you'll be wondering what you could do with the new space, and the answer is pretty much 'whatever you like'! Let's take this office in bold and creative Melbourne for example. Once an old commercial kitchen warehouse, it's now been converted into a gorgeous open-plan office by Pitch Architecture + Developments, replacing bare concrete with a curved stairwell and a raised floor crafted from birch plywood, and a pared back colour palette to emphasise the raw and natural materials and the variations of marble tones and the wood.
This dreamy space by and for Nordest Arquitectura in Girona, Spain is another stunning example of exactly why taking an old building and converting it into something exciting and usable is often better than new and purpose-built. The character and heritage of the building cannot be replicated. Revealed stone brickwork, light shared by glass partitioning and an abundance of natural wood has us sold on the styling, and we imagine it's an amazing space to work in each day.
And what about this cool office space by Infinite Design Studio? Spread across three floors, this renovation has been done so sensitively, with much respect, to preserve and showcase the integrity of the heritage building. There's a focus on dark timbers and rich leather, and the contrasting modern colour scheme of deep reds, blues and green was actually based on the original woven rugs that were reconditioned in the 1990s.
A little closer to home, our recently completed work with Envirovent was an empty shell within a warehouse building when we began working on it alongside the developer. We made sure to retain the timber slats, adding decorative touches in the form of wall features and flooring, playing with the branding and incorporating the brand colours but with a warmer orange touch. Often with older buildings there are concerns to be addressed, and in the case of Envirovent this came in the form of the acoustics with the vast ceilings heights we had to contend with. We introduced baffles and rafts over the desking to punctuate the space and create an extra feature with noise buffer qualities. 
Note the pods and hanging baffles above the collaborative working space in the Envirovent offices as an effective way of zoning and buffering noise in such an open space.
Did you know that our own offices are actually set in old farm buildings? Laid over two floors, we managed to squeeze in a desk space upstairs, meeting rooms and reception alongside some communal space downstairs, divided by crittal glazing to avoid blocking out any important light. We were extremely keen to preserve features such as the beams and bricks as a reminder of the past identity of the building.
Check out all this wonderful detail left exposed in the top floor of Ben Johnson HQ!
One of our personal favourite past projects, that of West Barn Co, comprises three individual units brought together to level up the space that the team had to work with. Their strong brand identity certainly helped us fill the whole space with purpose-driven zoning and style, inspiring staff and visitors alike. It may be an industrial environment but we worked to turn the "typical warehouse" into a welcoming, stylish and playful place to work, create and hang out.
No corner of the vast West Barn Co. space has been left without a purpose and an identity, but the industrial feel of the original space still remains.
Inspiring stuff, hey?
If any of these amazing spaces have got you thinking outside the box and looking for a more interesting building to settle your company into, we'd love to be involved in the refit and renovation design work! Why not give us a call today and let's chat through your ideas to get that ball rolling!