Inspiring Training Spaces in Office Design
The key to success for any business is the professional development of employees. Investing in training results in better employee retention, happier staff and, of course, employees who are improving at their roles and therefore doing a better job for the organisation.
Using frosted glass for sound protection and privacy still allows light to travel into a zoned-off training space like we did here in the KCOM offices.
In forward-thinking companies, training could involve learning an entirely new set of skills or just ensuring information and procedures are kept current. It also provides valuable team-building opportunities.
But where to carry out such training? 
Creating practical, flexible, multi-functional and dedicated workspaces to carry out this training is vital for the success rates.
With this in mind, the best training spaces should be:
Configurable – To future-proof your investment and make sure that everyone is able to get the best out of the space, you'll want to include an element of customizability, to allow the area to be easily tweaked at the drop of a metaphorical hat.
Typically meeting and training rooms need to be able to cope with different uses within the same working day. These might be requirements for different departments, for a boardroom-style meeting, a conference layout for a presentation or simply an open, clear space for training exercises. Carefully selected multi-use products, such as desks that flip to provide whiteboards or furnishings on castors will provide that movement.
Up to date – When it comes to integrated tech, you'll want to make sure it's up to date and facilitates the tasks at hand. If half of the training time allocated is spent waiting for things to load or log in, or connections keep dropping, you won't be getting your money's worth.
Similarly, you'll want to ensure the technology used for remote connectivity is all set up and in working order, for those team members who need to dial into the training session remotely.
It's also a good idea to double-check with the various people in charge of the training to see if there are any specific machines or gadgets that would improve the process from their POV too.
Stylish – It's just a hard fact that no one wants to spend time in a depressing environment and a room without natural light or comfort won't be beneficial or conducive to learning.
Make sure you've considered colours that will be uplifting but not too distracting, seating that's not uncomfortable for periods of time, but won't allow employees to zone out (or nod off!) mid-session. Plus, if outsiders or guests will be coming into the space, you want it to speak volumes about your brand and business too.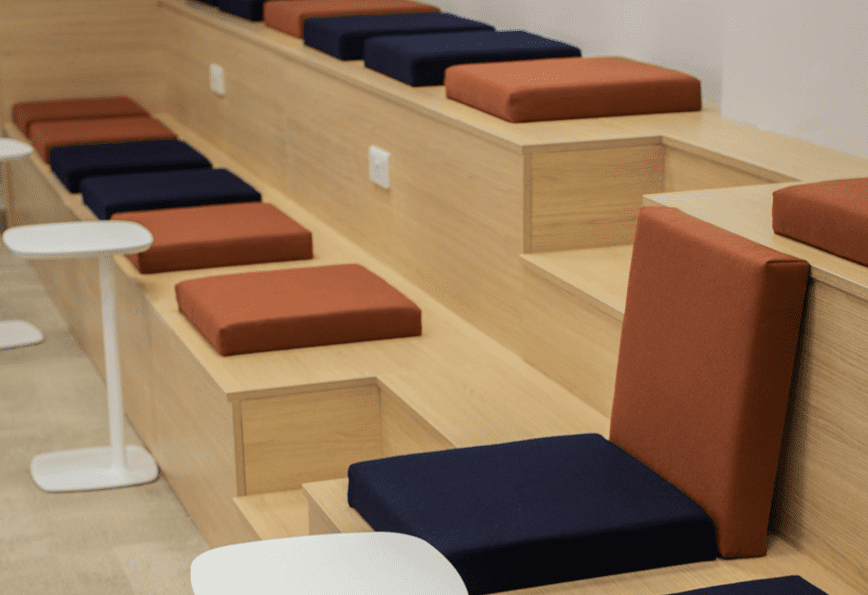 This stylish built-in, raised seating in the KCOM offices ensures everyone gets a good view!
So your checklist for considerations might look a little something like this:
Furniture and layout
Noise levels
Lighting
Accessibility
Climate control
Access to refreshments
Technology
Choosing the right fixtures, fittings and furniture solutions for in-office training areas
No mean feat perhaps, but choosing the right furniture and kit for training rooms can be crucial to maximising the space on offer. Providing the right materials can really streamline the training process efficiently.
As mentioned, the use of stackable chairs, folding tables and moveable dividers are some of the many ways that a room can be ready for a presentation one minute and then a breakout brainstorming group the next. Training rooms shouldn't be static.
Think about whether you need solid, traditional pieces, executive leather chairs or modern and colourful beanbags. Will you be providing access to refreshments or snacks – such as coffee or fruit – within the space? How might you use colours or artwork to inspire?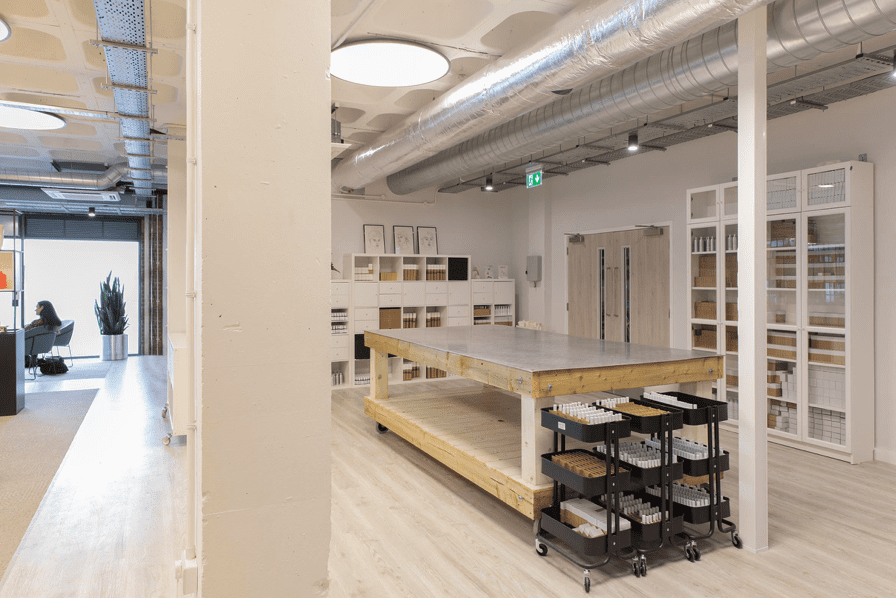 Training, demo and educational spaces can be tailored to whatever best suits your business or industry, like here in the West Barn Co offices where everything is neatly stored away.
Storage is important to keep everything neat and avoid confusing the space. If things can be packed away between sessions it's much easier to set up for new groups coming in. Consider too the power sources, data storage, electrics, and screens. Really plan out your tech usage. You might want to include glass walls to offer increased soundproofing and privacy but without reducing the available light.
Speaking of soundproofing, that's another biggie. Training in progress needs to not disturb the rest of the workforce but be easily heard by those who are involved. We've covered this kind of thing previously, in our guide to office acoustics.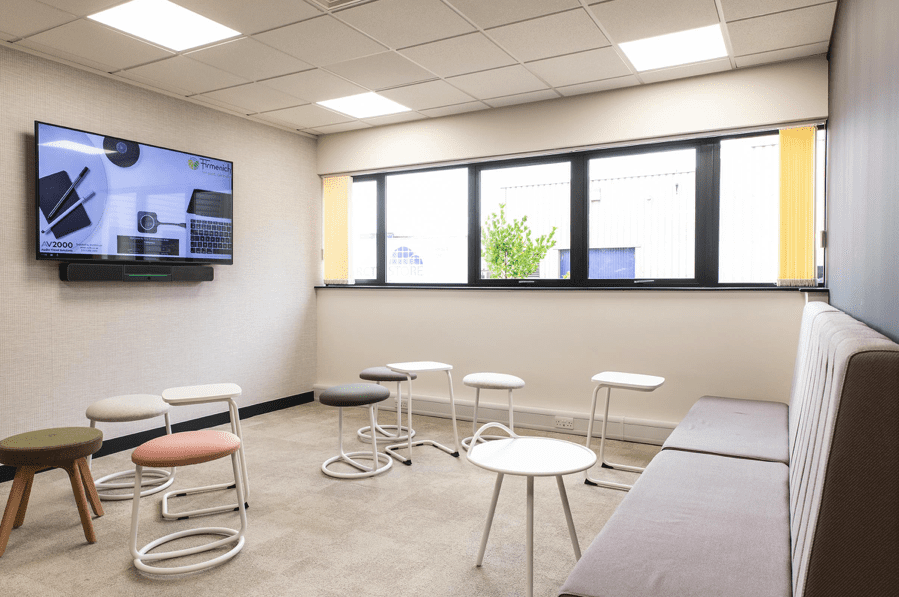 Furniture that can be easily moved around at a moment's notice worked best in this room for our client Firmenich.
Whatever the size of office training space required, Ben Johnson Interiors can help you create a practical, professional and multi-functional room that will aid in the upskilling of the workforce and impress everyone from company directors and employees to guests and visitors.
If you'd like to discuss your project, just get in touch.