Inspiring Ways to Incorporate Product Display in an Office Setting
You've nailed the branding and design of your product, and the office itself is looking chic and motivational, but what could be missing? Well, have you considered the link between the two?
We human beings are highly visual in nature so make the most of this by incorporating a touch of visual merchandising into your office design.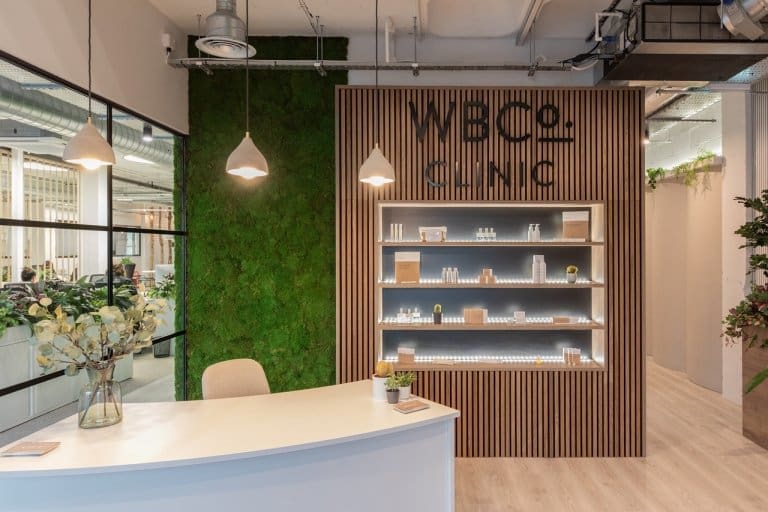 West Barn Co's visitors are welcomed with this simple display of their cult status products, paired with their big and bold logo. It's immediately clear that visitors have arrived at the right place.
Visual merchandising is the process of planning, designing, and displaying products to highlight their features and benefits. The colours, lighting, product positioning, and layout all play an important role in your overall product promotion, and doing this in the office (rather than in a store, for example) is no different. This could include allowing visitors to interact with the products you're so proud of, to try sample products or to take photos.
These are our top 7 reasons we reckon incorporating product display into your workplace is a good idea (with some inspo and lessons in how-to thrown in for good measure!)…
1. Brand building and recognition
When your clients, customers and employees enter your office, you want them to immediately know who you are and what it is you do. Prominently displaying your branding AND products upfront does this job for you in the strongest possible way. 
How newcomers and visitors perceive and remember your brand is based heavily on that first impression, so a subtle and powerful display is a great first impression. It also confirms that you're proud of your product, and that in itself sends a strong message.
We've helped KCOM pepper their office with touches of their brand history, leaving no doubt as to where the company has come from and what they're all about.
2. Encouraging people to interact with your products
Setting up a scenario where access to touching and feeling your products is encouraged and casual is another great idea. Enabling those who enter the space to familiarise themselves with the products on a basic level is great for sales and brand messages. We humans love being able to get tactile and we're more inclined to remember an experience if we've been hands-on. 
This could also help you think about how exactly you display the items. If your items are inside their respective boxes, you could be missing the chance to connect with people. You might also want to consider adding signage or displays to educate those interested in the features or history of your products.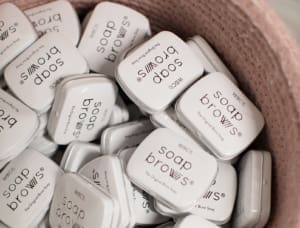 Elsewhere in the West Barn Co office we've been creative with the storage of products and used large baskets to feature bigger quantities of their famous Soap Brows, among other products.
3. Use your product as free decor
Who needs to spend time and money sourcing art for the office when you can have stylish displays of your products?! Recognise that you don't necessarily have to buy or build something fancy to have a focal point, and it doesn't have to cost a fortune because you already have the product available. You can create a compelling and immersive experience using just a few simple products and fixtures.
It also reduces the need for hidden-away storage. Why stash the products you're so proud of away in a dark cupboard when they could be displayed in full view?
4. Create immersive displays
The best way to make a lasting impression is to immerse your customers in a particular environment or setting, tying in your overall design, incorporating plant life alongside your products if that suits your brand, or keeping it clean and simple if that's more your jam. For example, Apple is well known for a simple, minimalist design with lots of white space. This creates a sense of luxury and focus, and has become synonymous with the Apple brand.
Displaying your 'products' doesn't have to be literal! We got a little creative with an old phone box and used it as a doorway to a KCOM meeting room!
5. Keep your retail displays well-lit
Even the most attractive displays will fall a little flat if they're not properly lit. Investing in strategic lighting will ensure that your products are displayed in the best possible light – pun entirely intended. Play around with the power of accent lighting and spots to draw attention to or highlight specific aspects.
6. Think about your use of colours
Colours can be tricky. Bold or subdued? Bright or pastel? If your product or packaging already includes a lot of colour, it might be nice to go simple and clean with a neutral background to let the products really sing. If you want to incorporate colours, go with something complementary or different shades of the brand colours to see what works best. Just remember, you don't want any colour choices to overshadow the product itself!
SharkNinja have dedicated a whole section of their meeting rooms to their state of the art product display, allowing visitors to immediately see what the company is all about.
7. Know that sometimes, less is more
In retail, space conveys value. The more space given to a specific product, the higher the perceived value of that item is likely to be. You'll note that many luxury retailers display single items in standalone cases, while it's the discount stores that tend to overstuff their shelves with merchandise. Bear this in mind when you're displaying your products. 
Which angle would you rather go for?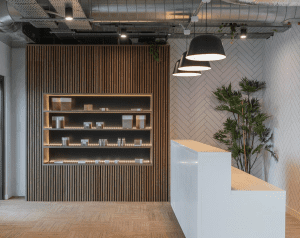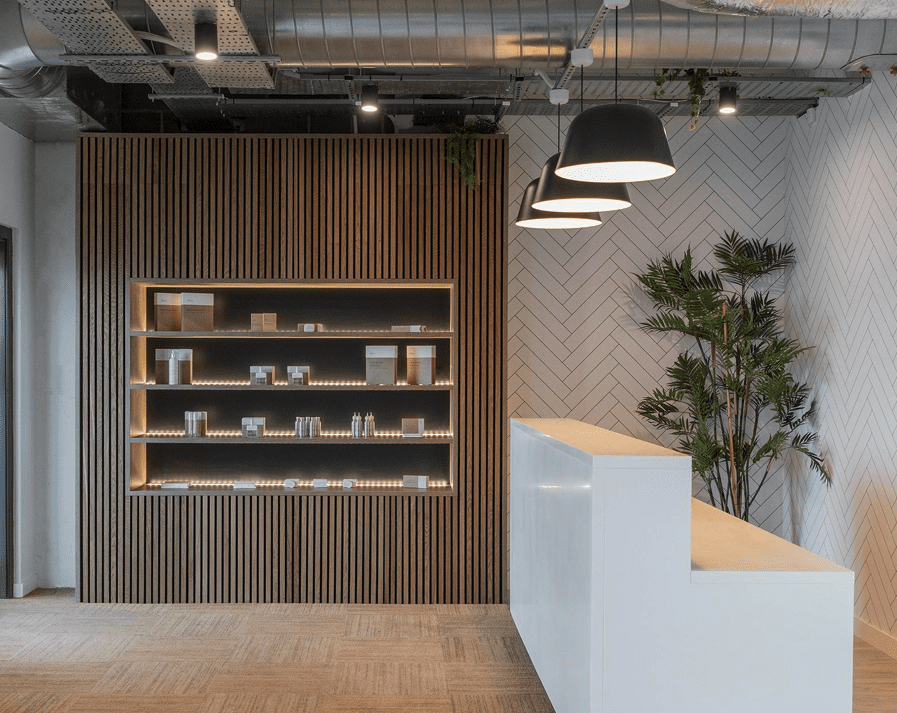 Keeping it simple for the shelving in the West Barn Co offices allows the brain to digest what's being displayed more easily.
Overstuffing a shelf or cabinet also has the potential to confuse or overwhelm – which is really the direct opposite of what you're trying to achieve here! Keeping it minimal is also a good reason to keep it up to date. 
Consider only having your most recent or higher spec products on display, to avoid confusing the area, especially if space is an issue. And keep the area otherwise clutter-free!  
Fancy displaying your products in your office but still not sure how to get it right?
As you can tell, we're no strangers to this kind of thing and we know a thing or two about visual design and styling. 
Get in touch and let's discuss how to best show off your business and products.