Office Design for the Banking and Finance Sector
Featuring Inspiration from Around the World
Banks and businesses in the financial services sector are offering increasingly better environments in order to attract and retain the cream of the crop in the talent pool. This is excellent news for anyone working in the industry, and also good news for us (and you!), because now we get to swoon over the office spaces of an industry previously renowned (rightly or wrongly!) for only providing grey spaces and a heavily corporate identity.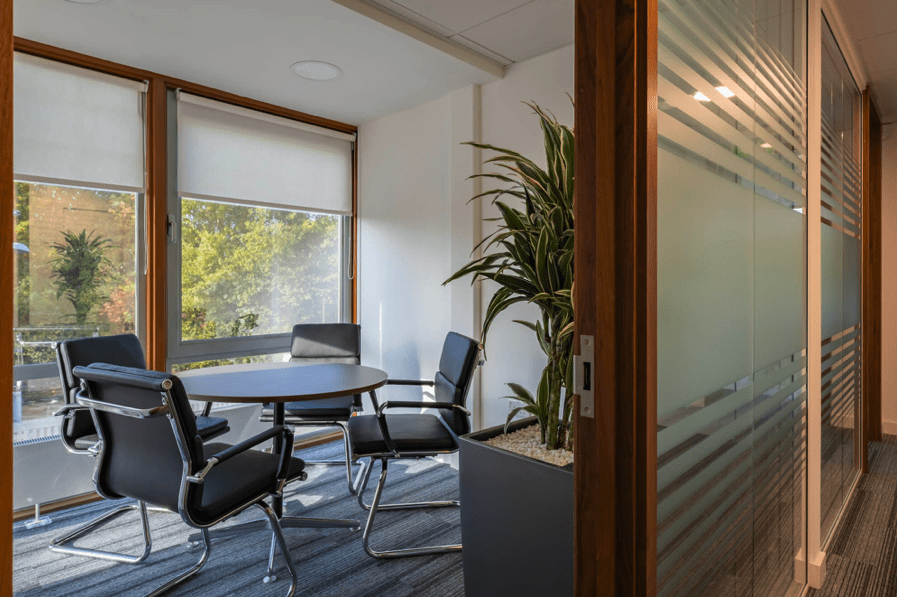 Our work for Sovereign Wealth Management offers employees a light-filled environment with a fresh, sleek feel, walnut wood finishes and a choice of collaborative areas for different working styles.
Finance though? Really?
Well, yes. We know many people have considered this sort of thoughtful office design to be a part of start-up culture, predominantly creative industries and tech, but we're seeing more and more businesses across the board embrace these trends and changes.
Banks are moving away from the usual aesthetic that financial institutions have traditionally tended to adopt, and companies are understanding the importance of open, collaborative spaces, facilitating agile working and offering greater perks through innovative design.
The disruptive impact of the global pandemic has had (and is still having) such a ripple effect that at this point even we're not sure where it ends. The waves it has made in the commercial design space have been impressive. Caused by a shift in people working remotely, either out of necessity or choice, companies across a wide range of industries have had to react, drawing employees in with new ways of using office real estate to create a desirable environment with purpose has become crucial – and we are here for it!
So this week we're looking at how businesses in the financial services sector are moving to reimagine their corporate offices, and highlighting some of our favourite examples across the globe.
Excited? Us too.
Our Top Financial Services Office Designs From Around the Globe:
Nedvest – Amsterdam, The Netherlands
Investment company Nedvest's office space (image by Milad Pallesh) was created by Petra van Roon and Studio Aa in 2014, suggesting that for some trailblazers this shift was already well underway pre-Covid and has merely been accelerated by the pandemic.
The aim of this design was to keep the design on-brand by using minimal resources and to craft a contemporary, flexible, healthy and sustainable environment for the team.
Strong materials (glass, marble, steel and wood) have been used while a central staircase connects the floors and zones. Special plant cabinets have been incorporated, lending a green touch and providing a healthier working environment too.
Macquarie Bank – Sydney, Australia
The Macquarie Bank in Sydney (photograph by Shannon McGrath) was renovated by Clive Wilkinson Architects, with a plan to become increasingly green and to better encourage collaboration among its employees – which is something everyone should be aiming for!
Who says banks need to be cold and grey? The Macquarie light, airy and open design is divided into various large workspaces, all built around a main staircase focal point that has worked to drastically reduce overall elevator usage by 50%. The space makes clever use of glass and features cheerful, brightly coloured furniture to create a more friendly and connected workplace.
Saxo Bank – Copenhagen, Denmark
Again with the central staircase! We are loving this spiral design (above) in the award-winning Saxo Bank building. The whole transparent design, featuring bright, open plans, inspires and enhances the company ethos and increases the sense of team spirit, set to woo new and existing employees alike. Which doesn't surprise us at all! Look at it!
Saxo wanted 3XN Architects to provide them with an office that employees were happy to be in and proud to belong to. The space is also filled with an ever-growing collection of art, many from upcoming Danish artists. Sheer office design goals.
Sands Capital Management – Arlington, Virginia 
With the modern focus on staff wellness and overall connectivity, financial planner Sands Capital Management recognises that it's their well-designed office that sets them apart.
Occupying the top four floors of their building and designed by OTJ Architects to include heaps of amenities and services for their employees, Sands now benefit from increased productivity as their team are both engaged and inspired every day.
They understood that retaining the company's top talent by putting them first is vital in such a competitive international industry, and their new office shouts that message from the rooftops. Well, from the top four floors anyway!
So, let's recap on the benefits of new office design in any office (and – spoiler alert – Finance is no different)
Through those outstanding examples above and many others, we see a clear shift, highlighting once again that industries across the board are doing more with their real estate than ever before. We've discussed this at length previously but, to tempt workers to continue to commute to the office, the office needs to offer something dramatically different from their home environment.
When office design is done well, it really has a big impact. From improving employee satisfaction, boosting productivity and working as an asset for your recruitment, a great office layout can be the difference between success and failure.
When it comes down to it, banking and financial services are just an industry made up of people, like any other industry; merely humans going to work each and every day, trying to do their best. It's up to the individual company to inspire that dedication by making their employees feel valued and inspired and harnessing the resulting productivity.
As experts in commercial and office interior design, we are proud to create professional environments for a wide range of industries, including the forward thinkers of the finance sector.
Let us help you create a unique office design that fully caters to your specific needs.