To Rent or Buy Your Office Space?
So you want to take the next step as a business owner and buying your very own office space seems like the natural way to go. Firstly, let us be the first to commend you on having your priorities in order. Physical office space is still a very important consideration for the modern company.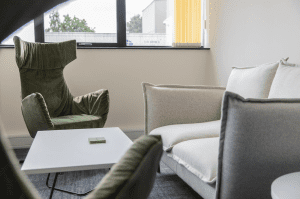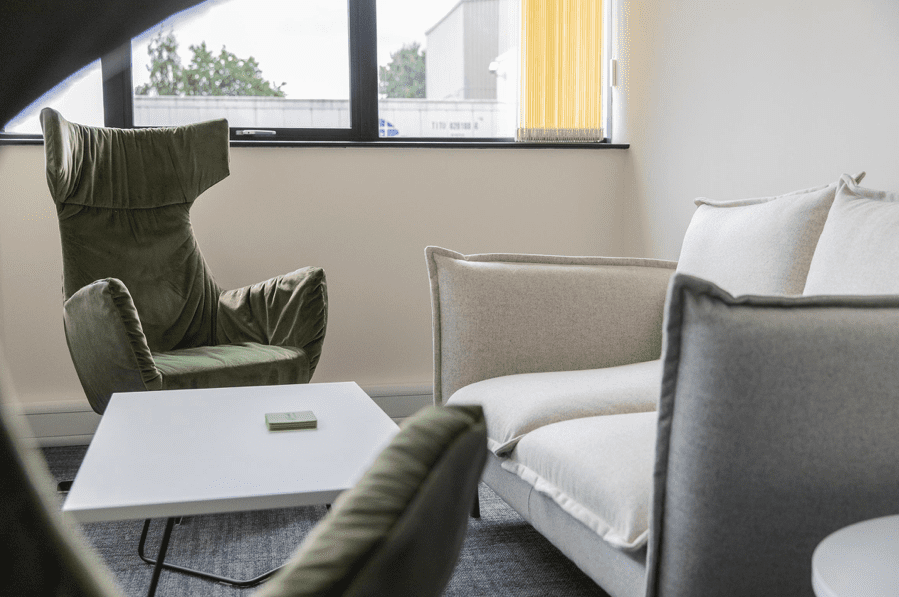 Whether you want to get comfy in your own space (like these inviting chairs in the Firmenich offices), or are quite happy renting, let's discuss your options…
When you're thinking about the workplace, there are a number of key decisions to be made; from location to size, making the right move can be tricky. But perhaps one of the biggest commitments is whether to rent or buy your commercial property. 
Now, there are heaps of potential benefits and drawbacks for both options. This might largely depend on your business, your finances and your plans or expectations for the future. We've pulled together our Ben Johnson Guide to the key advantages and disadvantages of both renting and buying office space, to help give you a balanced picture before you make your decision. 
Renting: Pros and Cons
In the UK, the office rental market is HUGE. The market may vary from city to city, but renting remains the go-to choice for most start-ups and established businesses. 
To begin with, the financial advantage is that you aren't having to invest your capital into committing to a property long term, tying up large sums of money and removing an element of flexibility. 
Focussing on that flexibility, you needn't worry about outgrowing your space or wishing you'd found a better location or somewhere with better transport links because you can just find somewhere new and move far more easily. You're not tied to the area or square footage for any longer than the length of your lease. 
Some rental offices are finished to an exceptionally high standard, such as this one we recently worked on at Dixon House in London. Any tenant would be lucky to move in here!
You can choose somewhere that suits your needs right now, and worry about the future further down the line. This also means if the neighbourhood changes around you and no longer suits your brand, you can also easily up sticks and move onto pastures new. This makes renting a great option for any business less sure about what the future may bring.
Renting also requires the bare minimum in property maintenance, as someone else will likely be taking care of that for you. You can report any issues and expect them to be resolved in a timely manner. BJI Tip: Always check what's covered in the lease – usually the building's structural, plumbing and electrical systems – and make sure you know which areas are your responsibility to maintain. 
Leasing space could also put you in closer proximity to other businesses, either in the same field or industry as you or perhaps not. Either way, sharing a building, and the relationships that develop as a result, often creates a sense of neighbourly comradery that benefits everyone.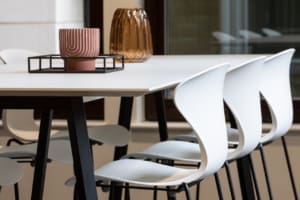 When maintenance (and sometimes even the tiny details of styling and decor) are covered in with your rent, it can be a lot less to think about, leaving you more time to run your company!
We'd confidently say that your biggest concern with renting is the potential for rental increases. You'd have little to no control over the rates you pay. Always ensure you agree with an increase clause in your rental agreement before you sign on the dotted line, and negotiate if you need to. Hopefully it won't ever come up but if it does, you'll be glad you had your say. Have your lawyer review the lease before you sign too, if that's helpful.
Buying: Pros and Cons
Buying your own space feels like a big step, and that's because it is. It allows you a massive new degree of freedom in your plans for fit-out, furnishing and decor, along with added trust as you appear to be a more bonafide and stable business to prospective customers, clients or new team members.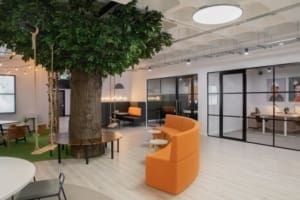 Buying might allow you to make more changes to the layout and fittings in the workplace, creating a statement with big impact like we've done here with West Barn Co, but is it the right decision for you? 
You won't be restricted in how you configure and modify the space to suit your needs, or how often you like to do this. This enables you to make sure your office space totally fits with your brand ethos and company culture, even as it evolves over the years. 
You can opt for a fixed-interest mortgage rate, giving you a firmer forecast on your monthly expenditure than the potential of rising rent. You will also accumulate equity in the property, making it a far better investment than paying into someone else's pocket each month. This is especially positive if the property goes up in value and the area becomes more popular while you're there!
You have the option of becoming a landlord yourself too, renting out any unused space in the office to another business or freelancers, allowing you to reap further profits.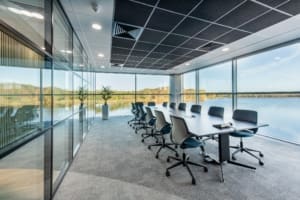 Buying can enable you to choose your location based on your own preference, inspiring your team and impressing visitors with views like these from the Keepmoat meeting room.
But – and it's a large but – buying your own space will of course require a large initial investment, ramping the upfront costs right up, so make sure you can afford it! You will also be responsible for all maintenance and upkeep on the building, no matter how much time or money it costs! Try to budget for this in your plan. You would also need to sell the property if you wanted to relocate for any reason in the future. 
We'd suggest you do plenty of research before committing, work with an estate agent who really knows the area and the commercial market, and employ a team of professionals wherever possible for any refurbishment work so that your investment is in safe hands. 
Speaking of safe hands…
We're here to help if you need us. With our years of expertise, we can help pull any office space up to date and enable it to become an asset to your company whether it's rented or owned by your business. 
We know that every company has its own list of individual needs and circumstances, and that's why we love to work with our individual clients to create a bespoke concept each and every time. Get in touch to find out more.