10 Ways to Make Your Office More Sustainable
So you want to make the move towards being more sustainable? Good idea!
In the current climate it's essential that your company is constantly considering how to reduce its environmental impact, and one mere change just won't quite cut it.
Yes, it's basically a social responsibility for us all, but going green in the office needn't be as tricky or as costly as you might imagine. With a few simple swaps and new, eco-friendly habits you'll be well on your way, which is why we've pulled together our 10 Ways to Make Your Office More Sustainable.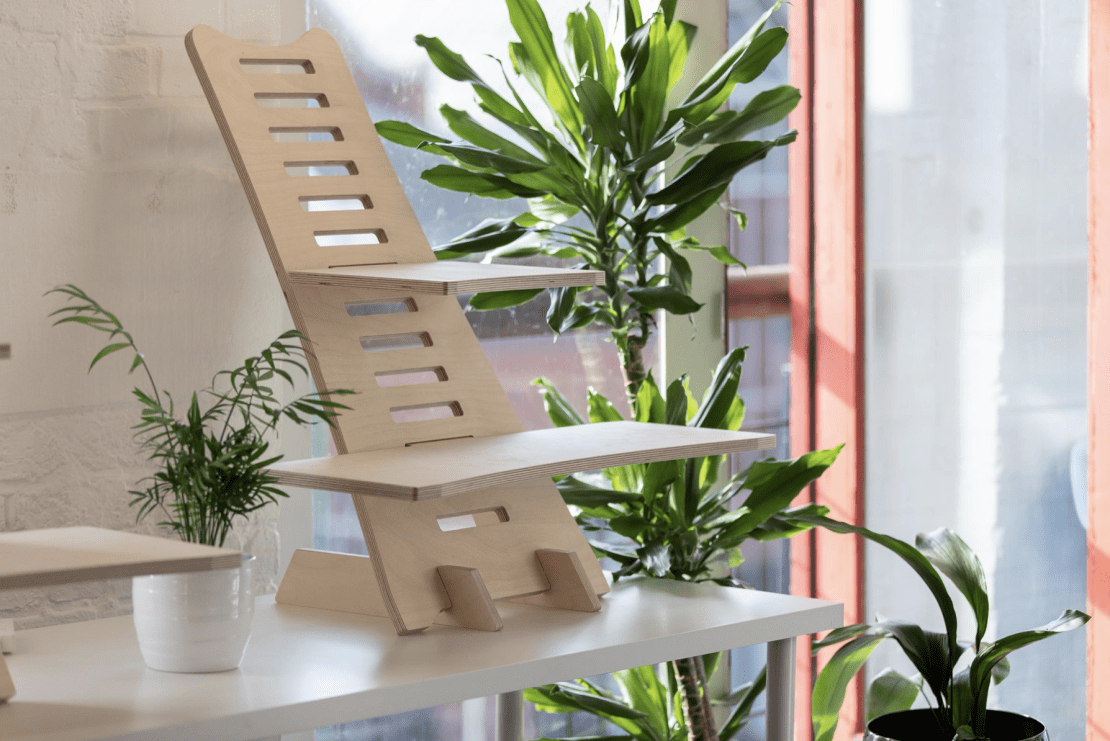 Including plants and using sustainable materials, such as wood, can help reduce your company's carbon footprint, as we've done here for BoxClever Consulting.
1. Consider your lighting
Let's start with a simple switch! Pop those bulbs out and replace them with their more efficient counterparts. Compared to traditional incandescent or compact fluorescent bulbs, LED bulbs use 75% less energy, are recyclable, non-toxic and can last more than three times as long – so it's kind of a no-brainer. Reduce your carbon footprint AND the number of bulbs you'll be buying. Better for the planet and for your finances.
Alternatively, consider how you could maximise natural light – AKA free light. It costs nothing and can be shared around the rooms by installing stylish glass partitions, as we've done below for our client, Circus PPC. We've covered the added benefits of natural light on morale and productivity in a post here, where we discuss such perks as natural light making people feel calmer and happier.
In the event of not having available windows and the option for glass partitions, lights with sensors are another sustainable solution.
Installing motion-activated lights improves efficiency and saves energy, especially for the lesser-used spaces such as conference rooms. This way you don't need to rely on employees to remember to turn off lights as they leave.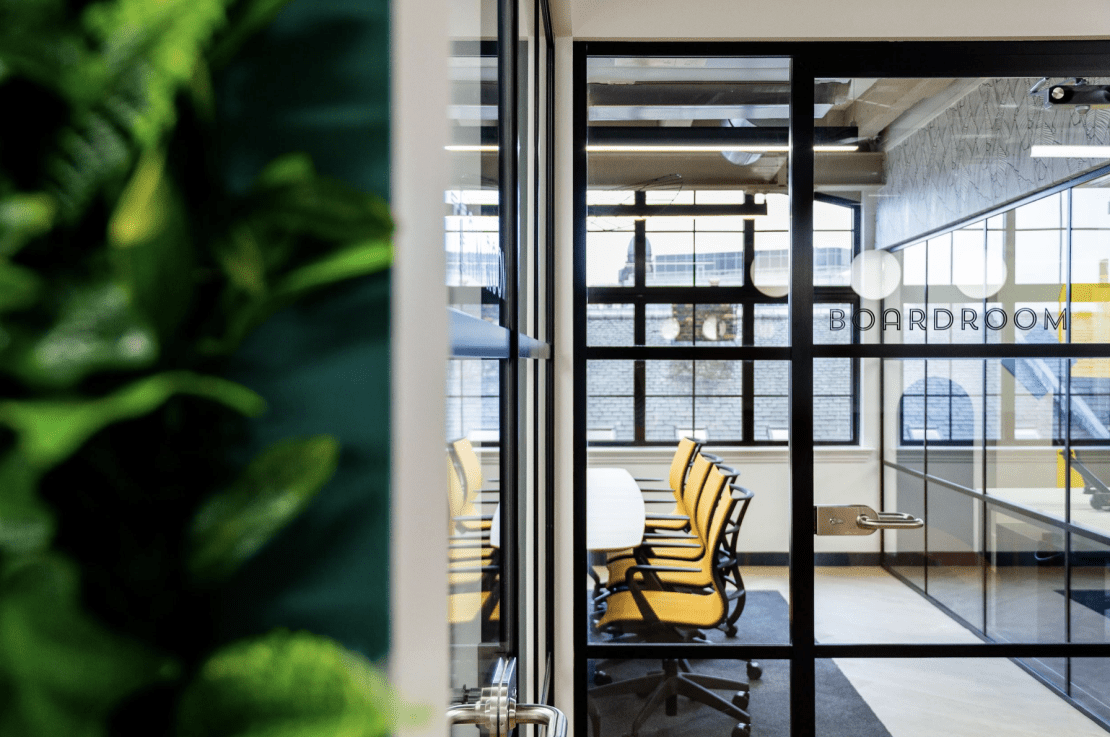 2. Embrace hybrid-working
It stands to reason that if there are fewer people in the office at any given time, you will be saving money, space and energy too. Luckily for you, the current trend is in favour of working remotely or hybrid-working. Go with the flow and encourage your employees to work wherever they feel most productive and happy. The autonomy is a big boost to morale and wellbeing, plus those that work from home sometimes will be actually helping you out in the long term!
If you need a little more guidance, here's The Low Down on Hot Desking.
3. Turn off electronics, lighting and heat every evening
Instead of having everything lit up like the Blackpool Illuminations every evening – when the office is in fact empty – instate an 'everything-off-at-night' policy. Power is still being consumed by most devices even if they're on standby, which adds up over time.
Switch equipment off at the plug at the end of the day, and enable power saving mode on anything which must stay plugged in or is more likely to be forgotten. You could also consider setting timers or smart devices which can be controlled remotely and then switched off from home if someone forgets before they leave the office.
While you're at it, lay off the thermostat. It's not uncommon for offices to be over-air-conditioned in the summer months, with employees wearing jumpers, blazers and jackets indoors in mid-July, especially in the UK where our temperatures rarely get too high. You can probably turn it down and still have a comfortable workplace but reduce your energy use.
4. Be water smart
Encourage your team to BYOB – no, not booze! Bring your own bottle! Installing a water dispenser in the workspace and having members of staff bring in their own bottles or coffee keep cups is one of the easier initiatives to implement but helps with waste and costs, even if you supply the bottles out of the company pocket initially.
Say farewell to overflowing recycling bins, and hello to eco-friendly, healthy hydration!
While you're at it, fix that leaky tap! This could be a metaphor, but in this case, we mean it quite literally too. If you have those little niggly jobs that you just never seem to get around to, they could actually be more than just annoying. A tap that leaks about one drip per second can waste more than 3,000 gallons of clean water per year.
5. Buy in bulk
Enable your company to buy in bulk by creating more storage space in the workplace.
We always consider storage a big deal when we're beginning with an office design, and it can be built-in seamlessly without ruining the overall aesthetic. Buying in bulk reduces cost, packaging and deliveries, which in turn all go some way to reducing your carbon footprint.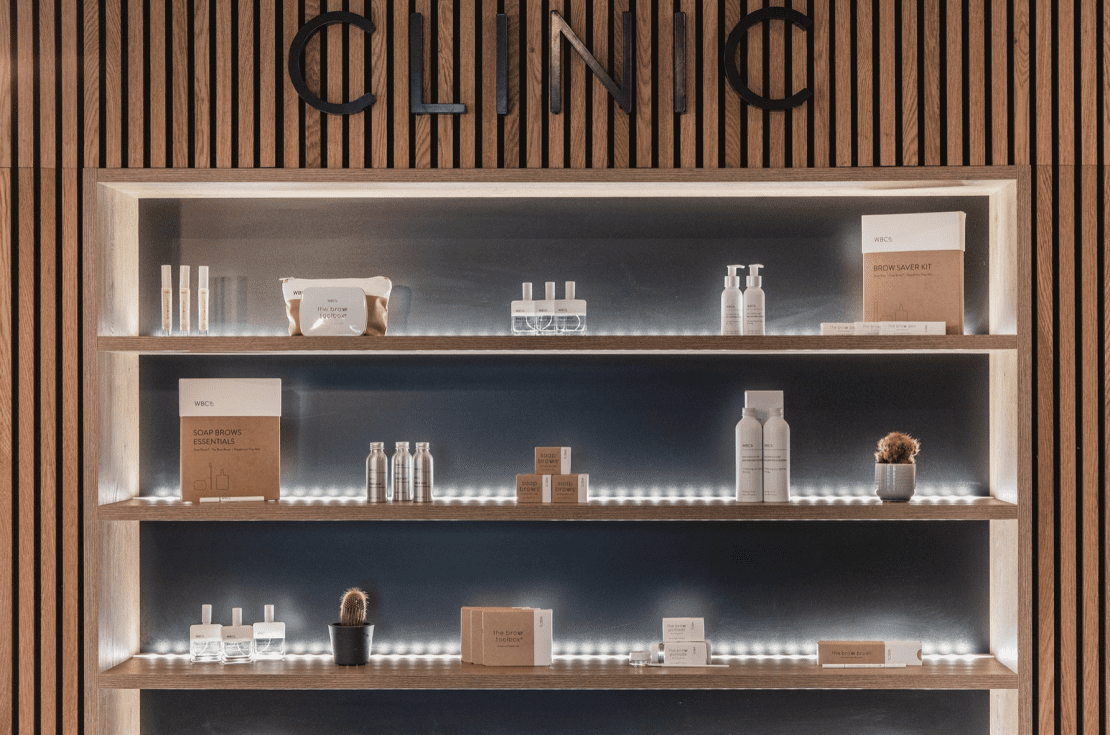 Product storage solutions don't have to be hidden away or unappealing either, as demonstrated by this display in the West Barn Co Clinic in Durham.
7. Go paperless
This tip almost seems trivial given the digital age we now live in. With cloud storage services and digital accounting software, there's very little need for paper and printers anymore. Less paper also means you'll need fewer filing cabinets or storage space for files etc. Ask your suppliers to send you online statements and invoices too.
Anything that must be printed could be done on 100% recycled and deforestation-free paper, marked with the FSC certification. Make sure your printer is set to print double-sided too.
If you or your team are still feeling the temptation to print unnecessarily, reduce the number of printers in your office by donating them to a local school or non-profit organisation in need. The same rule applies to any old tech. It won't be doing you any good cluttering up your office so donate it for more brownie points, and make sure your electronics are up to date and running efficiently.
8. Adopt a desk plant or three
There are so many benefits of having plants in the office, from improving indoor air quality, absorbing chemicals and reducing your carbon emissions in the process, to simply cheering the look of the place up. This could be smaller little plants on desks, or a whole wall installation like ours, shown below.
This is something we've discussed at length in our previous post all about biophilic design, covering all the perks you can expect to benefit from if you indulge in your green-fingered urges.
9. Encourage greener commuting
You can't force people to lower emissions by taking the bus, car-sharing or biking to work but you can incentivise it, and certainly make it easier. Throw in a little friendly competition and make sure you've got adequate bike storage and locker facilities for outdoor gear.
A bike rack is a fairly easy addition to the workplace that can have a huge impact, plus it gets your team moving. The increased exercise from biking to work can actually be a big boost to productivity and wellbeing, while car-sharing is also an excellent opportunity for employee bonding!
10. Embrace renewable energy and materials
We now have more sustainable materials and green power sources to choose from than ever, and they're only becoming increasingly more accessible as time goes on. The switch to installing solar panels or using wind energy can be done by organisations of any size!
The concept can seem a bit new and bewildering but it's worth investigating how your company could make the move and you might find it's cheaper as well as going a long way towards reducing that carbon footprint of yours!
Wooden partitioning in the Netsells office offers a sustainable product but still lets natural light through, keeping energy costs lower.
So that's our top 10 tips to get you started, but don't forget that your overall attitude is also important. Setting the right tone and introducing these changes company-wide can be a challenge, but getting everyone on board is crucial. Implementing rules on recycling, printing, water and power usage or cycling to work schemes only works if the people involved are invested too!
The key is to roll out the changes slowly, step-by-step, making sure everyone understands exactly why it's important. Get your team involved, communicate your goals and take on their opinions too. Setting little environmentally-friendly targets can also be a great way to encourage active change and team competitions are always a fun way of engaging people.
And for everything else, you've got us! Give us a call if you'd like to discuss ways to enable new strategies or refresh your office in a way that promotes sustainability, reduces waste and boosts productivity.