9 Inspiring Commercial Office Designs From Across Asia
Time for another search around the globe for the most inspiring commercial office designs and this time, we're focusing on Asia. A continent so big we were really spoiled for choice.
From Shanghai to Mumbai to this year's Olympic and Paralympic host city, Tokyo, we've included some of the most forward-thinking commercial office designs, created by designers, architects and businesses who push boundaries and champion 'local'. You never know, these outstanding examples could inspire an office glow up of your own.
Let's dive in and see what we've found for you this time…
Mumbai
The Mill project in India is the work of Mumbai interior design studio, Quirk. You can see it in all it's glory in the images taken by Kuber Shah.
This industrial, blank canvas has been artfully dressed using raw materials, like concrete and wood, to create a functional yet luxurious feel with mid-century modern touches and clean shapes, perfect for a family-run enterprise. This is totally timeless office styling and we can only imagine it's a joy to work in.
Seoul
The largest media company in South Korea, JTBC has a brand new HQ courtesy of THE_SYSTEM LAB and it's all about taking agile to new levels.
This contemporary office space offers JTBC the opportunity to mix things up whenever and however they like. There is no confirmed purpose, set space or locked-in layout, rather this is an impressive physical infrastructure that can contain the most agile of working styles. Images by Yongkwan Kim.
Singapore
Created as offices for Citigold members and private clients, the immersive Citi Wealth banking hub in Singapore is the work of local studio Ministry of Design, photographed by KHOOGJ.
It features a huge, glass atrium and indoor conservatory for relaxation and meeting space, optional pods kitted out with curved TV screens for more private moments, heaps of greenery and inspiring views of the lion city.
Foshan
Minimalist furnishings and amazing architecture is the order of the day for this Runxuan-based textile company's office in China.
Captured by Yun Ouyang, this masterpiece is the work of Lucien International – Masanori Designs and takes inspiration from the fabric itself. The undulating facade is meant to mimic the movement of textiles, paired with the minimal white palette giving a stunningly simple and clean aesthetic.
Shanghai
Neri&Hu and Design Republic's new office in Shanghai is an adaptation of an existing building. These ex-industrial spaces in a busy city area have involved an impressive reworking of the existing structure, keeping major alterations off the table wherever possible. (Image by Hao Chen)
The use of black metal window framing, glass surfaces and modern pods to create meeting areas within the raw exposed concrete structure has created an appealing, juxtaposed and authentic 'industrial meets urban luxe' vibe.
Delhi
Over in Delhi, SPACE10's new research lab's plan was to act as a public-facing research and design lab for their clever cross-disciplinary creatives to experiment with the prototypes.
Kevin Curran, programme lead, was aiming to combine Scandinavian and Indian design strategies and concepts in this space. He incorporated local craftspeople and materials but, using colour and certain styles, still tied the design into the other SPACE10 office spaces in New York, London, Shanghai and Nairobi. The below image was captured by Deepshikha Jain.
Chandigarh
Sticking with India for this next one too, NYC native wellness company Nureca Inc has had their fabulous new space created by NOOR Architects Consultants. Mixing private offices, open plan areas, breakout space and a cafe for staff, this modern and stylish interior is enviable for any office worker sick of the uninspiring same old, same old.
Working with trendy white terrazzo and Indian chip glass, brass, wood, terracotta and brick, this curated collection of materials is hitting all the right notes for us. Photography by Andre J Fanthome.
Beijing
A photography studio in Beijing has been designed by GB Space to offer two different zones; the VIP area and the studio area.
The set of rooms within are interconnected by retractable and foldable partitions that allow the space to be either divided or open plan at a moments notice. Materials used range from metal, cement, terrazzo and a grey wood, lending the studio a very modern and uber cool personality.
Tokyo
Kojimachi Terrace in Tokyo is Nendo's latest office design, snapped here by Takumi Ota, and boasting a whole 11 floors of stylish and sleek interior and exterior wizardry to lust over.
The use of tinted black glass alongside the wooden mesh framework of the building is expertly done and leads up to the three-level Sky Forest space at the top. One of the most seamless of commercial office designs we've seen in our many years in the industry!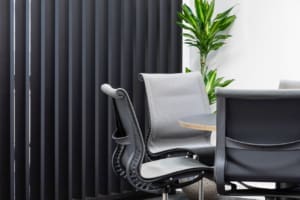 If you're lusting over some of these office designs in the same way we are and wondering if this is something you could introduce for your business, it might be time for an office refurbishment. Big or small, we'd love to work with you to turn your existing workspace into something incredibly stylish and wonderfully practical, so get in touch if you're looking for a helping hand in transforming your space.
In the meantime, stay tuned for the next in the series of our global Inspiring Commercial Design posts here on the blog, and check out our European and American features for more office inspo!