Inspiring Commercial Interior Design
... great examples from the USA.
Whether you feel like now is the time for a rethink of your office interior space or you just like eyeing up snazzy commercial interior design like we do, we've got a cracking list for you today.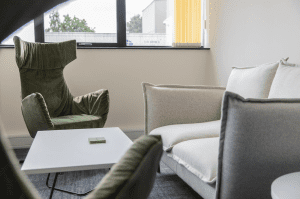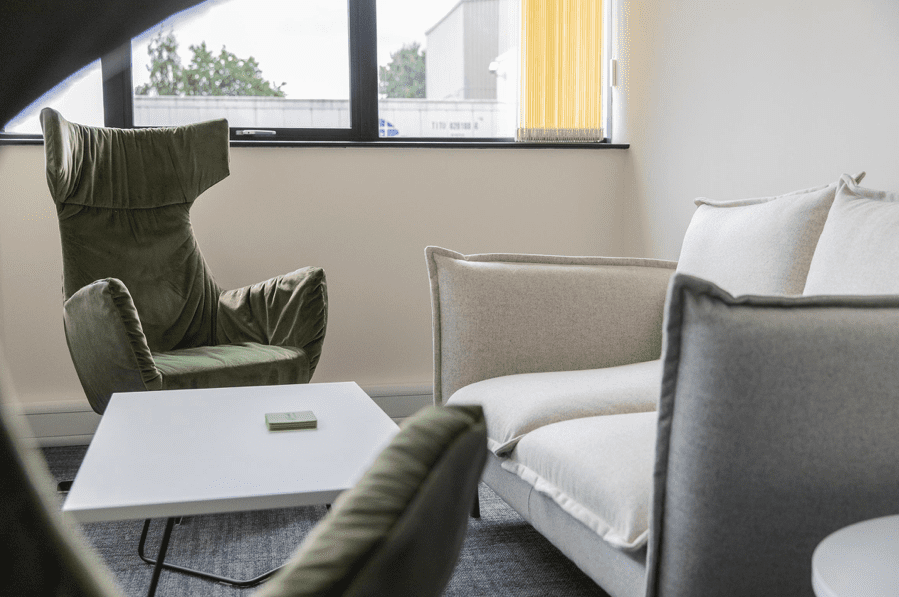 Settle in for today's post – ideally into something as comfy as this seating in the Firmenich offices!
We've headed across the Atlantic to check out what's new and impressive in the good old US of A, to draw inspiration from the latest commercial interior design trends and evolving ideas in office interiors. These 8 uniquely designed offices are certainly giving off the right vibes, ensuring their employees stay stimulated and happy at work.
Zetta Venture, San Francisco
Zetta Venture's office inside a San Franciscan townhouse is a masterclass in serene minimalism, providing staff with comfort and warmth, without overlooking the practicalities. Designed by Katie Storey, the interiors are inspired by her childhood spent on Australian beaches and it shows in the bright, light, natural materials.
Storey included an international mix of both emerging and established designers, while also bringing in custom pieces and cool additions such as vintage Kentucky whiskey barrels. This example of workspace design really highlights how simple-but-effective it can be to create a home away from home for workers, appealing to staff and clients alike, and avoiding the trap of more sterile working environments that tend to be typical of other venture capital firms like Zetta.
Zetta Venture's sleek yet minimalist office.
Community Information Centre, California
The Californian offices of the Community Information Centre have been tackled by the talented Efficiency Lab for Architecture from Brooklyn. The Efficiency Lab for Architecture is composed of architects, planners, designers, and educators committed to a better understanding of the built environment.
This sprawling and open-plan space is a fine example of some super clever adaptive reuse which forms part of a larger development project. It will eventually all be transformed from an existing office park into a learning campus. This centre is the first phase of the ambitious project, acting as an information hub. (Below image by Blake Marvin)
It contains a reception and lounge area, a huge 80-person presentation room, amazing meeting rooms, interview rooms, and lovely staff offices. Impressive, hey?
The Community Information Centre in San José.
Airbnb, San Francisco
Welcome to the vibrant home of the Airbnb design team, based in this studio in San Francisco. The Airbnb team work in 'neighbourhoods' built around larger project rooms, modular spaces with displays and whiteboards.
The staff are free to work anywhere, in any one of the open spaces that suits them, and as we've previously discussed, this kind of working can be a real asset to productivity. People are also free to change spaces by decorating them. Can your staff do that?
Inside the Airbnb workplace in San Francisco.
Publicis Groupe, Boston
This new Publicis Groupe office was designed for the global marketing and PR company by Elkus Manfredi Architects and occupies five restored historic buildings, all topped off with a modern glass extension. This photograph is by Eric Laignel.
Created as an 'activity-based' workplace, the international communications company needed a fun and inspiring space to house 1500 employees. In a pro move, the architects consulted with the actual space users – the employees themselves – and have co-created the space with them, in a way that will really work for the company and benefit the staff. As a result, the interiors feel bright, flexible and contemporary.
The Boston-based Publicis Groupe office.
Publicis Groupe, San Francisco
And now, another entry for a Publicis Groupe office, this time for their 550 strong team in San Francisco, and with a space designed by Blitz. (This image was also taken by Eric Laignel, as above)
A range of flexible workstations were designed with a base palette, incorporating connectivity, agility and inclusiveness. That was then built upon in each area, with different colours and materials to reflect the unique identities of each team.
It was also important that the design reflect their inclusive values, so gender-neutral facilities and a space especially for mums were incorporated, as well as a vibrant rainbow graphic theme that wraps around the whole office.
And the San Francisco Publicis Groupe office.
Apple Inc. California
It wouldn't be right if we didn't mention Apple in here somewhere, would it?
Foster + Partners designed the Apple Park HQ for a cool five. billion. dollars. Yep, you read that right. But we wouldn't expect anything less of Apple.
The building is an impressive loop of glass, aluminium, limestone and concrete, designed in close collaboration with Apple's Chief Design Officer, Jony Ive. It houses their 12,000 Silicon Valley based employees in identical segments, but the epic multistory main building, dubbed The Ring, is the hub, featuring the Steve Jobs Theater which boasts Poltrona Frau leather chairs and curved wooden floorboards. The funky office space is configurable so teams can choose if they want to work in individual offices or open spaces.
Each floor in each segment has a central area with an oak meeting table and glass whiteboards that open to reveal huge TV screens. Apple HQ also has spaces where random staff interaction is encouraged and, in fact, actually engineered to happen in the circling corridor, on the incredible staircases and in the enormous cafe. Stunning!
Kinetic, Alabama
Website designers Kinetic, based in Alabama, help clients implement cutting-edge internet technologies, so it makes sense that they have an equally innovative office.
They've really let their imagination run wild for this workspace, specifically built for flexibility and productivity. You'll find private office spaces alongside collaborative break-out areas, and more than a hint of 'work and play' with the addition of elements such as pinball machines and steam rooms. We bet that's a real draw for potential new employees, a theme we've also been discussing recently.
Bark, Ohio
Dog people, ready yourselves for the office of product design company Bark (the guys behind Barkbox) in Ohio. This venue hasn't only been designed with human staff in mind but the canine kind too!
To allow for maximum interaction with doggy pals and to reflect the company's attitude to their waggy-tailed muses. As part of the brief, the office needed to "withstand dirty paws and unplanned accidents".
There are specially built beds for both species and other comfy spots designed for human workers and dogs to sit and work side-by-side. What a way to work and boost morale!
Bark's fun, dog-friendly workplace in Ohio.
If any of these incredible office space design ideas have given you a spark of inspiration for a project of your own, we'd love you to reach out and start the conversation. Let's make interior design magic happen for you and your team!
Stay tuned for the next instalment of our global Inspiring Commercial Design series, coming soon…