9 Things You'll Want To Consider When Choosing An Office Interior Design Company
So, you're planning a workplace redesign. You may even have an idea of the sort of finished space you'd like but you think you need a little professional help to make it happen. We don't blame you, office design can be a daunting concept! 
With the right interior design partner your new office will do wonders for your team's efficiency and morale. In fact, studies show that considered office surroundings have the potential to increase productivity by up to 20%!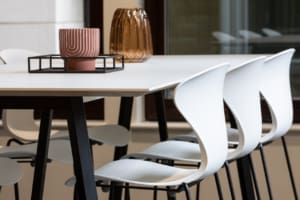 It's about the big decisions and the little finishing touches that give a space its identity – as shown here in this image from our Dixon House project.
But, let's start at the first step, how exactly do you choose the right professional design and fit-out company for the job so that you can be confident in your investment?
Here are our top 9 things we at Ben Johnson Interiors reckon you need to consider when choosing an office interior designer…
1. Their Qualifications and Experience
Check that anyone you're considering working with has all relevant qualifications and use information from referrals where possible to figure out if their experience matches what you want to achieve. Have they completed similar projects in the past? Is there previous work featured on their website, social media or in articles and press? Browse through any recently completed projects to gain confidence in their expertise and ensure that you like what you see.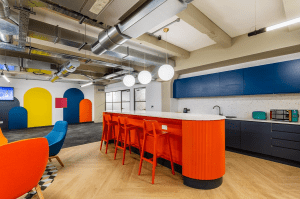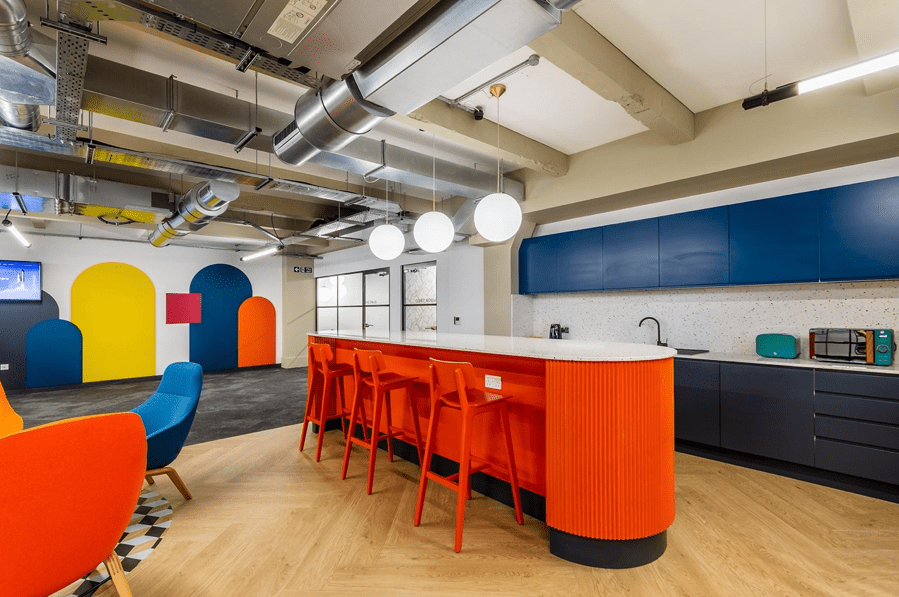 We're always proud to show off our past projects – especially when they're as colourful and fun as this one for Circus PPC!
2. Their Reputation
Start with any testimonials and reviews on their website but make sure you're also doing some of your own research with a quick Google. You should be able to talk to any of the references provided, especially if they're local to you, alongside checking for trustworthy reviews online to get an idea of what they're like to work with and what the calibre of the end result is. This can be a great way of finding out if they're the right fit for your company. You want to employ experts, not cowboys!
3. The Quality of Their Work
Following on from the last point, as well as asking or visiting some of their completed works, you can also study any imagery on their website and social media platforms to see how the work they do turns out. Don't be afraid to ask for a portfolio or to see some 3D floor plans and designs if you're not totally sure.
4. Their Understanding of How Design Elements Affect a Workplace
An experienced designer (or a team of designers) will understand that every project is different, based on how various elements affect the work being done in the space. They will be able to advise on the best choices for your staff, while also taking into consideration the space available, the light coming in and even the orientation of the building.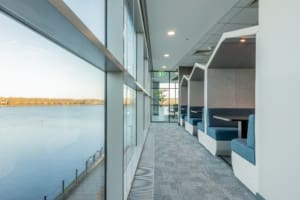 With the Keepmoat offices, we very much wanted to work with the huge windows and this amazing view to best inspire their team on a daily basis.
5. Their Access to Resources
If your designer in question has a successful and proven track record over many years, then they'll also come with a wealth of resources, staff and subcontractors and bring established relationships with suppliers that you'll be able to benefit from. 
6. Their Ability to Deliver On-Time
If you're speaking to past clients for references, make sure to check on the timescales achieved. Was everything delivered on time or running behind schedule at every point? Sometimes these things can't be avoided but a regular pattern of failing to meet deadlines might signal an issue for you further down the road.
7. Their Communication
You want a professional to work with you and take the strain off, and a lot of this comes with good communication. Will you see detailed designs and be able to discuss any changes at the beginning of the project? Will you be kept up to date with decisions and progression? Will there be a clear roadmap to minimise disruption for you, your customers and your employees? If you would rather they adapted their levels of communication for you and left you to it, only updating you at set intervals, then do you trust them to do this and make decisions in your place?
We don't mind if your budget is big or small, we still always aim to deliver the office you deserve on time and on-time! Especially when it looks as good as this space we worked on for Firmenich!
8. Your Budget
It's wise to set aside a healthy budget for your workplace redesign, because even the best designer can only do as much as your budget allows them to. Do a little research into the average prices of materials and labour, and enquire with them for as much visibility as possible before you agree to anything to make sure it's something you can afford to go for. An experienced commercial interior design company should be able to help you with this too and advice whether your plans are realistic.
9. Their Understanding of Your Business
Afterall, this is about you, not them. Do you feel that they understand how your business works on a daily basis, what the overall company culture is and what you're trying to achieve with the refit? The design process for a better working environment usually involves a lot of getting to know how your business works and how a new layout or design will impact and benefit that – be it privacy, collaboration, downtime, client-focussed or all of the above.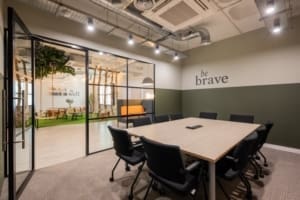 Of course there is an element of being brave (as our West Barn Co. meeting room says!) when taking on any new project, but doing the research before choosing your partner certainly means you'll be more confident in their abilities.
At Ben Johnson Interiors we pride ourselves on ticking all of those boxes and doing great work for businesses across the UK. We focus on helping our clients create amazing workplaces for their team that create a positive and lasting impression on visitors. If you need help beginning your next big design project, get in touch. We can help you get things started.