Office Acoustic Pods and Booths
What are they and how will they transform your workspace?
Let's start at the very beginning… what exactly are Office Pods and Booths?
Office pods and booths are compact and enclosed environments, crafted for many functions such as flexible meeting spaces, or alternatively, quiet work and private meeting spaces. Office pods and booths feature acoustic properties, meaning their main function is to block noise, this sound-proof feature is a game changer, allowing employees to focus and collaborate in a private environment and block out the outside world. Office pods and booths are independent units that really add value to the working environment, office pods are a movable structure, making them totally flexible and versatile for any growing business. Both office pods and office booths have become essential in modern workspaces due to their functions!
How will Office Pods and Office Booths transform your workspace?
Inclusivity and Employee Wellbeing
No two people work efficiently in the same way or in the same work setting, revisiting our trip to Clerkenwell back in May, we touched on the term 'neurodiversity', and it is now more important than ever that employers recognise and understand this term in order for employees to work to the best of their ability. Accommodating for different types of working in the office ensures maximum productivity. Office pods and booths support different working needs and neurodiversity by providing a quiet and calm space, reducing sensory overload, improving concentration, increasing productivity, and enhancing creativity, most of which is down to the acoustic performance that office booths and pods offer. Sure, an open plan work setting is great, this type of work setting also has major benefits and is becoming increasingly popular, however, ensuring inclusivity in the workspace will really add value and boost employee wellbeing.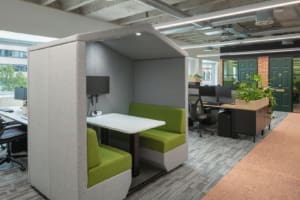 Our recent Office Booth pick for Appleyard Lees in Leeds, providing an alternative work setting in an open plan office!
Collaboration
A study done by Forbes found that collaboration drives workplace performance, participants in the research study who were primed to act collaboratively stuck at their task 64% longer than their solitary peers, Forbes also reported higher engagement levels, lower fatigue levels and a higher success rate from those acting collaboratively. I know we speak a lot about collaboration, but there's the proof! Whilst office pods and booths accommodate for quiet working, they can also be used for informal meetings and a change of scenery from the usual desk space (because who wants to be sat at a desk all day?!). Both office pods and booths can be used as social spaces, allowing colleagues to form an organisational identity with those they don't work with on a regular basis. Booths and pods are a fantastic environment for teamwork and allow teams to get together and work on certain tasks in private.
Cosy on-brand booths we installed in the KCOM office in Hull, offering an escape for quiet work and collaboration.
Privacy and Focus
Combatting noise in any working environment can be a challenge, especially on those busier days in the office. In order for employees to work efficiently and productively, having the option of an office pod or booth to work from can make a huge difference. Employees working in an office pod or an office booth can drive distraction levels down massively, they offer employees an escape when they need to really focus on a certain task. The working world is forever changing, and with the rise in teams calls, pods and booths have served as noise and visual buffers to minimise distractions.
We provided a private space in the KnowBe4 office by installing these pods, named after references and characters from James Bond films, which reinforces the fun feel of the office!
Office pods and booths are not only a great addition to your workspace, in our experience they are a great simple solution to tackle many workplace challenges and are convenient and affordable. Office pods and booths also come in all shapes, sizes, finishes and fabrics to fit your workspace.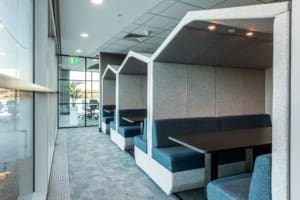 If you would like to know more about acoustic pods and booths and how they could transform your office space, please get in touch here, we'd love to help!