Can Our Homes Influence Our Office Interiors?
- Ways to execute home-inspired design
In these modern times, it's not uncommon to find cosy, organic office interiors that appear more like stylish homes than workplaces – and this is no bad thing.
The trend to design office spaces fitted with homely accessories has been on the rise recently. An increasing number of forward-thinking companies (and commercial interior designers) are crafting warmer, more welcoming spaces by incorporating softer textiles, wood and stone, plant life, curved shapes and homely touches to work, relax and socialise in.
This is a stark contrast to the typical office design that might first come to mind – all business-like, almost sterile workplaces that are all work and no play. These tend to be dominated by cold colours, sharp edges, artificial materials and (often) bad lighting.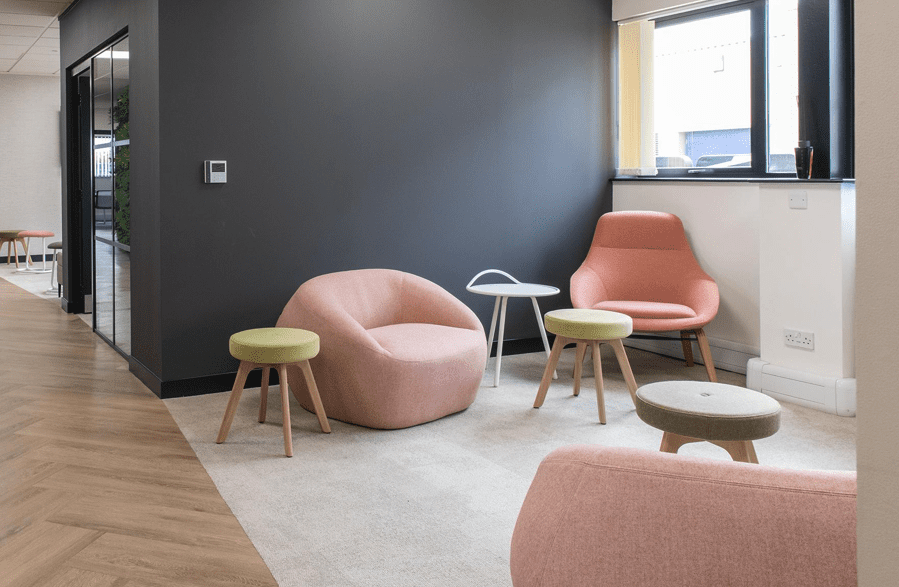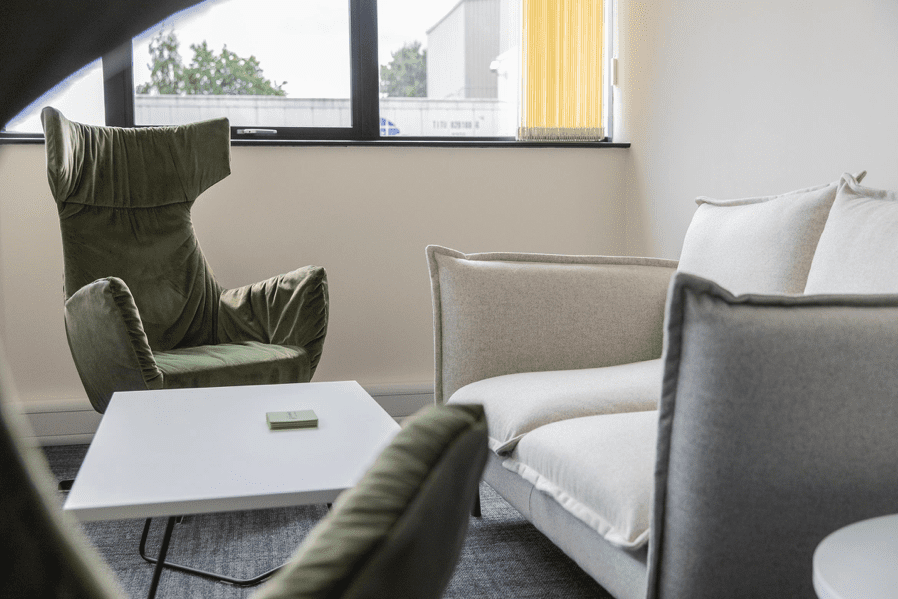 These seating areas in the new Firmenich offices feel much more reminiscent of a living room than the traditional office of years gone by.
Why would it be important to learn from home design?
Well, when your employees are stuck in an uninspiring space for too long, it affects their mood, well-being and their performance. Plus, if the office is where much of the workforce spends the majority of their lives, it stands to reason that it becomes more of a home-from-home.
It's no surprise we've really come to embrace the concept of comfort as having equal importance to functionality en masse in 2022. So many of us spent a lot of time in our homes in recent years, as working from home became commonplace – even essential – to survive the pandemic. Hybrid working has indeed become the norm for so many.
It's then involved a large amount of strategy for employers to tempt their staff back into the office, so that's where some of the requirements for cosiness have come in. But moreover, we've all come to really appreciate the fact that being comfortable, relaxed and more importantly happy actually results in higher levels of productivity. As employers, it's useful to be able to maximise that.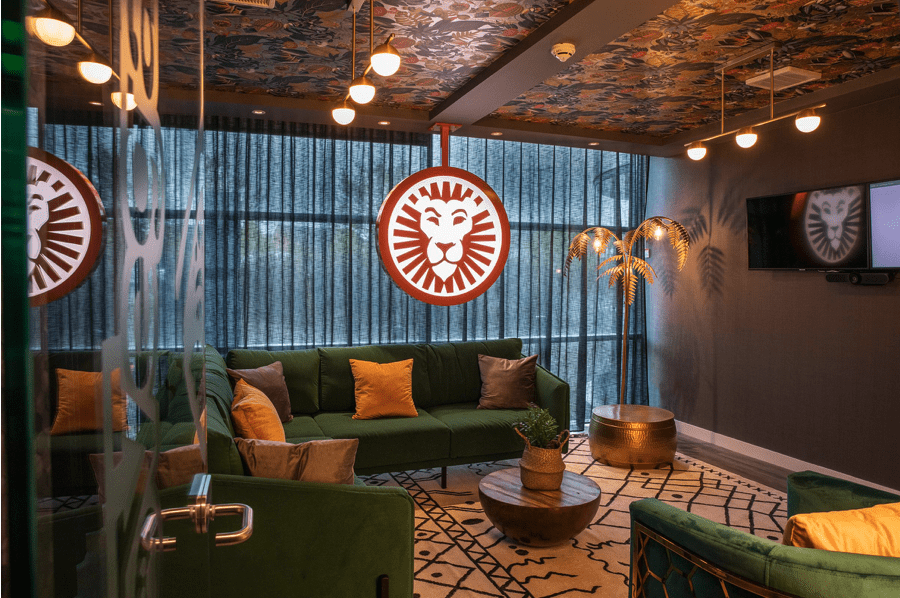 The LeoVegas meeting rooms are a mix of boardrooms with tables and this living-room style space for employees and/or visitors to gather and chat about work. The darker colour palette works to clearly set it apart from the lightness of the rest of the office.
How can home-inspired design be incorporated into the office?
A sense of place
Homes are divided into fairly distinct zones. You generally have a kitchen area for preparing and eating meals, a bedroom for rest and a living room for relaxing and socialising.
Think of an office in a similar way. During the course of a working day, your team members are likely to need somewhere to work, somewhere to socialise with their colleagues and of course, somewhere to eat. So translate that into work pods or desking for peace and quiet, breakout areas for a quick catch-up, separate kitchens for more sociable lunches and even deckchairs and beach huts to inspire creativity.
The functional-yet-homely kitchen space in our own offices in York offers employees a clean and clear space to grab a snack or a coffee.
Setting the tone
You can use different textures, colours and fabrics to differentiate what the purposes are for each zone in the office to set the right mood, just like at home. For example in a breakout zone, comfortable sofas and cushions might be more applicable for informal chats and socialising, whereas this might be counterproductive for long group sessions, instead sending everyone to sleep.
A large 'kitchen table' might work well for collaborative working or grabbing a coffee but won't provide enough peace for someone in need of some solo, quiet working time. Playing with a mix of materials can help employees recognise what each space is best used for instinctively and provide options.
The accessories on open shelving in the West Barn Co workspace really add a lot of personality and cosiness to the office, especially combined with the deep and warm paint on the walls.
Warm up your palette
Speaking of colours, changing the palette is a simple solution that can give dramatic results. To get a cosy interior, you should opt for warm shades. You could just paint one wall, or a part of it or consider using materials such as brick slips to create a feature. Think about introducing warmer colours through furniture and accessories, terracotta and deeper hues.
Accessories and decorations
Perhaps the most obvious way to inject a little cosiness into your office is with decorations. Homes have plenty of accessories, books, knick-knacks and personal touches.
Colourful paintings on the walls, soft cushions, and even blankets, rugs and carpets in various sizes, shapes and patterns will work hard to give your interior a truly unique character. Why not pop a plant on everyone's desk? Lamps and beanbags are practical as well as cosy, offering improved lighting and increased comfort.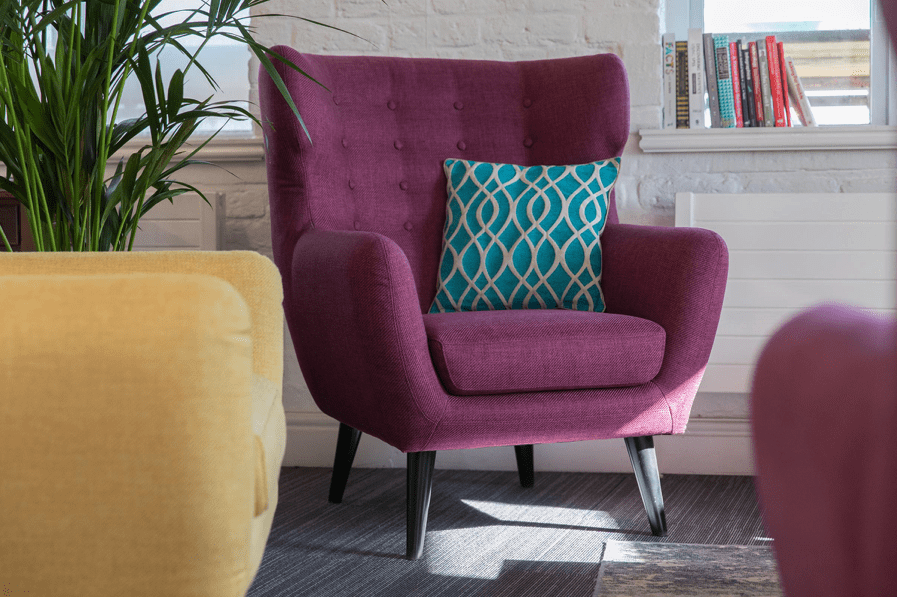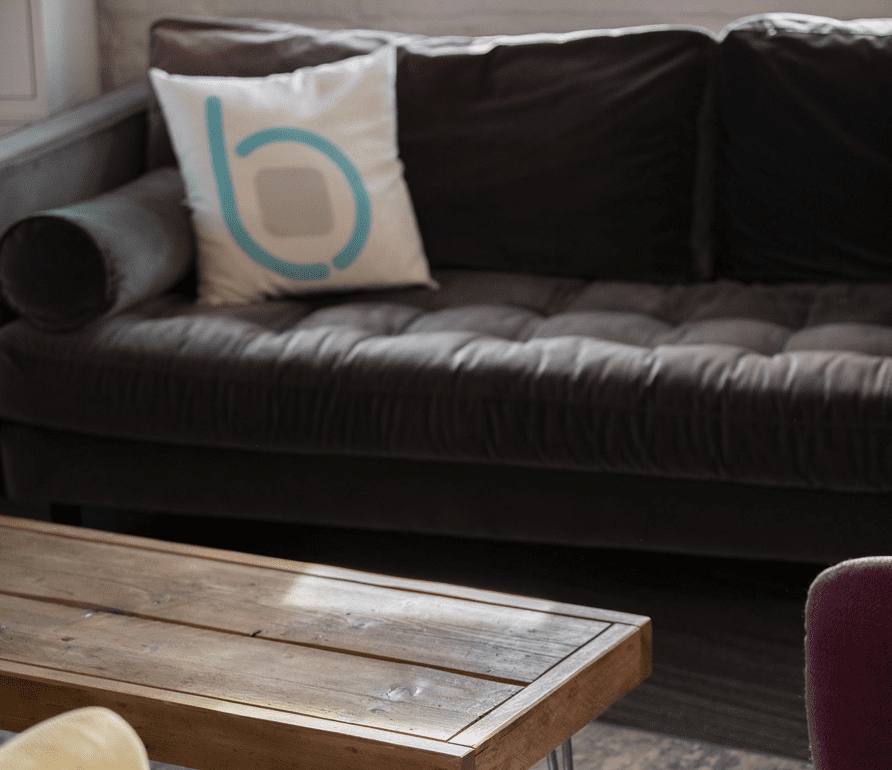 You could even sneak in some of your company branding as we did here with Boxclever's cushions, arranged for maximum comfort on their sofas.
Let there be light
Speaking of lighting; no one would ever dream of living in a house without windows or lamps. Natural light is vital (as discussed in our previous post) so access to natural light is key.
Plan your office layout to ensure your staff get as much natural light as possible, either by proximity to windows or using glass partition walls and open shelving as a divider. Then use a mix of bright yet warm artificial lighting and soft lamps for that true homely feel.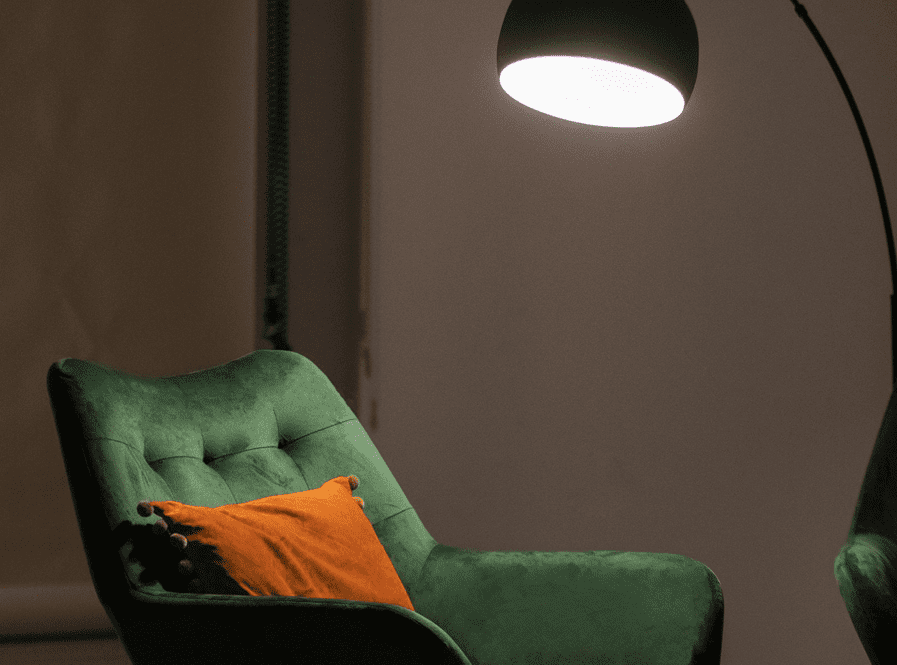 Softer lamp-lit armchairs offer the West Barn Co. team a cosy thinking space.
So, the trend for letting home interior design influence office interior design isn't going away anytime soon. You might want to ask yourself if your office is the best it could be.
Certainly if any of the lovely, homely touches we've included today have got you considering how you could warm up your workplace and boost employee productivity, get in touch. We'd love to help you create a comfortable and relaxed space for your team and visitors.