Tips for Funding Your Office Refurbishment Project
We've talked in previous posts about the importance of maintaining the office environment, either to attract or retain the best employees, to impress clients or to increase productivity and overall wellbeing. Wherever the reason, the general consensus is that it's well worth the investment. But now let's talk about that cash flow barrier for a moment.
Undertaking a new commercial interior design project or office refurbishment isn't the cheapest project, sure – whether that be a spot of development, a total redesign or the purchase of a new property. But it can be incredibly worthwhile and, despite popular belief, you don't always need a huge injection of cash to finance the office fit out you (and your employees) have been dreaming of. Don't let that be the hurdle that puts you off.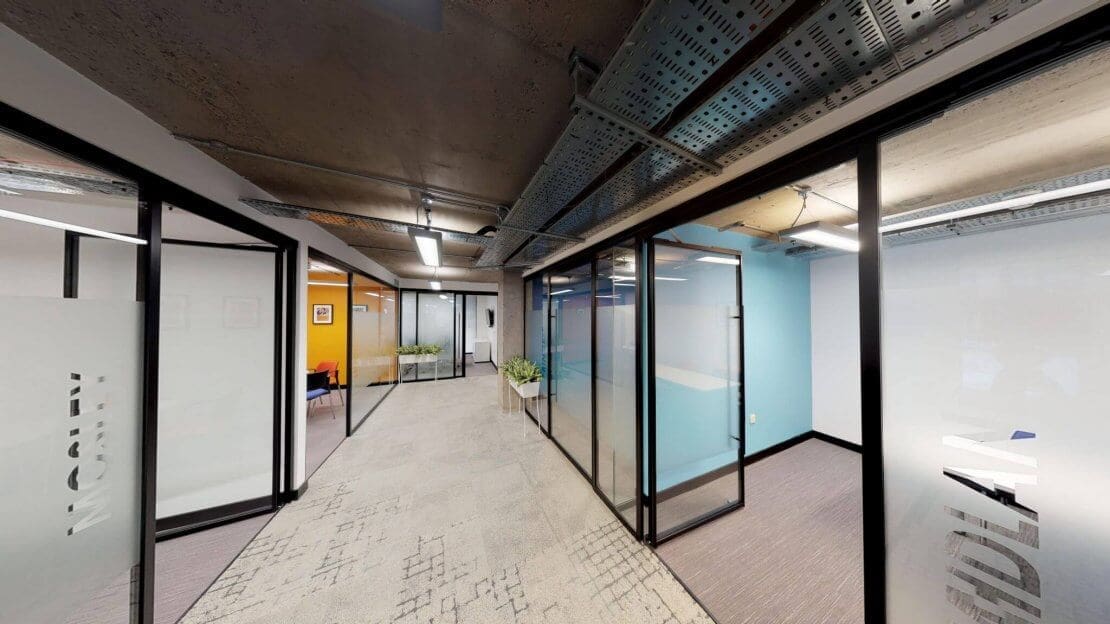 We installed high specification, acoustic glass partitioning in the Search Consultancy offices in Manchester, to minimise noise, introduce natural light and convey an open, transparent feel to the interior
Remember it's also quite likely that the added benefits to the office environment mean that you could actually see a commercial return on the investment sooner rather than later, making any initial outlay all the more worthwhile.
You have a number of options available for the project funds, some you may have considered, some you may not.
We've pulled together some useful information on the most common finance options, just to help you get that ball rolling.
Lease purchase
Leasing is usually considered a readily available option for company cars but don't forget it can be useful in other areas too. You can usually lease the aspects of an office fit-out, such as furniture, giving you the edge when it comes to the new and snazzy options. These could then offer an easy upgrade at a point further down the line when a newer model becomes available or when the product no longer fits in your workspace.
With leasing, payments are usually made on a monthly basis over a fixed period, typically around 3-5 years although there are many options out there. This means there's no need to find large sums of money upfront if that's easier for your business to achieve.
The repayments are regular and can be easily budgeted for, and they're tax allowable, meaning you can chalk them up as a business cost and offset them against your profits. VAT can be claimed back, too.
Obviously, you'd just need to make sure you keep up with the repayments for the duration of your lease. That's it!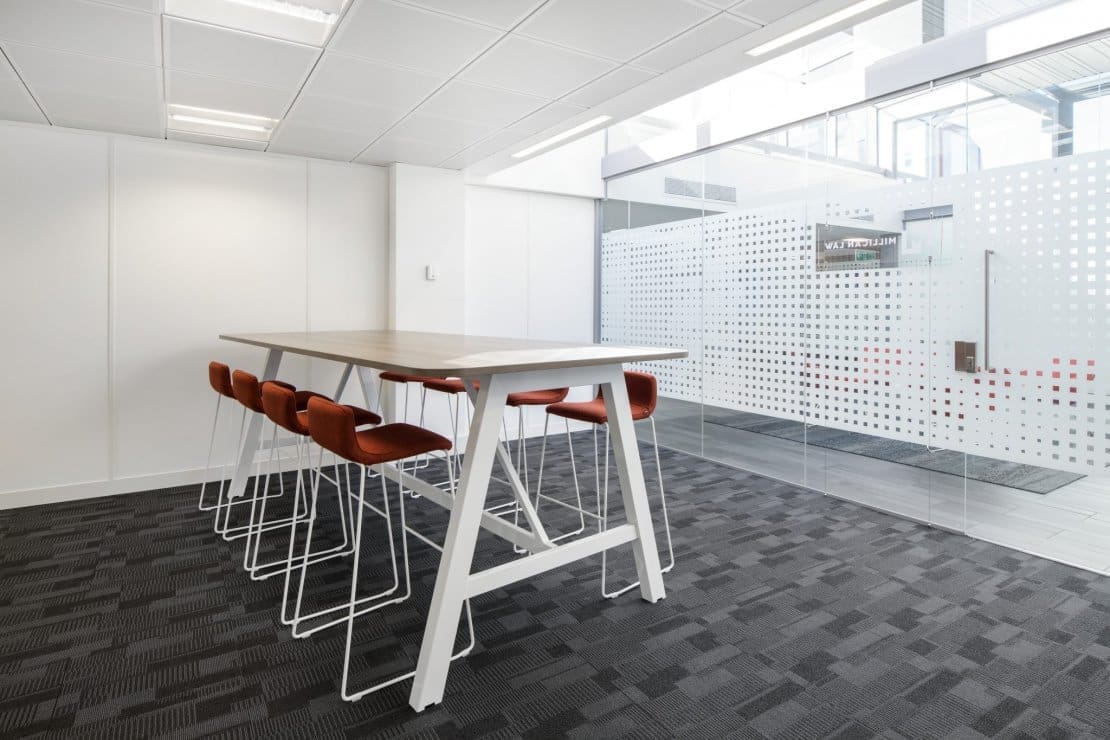 Allowing the natural light in as part of our work for Millican Law in their North East based office.
Bank loan
Working with a bank lender is probably most people's go-to option when it comes to a new commercial interiors project, from big construction to small upgrades. A perk with this is that the loan can often be tied in with the lifetime of the equipment or product you're purchasing.
Again, as with a lease contract, you'll have the benefit of the monthly repayments being smaller, bitesize amounts that are planned and easier to budget for than a sudden big outgoing.
As with a lease, you'll need to be confident in your organisation's ability to be able to keep up with the loan repayments, which this time could be subject to interest rate charges, upfront fees etc. It's also worth bearing in mind that this option is also less tax-efficient than leasing.
Government schemes
Sprucing up your work environment could be just the thing to boost business following the disruption of 2020-2021. It's our hope that the British government recognises the importance of adapting many workspaces in line with how Covid-19 has changed the way we will all work moving forward, at least for the foreseeable future, and provide funding to affected businesses as a result.
It certainly seems as though businesses across the UK are now able to access government support to keep operating in the face of the global economic emergency brought on by the Coronavirus, so it's worth double-checking if that's open to you in your industry at this point as the guidance and assistance are changing all the time.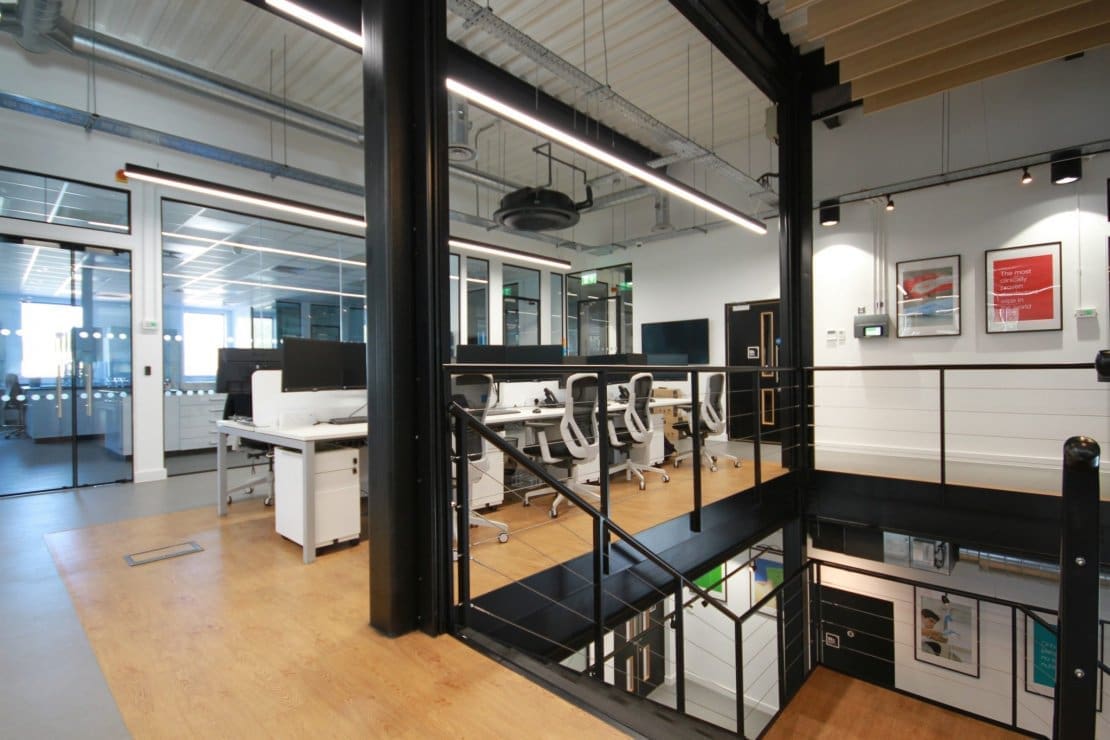 A furniture update and upgrade for staff at Gamma Healthcare in West Yorkshire using new, high spec furnishings to reflect the high standards of Gama's healthcare products.
Cash investment
The good old-fashioned route to getting things you want – paying for them in cold hard cash! You might take a peek at your finances and decide that you have the money available for this kind of investment upfront and it can certainly be the least complicated way to do things. Using funds you already have could limit your budget though, adding an unnecessary restriction on what you can achieve with your office redesign or rebuild, and in the long term, you don't want to have to cut corners if you really didn't need to.
We reckon it's always worthwhile discussing this with your project interior design partner. With our clients, we'll take cash flow into consideration and we can build a degree of flexibility into the project if that helps keep everyone more comfortable and avoid you feeling the brunt of any financial strain.
A large amount of the costs can be attributed to your business' Annual Investment Allowance (AIA) but we'd recommend a chat beforehand to figure out which areas can and can't be set against capital allowances, as not all elements can be.
Choosing to pay in cash does mean that all assets will belong to your company from the outset and there are no ongoing payments to worry about. That does mean, however, that your money has been tied up in these assets and isn't available for other areas and it isn't fully tax-deductible like some of the options we've discussed above.
A hybrid of options
Somewhere between counting out the pennies in your company bank account for a basic model and leasing the items you really want is a natural compromise. Think of the areas and products you're investing in here. Tech, such as laptops, tend to need upgrading every few years so you may want to consider contract hire for that, whereas furniture can last a lot longer so a lease-purchase may be a better option for that element.
Using a combination of methods can also help you get the best value for money that choosing one option cannot. For example, using capital for your Annual Investment Allowance means you benefit from the 100% tax allowances, then leasing for other items helps to maximise your tax position. We will always help advise which areas might be best for the investment and where you could get the best value for money with the other various options for financing.
Ensuring all the new workstations matched the existing ones during the Ripe Insurance expansion project in Manchester.
If you already know you need a little interior design work doing, you have a strong argument for undertaking a workplace fit-out project – perhaps you suspect that your current office is preventing your company from realising its full potential, remaining competitive in the market or appropriately reflecting your brand – then you should have no trouble accessing the funding you require, whichever route you choose to go down.
Working with a strong team of project designers and planners, as we have here at Ben Johnson Interiors, can make all the difference, ensuring you create a detailed and accurate plan of action and loan application, sourcing the best suppliers and contractors for the job and staying well and truly on-budget.
If you're ready to get started or would like to know a little more about the costs involved, we'd love to hear from you.