Great Examples of Breakout Space in Office Interior Design
... to inspire your next project!
The modern office is becoming more and more popular, and appropriate zoning is a must for the modern office environment. If you've previously looked into an office refurbishment, you will have most likely heard the term breakout space, but you'd still be forgiven for wondering what a breakout space actually is and whether it's essential for your business. 
We're here today to clear that up: a breakout space is defined as 'an area that is separate from the established or formal working zones'. A breakout space in the office is somewhere available for employees to relocate and spend time away from their desk, time out to grab a cuppa from the tea point, or as somewhere to collaborate with other members of the team in a shared space. 
From the point of view of an employer, providing a decent breakout space allows employees to concentrate, away from the stress and noise of their desk and the main office. It may also encourage relaxation or social interaction, and those things are a boost for productivity. Employees are able to concentrate and head back to their own desks refreshed after a little time away. So, offering the option of 'breaking out' creates happier, healthier, and more productive staff – which employer wouldn't want to achieve that goal?
Understanding what break out space design works best for your business is key. Here are some popular breakout design elements we've noted over the last couple of years, to offer you a little inspiration.
Open plan breakout space with zones 
Open plan breakout spaces are increasingly popular for many reasons. Reward Finance (above) decided to not opt for walls and instead go for an open plan layout, zones were created through the use of different flooring as pictured above. Acoustics were also high on the list of priorities in the design stage. Strategically designed, the different zones offer staff the flexibility to transition in and out of different activities, such as a game of pool or a quiet re-set in the corner of the breakout space on the comfy sofa! The Reward Finance breakout space serves as an additional working area as well as providing a relaxing environment.
You want your breakout space to be used, right? Ideally regularly. Any space that's going to get regular use needs to be practical and durable, offering different zones offers multiple uses of the breakout space. One way to make it clear that different zones are for different purposes or types of work is to use a fun concept to change the tone.
Don't be afraid of colour!
A vibrant and appealing colour scheme is a must if you want to encourage people to actually use the space. It has to be inspiring enough to be a good alternative to their regular desk working. Think about your brand colours, consider the psychology of colour use and add different hues with furniture, flooring, decor.
There really are no limits when it comes to colour, our project for Circus PPC back in 2022 included a pop of colour, which really makes for a fun office environment! Through the use of their brand colour (orange), Circus really wanted to reflect the corporate branding, and I think we nailed it! This worked out even better as their company branding was already quite bold, and with Circus PPC being a marketing agency, it made sense to make the workplace as colourful, fun and creative as possible, without it been too overwhelming.
Incorporate branding 
If you're going to the trouble of creating a new breakout space – one where there are little-to-no rules in terms of decor – you might as well throw your brand at it.
Nurturing that brand experience and a strong company identity means ensuring that your staff are on board and reminded of the fact that they work for a great company, even when they're having a moment or two away from their desks. It also makes a great impression on visitors to the office. Keepmoat Homes' 'Yorkshire East' sign reinstates the Keepmoat brand, and adds a nice feature to the breakout.
Introduce pods and booths

If you've been looking into an office refurbishment project, you'll have heard the term meeting booths and office pods, well, these two furniture solutions have become a staple in the modern workplace across lots of different sectors and industries. Pods and booths in a breakout space are valuable tools for collaboration and teamwork, away from the traditional desk space. 
Neurodiversity has been an ever-present factor in offices, it is important that the workplace caters for employees with different neurological needs. Booths and pods are a great solution, as they offer a quiet place to either focus, or in a breakout space environment, relax. It could be argued that introducing pods and booths makes a breakout area more appealing to staff by providing different areas to sit, therefore giving off a home from home feel (or if you have a games area, better than your home!- more on this below)
Games area or breakout space? Both!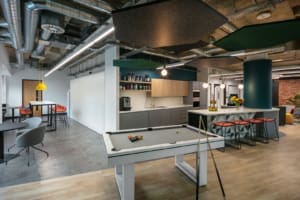 We recently completed a project for Appleyard Lees, a law firm in Leeds, who decided they wanted a more modern office to accommodate flexible working, this included a pool table in the breakout area. Whilst we're talking about providing breakout inspiration, it's probably good to mention that the decision was made to stay away from the more traditional reception area, so we ensured the kitchen island was dual purpose, so that it could function as an ad-hoc meet and greet spot if the more traditional reception function was required. 
Back to Games.. because we know you're envious! Adding a games area into your breakout space can encourage staff socialisation and build strong team relationships and, in our experience, it can encourage staff back to the office in general. We are seeing more and more professional service companies adding games areas into their office design, most of which are usually located in the breakout space. The fun office is on the rise!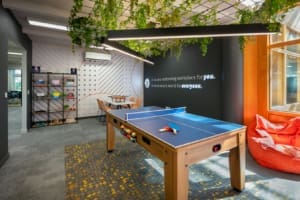 KnowBe4, a technology company we recently worked with is another example of a business that loved the idea of a Games area!
Now, we know that there's got to be something in this collection you can use to kickstart your next project.
If you need any more expert advice or assistance, our team of knowledgeable and friendly interior design professionals are happy to join forces with you and really craft something special for your business.
Get in touch with us and let's get things moving on your workplace redesign or renovation!