How to Avoid an Open-Plan Office Space Impacting Productivity
Open plan offices were the modern antidote to years of cubicle dwelling. Considered friendlier, more efficient and generally more human workplaces, the trend rose dramatically in popularity and then has recently come under fire, receiving a considerable amount of backlash in recent years.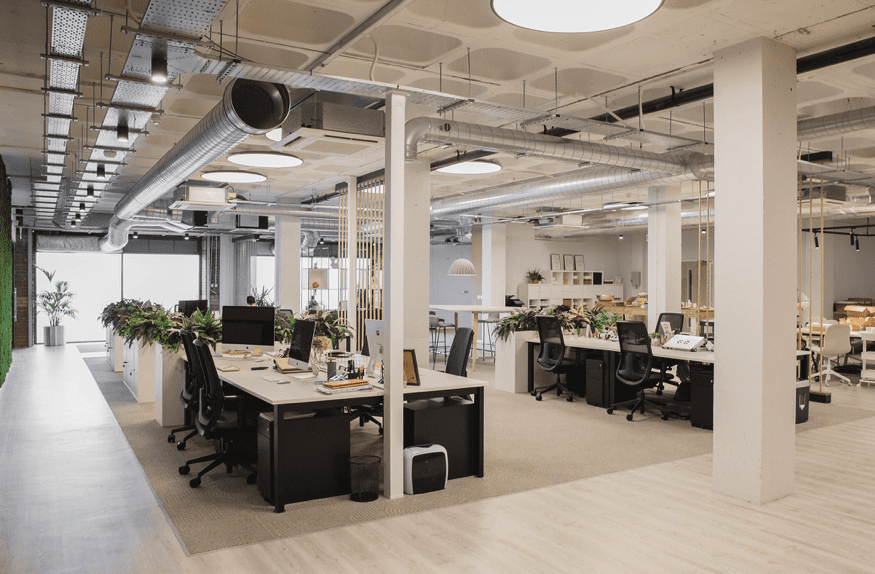 Open plan office space is certainly working well for the team at West Barn Co – so how did we get that right for them?
So do open office plans help productivity, or do they inhibit it? Actually, it sort of turns out the answer is both – if you don't get it right.
Let's not forget that, while simply removing walls really does help improve productivity – for example, an open floor plan usually discourages people from spending half their day on non-work-related activities – it's not going to have maximum effect if not executed properly.
So, while the main argument for open-plan offices is still that they encourage collaboration and communication between team members and many companies see engagement and cross-training improve dramatically, not everyone loves the concept.
Benefits of open plan offices include:
Reducing the cost of office space and equipment
More people can be squeezed into a smaller square footage space
Easy observation of employees and greater assurance that workers aren't slacking
Foster a sense of shared mission
Create a less hierarchical, more laid-back atmosphere
Better facilitate collaboration and creativity between coworkers
Increase socialisation and boost wellbeing
But some of the issues that have arisen include:
Lack of face-to-face interactions
Lack of privacy
Decreased productivity and transparency
Job dissatisfaction
Noise pollution
Now let's look at a couple of those in more detail and see how we can get around those concerns…
Privacy
Many complaints about privacy come from the generations who were accustomed to cubicles and private offices, but a distaste for open-plan office layouts can also simply be down to personal preference rather than a refusal to evolve. That said, most of us need private spaces to work in at some point, or the necessity to make personal phone calls from time to time.
How to avoid the issue
An open plan doesn't have to mean a lack of privacy. Just offer employees somewhere to go to chat privately or take phone calls!
Yes, it really can be that simple!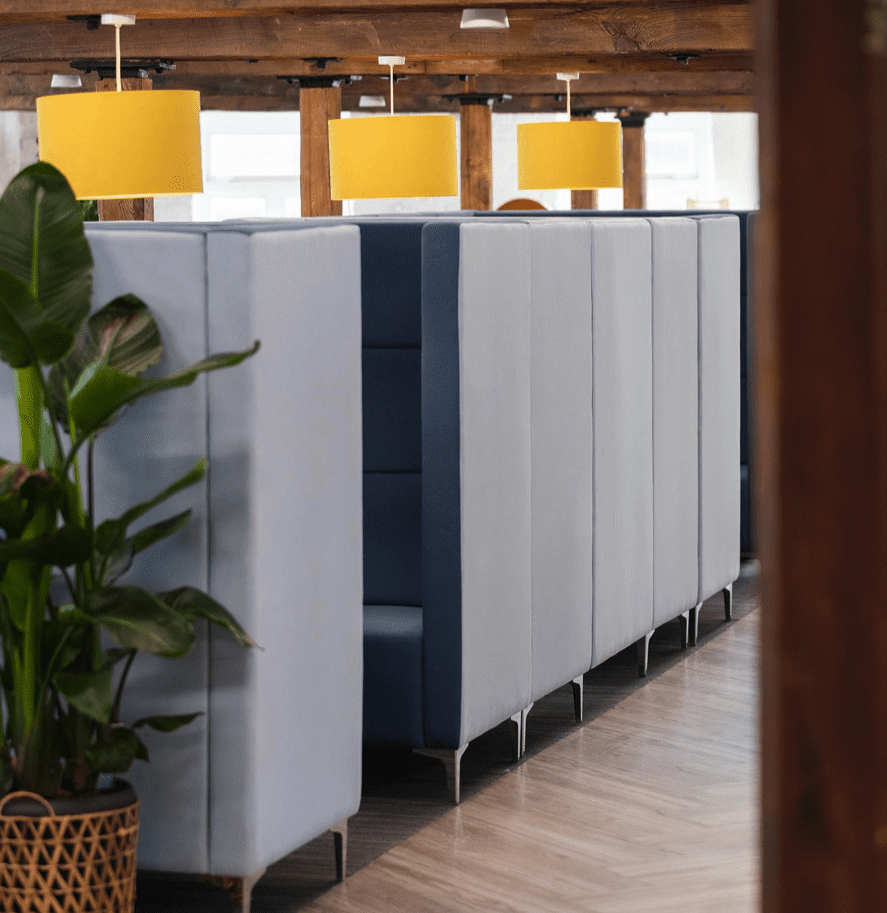 Rows of these privacy booths help provide quiet space for Boxclever's staff, as and when they need it.
More and more open-plan offices are starting to include cells or booths designed for single use. And it isn't just single-person booths that are popular – there's also an increasing demand for booths for group chats and small meetings. Check out our guide to acoustic pods in this recent post.
You could use plants strategically for increased privacy too. We previously covered the many ways that plants can help with productivity but if they're used as dividers, they can also help people avoid distractions by acting as a natural vision-blocking wall, which will help employees stay focused on the work in front of them instead of being distracted by things going on elsewhere in the office.
Clutter
Daily work tasks can create clutter, and what one employee might consider a source of inspiration, another might find a distracting mess. In a private office or cubicle situation, this might not become an issue but in a shared space you'll need ways to keep mess to a minimum, as we've covered in our past post, Tidy Desk, Tidy Mind.
How to avoid the issue
Introducing some simple office rules upfront might help to deal with conflicts like these before they become an issue. You'll also want to make sure that you're providing ample storage space to offer your team somewhere else to put stuff. You should also check you're listening to your employees. They're uniquely positioned to know exactly what their office needs and where.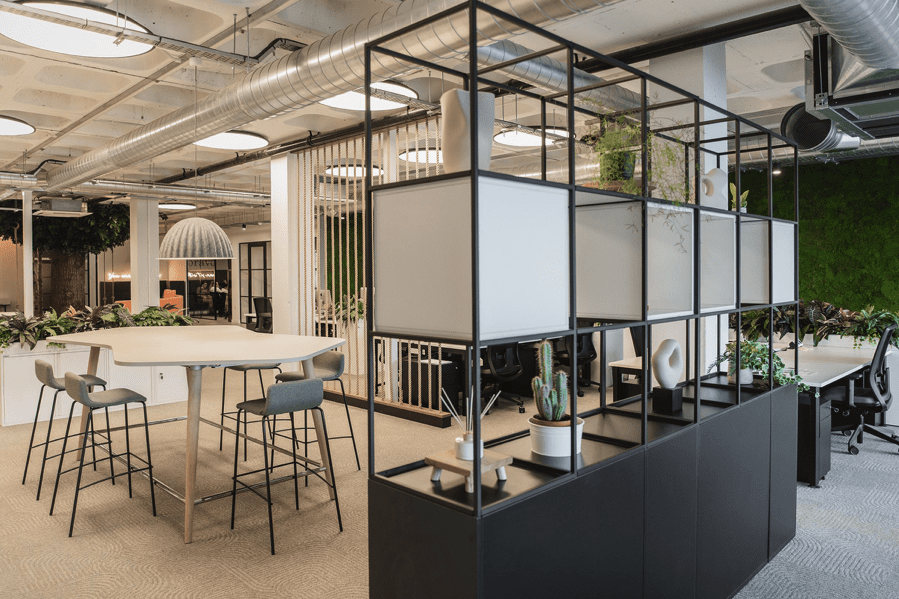 Keep that clutter at bay with funky modular storage (that doubles as an attractive way to divide space and add privacy too!) like we've used here for West Barn Co.
Different ways of working
Everyone works best in different ways and in a variety of environments. You cannot make everyone happy all of the time but if you want to keep productivity at an all-time high, you should probably at least try! After all, people work better when they're happy.
How to avoid the issue
Letting employees feel that they have more power over how and where they carry out a specific task goes a long way. Increased autonomy and control over their surroundings means that they can adjust things depending on their mood. Rather than sticking to a rigid, one-size-fits-all approach, show your commitment to balance. Flexible furniture solutions are now more available than ever, meaning you can basically go from an open-plan space to a more 'closed' plan quicker than you can say it.
You could offer your team flags or signs that signal to their coworkers when they're busy and can't talk, to help people avoid unnecessary distractions. There are even gadgets made specifically for this purpose. For example, this Luxafor glowing flag changes from red to green to signal availability – green means you're available to chat, while red tells people you're busy.
Acoustics
Noise pollution is real, and it's impacting your employees' lives. Dramatic, yes, but true. Noise and interruptions are one of the biggest productivity killers. Workers in an open-plan office will usually be confronted with unwanted distractions once every three minutes, greatly hindering their ability to focus on their work. This study by Oxford Economics tells us that 63% of employees said that they lack quiet space for work, which in turn has a "negative effect on their productivity, satisfaction and well-being".
How to avoid the issue
So going open plan means you need to consider how you're going to buffer sound in a more purposeful way. No biggie.
Luckily we wrote a little post on how to do just that over here, where we cover such tips as considering your office's acoustics to help to make distractions less noticeable, creating soundproof phone booths, soft finishes and textiles such as carpeting your office floor, and noise absorbing wall treatments such as office panelling which is these days designed to serve as both a visual enhancement and as an acoustic dampener.
You could also try putting on some neutral background music. Listening to ambient music can help employees stay focused at tasks, instead of paying attention to surrounding conversations.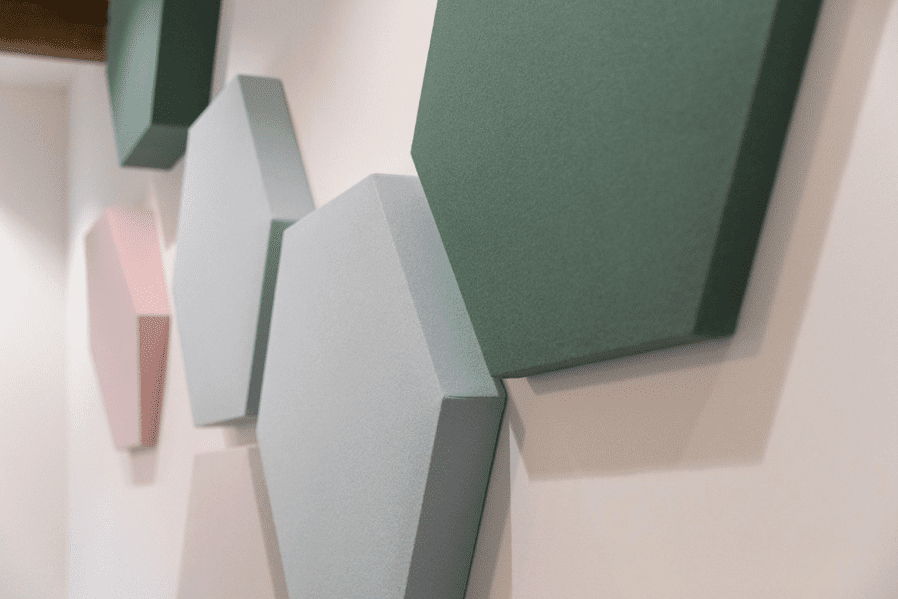 These acoustic panels we used on our own meeting room walls help to buffer sound effectively while adding a stylish wall feature. Who says practical has to be unappealing?
The healthy balance
That's right, as with anything, the key is in finding the balance! Your employees might certainly benefit from a collaborative, open-plan workspace but they do need to have the option of space to retreat to when necessary. These can be permanent fixtures or merely a wall or divider on castors or a similar flexible solution.
Working with a team of professionals (like our people here at Ben Johnson) means we know what the issues are and can factor the solutions into our designs before they even arise, thanks to our knowledge of new products on the market and years of experience across a plethora of industries. We always remember that office or commercial interior design and build should never be a one-size-fits-all approach.
If you'd like to benefit from our expertise and have us work with you on your next commercial design project, just get in touch. We'd love to hear from you.