Tidy Desk, Tidy Mind?
The Impact of a Tidy Office Space on Productivity
Did you know the physical environment of a workplace has a significant effect on the way that we work, and therefore our productivity levels?
It's pretty simple: when our space is a mess, so are we.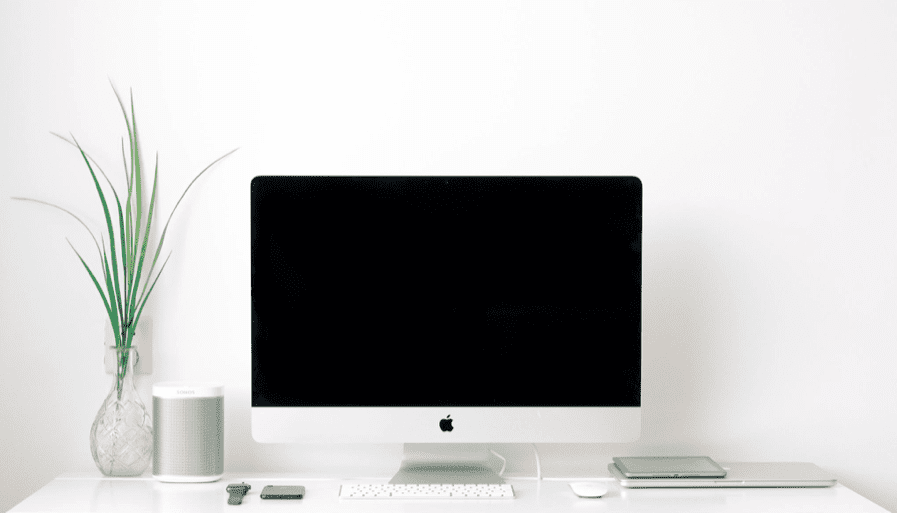 By letting things pile up, you're making it harder for yourself and your employees. Trying to organise your thoughts in a cluttered space is tricky, and a situation that most of us will be familiar with. Even Princeton Neuroscience Institute has conducted a study that proved that having 'multiple visual stimuli present' will result in those stimuli competing for 'neural representation'.
In basic terms that means the more clutter you can see, the more easily you'll find yourself distracted. Everything you're looking at is fighting for your attention, making it difficult to focus on just one thing. Your poor brain, already probably functioning on too much coffee and not enough sleep, is being bombarded and in short, you find yourself overwhelmed.
Further studies have shown that excessive 'stuff' increases procrastination and triggers coping and avoidance strategies, such as snacking, chatting and scrolling mindlessly through Instagram.
'Visual pollution', the term that applies to anything in your line of vision that could attract your attention unnecessarily, could include pieces of paper, random objects from other parts of the office, or even a tangle of cables and wires on the desk.
Now, we're not suggesting you and your team members need to completely clear the desk areas of objects entirely in order to achieve anything, but there are certainly ways to boost productivity, perhaps by better organising your office space or removing items that aren't essential.
A decluttering, if you will.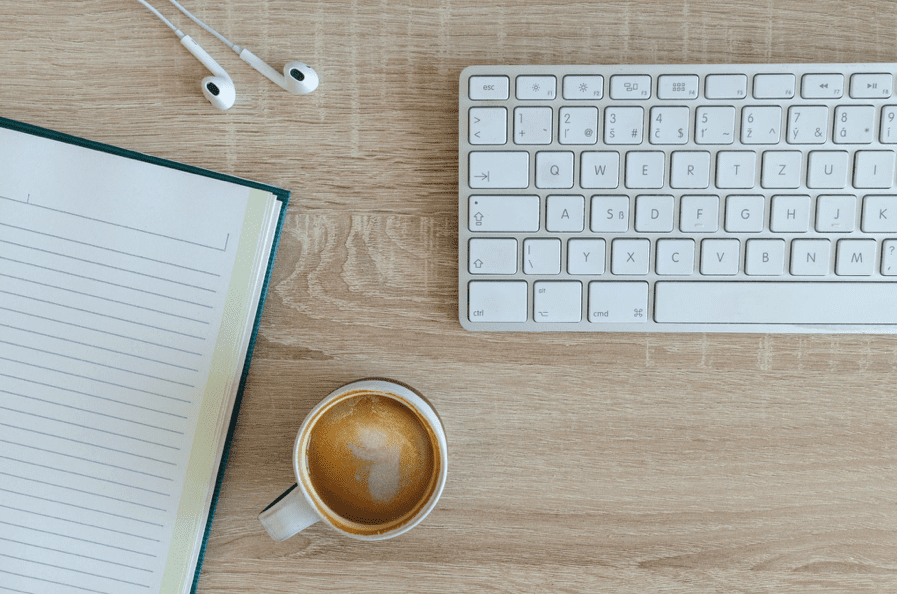 So, what can you do to create a clean desk and a clear mind for your employees?
Let's consider some top tips for reducing clutter in the workplace and on your desk…
Bring in new policies for clutter or rewards for the tidiest desk: Make it fun, because no one likes strict new rules, and make sure to emphasise that it's for the benefit of the team and their mental wellbeing.
Encourage everyone to think like the Queen of Decluttering, Marie Kondo: If it doesn't serve a purpose daily or somehow improve the mood, aka "spark joy", then it probably doesn't need to be on the desk. Ruthless but effective!
Introduce Lockers or Boxes: This can be an excellent way of storing everything that was previously on desks and can look pretty stylish in the workplace. There are a number of great products on the market at the moment serving this very purpose and we'd be happy to point you in the right direction as part of an office refit.
Ask yourself if some of the clutter could simply be put in the bin? Piles of notes from three years ago likely aren't essential. Stop holding onto them!
Prioritise items and organise them by importance: Keep things that are used most often nearby but things that are rarely used could probably be tidied into a separate cupboard. Workplace storage is important and worth that extra time and thought!
Tidy up your loose cables: Run them along the back of desks, fix them to things to keep them neat, tuck them out of sight wherever possible. Just make sure they're not causing a trip hazard!
Ask your staff to try taking everything off their desks, packing it away temporarily and then gradually bringing one thing back each day: Then, as they do, get them to ask themselves if it actually needs to be on the desk. Can it go in a drawer? Can paperwork go in the bin or be filed away? The answer is probably yes.
Give everything on the desks its own place: Encourage your team to make sure it goes back in the correct place at the end of the working day. It's worth mentioning that some personalities will find this easier than others!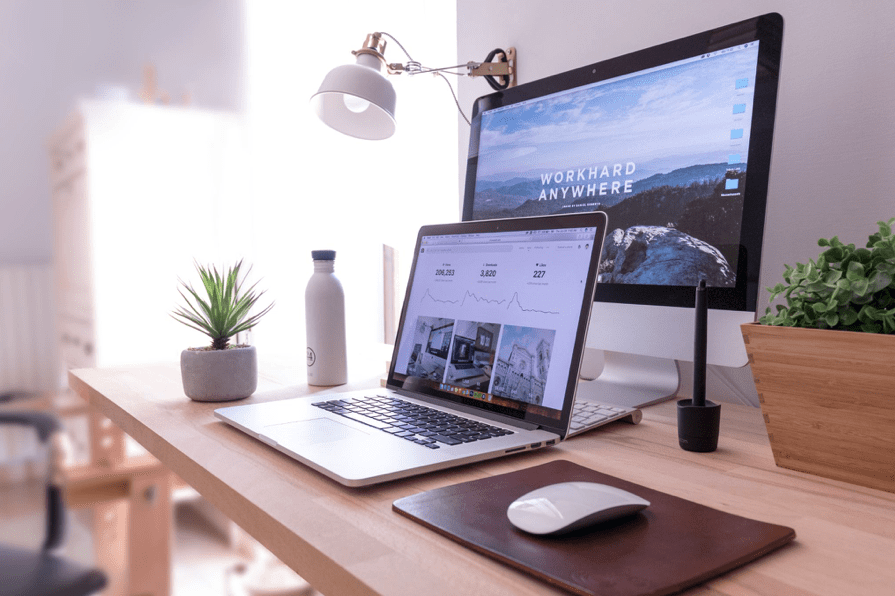 What about other types of work-related 'clutter'?
It's worth noting that we're not necessarily just talking about the impact of visual clutter, but also about mental clutter. Various interruptions that happen during the working day can be just as detrimental to productivity. Interior design can go a long way to help eliminate these issues, or facilitate a less distracting way of working.
Between colleagues stopping by desks to chat, a nearby phone buzzing away, and a constant stream of emails, getting distracted at work happens easily, even with the best of intentions.
It can be easy to minimize many of the interruptions that act as mental clutter with a little thought to the layout of the office space. Offer 'quiet' desks for those wanting to do some head-down working, or for those teams who predominantly do solo work. Sit the noisier, more sociable teams who may be on the phones more often – such as sales – away from the quiet spaces.
Provide adequate solutions for office acoustics to cut down on noise pollution. This is something we've covered for you in a recent blog post, so you might want to check that out next!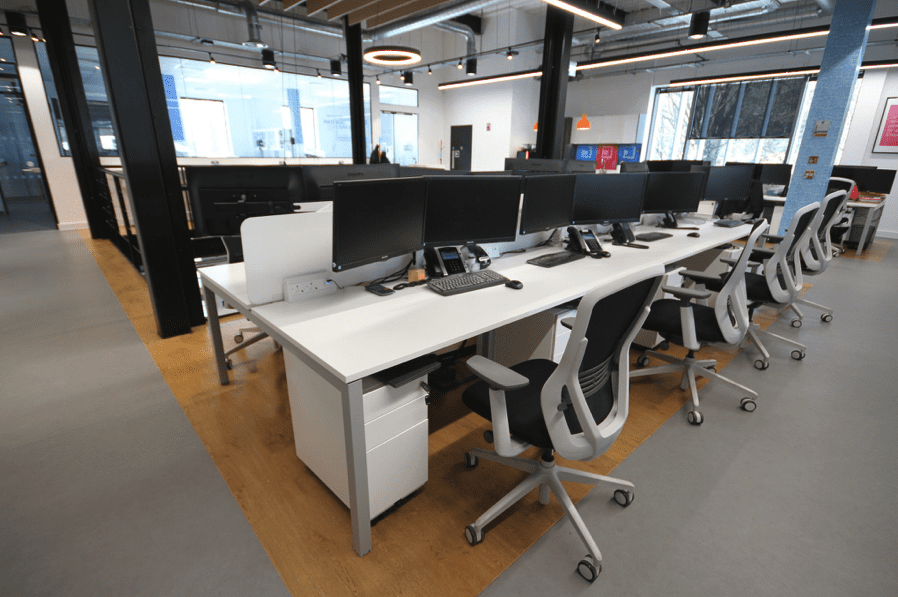 Working areas with under desk storage for the Gama Healthcare team.
You could also consider sprucing up your break out areas, or creating some if you don't currently have anywhere suitable. Enabling staff to get up and relocate to another area of the office as and when it suits them has been shown to help dramatically with distractions, and kitting the space out with acoustic screens and specifically designed furniture increases the benefits.
Provide sound-proofed meeting rooms for potentially disruptive group discussions to avoid disturbing those in the midst of productive work.
Some distractions in the working day are unavoidable but scheduling them as an event can help keep them from being mental clutter. This kind of thinking could be incorporated as part of an overall office strategy, to go along with the physically tidier desk space.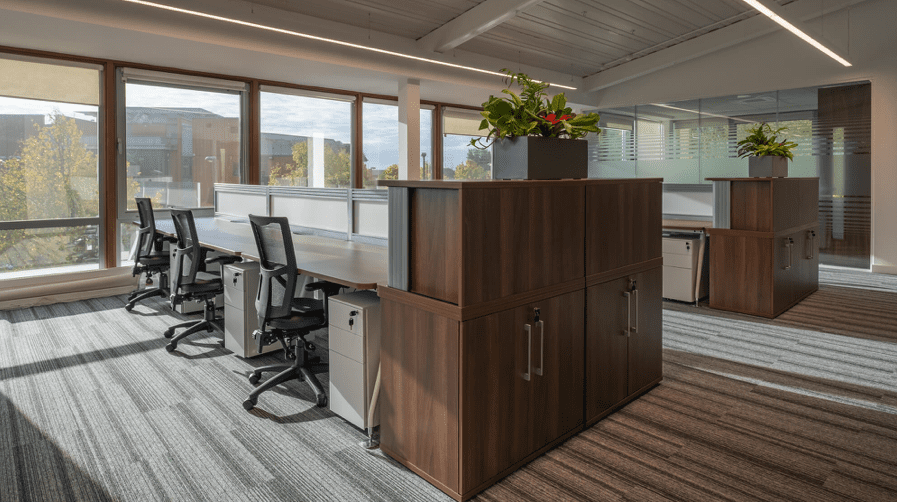 Plenty of storage keeps things tidy in the office we worked on for Sovereign Wealth.
Need a little design help?
Storage and clutter is something that our highly experienced team will always innately consider as part of any office refit project. We will ask all of the relevant questions and find out how you and your team really use the space, to configure a bespoke solution, to ensure your team will enjoy the environment and be able to do their best work for you.
There are so many beautifully designed products on the market at the moment, created with this very universal problem in mind and, with a boost in productivity at stake, these items can be a very worthwhile investment.
Give us a call to see how we can help tidy up your office environment and free up head space in the process.