How to Design the Perfect Meeting Room
We know that meetings still play an important role in the daily life of most businesses (even if you do suspect some of them could've just been an email). A face to face conversation is often the best way to get things done, and the design and features of the room or rooms that facilitate this can have a direct impact on performance.
This is your guide to meeting and greeting in style – because not all meeting rooms are created equal.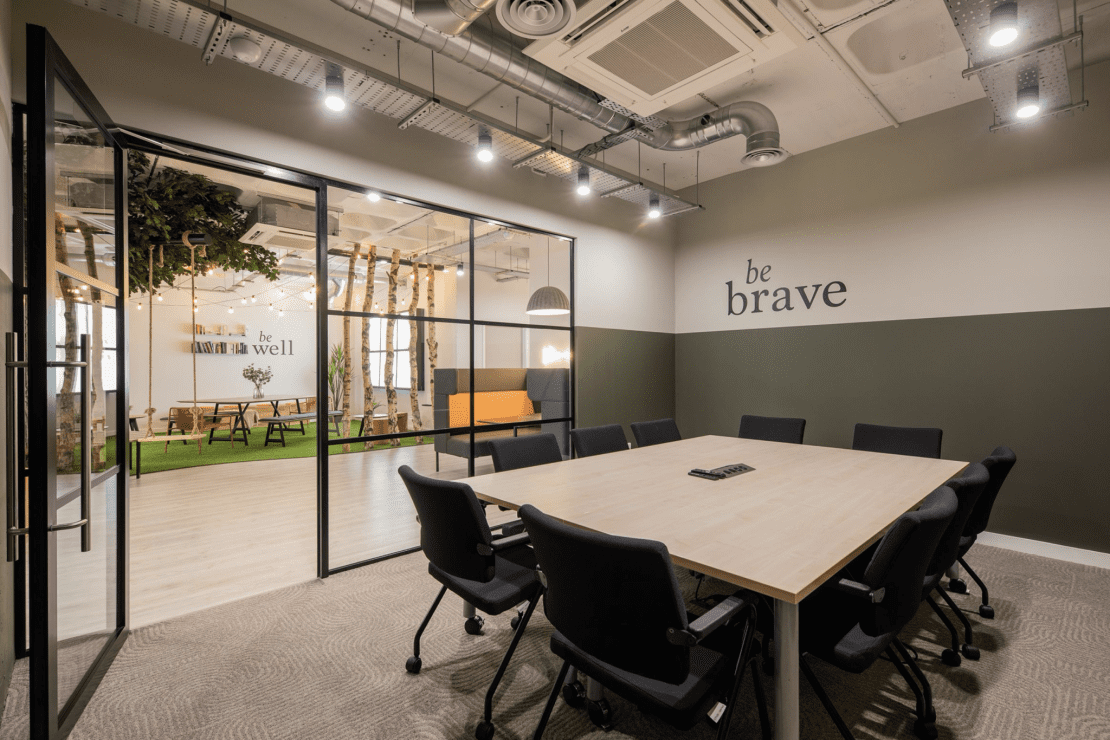 One of the bright and refreshed meeting rooms in the newly completed West Barn Co offices, offering staff a more serious space to get away from the office and welcome guests in for a chat.
Overall, office space is now bright, vibrant and spacious, injecting an element of fun and creativity into the working day. The imposing, dark and uninspiring boxes of yesterday have evolved and traditional meeting rooms have been replaced by everything from Scandi-inspired spaces to woven meeting pods.
From inception, the most important thing is to always keep your audience in mind. This is a room for the people who will be using it and their experience is paramount, so remember who you are building the room for and aim to enhance their meeting experience. That way you're already onto a winner.
It's not just about a table laden with croissants and coffee either. This can take many forms but for the purpose of this blog, we've distilled it down to the following 5 points to success:
Think about size.
Decide if you're formal or informal.
Pay attention to the acoustics.
Get your hands on the latest technology.
Choose your furnishings wisely.
So let's take a look at these points in a little more detail:
1. Size always matters
Nobody enjoys being wedged into a tiny space, or having a small gathering echoing around a vast space, spread out over an enormous conference table. And certainly, no one wants to be left having to stand because there aren't enough seats.
Consider the size of the meetings you're likely to be having in the room and avoid the pitfalls of the above scenarios. You could talk to staff or check space booking software to see how rooms are currently being used. Bear in mind that, although it's lovely to be pushing boundaries and crafting more unique surroundings for your team, the space must be functional.
2. Formal or informal?
Or a little from each camp? You might not need to choose directly between the two but you should think about which elements you'd like to take from each, even if you are going to have a mix.
Ask yourself who will mainly be using the space – external clients and visitors or internal staff. Could the space be adaptable for different levels of formality if that were a sudden requirement?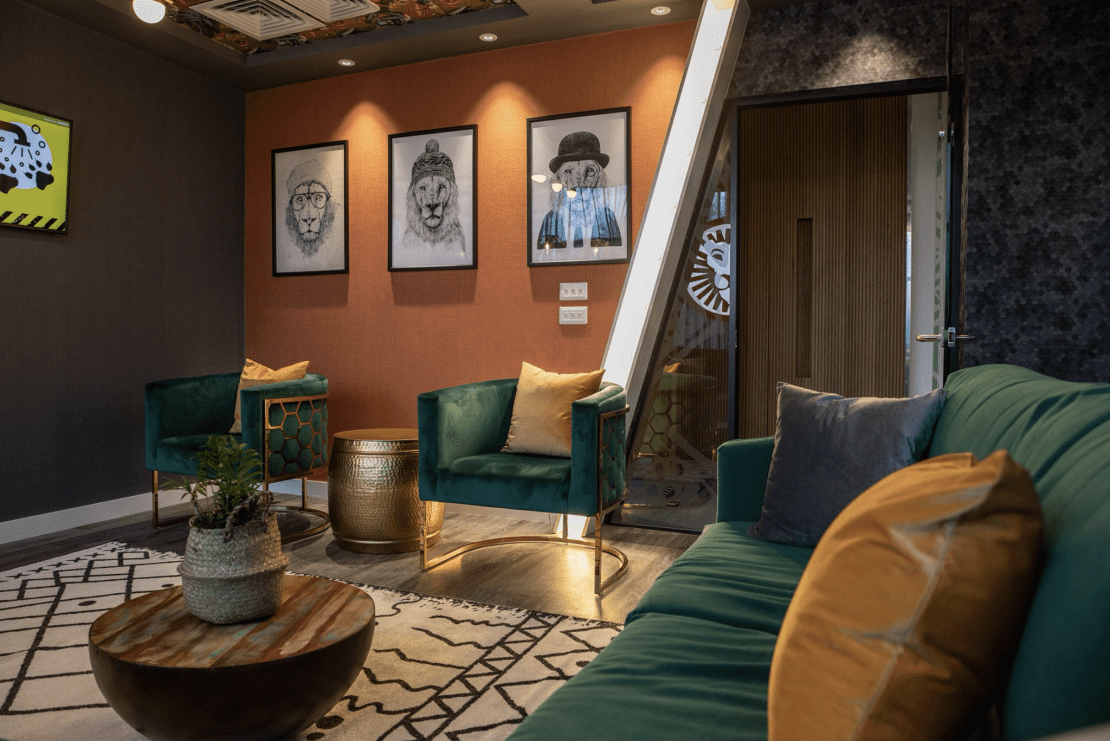 This meeting room we've created for LeoVegas is super informal with comfortable seating and plenty of textiles, but still impresses visitors and employees alike.
3. Check out the acoustics 
Placing a premium on privacy and sound will pay dividends once the room is being used frequently, regardless of the type of space you're planning.
Privacy and noise pollution is always a top concern so try to locate your space far enough away from the quiet work areas so that it's not disrupting anyone else and hindering productivity, and so that the conversations going on within cannot be heard.
This will encourage people to use the rooms to their full advantage, getting the most from your investment.
Dividing space with glass partitions allows light to be shared through the area but offers protection against sound travelling around the building, which is why we've opted for them here in our own office.
4. Upgrade your tech
If you want to smooth out the process (and why wouldn't you?) you'll want to also put some of that investment into your workplace tech.
If as many as nine in ten workers experience heightened stress levels when tackling unreliable tech during meetings and dealing with it requires people to take time out of their day to figure out an issue, that's a lot of unnecessary drama to impact morale and productivity that could be easily solved.
It might be tempting to focus on trendy, themed meeting pods or installing a fun bar, but ensuring that your meeting room is properly equipped with the latest gadgets from a tech perspective would be a far better priority.
This meeting room in the Netsells office offers staff an abundance of up to date tech to facilitate meetings and conference calls alike.
5. Lighting and furniture
Designing the perfect meeting space involves some of the fun stuff too. Deciding on lighting and furniture to fill the room is where you can really get creative. These choices will be most likely based on the decisions made earlier. Take our above points for example; thinking about how much room the new tech requires will impact what space is left for furnishings, or the fact that informal meeting spaces will do better with furniture arranged in a more relaxed way.
With that said, even the most formal of spaces will want to avoid stark or uncomfortable designs. A meeting room needs to impress clients and promote a relaxed atmosphere that is clearly separate from the rest of your office
Lighting is also important. As we've discussed in a previous post about the impact of light on employees, if the space is too bright you'll risk giving your team a headache but too dull and the space will feel gloomy and might just send everyone to sleep.
Fancy creating an inspiring and colourful space like this meeting room for Boxclever Consulting?
So, striking the balance between form and function isn't as simple as it sounds but it doesn't need to put you off. By using our tips and prioritising technology and functionality in your meeting room, you can create the perfect, stress-free meeting space that your teams will want to work in.
Embarking on a new project can be exciting and daunting in equal measures but, with our years of expertise, we aim to take the guesswork and stress out of the process. 
Get in touch if you'd like our help transforming your meeting rooms or overall workplace – we'd love to help.