How Smart is Your Office?
Let's talk about Workplace Technology.
Whilst many of us may be still processing 2020 and referring to 2019 as "last year", 2022 is here! And, whether we like it or not, the future is coming and, with it, a whole host of new office design tricks and trends. One of the fastest-moving in terms of innovation is, of course, workplace technology.
Today we're asking questions about workplace technology, showing you some of our top picks of the snazzy furniture solutions on the market and asking: how smart is your office?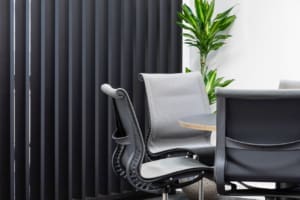 Firstly, let's get the nitty-gritty out of the way. The definition of the 'smart office' is a workplace where technology enables employees to work better, faster and, of course, smarter. This could be done via a range of ways and means, but generally encourages productivity and reduces time spent on menial tasks so staff have more time to focus on completing important tasks, growing businesses and ideally even innovating.
The concept of the office has changed dramatically over the years. The decade between 1996 and 2006 was where tech really started creeping in.
The use of laptops, mobile phones, and the internet was introduced to enhance productivity. During 2006-2016, it became more commonplace and those technological innovations were altogether more sophisticated. Smartphones and other speedy devices were introduced, which led to the invention of apps, software, and cloud computing.
From around 2017 onwards, smart offices are now the trend. These days, companies (should) have a better understanding of the concept and be actively integrating systems and automation to make things hyper-efficient.
Built-in charging and power points in the Tangent Marketing offices to ensure staff can stay connected and their devices juiced up, wherever they may be.
Benefits of Smart Offices
Alongside this efficiency, workplace technology helps bring down operating costs while creating an improved working environment for employees. If you've not quite kept up with the road map above, it could be time to catch up.
Let's look at what a smarter office could be doing for your business…
1. Boosting productivity
Productivity, again, but isn't that what it's all about?
Businesses that are utilising tech to their advantage will be better positioned to perform well than anyone who isn't making the most of the strides in smart advancement, making do with a traditional approach. It's all well and good being proud to be 'old school' but the world is moving on without you!
Modern approaches and attitudes encourage innovation and creativity in the workplace environment while automating some processes frees up time and brainpower that could be better spent.
2. Easier schedule management
Encouraging the team to take advantage of flexible work arrangements creates a need to monitor capacity limits. A desk booking feature allows staff to nab the space they need at a time that suits them.
A smart office system (and there are many on the market nowadays) makes it easy to track and manage both your employees and the office schedule efficiently and in real-time. Make use of reporting tools, smart devices, and automated systems.
This leads us nicely on to…
3. More insightful usage analytics
Yes, software makes quick work of visibility. For example keeping tabs on available space, building usage and booking.
Relevant parties can get alerts and reports of the usage analytics via email or smartphones to help with decision making going forward. That way you'll be able to make your decisions based on actual employee behaviours rather than guesswork.
And whilst COVID might still be wreaking havoc when it comes to being able to actually use the office, when things return to some level of normality, knowing who is going to be where can be incredibly useful for monitoring health, safety and infection.
4. Developing your brand
Your company brand might be strong – but is it smart?
Staff, visitors and prospective employees these days are looking for a competitive edge when it comes to tech usage, as a way to judge the rest of your business and brand.
Integrating smart tools in your daily operations will do wonders for communication between your brand and your target audience.
For example, rather than your clients or visitors having to sign in the traditional way every time you call them for a meeting, you could instead email them a meeting invite that provides them with smart access to the boardroom and notes when they arrive. Let's face it, we all love to be the recipient of efficient, personalised tech!
5. Improving communication
Messaging apps have made it easier than ever to communicate, both with individuals or whole teams.
A true smart office might have a variety of platforms and tools in its arsenal. They make it easier for employees to stay in touch regardless of their location, thus enabling easy peasy remote working. This also has an impact on productivity and progress, speeding up decision making and feedback.
When comms are instant, things move faster.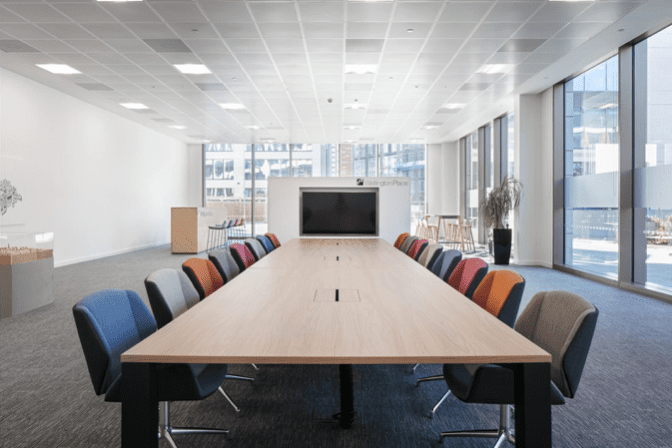 A large boardroom table with built-in technology and a media wall to present to prospective clients was installed in the MEPC meeting rooms.
6. An all-round more pleasant working environment
Employee wellbeing is vital to business success and employee attraction and retention, and a good environment will motivate the team far better than one littered with hurdles. This is coupled with the fact that regular employee absenteeism caused by illness or stress will obviously have a negative effect on a company's performance.
Your smart office can now utilise systems that control the overall office environment; heating, lighting, ventilation, water, and air within the building. These are all ways to improve conditions for the people working in the space and make their lives better.
7. Digital onboarding and training
If members of staff are only working at the office some of the time, you may find you have the capacity to hire more people without having to worry about running out of space.
But remote onboarding and training can be tricky and a poor initial experience can cause new employees to reconsider joining you. Be smart and embrace technology for this by using online portals and useful videos.
8. Tighter and smarter security
Integrate a new, smarter security system with better technology and you could be benefiting from such enhanced security upgrades as ID trackers and facial recognition software in the workplace.
Also, it's worth noting that as more people are working from home, and therefore no longer working on the same secure network, companies will need to consider upgrading their strategies in dealing with cyber attacks.
So with these benefits in mind, how can businesses start getting smarter about workplace technology? Here are some pointers…
Get on board with apps
Consider a company app to streamline the daily activities, incorporating many of the above concepts into one.
A building or company app can work with and streamline daily activities, such as checking if a meeting room is available, ordering a drink, or calling the lift to your floor. The beauty of an app is that it uses your employees existing devices and doesn't require them to learn a new technology or for you to buy new products.
It sounds cool, but this is already being used in forward-thinking organisations around the world. In the future, the goal is to enable a level of personalisation that just wasn't previously possible. Imagine walking into a room and having the temperature automatically change based on your preset personal preference!
Smarter furniture
Speaking of improving office life for your employees, the Sedus Stoll AG Woom chair comes with the option of an inbuilt heated seat and massage function.
The state of the art technology turns a classic reading chair into a versatile workstation with a writing tablet, light, USB port, alongside the heat and massage options, all controlled via phone app.
And it's not just chairs that have been given a motivational upgrade; Arrow Group offers a sit/stand desk called Easy Sit/Stand, shown below, which has the option of including an LED display reminding the user when it's time to sit or stand. Bluetooth connectivity means it's easy to adjust the desk via an app too.
OE Electrics offer lots of power modules that allow you to add technology into desks, tables and chairs, such as the Arc-h LD wireless charger or the mighty Pixel/Arc wireless charger 3 in 1 power solution for desks, and the PixelTUF power unit, which can be added into many chair arms or at the base of a seat so you can charge your phone or plug in your laptop while relaxing in a comfortable chair – useful for spaces such as receptions and breakout areas.
All of these products offer the opportunity to improve the lives of staff while streamlining or speeding up tasks and are the type of furnishings that our Furniture Estimator, Danielle, is able to suggest to our clients depending on specific business requirements.
So what does this mean for the future smart office experience and your business?
Well, really, it means you'll need to get with the times or risk losing out. When done right, smart technology and connected systems allow offices to reach new levels of efficiency.
You're also effectively creating a human-centric experience, and evolving employee expectations are providing an opportunity to speed up this technology implementation with the potential to reap maximum benefits. Now is the time if you don't want to be left behind!
If you'd like our involvement in smartening up your office, have a chat with one of our team today and let's get you up to speed!