Incorporating Natural Textures, Materials and Colours into Your Office Design
and The Impact This Will Have on Productivity
Regular readers of our Knowledge Hub will already know that innovative workplaces create more creative and productive employees. We've covered the benefits in great length over the years! Sure, it's acceptable to have offices with stark white walls and those generic, motivational posters, but how much more productive do you think your team might be in a stimulating and interesting environment every day?
The real trick is to use your office interior design to influence how your people feel as they come into work each day. Do they feel inspired? Do they feel proud to work there? Do they feel valued and comfortable? That right there is the key, and swapping out the white paint for different, more stimulating materials is certainly a step in the right direction.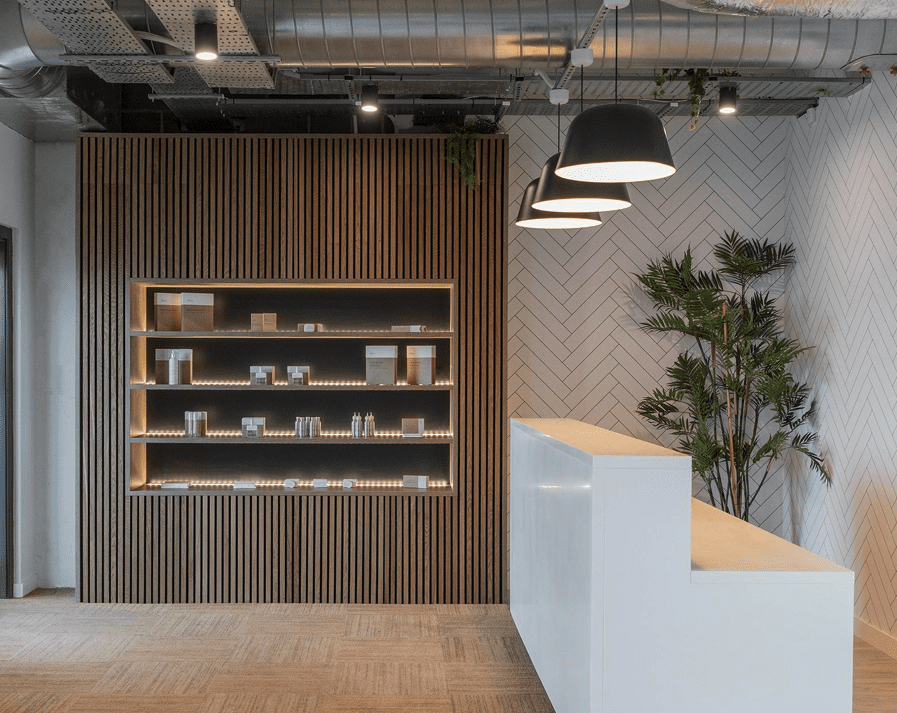 Anyone entering the West Barn Co office is greeted by natural, sustainable materials, plenty of light, warm tones and plant life, creating the perfect first impression and allowing them to feel immediately at home.
So why natural materials?
Well for starters, the rustic look is having a bit of a moment. Earthy tones and furniture made from organic or recycled materials, such as wood or stone, are very "du jour", along with the unfinished, unvarnished and untreated products. It's yet another step towards increased sustainability and is a good fit for almost any brand, industry or business.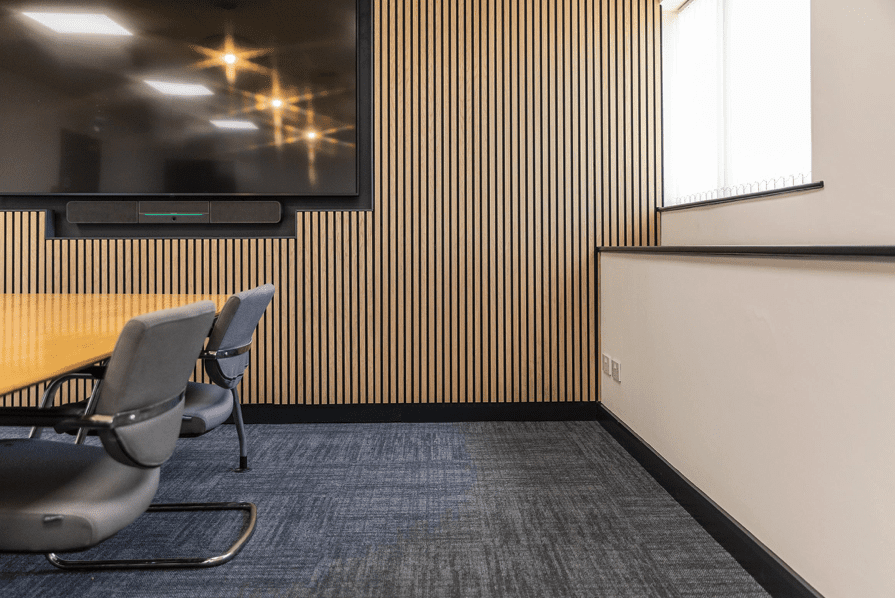 The soft colour palette and use of wood add interest and warmth to a meeting room in the recently completed Firmenich project.
Even in a modern office, the mix of natural materials and industrial influences marry together surprisingly well. In fact, the use of natural materials and fibres makes people feel at home and keeps things cosy – and with so many employees having recently returned from WFH life (or still waiting to be tempted back into the office) it's more important than ever to create more of a caring, home-from-home vibe in the office.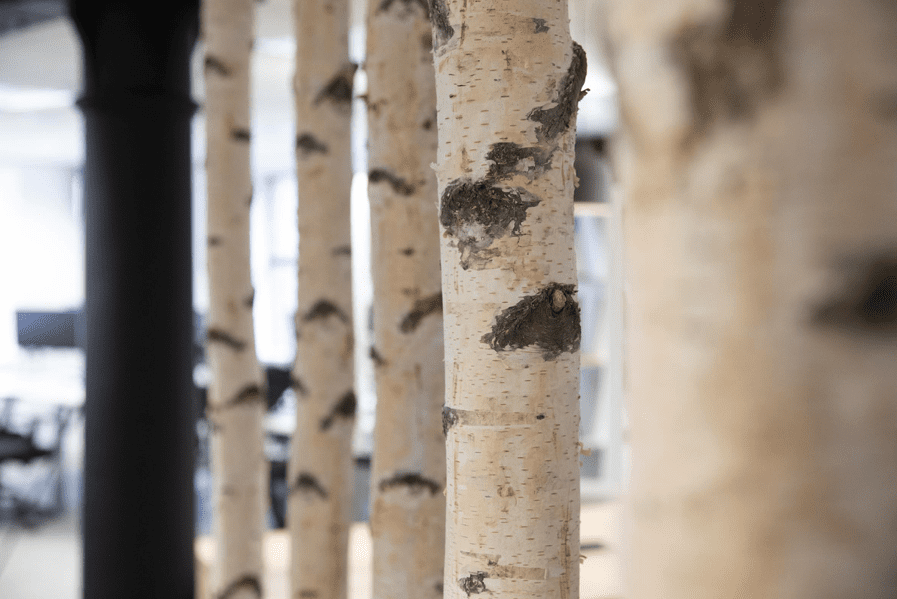 Why have a wall when you can have trees in your office?! This was particularly effective in our work with digital agency Netsells, as shown here.
Which materials?
Aesthetics aside, using sustainable materials like bamboo, hemp or eucalyptus is extremely eco-friendly. Bamboo and eucalyptus are super fast-growing, unlike many other hardwoods, and the artificial versions are almost indistinguishable from the natural and have even less of an impact on the environment.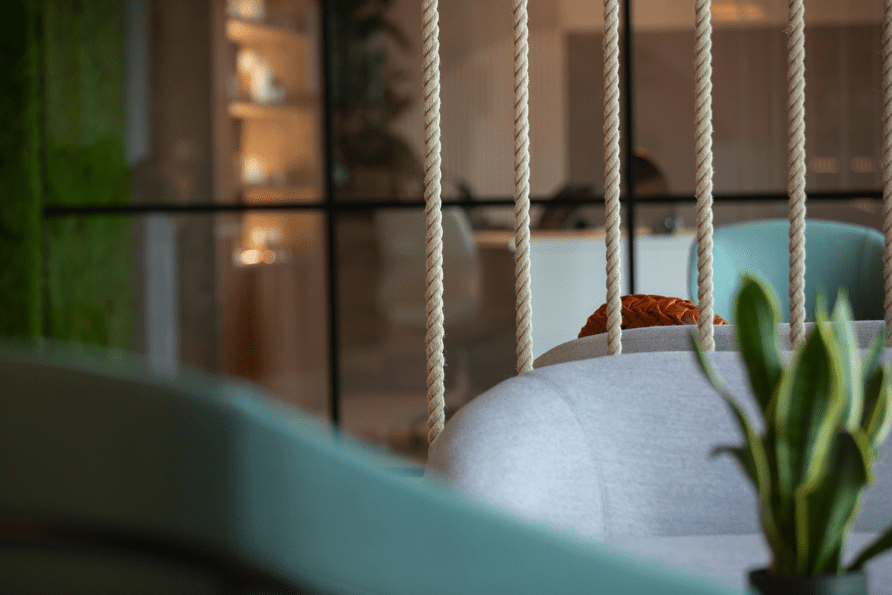 Workplace rope has been used to divide a space without a fixed wall, and still allows light to be shared around the space, decreasing the use of artificial lighting and boosting morale at the same time!
There are so many office furnishings and products out there on the market right now and it's very much our job to stay abreast of the offerings.
When we're working with a client to kit out a new space, we want to ensure that the items featured are eco-friendly, stylish and extremely durable so you won't need to replace them any time soon – which in itself is better for the environment!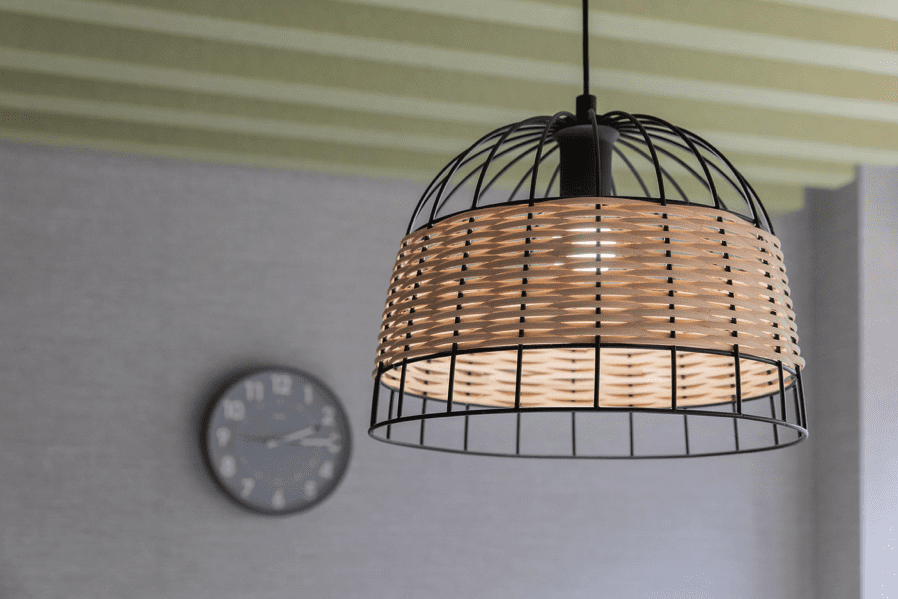 Use colours
Decor-wise, earthy colours like terracotta, rust, brick or autumnal oranges, leaf and olive greens and other warm neutrals such as beige, slate grey or sandy hues are increasingly being used for office desk decor and furniture.
Employee retention is one of the key goals of any business, and these earthy, zen colours can uplift employees' moods, and equally have a grounding effect to keep them calmer in an otherwise potentially stressful environment.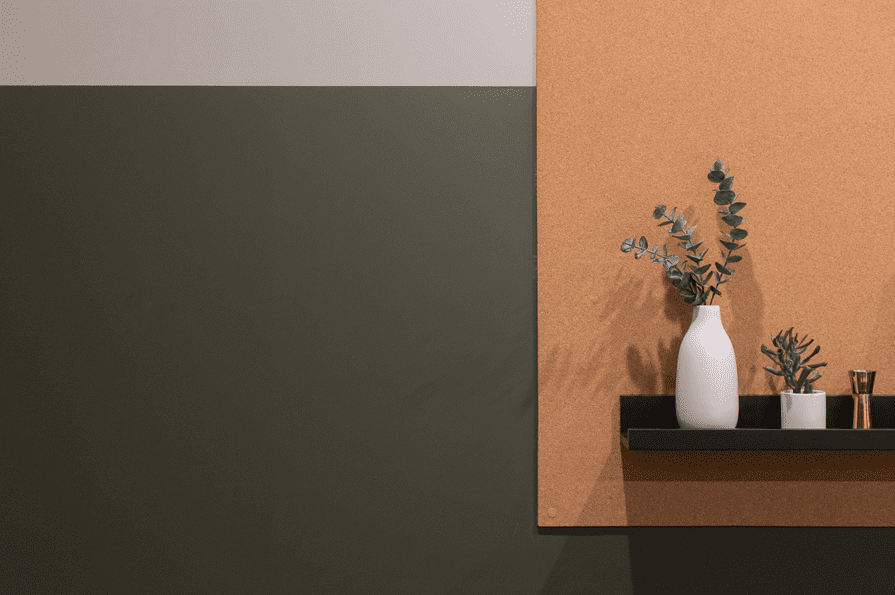 The use of warm, earthy tones in the West Barn Co offices makes employees feel comfortable and cosy, whilst still enabling them to focus on their work as they're not overly bright, distracting hues.
Think about plants
It doesn't get more natural than plant life, as discussed in our previous post, Plants = Productivity! Where real plants are not possible, faux foliage really comes into its own and nature prints can be a great alternative too. You could use leafy-print wallpapers, fabrics, graphic-printed glass doors or patterned laminates to add an extra layer to the office décor.
This green wall in the Firmenich offices really cheers the place up and provides staff with a touch of the outside indoors.
If any of this has got you thinking about incorporating some extra textures and materials into your own office (and realising it could do with a little natural magic!), why not get in touch and see if we can help you transform your space as we've done here for our existing clients?
We'd love to hear from you and find out how we can collaborate to improve your space and boost productivity.