The Difference Between Cat A and Cat B Fit-Out
And What It Means for Your Office
You'll come across a lot of new terminology, acronyms and mysterious jargon in any industry, and office interior design is no different. If you're embarking on a new commercial interior design project, you'll likely hear a lot of this new terminology straight off the bat and it's easy to quickly feel out of your depth.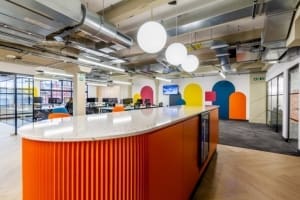 A finished fit-out, ready for the Circus PPC team to move straight in, but is it Cat A or Cat B?
Luckily, you've got us on hand to shed a little light on the topic and this week we're taking a closer look at the differences between the types of fit-out we're often required to achieve for our clients.
You may have heard of Cat A and Cat B fit-out before, but what does it really mean?
Well, let's simplify things here. The term fit-out is used to describe the process of design and building work within a space. Transforming a shell into an area ready to be occupied, if you will. 
Then, think of a category A fit-out as a basic blank canvas, awaiting furnishings and fittings, whereas a category B fit-out is a fully finished office space, ready to move people straight into, totally tailored to the requirements of the client. Those are the two most common types of fit-out that you'll encounter.
Adding the personality with a Cat B fit-out is what makes an interior truly unique to your business, like this space we worked on for Blueline Taxis.
As with anything, it's not always quite as black and white as that, but that's the general gist. Let's look at the differences and key aspects in a little more detail:
Category A Fit-Out
This is sometimes also referred to as a landlord fit-out. It's the basic, operational level of finish that you would expect to find, ready to put your own stamp on with furnishings, decor, styling, technology etc. This type of fit out includes the installation of a building's mechanical and electrical services, often a reception area and hygiene facilities.
The exposed finish of the ceiling in the Circus office adds an industrial element to the space.
A Cat A usually does include
basic finishes to internal walls

basic lighting and electrical sockets

air conditioning, ventilation and smoke alarms

suspended ceilings and raised floors where necessary

toilets, stairs and lifts if required.
Category B Fit-Out
We like to think of Cat B as the fun parts! It's when a space transforms from just four walls into a workplace designed specifically for the people who will spend their time in it, and it's been designed according to a particular brief and set of unique specifications.
When we talk about a fit out that boosts productivity, morale and your brand, we usually mean a Cat B instalment!  It's the coming together of the styling, personality and vibe of the office. Basically all the interesting and exciting bits. 
A Cat B fit-out can incorporate unusual features too – such as this tree with hanging swing in the West Barn Co. workplace in County Durham!
For a Cat B project you might enlist a design and build team like us, here at Ben Johnson Interiors, to help to create a bespoke design that will work best for your company. We will consider how your company functions, what needs to be achieved, how that might best be facilitated with layout and resources, and the overall culture of your business. A Cat B fit-out has been successful when it inspires your people to do their best work in the most efficient way.
So a Cat B normally includes:
interior design and branding

furnishings of various types and planting

technology infrastructure

break spaces, kitchens and bathrooms

different types of workstations

meeting spaces and boardrooms

considerations for acoustics, partitioning and doors

Bespoke choices for wall treatments, carpeting etc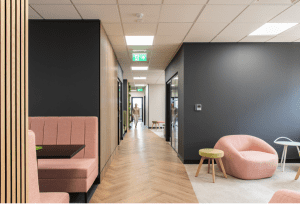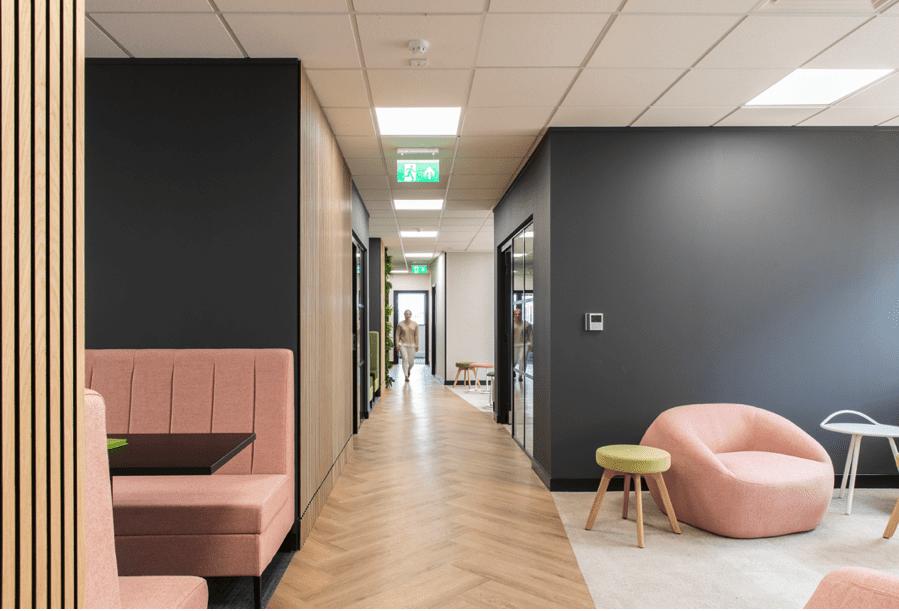 Built-in booth seating and comfortable occasional seating can be chosen to fit your company culture and vibe, just like these pieces have been selected for the Firmenich offices.
Hopefully that's cleared things up, and translates some of the lingo you might encounter if you're on the precipice of a new office fit-out.
Whether you're currently looking for a new office space or are assessing your future workplace requirements, we can help you decide whether you are suited to an office relocation or fit out, and get the project off the ground asap. Get in touch to speak to one of our friendly Ben Johnson team members!