What Type of Design is Best for Your Office?
Workplace performance is directly linked to the office design. The right space can provide a strong boost to morale and productivity, and truly successful office design is about more than the pretty colours (although that's important too – see here for more on colour choices!)
A considered layout at the beginning of the project can go a long way to ensuring things are fit for purpose  – as Firmenich know from this fresh and modern design we worked on for them.
A smart employer will be aiming for comfortable workspaces that people want to spend time in, lounge areas that enable private conversations, adaptable spaces and reception areas to be proud of – but do you need one open space or will you need separate areas? Would your team prefer designated desks or the freedom to move around? Are you going conventional or aiming for something quirky? 
Firstly, let's recap the basics; How exactly does interior design impact the way we work?
Well, we can use the various models of working as a starting point here. A successful modern office design should help facilitate these ways of working, supporting your team's overall creativity, well-being and performance quality:
Sustained Focus – Employees with jobs that require them to focus on complex tasks need a work environment that allows them to concentrate for long periods of time. Reducing interruptions and distractions can be as simple as introducing acoustic panels, room dividers or private workstations or study rooms and sound-absorbing furniture to help buffer sound from the rest of the office. 
Fostered Collaboration – Collaboration helps with problem solving, innovation and a healthy company culture. Arranging seating throughout the office enables employees to work in proximity to each other, encouraging natural collaboration, as do movable tables for unplanned meetings and chats. Consider smaller meeting rooms, huddle areas, integrated tech for a productivity boost and break out space for socialisation.
Cultivated Environment – Ensuring a sociable environment is as important as the work aspect. Having your employees burn out is a fast route to failure so let them relax away from their desks and blow off a little steam with colleagues on a regular basis throughout their day. This also helps avoid a toxic workplace and keeps those creative juices flowing! Design a space with a variety of seating arrangements for differing group sizes, with a mix of benches, tables, sofas and booths. You might also want to consider hydration and snacks too, to keep everyone performing well and feeling valued and happy.
Transparency and an open plan feel but without compromising privacy and acoustics over at the Dixon House plug and play office we worked on. 
There are a number of differing styles, types of plan and layout options you might want to consider, for example open plan, a cubicle-based layout, a trendy office design or a professional, traditional vibe. The best solution will differ for each individual business and industry, but it helps to begin by thinking about the goals for your new office:
Will you be expanding or rebranding, either now or in the near future? 

Does the redesign include a full office move? 

Are you using this as a way to attract the top new talent and instil more company pride in your employees? 

Will a boost to efficiency (and therefore productivity) be at the heart of the redesign, or is this about reducing cost by increasing occupation density?
Whatever it may be, it's a good idea to keep those goals at the forefront, as the main focus of the project, and don't lose sight of them. Check out other companies in your industry and see how they're achieving similar goals, and research examples online before you start – in articles just like this one!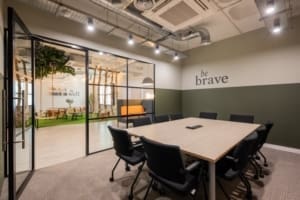 Could a layout that boasts one or more meeting rooms, like this space we worked on for West Barn Co. be the answer?
Let's look at some of the various layout options you could opt for…
Option 1 – Open Plan
Increased sociability and communication between team members as everyone is able to get up and move around to ask questions or chat.This means the layout simplifies things and can increase efficiency as a result. Supervision is easier, as your team will be in full view of management. It's also often cheaper to create or add new workspaces in a large open space.
Option 2 – Cellular Design
Dividing the office space into individual spaces or cubicles offers employees a private space which is great for focus and autonomy. It can be peaceful, allowing for easier head-down working, and it's also helpful in an environment where confidentiality might be important. 
Option 3 – Co-Working Space
In contrast to the above option, social interaction and networking with one's peers becomes far easier and more natural in a coworking layout. You can create areas for specific groups or jobs, but still encourage those working together to discuss the work and their ideas.
Option 4 – A Combination 
Obviously, if you have the space and budget, covering all bases is an extremely versatile way to go. Including both cellular and open plan, collaborative working, a space that features a combination might be the answer. You can design individual spaces for certain tasks or members of staff within the bigger, open area and strategically place office furniture to create divides. This allows equal focus and interaction.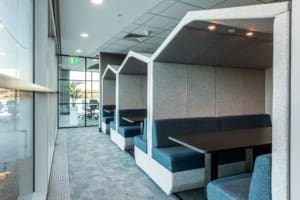 Keepmoat offered their team a mix of spaces in their new office, including these private working booths where anyone can head off for some lone-working or grab a couple of colleagues for an impromptu co-working session.
Now fancy a new office layout but not sure what might work best for your company or within the space you have? Perfect! That's our passion and we'd love to be involved, right from the get-go!
The choice between the different design and layout options will always be individual to the company – but luckily we're experts at identifying which design is best for you and your team.
We fully understand that the main guidelines for any office regeneration plan should be to consider how everyone's daily functions will be impacted, design a healthy, safe, inclusive space with a layout that projects your strong values and encourages collaboration, prepare for future growth while staying on budget, think eco-friendly AND maximise on your available space. All that, plus we know how to do it on time and within budget! 
Give us a call if you'd like to join forces on your office redesign project and make use of our years of expertise in your industry!