What Makes A Healthy Workspace?
(And Our Top 9 Tips For Creating Yours)
Many of us are still in the tight grasp of our very best New Year's Resolutions, trying to turn over the figurative new leaf and do our best for a healthy start to the year ahead. But how many of us have considered extending that to the workplace – namely through successful, thoughtful office interior design.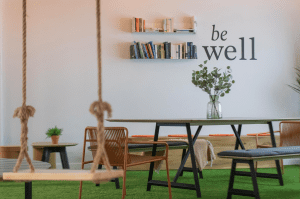 While it's not just about bold statements and catchy slogans, this wall art in the West Barn Co. offices certainly sums up their ethos.
The influence that workplace interior design can have on the employees' health, wellbeing and mental state has certainly been a major topic lately. And, on top of that, any boost to staff morale will in turn boost productivity, so it absolutely makes sense for an employer to invest in the health of their office staff wherever possible.
Sure, traditionally office design was focused just on the productivity aspect but we've all evolved. Now the conversation is expanded to include a more holistic point of view that puts the actual people at the forefront, more than ever before. It's resulting in more engaged, loyal and happier employees.
So what makes a healthy workplace, and how exactly can you harness this super power for your business? 
We've pulled together the important areas to consider and our top tips for crafting a healthy place for your team to spend their days:
1. Air Quality – The quality of air in the office can have an impact on those breathing that air. Damp or poorly filtered air can cause health issues, especially for those with allergies, whilst unpleasant smells can be distracting or off-putting for anyone trying to work. 
2. Light – Light is a biggie (one we've covered before here) and natural light in particular can help improve mood and morale, while avoiding tiredness and migraines too. People can't be productive if they can't see, but avoiding blocking windows with bulky furniture pieces and therefore improving the mood of the team will also boost productivity. 
Make the most of what you have; consider placing your quiet, solo working spaces away from distractions, but the more collaborative zones near windows for inspiring views and plenty of natural sunlight. Use glass walls for conference rooms to allow them to share the light from the rest of the building. 
This space offers the KCOM team plenty of natural light and encourages collaborative working in an inspiring way, come rain or shine.
3. Colour –  A well thought out colour scheme can have a big impact on the mood of those within the workplace too. Using colour strategically can be a clever way to make the most of your office plan. Different tones can really set the… well, tone for a space. We've recently covered how the different colours can help in depth over in a previous blog post so head on over there to check that out!
4. Plant life – An office environment with a nice amount of natural greenery has been shown to positively impact on the health of employees. You might remember our Plant = Positivity post here where we discussed how plants add an aesthetically pleasing vibe and air filtering benefits by increasing humidity and potentially removing dust and harmful chemicals from the air. Biophilic design is more than just a pet plant; it actually supports cognitive function, physical health and psychological wellbeing. Not too shabby, hey?
We went big on this biophilic wall feature in the Weightmans LLP offices to brighten up the area and bring the outdoors in for their employees.
5. Stress-free tech – With less in-person meetings than ever, it's even more important to ensure that technology helps and does not hinder progress. Tech that works quickly and efficiently, and is fully capable of meeting new demands is crucial. Investing in the best equipment can save time and money in the longer term, but it helps your staff stay happier and healthier without added stress. Afterall, most of us have experienced the frustrations and panic of a failed Zoom!
6. Healthy eating – Do you offer snacks to your team? Keeping everyone focused on the tasks at hand sometimes involves a few energy-boosting snacks and plenty of hydration, plus, offering some variety makes your people feel valued. But, while it may be tempting to pop out a few chocolate biscuits and go back to what you were doing, try to remember that healthy snacks are better for both health and concentration! Fruit and granola bars could be better choices than junk food! Enable your staff to make healthy choices where possible!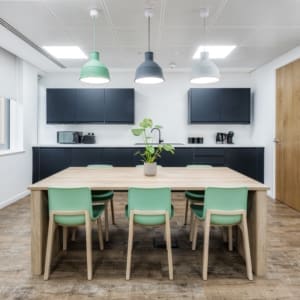 A pleasant break space and easy access to fresh water, caffeine and healthy snacks goes a long way, and this area in the Harworth offices certainly does the trick!
7. Breaktime – Speaking of breaks, regular time away from regular tasks or screens are important. Encouraging your staff to get up and move around helps with a variety of health issues and it's a great way to refocus the mind, allowing your employees to return to their desk energised and refocused. Creating the right setup to make the most of break times can be an art form in itself but we had some tips for you over here.
8. Good physical health – Make sure the desks, seating and monitors are set up correctly and optimised for good posture and long periods of time. Your team is likely to spend a lot of the day in one position so help them stay comfortable. Being sedentary for 8 hours isn't good for anybody. Poor ergonomics can actually lead to lower energy, poor concentrations and increased mistakes so it's equally vital in order to maintain a good workflow too.
9. Flexibility – No, we don't mean team yoga classes (although that wouldn't necessarily be a bad shout…). We're talking about flexible working. Promoting a healthy work-life balance says a lot about your ethos as a business and will help massively when you're trying to attract or retain the best talent. Ensure your staff know work should be left at the office, that time off is encouraged and that flexible working is allowed. We all should by now know that teammates who feel more in control of their working and office environment are less likely to suffer from stress.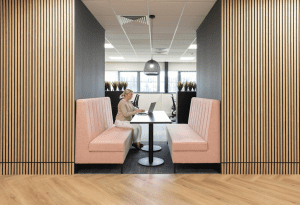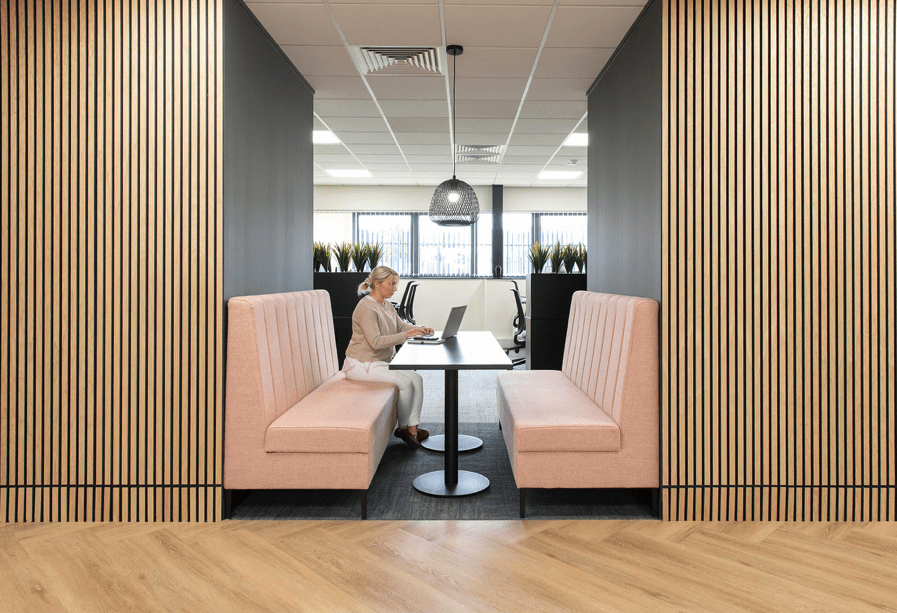 Break out areas, such as these ones in the Firmenich offices, give employees options to avoid boredom and unhealthy sitting for too long in one place.
Hopefully our tips have helped you realise that creating a healthy workplace environment in your office doesn't have to be complicated or costly. Something as simple as just playing music in the building can raise the dopamine levels in the brain, enhancing the mood of the entire team and boosting the productivity levels significantly, but why stop there?
If some of the above points sound like something you could use a little help with, or you just think your office could do with a grand refresh to really boost morale, let's work together to get you on track for the healthiest year yet. 
Get in touch now to start the ball rolling!