Inspiring Break-Out Spaces
... and How To Create Them in Your Own Office
Bold statement alert! We reckon some of the best ideas are born away from your desk. Taking a break from monotony can inspire innovation, while a fresh space leads to refreshed thoughts too. And it's not just us…
Office break-out spaces are flexible, serving a multitude of purposes with no fixed use or defined appearance. There are no rules! It's completely up to you what a break-out space might look like for your company and team.
In this post we'll be covering some of the possible attributes, the perks you can expect and then backing that up with successful examples of our very own past projects.
A moment away from the bustle for this employee at the LeoVegas office, completed in 2021.
Why should you incorporate a break-out space in your workplace?
Over the years the concept has evolved and is no longer just some token softer seating in a dingy corner. It's more about creating a social space for staff to connect with teammates, used in basically any way that benefits them, in turn boosting productivity whether they realise it or not.
It also provides a healthy little nudge for employee wellbeing, as movement, socialisation and relocation through the working day improve posture and mood while relieving stress.
What's wrong with the dingy corner approach?
Well, would you want to work in it? More to the point, would you be inspired by it? Unlikely. Simply dedicating dead space isn't helpful; crucially it must appeal in order to lure workers in, and with proper space planning and thought, the under-used spaces will encourage new ideas and encourage engagement, even over a bite to eat or a coffee.
These areas can also be used to greet and host clients informally or allow staff to simply relax away from their screens for a moment, returning to their desks invigorated and ready to tackle their workload afresh.
As for the pitfalls of creating a dead space that will only be used for an hour or two? Easily avoided! If done correctly, your space will be a hub for people throughout the day.
The option of raised bench seating offers staff a fresh perspective at the Netsells office.
So how do you get it right?
Well, speaking to us is a good start, of course! Jokes aside, enlisting a pro is always a safe first step! Next would be putting plenty of thought into outlining what you want to get from your space, who will be using it etc. Again, a seasoned pro can really add value here.
Failing that, try our five steps to creating the perfect break-out space for your workplace as a starting point:
Brand – Along with the rest of your office, a break-out space should reflect both your brand and values, communicating what you want to be saying to the outside world and your team alike. If your ethos or culture is fun, consider some jazzier colours and perhaps activities such as a pool table or beer fridge.
Both collaboration and privacy – Catering for group activities or solo peace will mean more people are open to using the space. Remember, you likely employ a lot of different types of personalities. Some work better in a quiet and comfortable alone setting or after a relaxed screen break, whereas some will bounce off other people and benefit from a loud brainstorming session. A breakout space can easily cater for both with some smart planning.
Wellbeing – Stress could be costing your company a great deal of money in absences or a drop in productivity without you even realising it. It's become an accepted fact that well-being in the workplace is no longer just a "nice to have". Bear in mind your people are your biggest asset. Let your office design support a culture of belonging, placing your staff at the centre of your plans. Ask them. Consider natural light, plants, convenient tech, refreshments etc as part of your break-out space plans.
Attracting and retaining staff – Following on from the last point, prioritising staff helps you keep people happy and everyone wants to stay where they feel valued. Your office design usually stays a lot about you and how you value your team. At a glance, it should make people feel excited at the prospect of coming to work for you. Ask your team for their input before you begin work on the new designs.
Maximising office real estate – Office space can be one of the most expensive costs to your business. A breakout space can take up any size, so it needn't be a huge outlay, but can make a huge difference. Figure out how much space you can dedicate and clarify what it will need to achieve upfront, so the design you decide upon can more easily achieve that goal.
And finally, how do we do it?
Circus PPC Agency, Leeds
Circus, Leeds is an exciting, growing specialist paid marketing agency that sought our help with the transformation of a bare space into something that truly represented the Circus PPC brand whilst complementing the building style, providing a collaborative, fun and open workspace that can comfortably house clients and staff alike.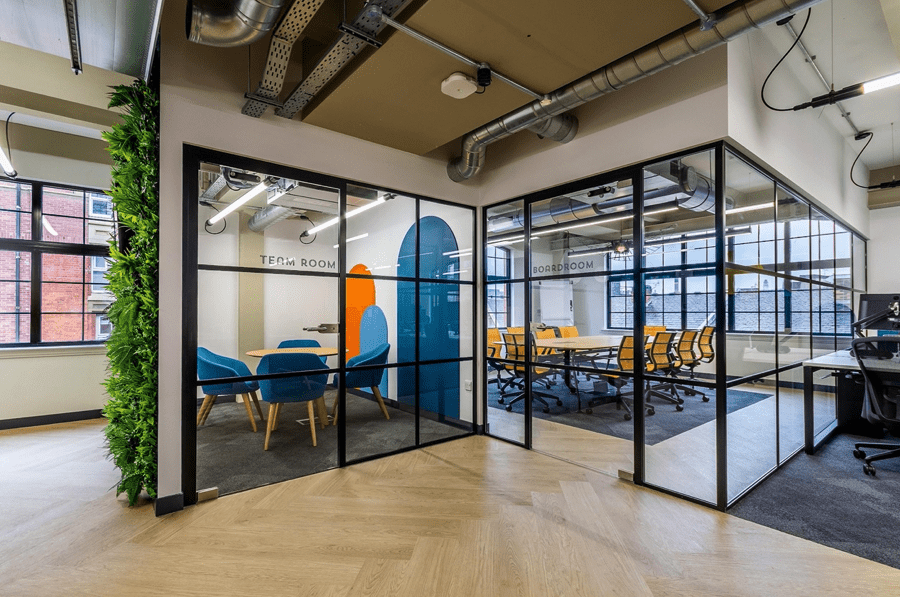 A combination of collaborative spaces in the Circus PPC office at Tailor's Corner, Leeds
We've created a variety of zones in the office as a whole, allowing staff to pick up and relocate as and when they fancy, allowing a new perspective on their work if required, all with an energising, bright colour scheme that fits with the Circus brand.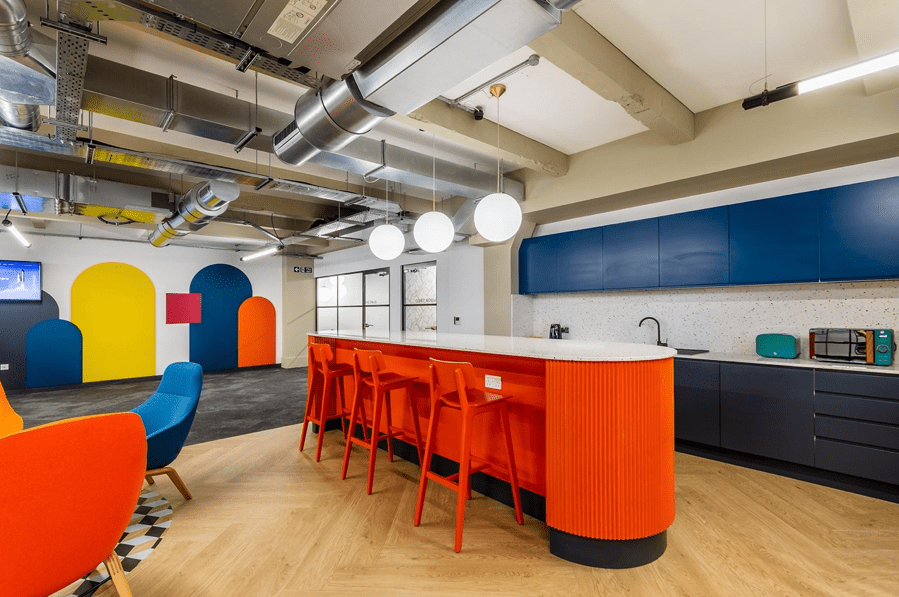 An eye-catching kitchen and social hub at the centre of everything in the Circus PPC office space
West Barn Co.
West Barn Co. is an independent conscious cosmetics eCommerce brand who have seen stratospheric success, believing in creating cruelty-free, vegan-friendly, sustainable beauty products that enhance natural beauty and increase self-confidence from their HQ in Durham.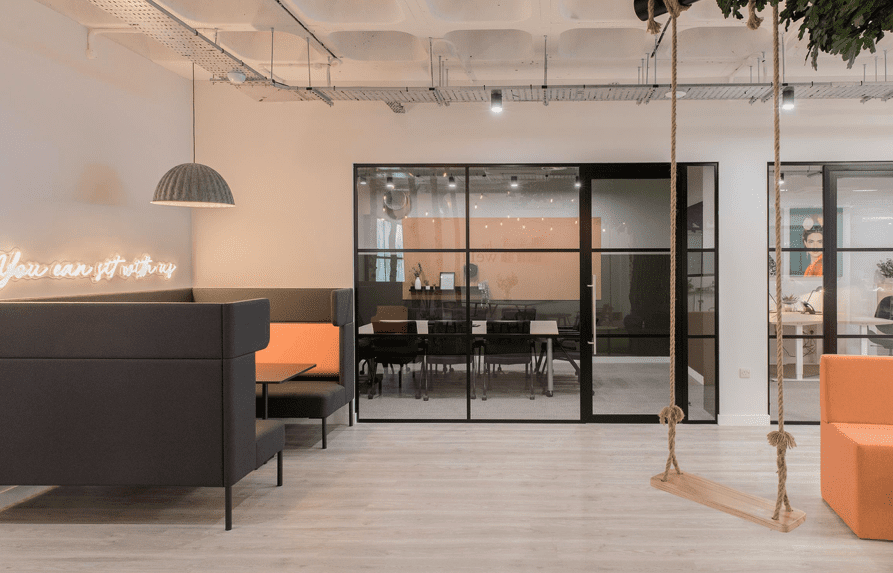 Cool, serene, fun and practical: we've packed a lot into the collaborative spaces at West Barn Co.
This office prioritises employee wellbeing and enables staff to work in a variety of different ways. There's a swing, various types of stylish soft seating and inspiring product displays showcasing their creations, as well as reminders of the brand values on the wall around the space. There's no escaping the positive West Barn Co vibes in this space!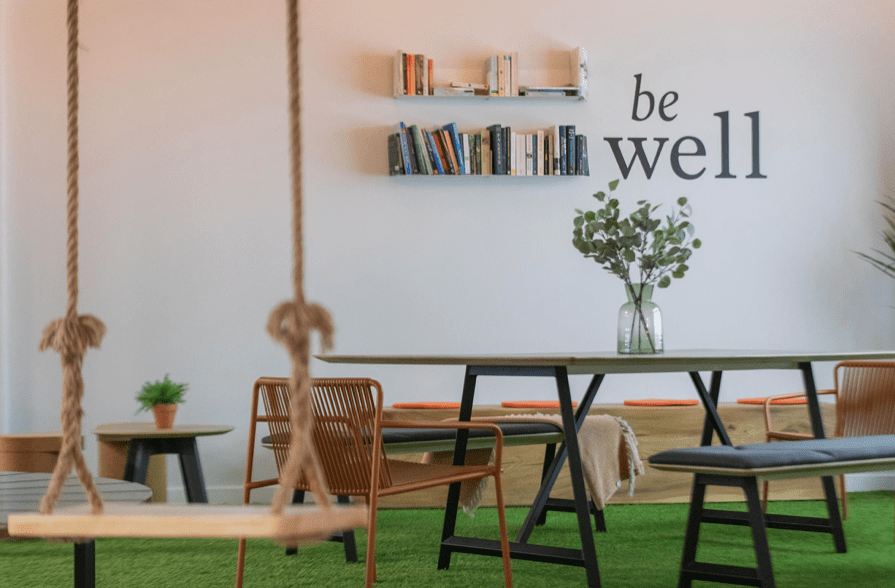 Mayborn Group
Mayborn Group relocated to a new global HQ in the North East, where the overall concept of the interior design was to support collaborative, agile working and encourage creativity and expression.
Within the large ground floor meeting wing, we built a fun 'play park' and 'beach' area with trees, picnic tables and swinging chairs. Remember that there are no rules here! A theme can be a fun way to create a new atmosphere.
There is also a whole 'breakout wing', boasting comfortable, colourful seating zones, café, TVs, pool tables, lounge and tiered seating, offering maximum flexibility for informal meetings and group presentations and allowing people to relax together during breaks. An abundance of natural light, interior birch tree trunks, and views of plants and foliage outside – as well as a tree inside too – bring calming elements of nature into the office.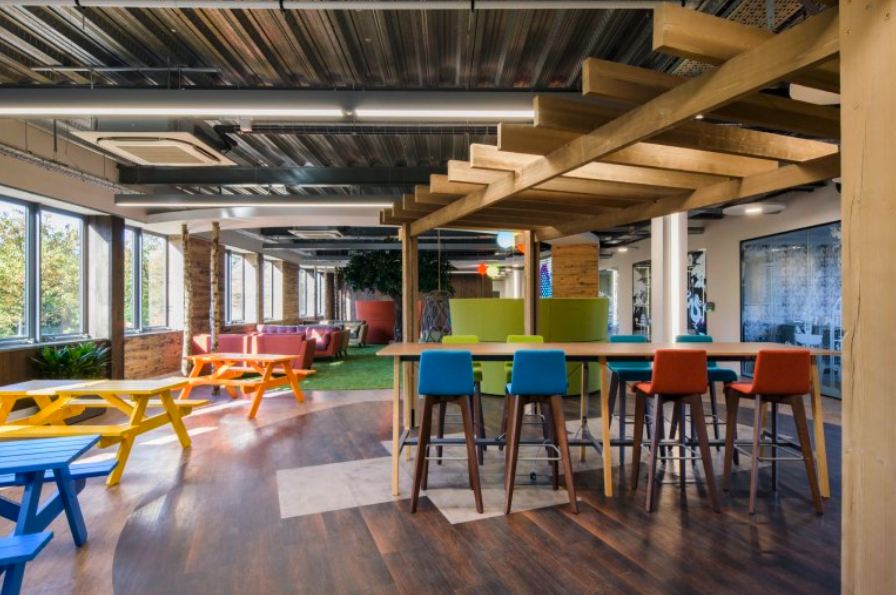 A fun, bright and collaborative break-out space at Mayborn Group
Our own office space!
We needed an updated base that better reflected our business while housing our highly skilled and experienced team in comfort. With a lot more of the workforce working from home now, we've been able to free up space to create some more dedicated break-out and collaboration zones.
Downstairs was originally going to be more open plan but this evolved, becoming an enclosed series of spaces amid concerns about noise becoming an issue.
Break out space doesn't have to be open, but glass partition walls like these help share the light around the space, leaving no one feeling cut off.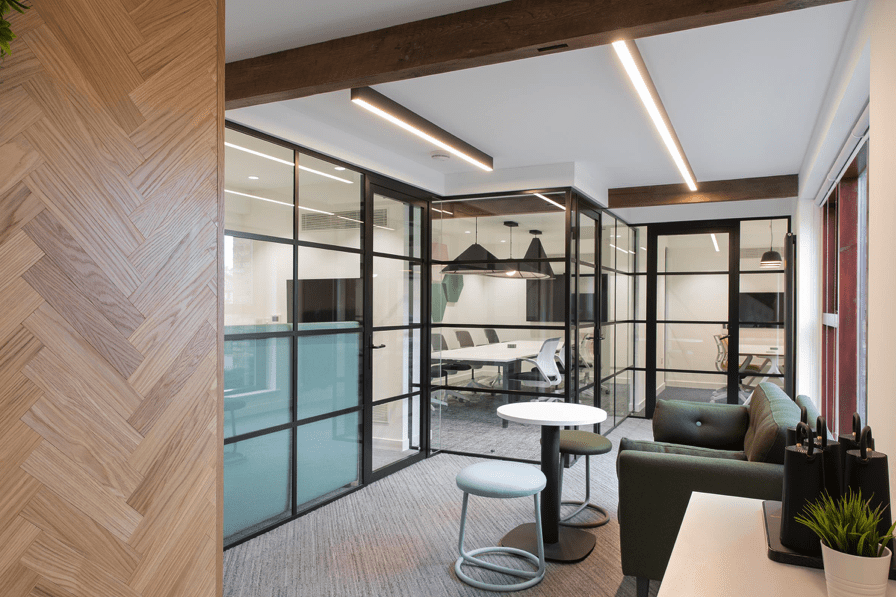 A variety of seating and meeting spaces in the Ben Johnson Interiors York HQ
SharkNinja
We worked with international appliance company, SharkNinja, at their new UK-based headquarters (and there's more to come, too!) to create a unique staff and client breakout space involving a bi-folding wall between two meeting rooms to enable the potential creation of one large meeting and presentation space as and when that's required.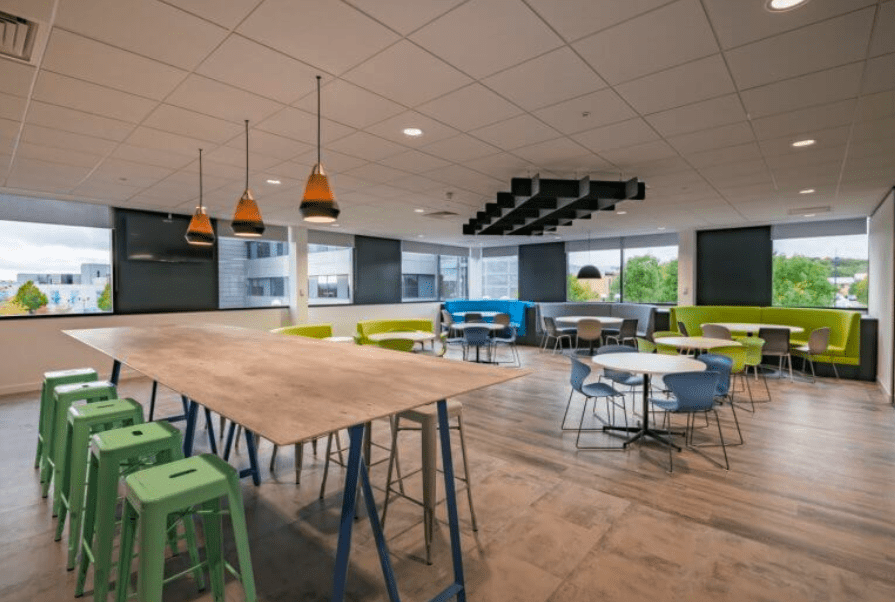 Light, airy and open, the break-out space at SharkNinja's office is a collaboration haven!
A first-floor breakout space was created for all staff to socialise, with a large kitchen, different types of breakout furniture, high tables, stools and booths. We also added acoustic baffles from the ceiling to create a feature and absorb noise. This series of open-plan breakout areas supported informal meetings and natural collaboration in a new way for the company.
Boxclever
Boxclever Consulting is an independent and experienced consultancy specialising in customer insights, proposition development and market strategy with staff working from home or in the office whenever it suits them.
We gave the staff in the office a choice of working zones, removing some of the traditional workstations and replacing them with break-out booths and comfier seating with a relaxed, social feel to encourage collaboration.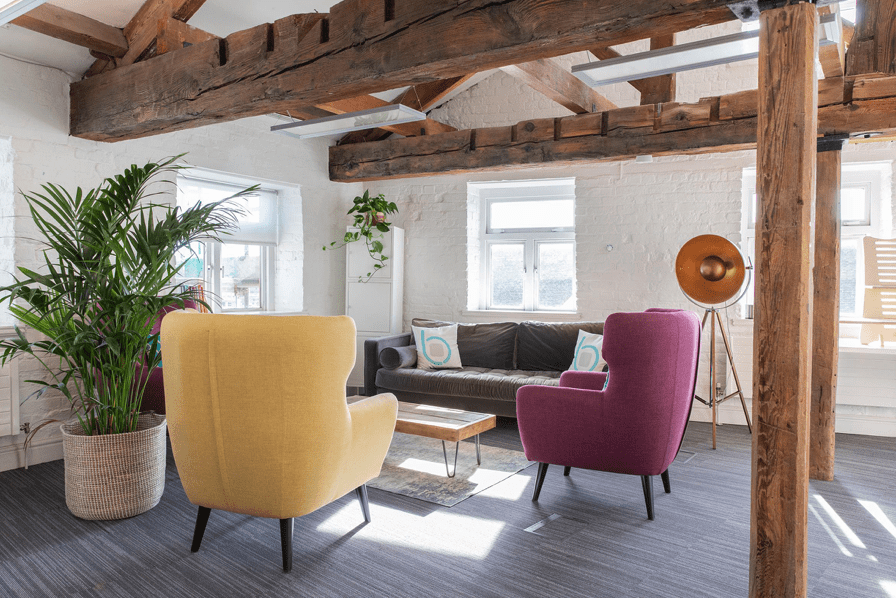 Who wouldn't want to get comfy and get down to work – or socialising with colleagues – in this dreamy break-out space at Boxclever?!
This offers flexibility for both impromptu meetings or casual working, as well as a flexible high table that could be easily moved to accommodate a fun tennis table for social events! We removed fixed partitions and created a larger break-out and open plan kitchen, meaning a much more accessible, collaborative space and welcoming environment for visitors.
LeoVegas Group
LeoVegas UK is a Newcastle-based company for whom we created a stylish, dramatic and luxe-feeling space, blurring the lines between home and work.
The BetUK hub – part of Leovegas Group – is really break-out space goals!
There are a number of break-out spaces located around the office, between and alongside the traditional desk working areas, plus private meeting rooms, all centred around a large 'cafe' style group break space with a kitchen and coffee machine, boasting bench seating, tables, sofas etc. There are also differences of decor in the various zones, allowing staff to choose if they'd prefer dark and cosy, or light and airy at any given moment for any particular type of work.
The main meeting room at Leovegas is ready to wow visitors and staff alike
We hope you've found something here to get you thinking about your next interior design project, and that your team will benefit greatly from their exciting new break-out spaces (while you sit back and marvel at the unprecedented boost to productivity and wellbeing!)
If you'd like to pick our brains about any of these projects and benefit from our team's years of experience and skill in commercial office design, get in touch.
We'd love to hear from you!