Why Invest in your Office Interior Design
(Especially in a Post-Covid World)
Your office interior design can help boost businesses productivity. Yes, we're banging on about that again, but it simply couldn't be more relevant than it is right now.
Luring workers back into the office while keeping things safe for everyone is paramount, and the way space is designed will go a long way.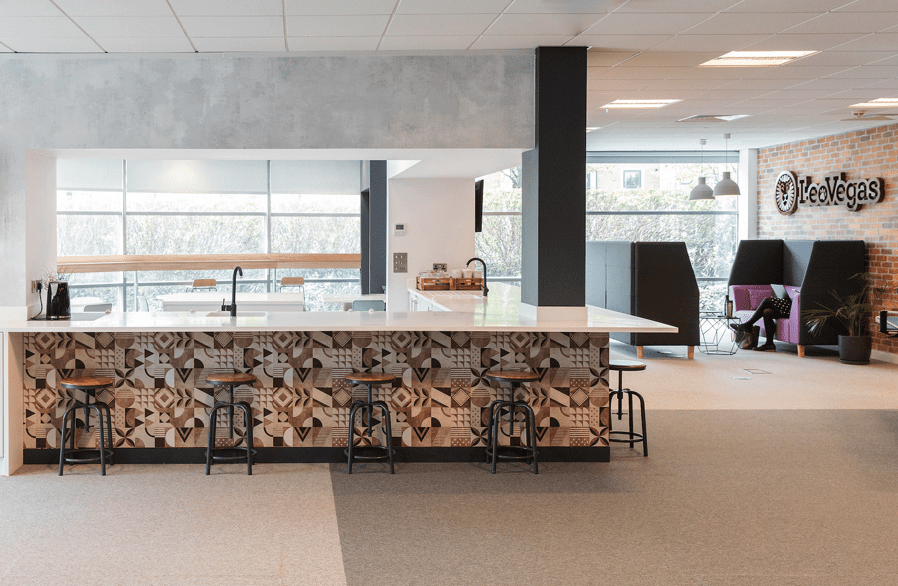 A stylish open plan kitchen and collaborative space we created for LeoVegas.
We understand that when you're running a successful business, things tend to come down to finances. Regardless of the company ethos, money – or the lack thereof – is a driving force behind most of the decisions we make for our businesses.
It can be tempting to let certain "non-essential" aspects and expenses slide, such as a super stylish working environment – after all, how much difference can making sure your staff are comfortable in the place they spend the majority of their lives really make to the running of a successful business?
Well… it turns out, quite a lot.
So, if your business is stuck in a rut, or you suspect it's just not quite performing as it could be, the solutions may lie in a redesign of your workplace.
We can help with that. In today's post, we're looking at how a well-designed space and placing investment into office interior design can make a difference to that ever-important employee happiness, wellbeing, efficiency and productivity.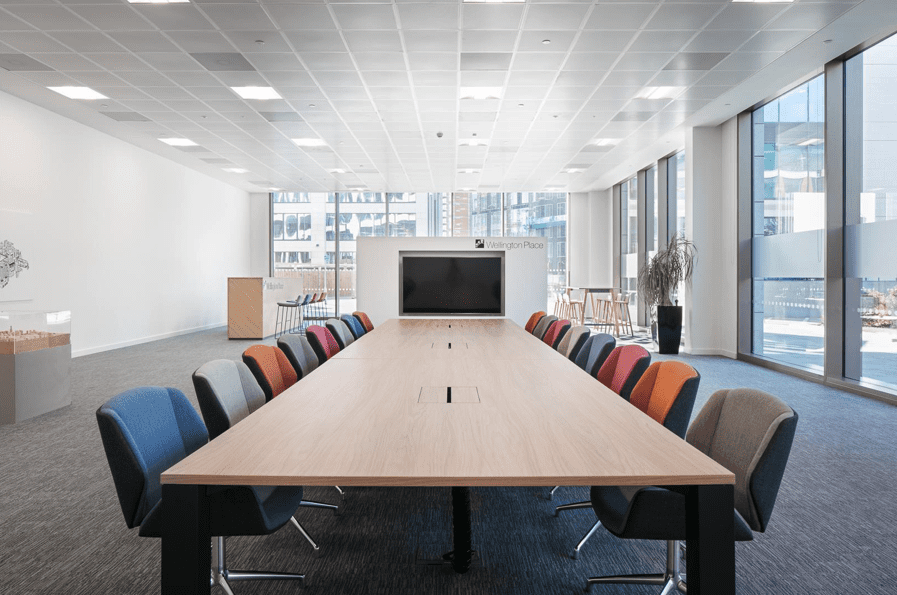 Our light, bright and comfortable boardroom in MEPC's offices in Leeds.
Why invest in office interior design?
Well, we know that having an inspiring workplace environment makes a notable difference but how does it rival other areas that you could be allocating that money to – training, management development or benefits, for example – all areas which have a fairly reliable return on your investment?
You might be surprised to know that workplace interior design actually has a pretty strong argument. Some of the perks you can expect to enjoy include:
Employee retention
Finding good people is hard enough. Why risk losing them once you've got them? Investing in good workplace design is investing in your staff.
A dingy, cramped and uncomfortable environment can seriously impact the general mood and that's not sustainable for many people. In fact, there's a direct correlation between the working environment and employee retention. 48% of people said that the design of their workplace was a significant factor in whether or not they stayed on at that company, and also reflected how appreciated they felt.
Keeping your staff happy and onboard therefore means less of your time is going to be wasted posting job advertisements, interviewing and training, and that will save you money too. You can be concentrating on building your business, knowing that your staff are happy in a pleasant space.
We've looked at the impact a well-designed workplace can have on talent attraction and retention further in this post if you're interested!
Increased productivity
Alongside crucial employee retention, we know that a well-designed workspace has the power to seriously boost productivity. It can really be that simple! Multiple studies have drawn a correlation between employee engagement and efficiency, and the calibre and design of their workplace environment.
The office design can also offer a boost to productivity by streamlining processes or removing barriers to facilitate different working styles.
If everyone has the ability to opt for their best way of working, it follows that they will be firing on all cylinders for more of the time and doing their best work. For example, an open plan office may be well-suited to teamwork and collaboration, whereas privacy and a well thought out approach to light or acoustics might be better for independent 'head down' work.
The grounding effect
When a situation feels substandard or temporary, it creates a kind of fatigue because everyone remains in limbo. That energy could be used for getting the job done but instead, it's turned into stress and dissatisfaction.
A physical office that is a comfortable and appropriate working environment allows employees to feel settled and cared for by the company, allowing them to put down roots, become natural brand ambassadors for you and, of course, do their best work.
In the current post-Covid climate, physical offices are still very relevant and worth investing in. In fact, it may be that they evolve to become more intentional. Perhaps for some employees in certain industries, more of the independent work will happen at home. The office then becomes a desirable destination and a place to connect with others, collaborate on projects and share ideas.
There could be an increased requirement for more meeting spaces, flexible working spaces, and bookable hot desking.
Office culture
Playing a crucial part in the aforementioned employee retention (or attraction) and in good old brand strengthening, office culture is reinforced by the look and feel of the space.
For many, this will involve putting plenty of thought into the layout, materials used, the furniture available for staff, the colour choices and the types of social spaces on offer for staff to mingle in. It's no good talking the talk, having the snazzy website and a bold logo but then welcoming employees or guests into an uninspiring, out of date workplace that doesn't back up what you're advertising.
Putting some thought into the more sociable, leisure spaces will go a long way. We've covered some ideas for creating a 'fun office' in another recent blog post so if you need a little inspo on how to offer your team something that really changes the tone, check that out.
An employee break space we worked on for Search Consultancy in Manchester.
How can I improve my workplace environment?
Just in case you've not been paying attention, the bottom line is that creating a working environment that keeps your workers happy, engaged and efficient will save you money in the long run.
BUT here's the caveat – workplace design only works when it's genuinely in line with the organisation's needs
Design being design, trends do change so it's important to ensure that whatever you're doing with your interiors actually reflects your company ethos, and works for your employers, rather than just hopping aboard the bandwagon because you can.
With that in mind, here are some ideas for beginning the transformation:
Light – As we've explained in a previous post, natural light is so important for a workspace. Natural light promotes physical activity, better sleep, and improved quality of life. If it's artificial lighting you're after, you can make a change by switching to LEDs, which consume way less electricity and don't create glare.
Furniture – This should be another top priority. Making sure employees are actually comfortable, supported and able to sit and work for long periods of time is fairly basic but there are some amazing options out there that really go the extra mile.
Post-Covid tweaks – Life after the pandemic could well mean a reversal of the open office trend, even just temporarily. Therefore flexibility will be important to futureproof your workspace. We're talking UV cleaning, automatic doors, more screens and bookable hot desking stations.
Break areas – Comfortable and entertaining recreational areas where employees can enjoy a bit of downtime are just as important as the work areas. Your team will need to relax and eat, and a good supply of free tea, coffee, and fresh fruit wouldn't go amiss in the modern office, where it's increasingly tricky to attract and hold on to good employees.
Plants – Add some finishing touches and inexpensive additions in the form of a little foliage here and there. Plants don't require too much investment but can have a big impact on the feel of the space.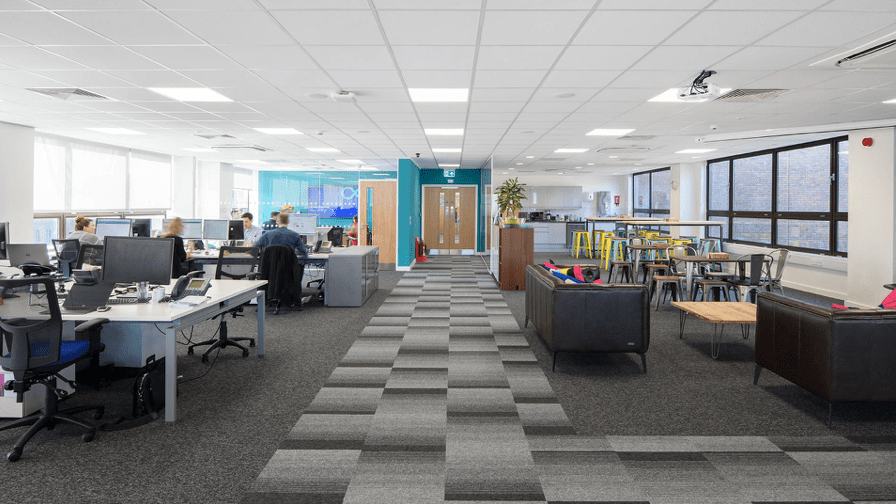 Communicator Corp's office space in the North East works well for their employees.
As you can see, there are a plethora of strong reasons to reinvent and upgrade your company's office design, and it's well worth the initial investment required to get it up to scratch.
If you need assistance from our team of pros, with their contacts and years of honed experience, just give us a call. We'd love to discuss the best way to invest in your workplace redesign or renovation.