7 Inspiring Workplaces in the North East
The North East of England! Home of the Stottie, the Angel of the North, the Tyne Bridge, and the birthplace of the pastry fan's favourite, Greggs. Whatever you love most about the North East, we bet you're certainly overlooking some of the incredible office interior design the region boasts. 
There's a lot going on!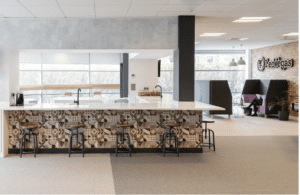 Does your workplace have a bright, light, social break space, like this one in the centre of the Newcastle LeoVegas office?
From cult-status beauty brands to world-famous digital genius, it's certainly far from grim up North. So we thought we'd take you on an inspiring tour of some of our favourite projects from across the North East, taken from our own portfolio, no less!
West Barn Co
Hot in the world of eCommerce cosmetics, West Barn Co, has grown exponentially since it launched its first product in 2016. The now world-famous Soap Brows® actually originates in Durham, and although they're still based in the area, they now needed an office that reflected their success, along with their super strong brand identity and facilitated future growth.
We took inspiration from their product packaging, maximised the natural light entering the space, and featured cool Crittall-effect partitioning and on-trend colour choices. We also wanted to be playful with the design, adding in neon signage and a tree with a swing as a real talking point in the collaboration area.
It's a warm yet oh-so-cool welcome for the West Barn Co. office space in County Durham, with mirrors, open shelving, rope dividers and glass partitioning ensuring the space stays light and uplifting.
LeoVegas
Newcastle-based LeoVegas needed a better base from which to service their mobile gaming group, to keep the 100+ employees happy and comfortable. We made sure to focus on the brand of the company, complementing the style of other offices within the business, while blurring the lines between home and the office environment to encourage the team back through the doors post-pandemic. 
For this, we took inspiration from opulent hotel lobbies, added a touch of jungle chic and then contrasted the bold colours and branding with natural fibres to keep it up to date.
The classic Chesterfield looks right at home, contrasting with the concrete, biophilic wall and jungle vibes in the LeoVegas reception area.
Bede Gaming
We worked with the firm to help with Bede's growth plan for their expanding teams. They acquired the remaining space on their floor in Bevan House, near Newcastle upon Tyne and were looking for a partner to work with on the fit-out of the additional area. 
We worked with them to create an up-to-date office space, suitable for their team and the work being carried out. We also provided additional design support and advice, for example with a concept for a bespoke feature entrance tunnel.
In a mere 12 weeks, we took them from an empty room to a stunning new workspace boasting a kitchen-breakout area, two meeting rooms, a snug and two showers.
Bede Gaming now has even more stylish, collaborative areas for their team to use in their Newcastle hub.
Mayborn Group
You might not have heard of Mayborn Group but you've almost certainly heard of the Tommee Tippee, a leading babycare brand.
Their global HQ is in North Tyneside and we worked on the development of the space, taking it from uninspiring to an impressive base from which the brand can continue to take over the world. 
We knew that it would be paramount to ensure the end result was not just fit for purpose but as eye-catching and future-proofed as possible. We used a lot of fun colour and striking design choices, and in the large ground floor meeting wing, we built a fun play park and beach area, with trees, picnic tables and swinging chairs.
The Mayborn Group HQ is a riot of colour and fun, offering employees an on-brand space to kick back in, which actually promotes increased productivity and boosts morale.
Cravens
Creative agency Cravens are born and bred in Newcastle. They couldn't be more Geordie and it was a joy to work on their new offices in the city centre, transforming a unique, cellular layout with heaps of original features into a stylish and practical, working office space, perfect for their team. 
We wanted to be careful to retain and preserve the character of the amazing building while crafting Cravens the collaborative, agile workspace of their dreams. 
We loved the period features in the Cravens offices and wanted to make sure we retained those while giving it a cool, fresh makeover fit for a cutting-edge city centre agency.
Tangent Marketing
Imagine walking into one of these meeting rooms in the Tangent Marketing Services office. It feels slick and purpose-driven and we're proud to say it continues to impress both their guests and employees. 
The end design had to incorporate the business's ambitious expansion plans plus include areas for informal meetings and scrum working, all while being completed within a very tight timeframe. We do love a challenge!
Keeping things super funky, the Tangent Marketing office features neons and crittal style glass partitions, along with minimal pops of colour in the furnishings.
Cushman & Wakefield
Last but not least, we're heading to the offices of global commercial property consultant, Cushman & Wakefield, who offer their clients a full range of integrated property services. We were their partner of choice for a North East office relocation. 
The design of the space required a strategy for the client/visitor experience, which meant paying particular attention to the reception, meeting room and boardroom facilities. As the base build of the proposed premises was very cellular, we created a more open-plan space to make it bright and welcoming with lots of natural light and floor-to-ceiling glazed glass partitioning.
Cushman & Wakefield needed a NE office fit for a global company, and we delivered something modern and slick, fitting for the business at hand and the types of people they get through their doors.
Where to next? 
If you'd like to take advantage of our Ben Johnson team's commercial interior design expertise and experience working in both older and new buildings, why not reach out? You don't have to be based in the North East as we work nationwide and with a great number of industries and businesses. 
A chat with one of our friendly members of staff could be all it takes to get the ball rolling on your next refit project and before you know it, you'll be in your new office!