Our 8 Top Tips For A Smooth Office Move
The prospect of an office move can feel majorly overwhelming. Sure, it's exciting. Moving onto pastures new is going to be great for business and hopefully (eventually) a real boost to team morale, but it usually means a large amount of upheaval and can be a stressful process for any company – but it doesn't need to be.
Whether you're upscaling, downsizing or simply moving to a better location, with proper planning and the right support it can all run smoothly and you'll be settled at your new desk, looking at your lovely new view out of the window before you know it. 
Views such as this lovely vista from the Keepmoat meeting rooms, that no doubt inspires their staff and impresses their guests in equal measure!
With that in mind, we've pulled together our 8 top tips for a successful office move, to help ensure that you have a nice clear strategy from the get-go.
We hope you can use this post as a bit of a checklist for the steps involved, in order to make the process as seamless as possible and give you an idea of what's involved. Ready?
So step one is literally to make a plan. The more detailed and firm your plan, the less scope there is for unknown or for error. A commercial relocation needs plenty of thought and prep. Deciding on a moving date, the time-frame involved, outlining the budget, identifying costs for movers or redesign and making strong, informed decisions early on will really help you throughout.
Once you have a plan you can start to book movers, construction workers, cleaners and really speed up the process!
Be clear on your objective
Why do you want to move offices? Perhaps you need more space for a growing headcount, or maybe you need more diverse zoning for collaboration and quiet work, or it could be for improved transport links. Being clear on the objective of the big move will help drive the process on, even in the tricky bits, and help get everyone on board. You'll also be able to better measure the success once you're in and can spread out into that new space, feeling smug about how smooth it's all been!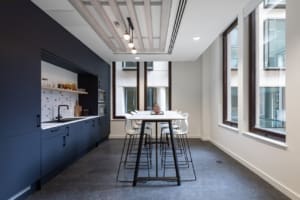 Have you thought about why you're considering a move? Perhaps you need some more kitchen space, like this zone we helped create for the Dixon House plug and play offices in London?
Keep everyone in the loop
Speaking of getting everyone on board, communication with your employees and colleagues is key. Notifying everyone of any important milestones and corresponding dates will mean they know what to expect – particularly if they need to schedule WFH or any meetings etc around the move. Don't forget to let them all know the new address and any new phone numbers, parking situations or new building rules they'll need to adhere to. Have a chat about any packing they'll be responsible for to make sure nothing's left behind.
Once your staff know what's happening, you'll want to update your clients, customers and any suppliers too. Announce it in email, press release and on your socials to make sure no one misses it – plus it's also a great bit of positive pr for your company! You're moving up in the world so shout it from the rooftops!
Then, once you've moved, don't forget to update your location on the company website, Google Maps, email signatures, business cards and social media profiles too!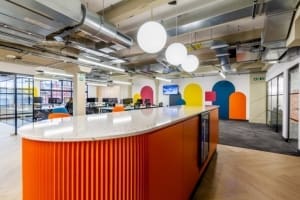 You too could be in a shiny (and very colourful) new office, just like this one we worked on for Circus PPC!
One of your number one priorities should be your team's health and safety, and making them feel safe and valued is paramount. You can maximise on this by letting them know it's always at the forefront of your decision making, and that the new space has the facilities to provide a better working environment for them, complying with all current regulations and guidelines and offering better sanitation areas and will be a boost to their wellbeing and mood. 
Saving and backing up all of your important documents and data before the move will help avoid any potentially disruptive issues further down the line. You never know what might happen to your hardware during the relocation process and damage to harddrives or servers could be catastrophic for your business. 
Make sure you know that everything is safely backed up and stored on the cloud – which also helps if your team is spending any time working remotely during the moving process, giving everyone access to the files they'll need easily.
We all love a good list here at Ben Johnson. You're reading one of our lists right now! During an office move, a checklist will be the simplest way of keeping yourself on track, especially if there are multiple factors and people involved in the process. Jotting down everything you need to have in order before, during and after the move will keep things moving smoothly. Make a list of everything you need to pack, anything you need to buy, anyone you need to notify, anything you need to set up in the new office… 
Find your design and build partner
Once you've found your new office, you'll likely want to make some changes to ensure the empty shell becomes a functional and inspiring space perfect for your business. Get the pros in to makeover your space well before you move in.
Appointing an interior design partner as early on in the process as possible will be hugely beneficial and take a lot of the hard work off your shoulders. In fact, we're often involved in choosing our clients' new offices from the very beginning of the search!
Working with a design partner upfront generally leads to a better end result – such as this lovely space for KCOM!
You might want to find out if your chosen partner offers a workplace analysis and take advantage of that, if they do. Also check that they appear financially stable, if they have examples of previous, completed projects similar to yours, whether they have glowing reviews online or through word of mouth, if their company values align with yours and what level of involvement they offer.
Can we help?
As a nationwide workplace interior design and build company, we love to get to know our clients to ensure we can assist with every step of their move and the creation of their ideal new office. We want you to get the most from both the process and the end result, offering an enormous boost to the productivity and happiness of your employees by enhancing and optimising your new workplace. 
If you need a little help and suspect you might benefit from a friendly chat with one of our team, give us a call today and see how we can help your company successfully take that next step.