Is it Time to Completely Rethink the Concept of the Office?
With the recent news of staff declaring they'd rather quit than return to the office, we're on the precipice of another workplace revolution. It's time for employers across the board to consider what this might mean for their business.
News flash! Right now – the power is largely in the hands of employees when it comes to deciding where they want to work and frankly if you can't provide it, they'll be more inclined to look for somewhere else that will.
Out with the old, in with the new…
The past year has had an enormous impact on the way we work and these changes aren't going away.
Many employees are feeling apprehensive about the return to the office. Others have simply grown accustomed to the flexibility that remote working allows, having had their first taste of better work-life balance, and are reluctant to give it up in favour of long commutes and less family time.
Remote working has become the new way to do things, and although for many it's meant isolation, for some it's been a good thing, easing childcare issues or reducing time and money spent on the commute. Not to mention the fact that leaving your cosy home in the dark and drizzling rain at 7:30 am on a chilly winter morning isn't anyone's idea of a good time.
Today we're asking, in a world where remote work is more common and effective than ever, is the office still relevant?
Well, yes, but there's a bit more to it. 
We've previously discussed how important a focus on office aesthetics, comfort and practicality is for attracting and retaining the best talent but now there's a new concept to consider: remote working.
Not coming into the office at all has been an option for some industries for a while but few utilised or realised the opportunities it allowed until The Great Covid Pandemic of 2020. (And yes, we're aware it's still ongoing but work-wise most of us are now beginning to emerge from the other end of that dark tunnel, for all intents and purposes!)
In fact, Totaljobs recently reported a 40% increase in job searches for remote roles, while global company Indeed told of an increase of more than 500% since February 2020 alone.
Another study, by InstantPrint, found that only a fifth of employees are eager to return to work and a third would prefer to work from home on a permanent basis. And we've heard plenty of uproar about employees being 'forced' back into offices, or told that they may work remotely but only on set days, offering them little to no autonomy.
So it certainly seems that if businesses don't adjust accordingly, they'll lose out on great talent.
How can you harness this movement and ensure that your business actually benefits from it?
The good news is that you can certainly ensure your office stays relevant.
With remote working becoming so normalised, coming into the office will likely become more of a purpose-driven experience for most.
Think about what you can get from popping into the workplace that you simply cannot get at home. Is it space, or peace and quiet? Is it the social aspect? Is it simply that the colours, facilities and decor is much more conducive to a clear head and productivity?
If so, this could be how you win your staff over. People may come into the office to meet, brainstorm and bond, and collaboration will then be that driver that gets the workforce back in the building, rather than force of habit or mere obligation.
Traditional working hours have begun to have less meaning, too. Some companies have even made the decision to switch to a four-day working week without any impact on pay. This shift is a ripple effect, slowly making its way through many of the more forward-thinking companies across the globe.
We'll caveat by saying this isn't an option for all industries, but the trend for trusting staff to get the job done and focusing on the work-life balance is an important one.
So what might the reimagined Office look like now?
Repurposing the office could take many forms. It's likely that most staff will prefer a blend between the office and home working.
Providing your team with a hub where they're easily able to do their best work (collaboratively or not), while also partaking in a little socialising, is going to be more important than ever.
Offering office perks to outweigh the perks of WFH is going to be a top priority for businesses. It'll be up to business owners, managers and HR professionals to put the necessary structures in place.
You could start by:
Letting your company culture inform the physical space: Ask yourself how you want your staff to feel at work, and what you want them to gain from it. Coming back together after so long apart is a great opportunity to really turbo-charge that culture.
Providing an aspirational workspace for those who are unable or unwilling to dedicate office space at home: Provide modern, functional equipment which makes coming into the office to sit at a lovely, comfortable desk both practical and a treat.
Thinking about how many days per week you might actually need employees on the premises, making sure that employees whose areas of business are heavily reliant on each other overlap: Technology can be a great way of handling this and there are a few apps on the market that facilitate this, such as Officely.
Embracing the fact that fewer people means potentially more space for new layouts: You could take the opportunity to move away from rows of desks crammed in, have fewer desks and more brainstorming, meeting or breakout areas – or something more fun, such as a pool table, bar or snack station. Buying less also means you could buy better quality furniture and products.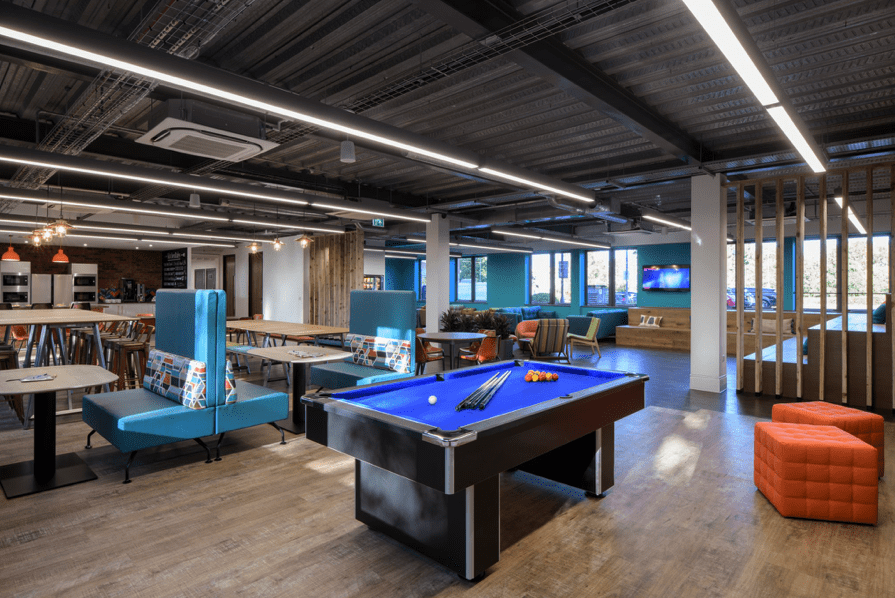 Introducing a pool table means the Mayborn Group team has the opportunity for a little downtime in between their work.
Upgrading your badly-lit office for a light, bright, uplifting and inspiring space allows you and your staff to maximise the benefits of lighting on productivity.
While you're at it, upgrade your tech, too. If employees aren't coming into the office, you need to make sure the various lines of communication stay open and strong at all times to avoid isolating and demotivating the remote workers who may then no longer feel part of the team.
Trusting your employees becomes significantly more important. Focus on building even stronger relationships with individual members of the team and you'll find yourself more able to trust them, and vice versa.
Upskilling managers in remote leadership. Previously managers were used to managing in-house teams, and often virtual teams if the company had already embraced hybrid working prior to the pandemic, but managing a remote team can be a very different ballgame.
Offering incentives and group activities during or at the end of the working day to draw people in. Group lunches, yoga classes, quizzes, surprise awards or parcels/care packages are always popular. Remember to still celebrate the wins and commemorate the losses together, as a team. We've heard of some employers offering financial incentives such as covering the cost of travel season tickets, which is another great initiative.
A central, sociable, open plan kitchen and dining space we created in the LeoVegas offices.
So, back to the original question: Is it time to completely rethink the concept of the office?
In many cases, yes.
Ultimately, with the right arrangements in place, you should be able to coax staff back in and manage the return to work effectively to ensure a content, productive and present workforce. Employers who make the switch to allowing their employees to work in a way that suits their personal lifestyle will benefit from improved staff retention, increased productivity and better talent attraction, so what's not to like?
If you're scratching your head about what the new workplace looks and feels like for your business and think that's something we can help you with, we'd love to be involved.
Get in touch and let's see how we can ensure your office stays relevant in "the new normal".