The Rise of the "Fun" Office
Pros, Cons & How to Implement
Creating a genuine fun office atmosphere can promote a far better culture for working and learning – or at least that's what the research would suggest anyway. But before you rush out and install that slide to speed staff from the fourth floor to the pub, let's check the facts.
A study published in the Journal of Vocational Behaviour highlighted the link between employees picking up new skills that improve their job performance and having fun at work. So letting your employees have more fun around the office makes them more likely to be better at their jobs.
These days, some offices certainly sound more like amazing holiday resorts than workplaces, offering staff perks such as pools and gyms, nap rooms with hammocks, on-site massages, employee-only cafés, meditation lounges, and treadmill desks. Or, yes, even an in-house slide or two. It's certainly been a trend of late.
But is playtime over? We take a closer look at the 'fun office'…
A breakout area we created to allow the Tommee Tippee team to have a little fun away from their desks.
Manufactured fun
Well, firstly, how is this fun created and measured? Can it be as simple as it sounds? The aforementioned study seems to reckon that it's about creating a fun atmosphere that in turn creates a better learning environment, rather than just implementing fun activities. Increases in staff retention, performance and creativity are all a by-product of having fun at work. It's basic human nature – people tend to put more effort into something they find enjoyable.
It's also suggested this is because team members working in a fun space are more willing to try things that may be new to them, and not stress too much about making mistakes.
Co-workers feel closer as a group, bonded through their shared enjoyment and, while fun could be considered a distraction, it appears it actually improves employee resilience and optimism, encouraging them to help each other out where possible.
This idea of optimism is an interesting point. It sounds trivial, but the social interaction of playing is actually hugely beneficial for brain function, helping our brains to better safeguard us from depression and stress. For example, you'd probably feel better on a workday where you get to put your coat on and throw yourself down an office slide at 6 pm than on a workday where you don't.
Other fun, social activities could include indoor climbing walls, arcade games, a bar, pool table or ping pong. Of course, these types of installations all come with varying price points and not all will be available options to everyone.
American email marketing company AWeber decided to live up to its core values of not taking itself too seriously.
They now have an award-winning, eco-friendly office that spans 71,000 square feet and boasts a volleyball court, yoga studio, multiple game spaces and dual 14ft slides.
Jealous? We don't blame you.
Tips for having fun at work
It can seem fairly straightforward to inject a little more fun into the office but, as with anything, it requires more thought. Try not to buy into gimmicks for no reason.
Instead, check your priorities, focus on creating a space that aligns with and supports your specific company's culture. This doesn't even have to be a major interior design project or office fit-out, but rather begin with small changes and build on it over time, finding out what works and what doesn't.
Breakout rooms should be filled with interesting things to amuse and distract employees; board games, brainteasers, a television or a games console can all be great and simple ways to do this.
Create opportunities for socialising outside of work. You could set up a happy hour or book tickets to attend a sports or live music event together.
Celebrate victories and reward team members to keep an upbeat vibe at work.
Encourage a healthy mindset to help employees stay physically and mentally fit, for example through meditation or yoga. This can emphasise a commitment to wellbeing, supporting staff taking time away from tasks so they can return refreshed. If you have space on site this could be where you justify the yoga studio or volleyball court like AWeber did but, if not, you could offer a discount for a gym membership or arrange a workshop with a fitness instructor.
Raising the bar
Another option that sounds totally counterproductive, but having a bar in the office actually encourages people to stay longer and socialise with colleagues.
After the working hours are done, employees will often opt to hang out for a happy hour before heading home. This can boost bonds between employees and further enables creativity and collaboration. Employers can set particular hours for bar usage, or perhaps serve only coffee during the day and then alcohol after office hours.
We designed the Binary Consultants kitchen to include bespoke wooden fronts, Corian tops and open shelves so it looked more like a bar for the staff who work long hours to relax and socialise in.
Consider everyone
If you are considering jazzing up your office with some of the more fun items of architecture and furniture, don't forget that not everyone has fun in the same way.
Remember to factor in your more introverted employees too. Extroverted people thrive on having additional stimulus in their environment, but introverts generally prefer less stimulation and interruption while they work. Check you've covered all bases.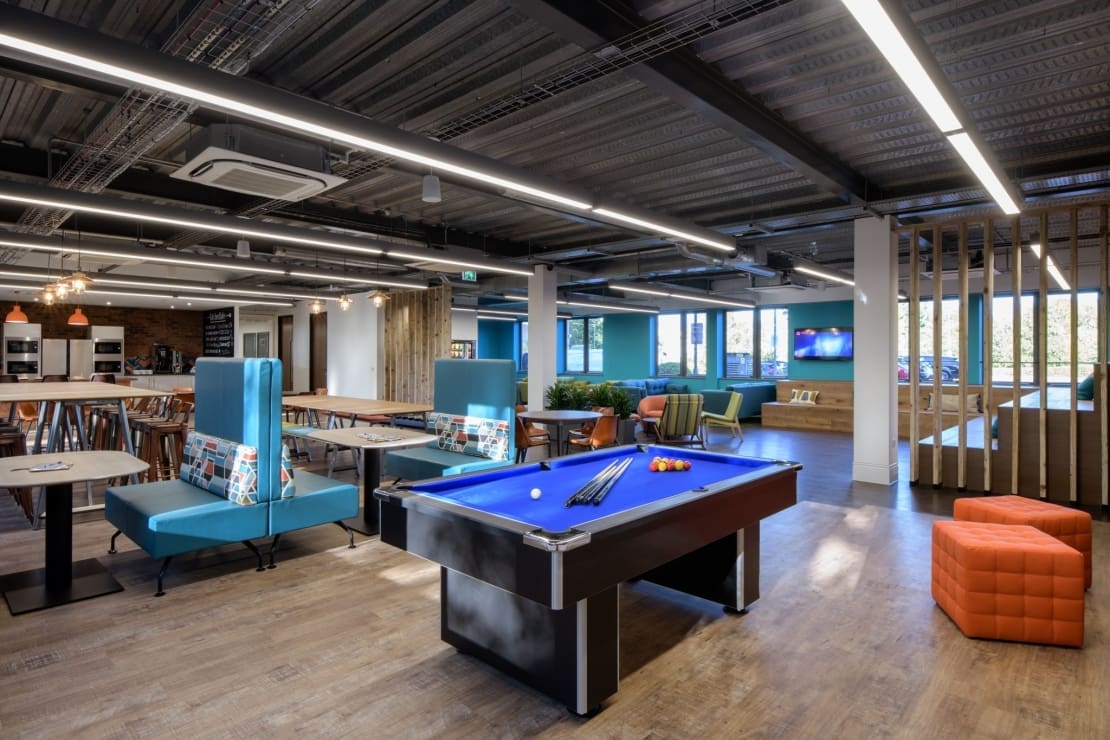 An example of a project where we've added a group activity to help the team bond here for the Mayborn Group.
But do you really need a slide?
Back to the slide thing.
You fondly remember catapulting down slides in your childhood and want to recreate that feeling now. Let's face it, there aren't too many opportunities as an adult to be reminded how that playground thrill felt. Office slides can add a sense of playfulness to the workplace and, yes, easily lessen stress while adding to brain function, creativity, physical health and productivity, not to mention an increased sense of trustworthiness in our clients and colleagues.
So if it works for you and you've got the space, then absolutely, install a slide. We're sure your staff will thank you for it and it'll no doubt pick up some column inches in the local media, too.
Looking at the facts, the fun office certainly isn't on its way out, but we think it is becoming more nuanced; still cool, but more refined with well-thought-out features. Frankly, that's no bad thing.
All the amenities in the world won't help you keep your team happy without a strong core culture as a base, but with the right approach and assistance from professionals like Ben Johnson Interiors, you could begin to introduce spaces that really improve collaboration and morale, and enhance your brand and business, setting you apart in ways that really matter. 
Get in touch to see how we can help.