Emerging Office Interior Design Trends for 2022
... and how you can implement them in your workplace
It's that time of the year again; Clerkenwell Design Week has been and gone and now, our interior design team and workplace gurus are discussing the office design trends we believe will dominate in the coming months.
Of course, office design will always keep moving forward, progressing to either lead or keep pace with our ways of working, but this year has been bringing exciting, fresh ideas more than any other. As a response against the threat of Covid-19, offices around the world sat empty for much of the past two years but the return to busy, bustling offices once again means we're all giddy to see what trends are emerging from the ashes.
Earthy tones, rustic wood and black metal detailing – Boxclever's HQ is delivering on all counts!
Collaboration
Collaboration space is increasingly popular in the post-pandemic office. Remote working is of course expected to remain prevalent, meaning it's important that the technology that enables remote collaboration is kept up to date, and that when staff do pop into the office, they gain things they can't access at home.
This pushes office design to open doors for increased collaboration (as we've discussed here) and to improve the overall office experience.
Meeting rooms were once the only space for group activities but now many companies have incorporated more agile spaces and dedicated collaboration hubs. These are less traditional and more geared towards interaction, with smart technology like interactive whiteboards, writable walls and screens to involve those dialling into the conversation.
This often involves a shift away from open plan, involving furniture that can easily scale up or down at a moment's notice, which leads us onto our next point…
Flexibility
These days, the office needs to support the needs of hybrid and flexible working, both in the office and for remote workers.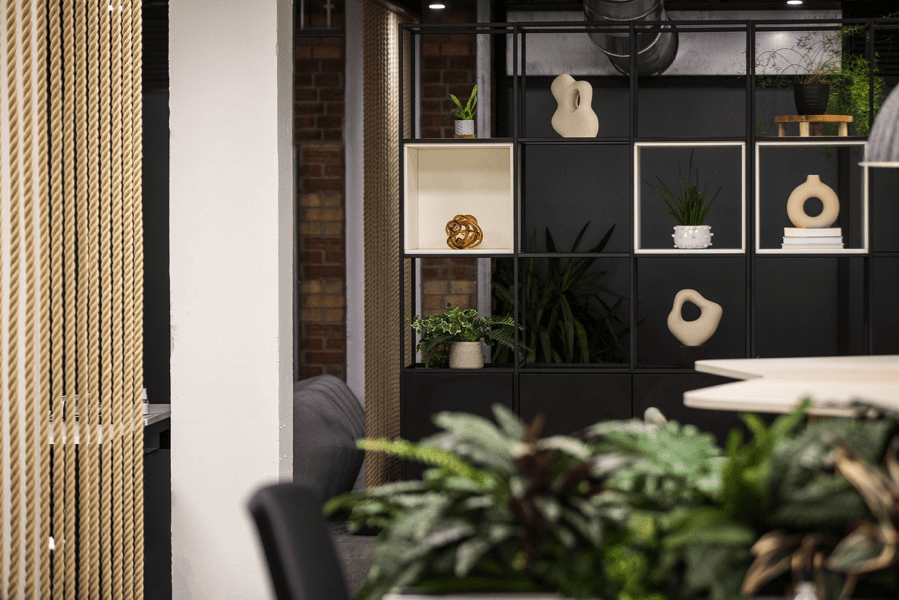 Homely vibes aplenty in corners of the West Barn Co office as shelving divides the space in an effective yet non-permanent way, allowing for flexibility and increased collaboration.
It's being redefined as a destination for socialising and community building, meaning flexible solutions are becoming the norm too, such as transforming or moveable desks and clever dual-purpose dividers with whiteboards on one side and acoustic material on the other to minimise sound travel.
It's that ability to tackle tasks that might've once required big changes or different equipment, that enables the introduction of multi-functional spaces. It might not be necessary to have wall-to-wall desks anymore if only half of the workforce are actually using a desk at any given time. The third twelve-seater meeting room you once needed might now be gathering dust. Free up space by creating more flexible spaces with flexible furniture and tech that can be used for either head-down working, meetings or casual brainstorming at a mere moment's notice and then stowed away again neatly when not in use.
Neurodiversity
This refers to the differences in all our brain functions and approaches to interpreting information. ADHD, Autism, Dyspraxia and Dyslexia are all examples of neurodiverse conditions. But regardless of the 'label', no two people ever think quite the same and it's now widely acknowledged that workers might need a choice of different working environments to be at their most productive.
Acting on that knowledge has become big in 2022 and is making serious waves.
Looking for some peace at Circus PPC? Look no further. You'll find it all clearly signposted and ready to go.
Office design should allow team members to choose where might be best to carry out their tasks depending on their current mood, wellbeing and psychological needs. This prevents an environment which enables some forms of work for some people but inhibits others from achieving their full potential.
Play to all of your employee's strengths with quiet zones, chatty areas, light and stimulus control, and a considered use of colours and furniture to boost productivity.
Sustainability
This year we see sustainability moving further still up the agenda. The emphasis on efficiency and environmentally-friendly products means we're seeing a further increase in upcycled furniture, materials made with a high-recycled content, a focus on optimising natural light to minimise energy usage, new eco-friendly tech, designated space for bike storage and showers, paper-free policies and reusable cups for the fancy office coffee machine.
These things and more can all go some way to helping a company reduce its carbon footprint, and the workforce these days expect their employers to be thinking about these things. We've covered some more of the steps (10 to be precise!) you can take in a helpful previous article about sustainability in the workplace.
A natural aesthetic
In terms of colours, textures and materials, we're seeing a movement towards lighter, more rustic, neutral wood finishes used in storage, desktops and floors, black metal legs and hardware and earthy tones forming the overarching colour palette, such as terracotta, greys, khakis and burnt orange.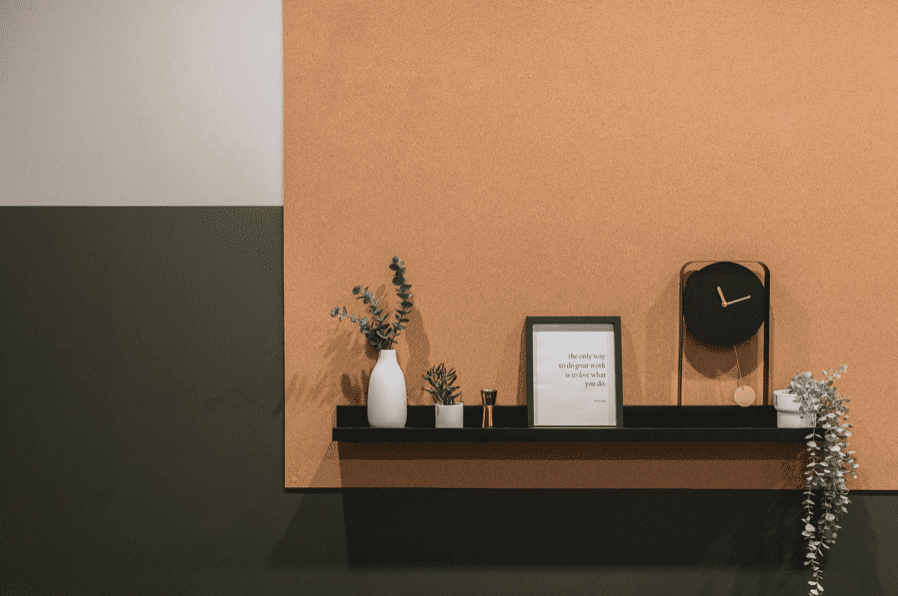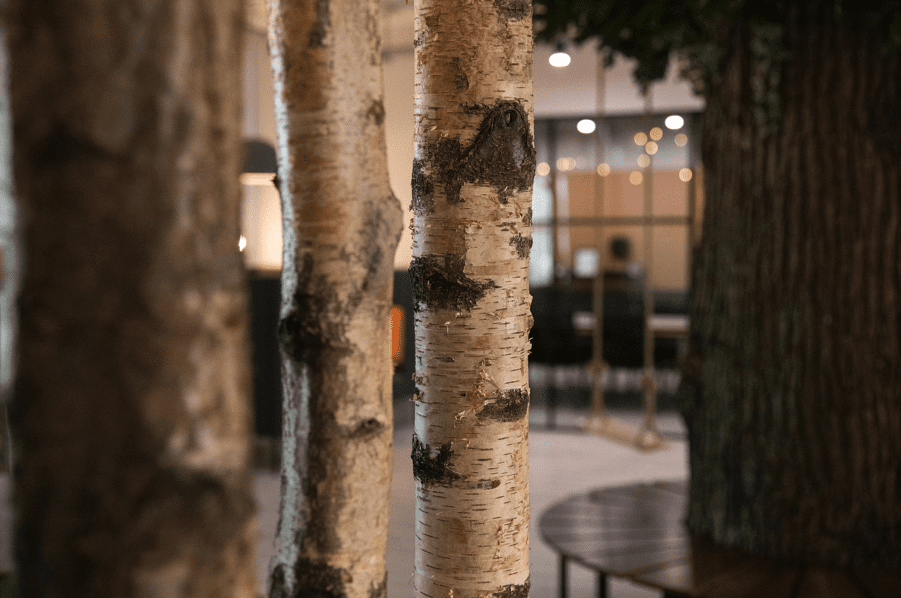 A soft, warm and natural palette paired with tree trunk dividers brings a cosy feel to the West Barn Co office and clinic in County Durham.
No longer does the average office prioritise function over form, favouring a 'corporate' scheme of white and grey. Using interior design to entice workers into the office and out of their cosy homes has meant a shift towards cosier offices – truly the best of both worlds!
Natural lighting, soft colours and comfortable furniture are parts of this shakeup that makes employees feel welcome and safe.
Natural greens in particular create a relaxing vibe while preserving motivation levels, meaning living plants are still an excellent way to add some personality and colour into a space. (Not to mention the numerous other benefits as we've previously discussed here!)
So, is your office up to date?
There we have it. Our thoughts on the trends for 2022 and beyond. Undoubtedly, time away from the office has given industries across the board all the time needed to really think about how individuals work best, the actual purpose of the physical office and how a space could be best used. Most now recognise that keeping staff motivated is crucial and staying ahead of the trend curve is the best way to do that.
Now that you know the trends we're already seeing unfolding, you can begin to plan a refreshed look for your space with purpose. 2022-23 is certainly shaping up to be an exciting time for the office, and hopefully for your company too. Will you be making any changes?
To benefit from our experience and know-how, let's work together to keep your team content, motivated and productive.