Creative Boardroom Designs
And Inspiring Examples From Our Own Past Projects
A great, modern boardroom can make a strong impression on everyone, from your clients to your staff. Increasing perception of trust and legitimacy, a high quality meeting space works hard for your business, helping to encourage fresh thinking and innovation. 
Your boardroom usually functions as the heart of your business; a space where important decisions are made, new ideas are thought up and major conversations go down. It's essential this space reflects your company ethos and doesn't distract or depress those who enter. 
This West Barn Co. boardroom occupies a cosy corner spot in the workplace but easily shares the light from the main section of the office with the use of the class partition wall we've used.
In today's post we'll be looking at ways to: 
Encourage collaboration with your meeting room design

Ditch the traditional boardroom and open the door to comfort

Utilise every square inch of space to its maximum potential

Introduce natural elements and plantlife to boost wellbeing

Make sure employees don't feel restricted by the four walls that confine them
If you want to harness creativity and evolve as a business, you'll want to carefully consider the design all around the office, but the meeting rooms are vital for collaborative working. Creativity cant be forced and it's very unlikely to flourish naturally in restrictive surroundings with hurdles and blockers to productive working. Is your current meeting room a creativity killer?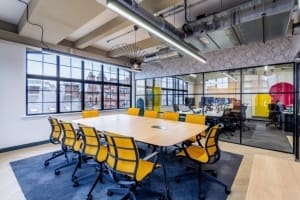 Don't be afraid of a little colour! Did you know yellow actually boosts creativity, innovation and collaboration? It might just be the perfect choice for your boardroom. It certainly was for Circus PPC!
So, what exactly makes a good board room design?
Obviously this will differ slightly across different businesses and industries but, generally speaking, you'll want to consider these 5 key points:
Does the room need to be multipurpose?

What technology will be required?

Is sound insulation being taken care of?

How much storage will you realistically need to keep everything tidy and uncluttered?

How could the design of the room best represent your brand?
Taking a more in-depth look at a couple of these key points, let's first discuss the topic of multipurpose spaces a little further…
Flexibility is key
When designing a meeting room space, it's easy to picture a long table surrounded by chairs – but is that best for your business? We suggest going beyond the traditional boardroom and projector set-up; consider the actual social interactions that will be taking place instead and plan ways these can be encouraged. Over the last few years we've seen a shift from space with a fixed definition to zones which enable people to do their best work, with the requirements of that often changing at short notice. 
Seek out products that can be moved around or those which offer more than one purpose; desks that become whiteboards and more comfortable seating that can be configured depending on the preferences of those using the room on any given Tuesday.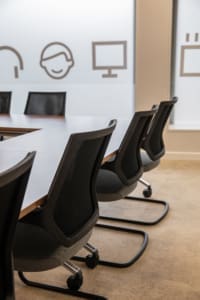 Ensuring your meeting space is fully kitted out with all the required tech, comfortable and plush decor and hot fresh coffee goes a long way when it comes to impressing visitors – as KCOM have shown with this space!
Your boardroom doesn't even have to be inside! Why not take your meetings outdoors? If you have the available space, it would be wise to use it and offer your team the choice of working in the fresh air for maximum fresh thinking!
Sounds good
Next up; that sound insulation! The acoustics should be a major consideration for boardroom design. Many sensitive or private conversations could be taking place in the space and, on the other hand, you don't want an enthusiastic brainstorming session to disrupt the rest of the office. Luckily for you, we covered all areas of acoustics in this previous post, Your Guide To Acoustics In Office Interior Design. You can thank us later!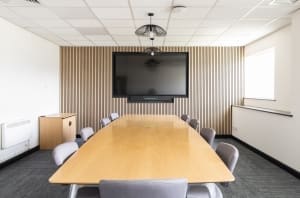 Those vertical wood panels you see at the far end of this Firmenich meeting room don't just look great and bring some natural warmth to the room – they also act as an amazing way to improve the acoustics of the space too!
Stay organised
Avoid disorganisation and clutter by planning ahead for the amount of storage you'll need – and then ideally factor in a little more contingency storage because you'll likely need that too! People can't think or work at the best of their potential if the space is a mess. 
Just give our Tidy Desk – Tidy Mind post a read for proof. When our space is a mess, so are we. Our thoughts get muddled and we can't possibly all be firing on all cylinders in chaos. Not to mention the fact that a tidy boardroom will look visually better and make a far superior impression on visitors.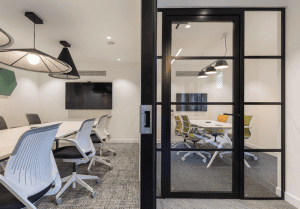 You might also want to consider dividing your available space and creating two smaller meeting rooms, as we've done here in our own offices to better suit our daily business.
Style AND substance
Speaking of making an impression, your meeting rooms are yet another chance for you to make a good impression on those visitors, be that clients, shareholders or perhaps potential new staff coming for an interview. It also makes it a nicer place to work for your existing team members. A modern boardroom makes their working life more pleasant and their jobs easier, leading to a boost in morale and overall productivity. 
Any outdated or badly functioning zones in the workplace create barriers to productivity, and you want to avoid that at all costs, right? 
A smart, stylish and comfortable room with high quality furniture and technology is guaranteed to impress. If stiff backed chairs all focussed around a large table is right for your company then that's the way to go but if not, sack off the corporate setting and opt for something more relaxed and likely to foster creativity. Afterall, no one really enjoys sitting in uncomfortable furniture for long periods of time.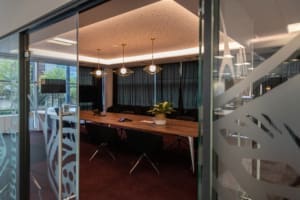 From the tone of the decor alone, you know you're here to talk serious business when you enter this boardroom in the LeoVegas offices in Newcastle Upon Tyne!
At Ben Johnson Interiors, we are experts in boardroom design. Our services include interior design, space planning, installation, furniture, lighting and much more, creating a unified and consistent workplace design to be proud of. 
Should your meeting space be in need of a refresh, the Ben Johnson team can offer our transformative expertise, workplace solutions and top tier ideas to help. Reach out today.
We'll work with you and together we'll bring your ideas to life, making sure that your meeting spaces are the most productive, make the best use of available space and of the highest standards.